Writing is easier when you connect and collaborate with others. Writing is a narrow journey, a continuous process that you keep learning. When you want to write, you need to know what and how to write, which involves critical thinking and inspiration. It can be a lot sometimes and having someone to share some of those burdens with can be beneficial.
As a beginner, when you have those who are more experienced in writing to guide you, you will be faster in building your writing skills and mastering them. These experienced or professional writers can mostly be found in online writing groups. They are there to help other writers and learn more from each other because there is no end to knowledge. Writing is all about being more creative and innovative.
Joining an online writing group makes writing a lot easier and more fun. Most writers rely heavily on Facebook groups. Whether you are a beginner/professional freelancer, blogger, or anything involving writing, you could use a little company and connections to improve your writing life.
You can find a lot of online writing groups on Facebook. These groups allow you to share ideas with other writers, seek advice concerning writing, and collaborate with other writers.
The most important part is the writing knowledge and job opportunities you get from these groups. Joining these Facebook groups enable you to stay up to date, be given a chance to learn new things, and build your writing skills and career.
In this article, you will discover the best Facebook groups you can join as a writer. Let's get started.
Reasons Why Writers Should Join Facebook Groups
Below are some reasons why writers should join Facebook groups
To Build a Long-Lasting Relationship with Customers
You can use Facebook groups to develop marketing strategies to make your brand and products more valuable to customers. When you connect with others, you can meet a potential client. You can build a good relationship with them and make them trust your writing ability. These Facebook groups can help you gain your customers' loyalty and advocacy. It helps you connect with your customers on a one-on-one basis.
To Offer and Gain Additional Value
These groups also enable you to gain and offer more value in new ways, such as mentorship opportunities, learning blocks, and even live watch parties with members. You can also create exclusive content that encourages members to become customers.
To Acquire Vast Knowledge and Express Yourself
Joining a Facebook group enables you to connect and collaborate with writers from different angles, willing to share their ideas and knowledge with you. They are also willing to learn from you by acknowledging what you can offer. These enable you to develop more confidence in yourself and increase your writing knowledge. Since the knowledge is from different writers with different skills and experience, you are more likely to gather more skills and experience, which is essential for you to become the best.
The Best Facebook Group For Writers To Join Now
9 Best Facebook Groups for Content Writers in General
1. Write Life Community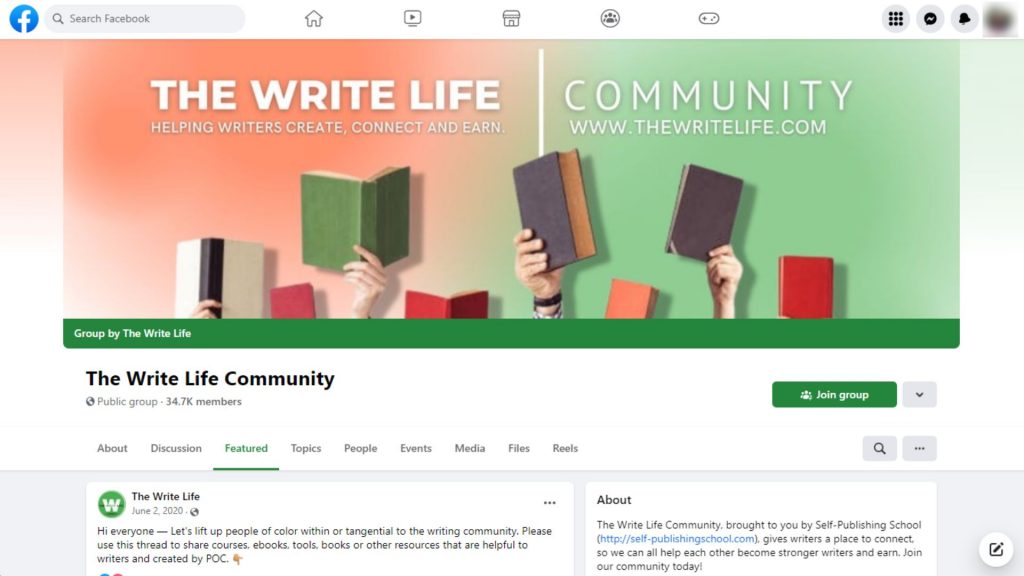 This group enables writers of all experience levels to share their struggles and win. You can ask questions and support and encourage each other as group members. It is one of the best groups for writers of different backgrounds to connect, earn, and succeed in today's digital world.
The topics they cover in this group include freelancing, marketing, publishing, self-publishing, blogging, and more. Recent topics also include how to beat procrastination and the best ways to find remote writing opportunities.
The Write Life Community encourages you to stay attached to your pen and write sweet, soothing, and excellent words that walk your readers with you on a long path. The group comprises 34k members, and there is still room for more members to join. Click here to join now.
2. Writers Helping Writers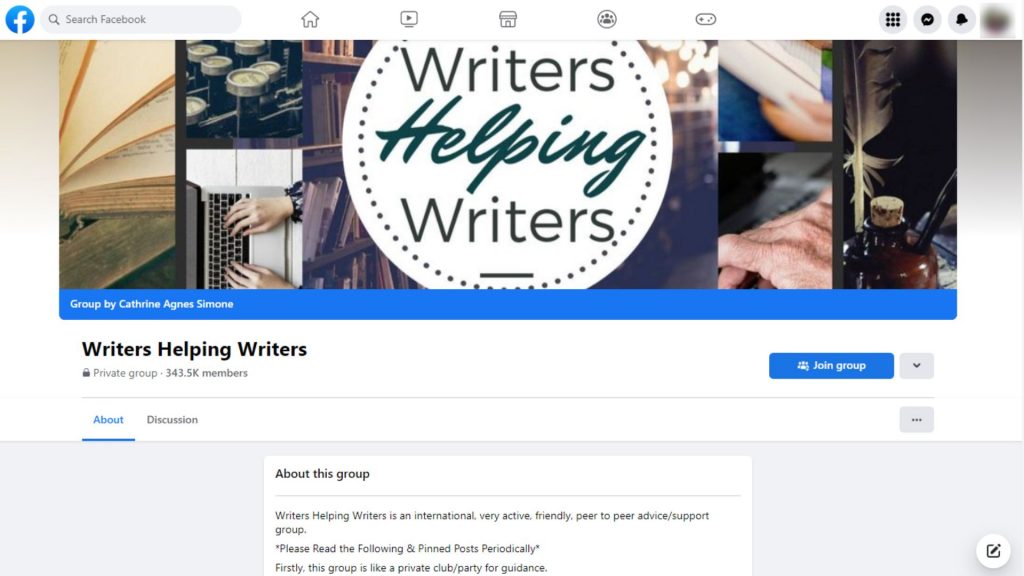 This group is suitable for beginners looking for advice and professionals who want to move forward. Here, writers, editors, publishers, agents, etc., are available to support and share their knowledge with you.
Writers Helping Writers is one of the oldest and largest online writing groups, primarily for beginners. It was established on the 21st of September and currently has 343k members. Members motivate and encourage each other not to give up and improve their writing skills. They urge writers to share their works with other members and read each others' work.
As a member of this group, you get to provide feedback and learn from other writers by viewing their works. Also, you can receive healthy feedback, comments, and suggestions from other writers and editors when you post your work. The posts in this group include writers asking for feedback on cover design, motivational quotes, comics about writing, and sharing writing wins. Click here to join this group now.
3. Content Writer-Freelance Writer (Asia, Europe, USA, CA, Australia, Africa)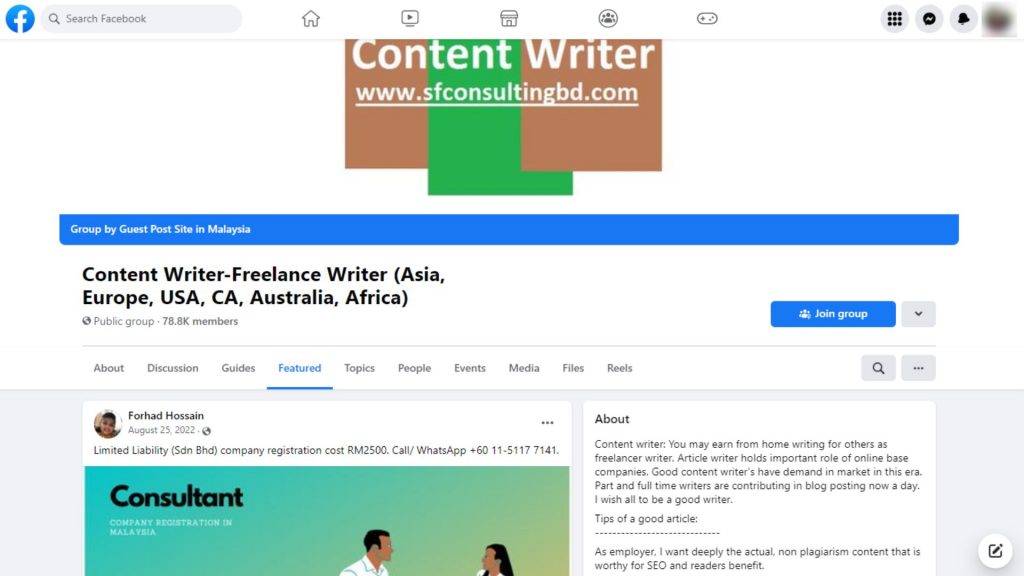 The contributions of this group are enormous since it is a large group. It provides you with guidelines from senior writers. It also provides you with job opportunities so you can earn more.
Content Writer-Freelance Writer is an international group established on the 22nd of March 2017, and currently with 78k members. This group allows writers to earn more income by working as freelancers.
The group is comprised of people from different continents who are ready to render their skills or pay others for their writing skills. Click here to join the group.
4. Writing Hacks (Content Writing Service)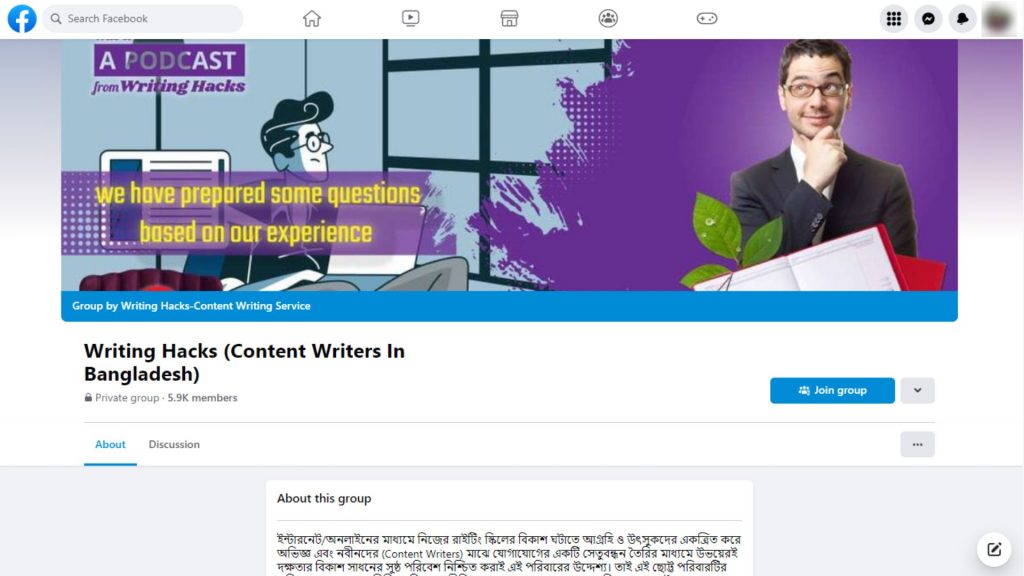 This group was established by Imran Chowdhury on the 27th of June 2020. The group provides you with various writing skills such as content researching, formatting, character building, introduction writing, etc. Joining this group allows you to develop and improve your writing skills.
It is a private group with 5.9k members, and all admins, moderators, and members are willing to welcome you to this incredible group. Click here to join this group.
5. Content Marketing Lounge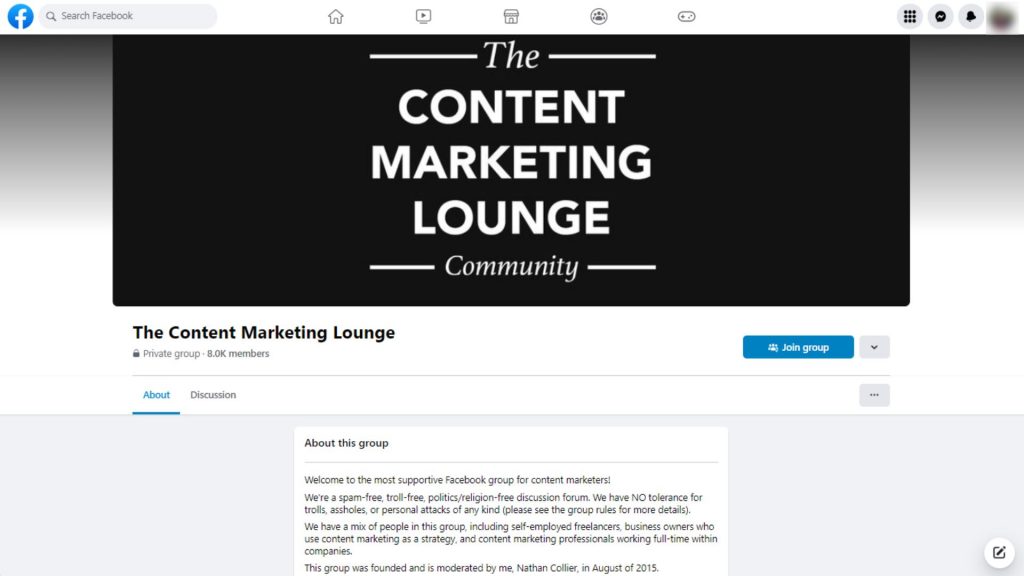 Content Marketing Lounge is a group where content marketing professionals unite. Here, you can meet other professionals to discuss and learn the latest, best tips and advice on content marketing. The members of this group are those who are interested in content marketing, content creation, and content strategy planning.
This private group consists of 8k members. Its activities include learning, asking relevant questions, sharing helpful posts, and helping one another. It also allows job posting for those who are seeking employees, contractors, consultants, or a freelancer. Click here to join the group.
6. Where Authors Begin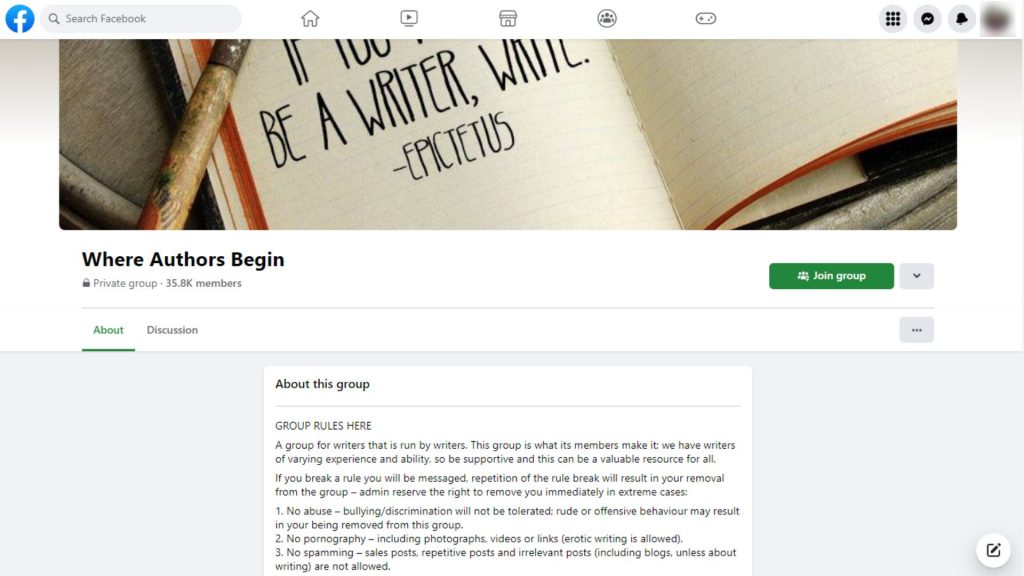 Writers of all levels, abilities, and experiences are welcome in this group. The community supports members by sharing resources and tips concerning writing. Members of this group are ready to be supportive and constructive in helping one another.
This group, run by writers, is private and comprises 35k members. You can find books published by the group authors by checking out the Published Work document. Here, you will be asked to read some books and leave honest reviews on Amazon. With this, you get to read interesting books and gain more knowledge on writing. Click here to join the group.
7. Writers Group: Learn, Support, Connect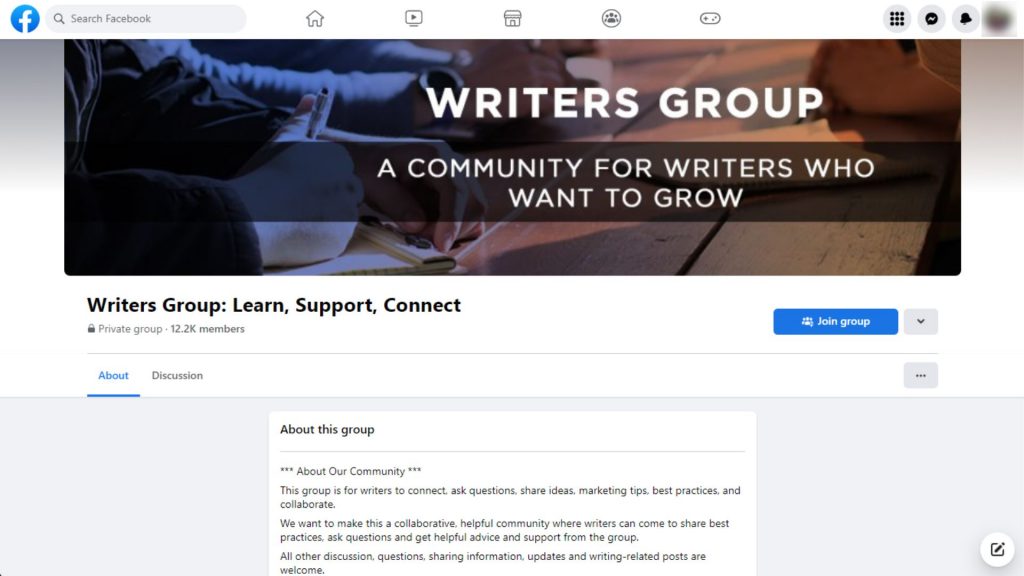 This is one of the best Facebook groups for writers that enable them to share ideas, ask questions, and make connections. This group creates space for writers to collaborate, support, and confidently discuss the craft of writing with one another.
Writers Group welcomes any post as long as it is relevant to writing. This group is private, and it has about 12k members. Click here to join the group.
8. Inner Circle Writers' Group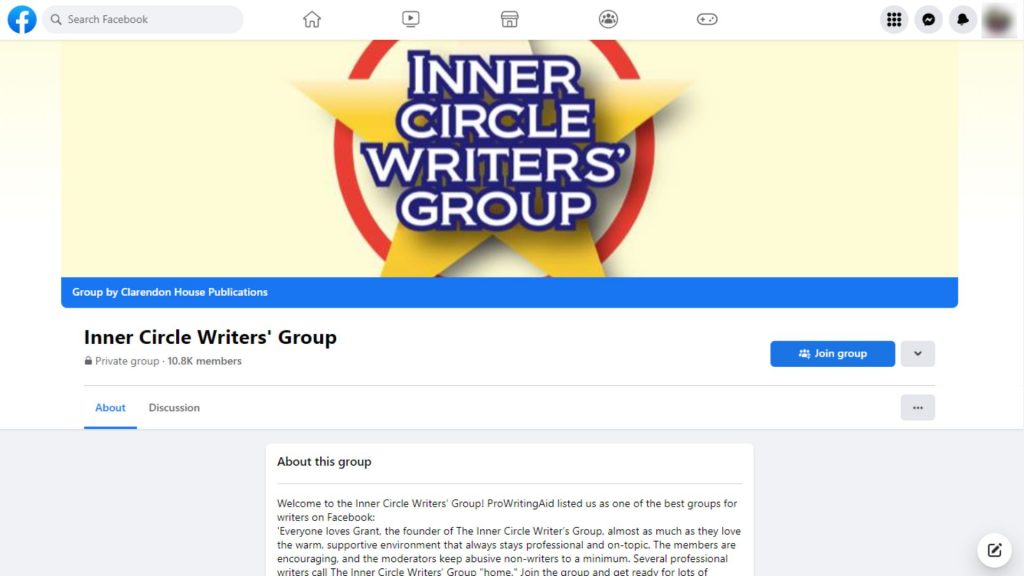 This group is also one of the best groups for writers on Facebook. Everyone loves Grant, the founder of this group, because of the warm and supportive environment he built.
The Inner Circle Writers Group was created on the 2nd of July 2017. Its members are entirely professional and are always doing writing-based activities. These members adhere to the group's rules to ensure you are content.
This group allows you to become a book author instead of a freelance content writer. It provides you with the resources needed, including how to write a book. You can even promote the book you wrote on the Monday thread. Click here to join the group now.
9. Writers Assembled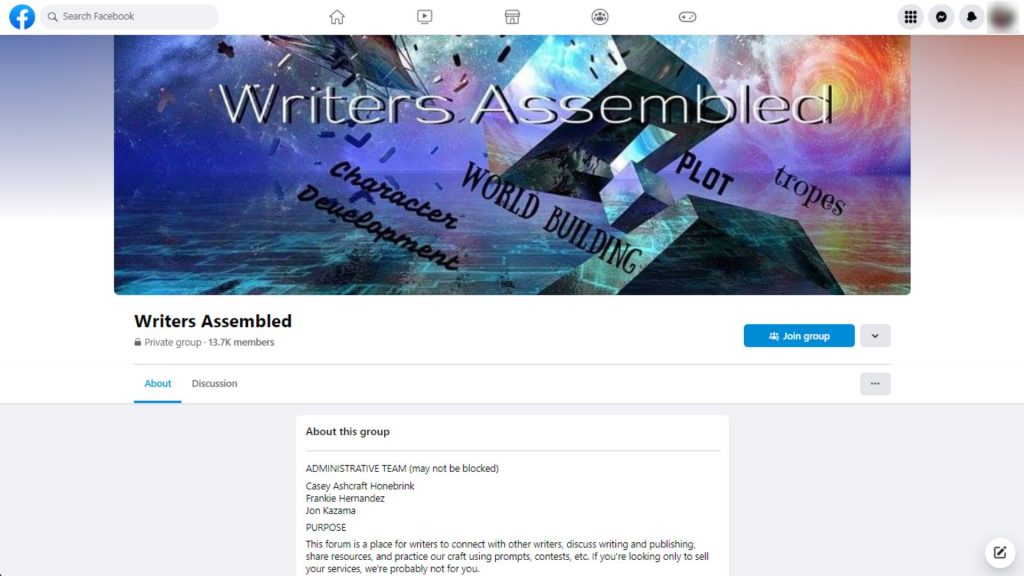 This group allows writers to connect with other writers, discuss writing, and practice their craft using prompts, contests, etc. It is a private group that has about 13k members.
Writers Assembled is a well-moderated group that has a reasonable level of engagement. Its activities usually range from inspirational posts to more technical discussions.
If you are looking for a general community group you can engage with as a writer, Writers Assembled is best for you. Click here to join now.
The 5 Best Facebook Groups for SEO Writers
1. SEO Masters Academy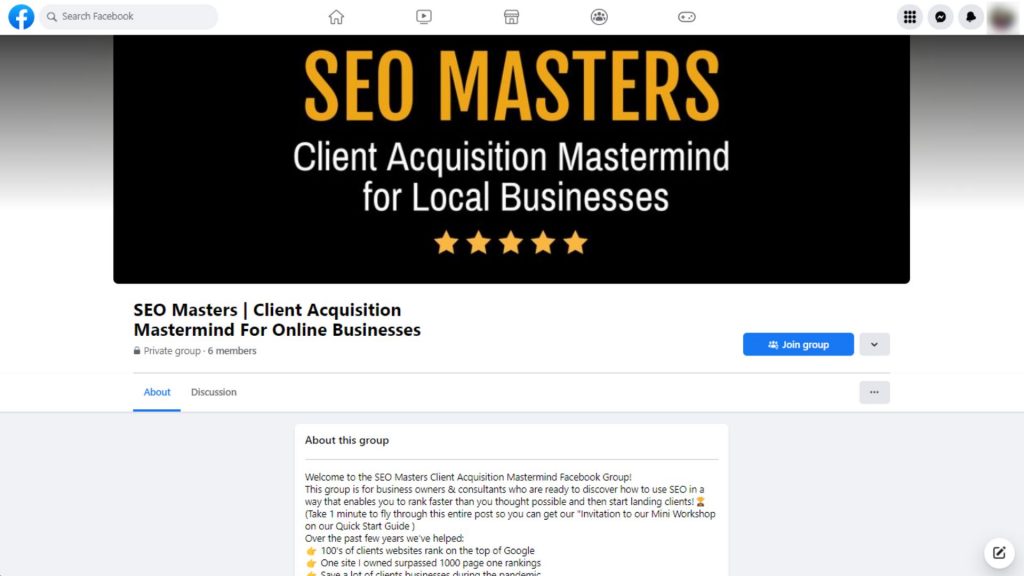 This is the best group for SEO writers. It provides advanced knowledge about internet marketing as a whole. It is a large group that has various activities happening each day. Its members are about 65k, and it is a private group.
This group has a lot of SEO and marketing experts. It aims to provide you with free and advanced marketing knowledge so you can create your living and enjoy a happy life doing what you love. Join the SEO Master Academy group now to get this opportunity.
2. Sisters in SEO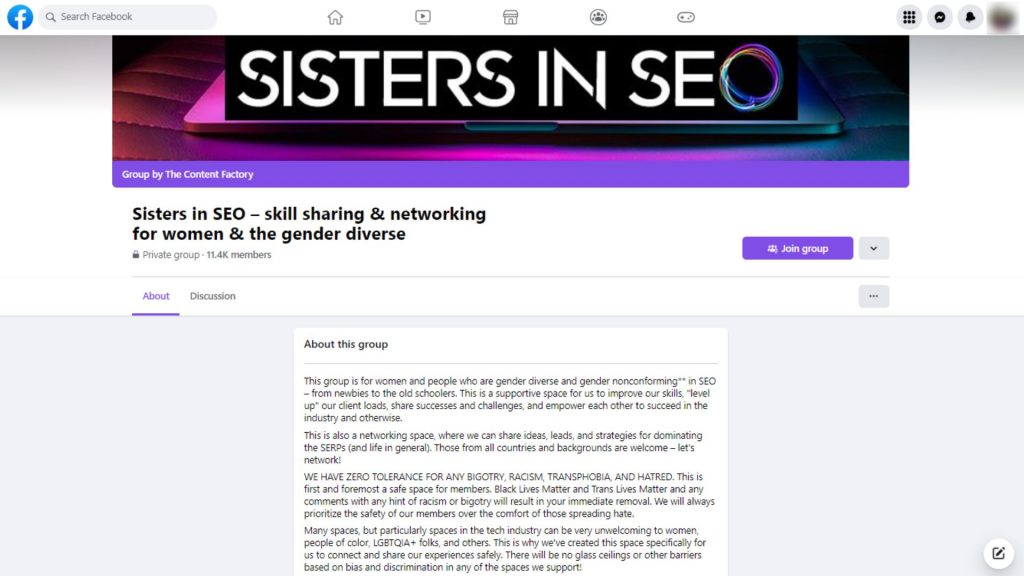 As the name implies, this group supports female SEO writers. It helps improve their skills, level up their client loads, share success, ideas, and challenges, empower each other to succeed in the industry, and dominate the SERPs.
This group welcomes women in SEO from all countries and backgrounds. It is a private group that has about 11k members. Join Sisters in SEO now.
3. SEO Copywriting Mastermind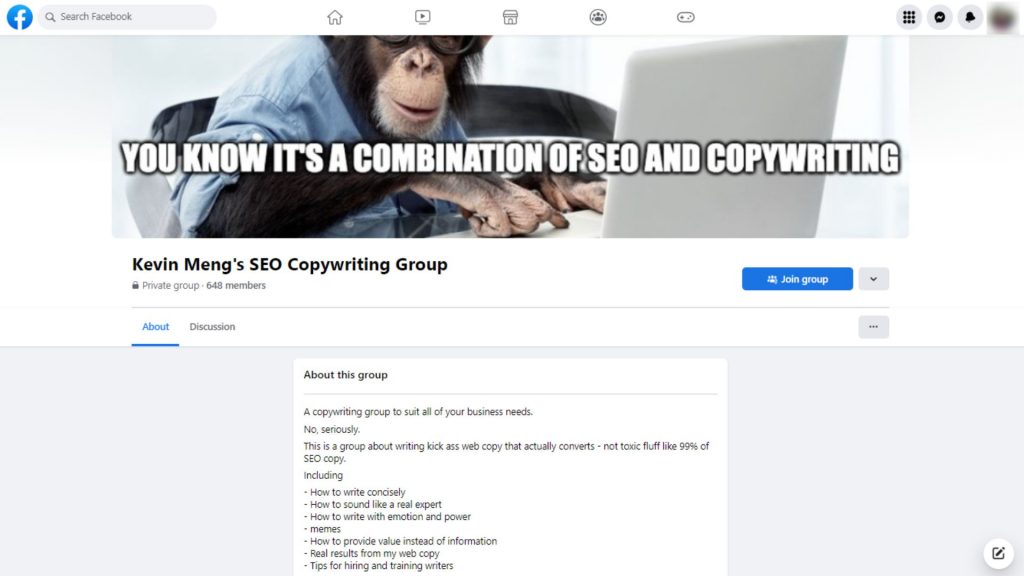 This group emphasizes the copywriting aspect of SEO. It covers topics that many other SEO Facebook groups do not.
Here, you will find writing tips that comprise data-driven strategies for increasing engagement, conversion, and sales. It also includes tips for finding, hiring, and training high-quality writers.
In addition, this group provides tips on affiliate review copywriting and showcases examples of well-written copy for inspiration. Join the SEO Copywriting Mastermind group now to start an incredible journey.
4. On-Page Academy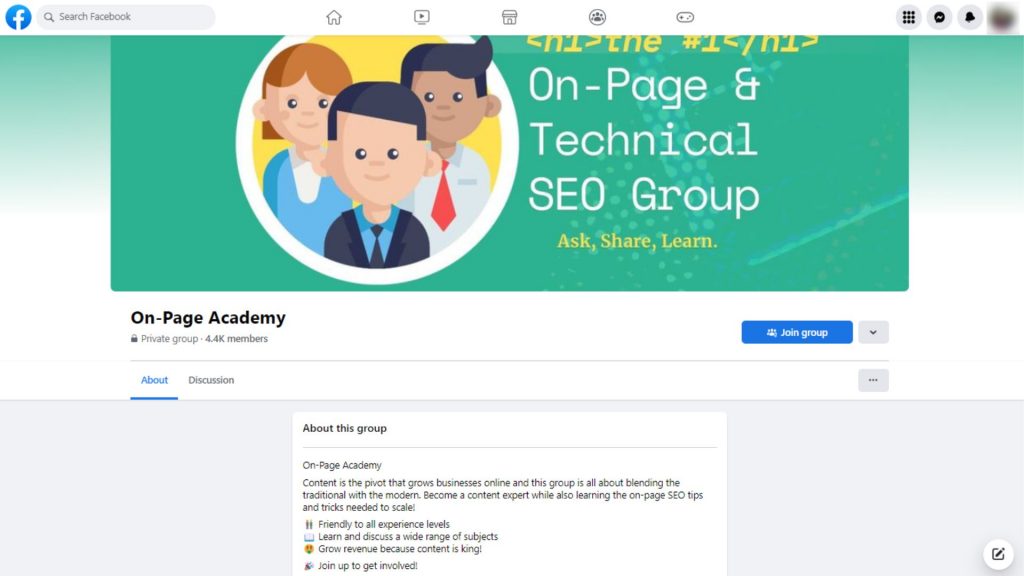 This group focuses on technical SEO and on-page optimization. It aims to help many people learn technical SEO and on-page optimization to rank their sites better.
In this group, members share SEO tips, ask questions, and receive actual SERP-tested tactics from the group admin. Join On-page Academy now to start enjoying the benefits. 
5. Internet Marketing Gold – SEO Science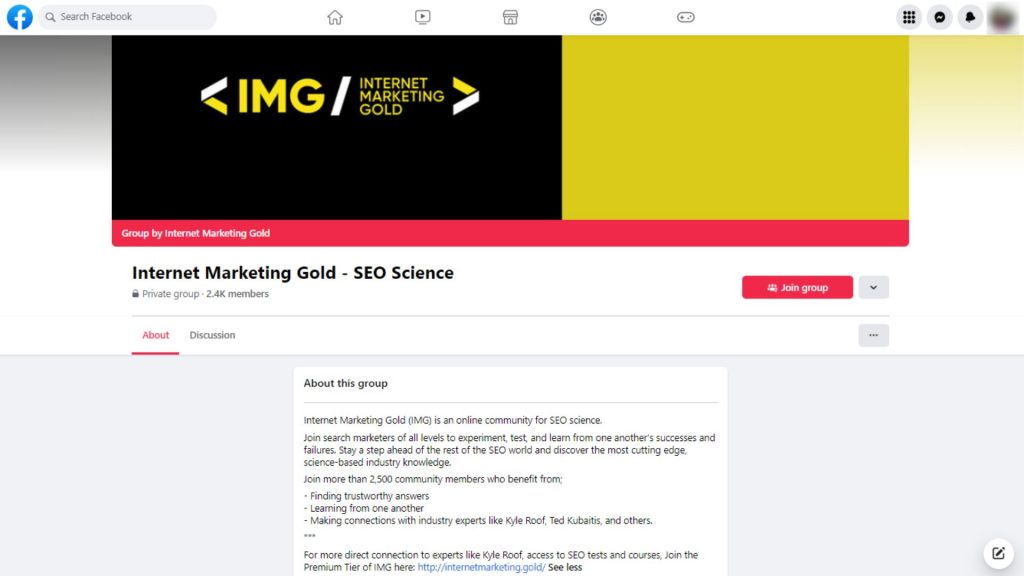 This group is all about the science behind SEO. It is one of the best online groups for SEO. Kyle Proof, the co-creator of the SEO Tool Page Optimizer Pro and co-founder of a high-voltage SEO agency, is also a vital member of this group.
Kyle Proof also co-hosts the weekly youtube show SEO fight club and leads events. This group has everything you need for Search Engine Optimization(SEO). Join Internet Marketing Gold – SEO science now.
The 5 Best Facebook Groups for Copywriters
1. AWAI Digital Copywriters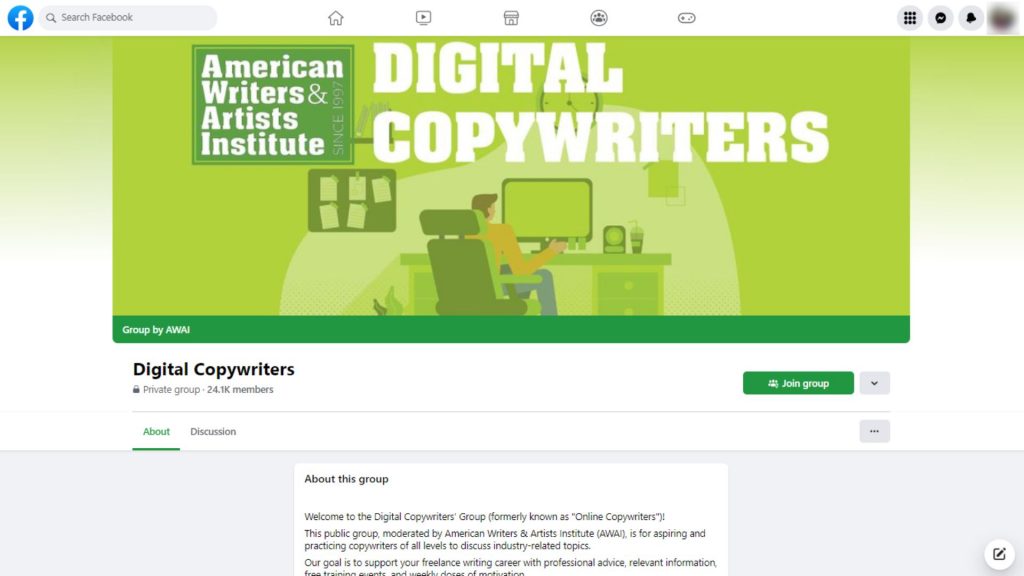 This group is related to the American Writers and Artists Institute, which provides many amazing rescuers to help budding copywriters. It aims to support freelance writing careers by providing professional advice, relevant information, free training, and weekly doses of motivation.
This group is for aspiring and practicing copywriters of all levels to discuss industry-related topics. Click here to join this group.
2. The Cult of Copy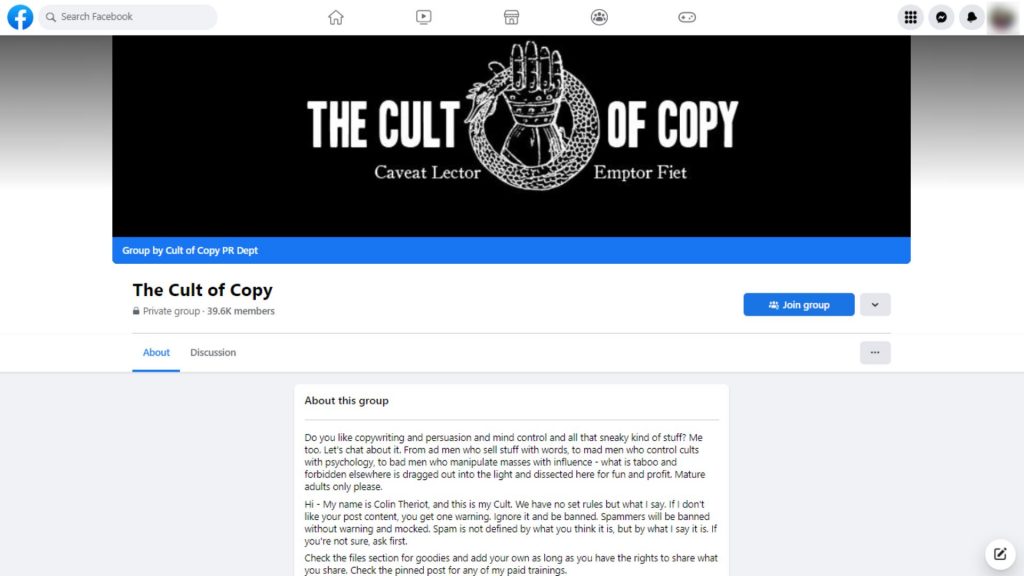 This group talks about conversion copywriting and selling. It provides you with appropriate resources and guides.
The Cult of Copy group is about copywriting, persuasion, mind control, and all the sneaky stuff. It varies from ad men who sell stuff with words, men who control cults with psychology, to evil men who manipulate the masses with influence.
In this group, what is forbidden elsewhere is dragged out into the light and dissected for fun and profit. This group is one of the best groups for copywriters. Click here to join and get all the benefits you need as a copywriter.
3. Ladies' Copywriting and Content Writing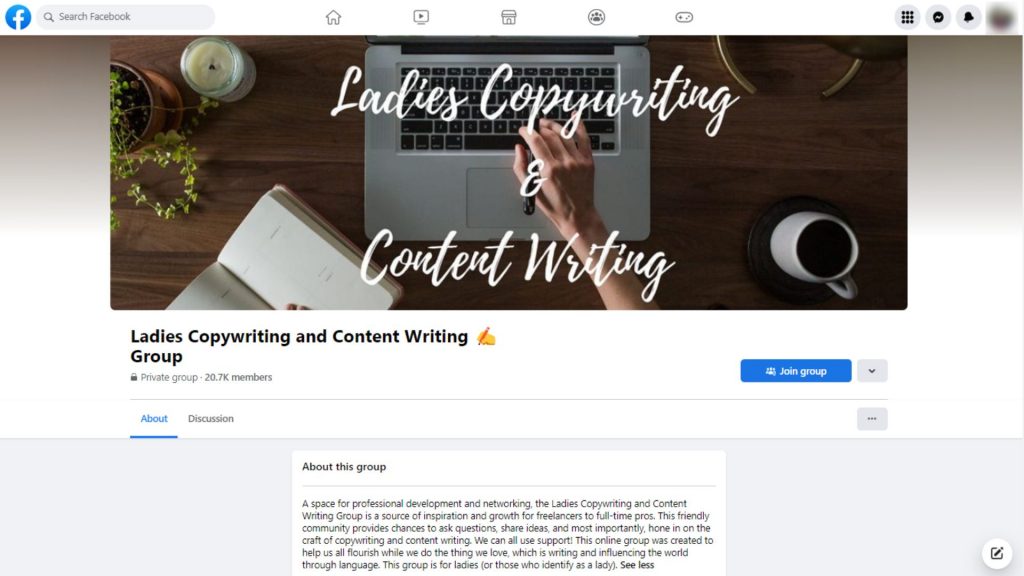 This group is hosted by Sarah. It aims to help inspire and motivate you to go from a side hustler to a full-time pro. This group was created for ladies to network and collaborate with other fantastic lady bosses.
It is a space for professional development and networking. This amazing online group helps you flourish while you do the things you love, which is writing and influencing the works through language.
Ladies' Copywriting and Content Writing is a source of inspiration and growth for freelancers and full-time pros. It provides the chance to ask questions, share ideas, and, most importantly, hone the craft of copywriting and content writing. Click here to join.
4. Freelance Copywriter Collective – The Job Board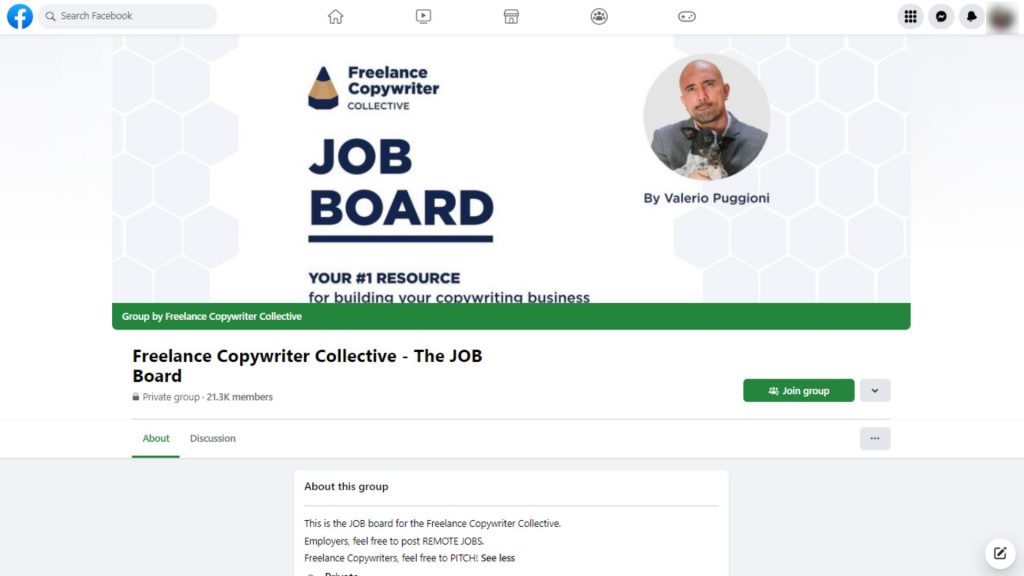 This group is for employers and freelance copywriters. If you are a freelance copywriter looking for clients for your business, this group is the best for you. It has about 11.9k members and can be your top resource for building your copywriting career. 
Also, you can post remote job vacancies as an employer and pitch your services as a member. Click here to join the group now.
5. Copywriter Club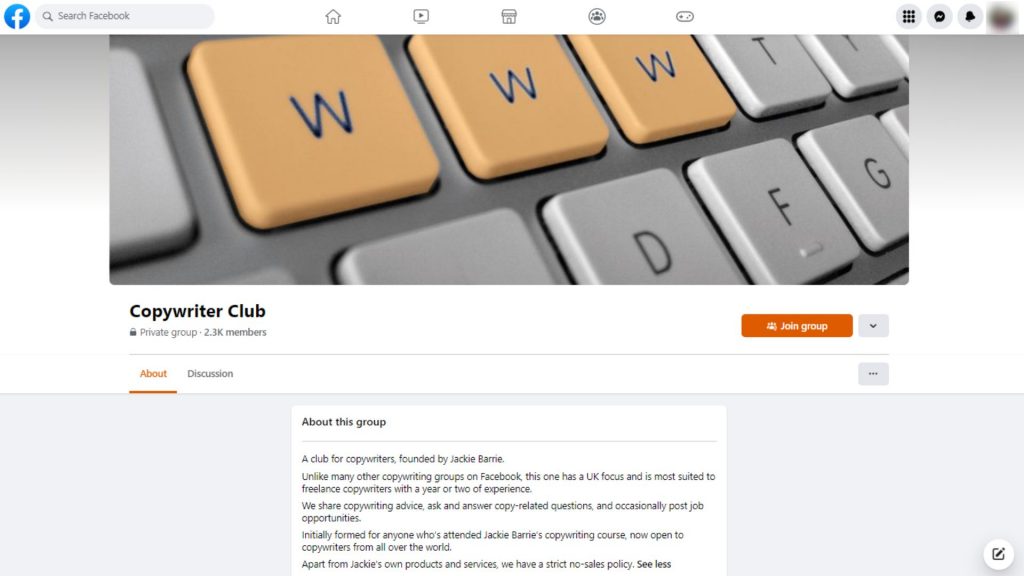 This group was founded by Jackie Barrie. It has a UK focus, unlike other copywriter groups, and it is the most suitable group for freelance copywriters with a year or two of experience.
In this group, they share copy-related questions and occasionally post job opportunities. It is now open to copywriters from all over the world. Click here to join now.
How to Set Up and Grow Your Facebook Group as a Writer
Creating your group is an inexpensive and effective way to reach your target market. As a writer, you can create a group to help and connect with other writers. You can also connect and build a good relationship with your readers/audiences.
Before setting up your group, it is better to have a specific target audience. Know the kind of people you want in your group. Follow the steps below to set up your Facebook group.
1. Log in to your Facebook account and open the + icon to view the create menu.
2. Choose Group and provide some basic information about your group.
3. Create a Group name that best suits your purpose.
4. Choose the privacy level. You can decide to make it public or private. But it is advisable to make it private to make the group exclusive and give people a reason to join.
5. Choose whether you want your group to be visible or hidden. It is advisable to make it visible so people can find your group in search.
6. You can decide to add a friend. This step is optional but an excellent way to get started.
7. Click Create, and you will be taken to the page where you can update your featured image, manage posts, schedule posts and add a description.
After setting up your group, you need to grow it so it won't remain dormant. You can grow your group in many ways, some of which are:
Create a Facebook page to promote your group with ads or public social media posts. Go to the Create menu and choose Page to create a page.
Grow your Facebook page by promoting it on other groups. This is known as cross-promoting your group to other related groups. Be sure to read those groups' rules, especially about self-promotion.
Many groups don't allow you to drop in, post about your group, and leave, so you should ensure that you are not spamming these groups with your link. When you join those groups, ensure that you provide value in at least three to five posts before talking about your group.
Encourage existing members to promote your group. You can politely ask your group members to share your group and invite others.
Encourage influencers to join your group. You can get influencers in your niche to join your group. Make sure you do this on your Facebook page because what you post there will be public. You can tag the influencers in a post for them to comment on it and share it with their audience.
Another way is to promote your Facebook group on another social media platform such as Instagram, LinkedIn, Twitter, etc.
8. Once you get more traffic to your group, member requests will start piling up. You may need a tool like Group Leads to help you with pulling data from member requests and adding people to your email list.
Final Thoughts
As a writer, you are presented with the great opportunity to join a Facebook group. Joining a Facebook group suitable for writers enables you to make good connections and improve your writing skills.
You don't need to join all the above-listed Facebook groups. Choose the one that is most suitable for you. However, it is still up to you to decide whether you want to join as many as possible, but it is advisable only to join the amount you can handle.
All the listed Facebook groups are fabulous and unique in their way. Choose wisely and enjoy your writing life.
If you do decide to start your own group, use Group Leads to help you manage member requests. Grab your free 14-day trial here.