As part of the free Google Suite, Docs, also called Google Docs, is a word processing application within the Google Drive service.
Google docs is an important tool for business and personal use. But it doesn't have it all.
Add-ons enhance the value of Google Docs.
In this post, I will share with you, the best Google Docs Add-ons. And this will cover some key aspects of the profession and business that mostly use this tool.
But first, let's do a deep dive into what Google Docs and Google Docs Add-ons are.
Google Docs is a document solution that supports real-time collaboration. It has tools to create and share documents on a cloud-based. And it is available on devices and platforms such as Android, iOS, Windows, and as a desktop application on Google's ChromeOS.
It is also compatible with the Microsoft Office file formats.
However, as useful and versatile as this tool is, many users want extra features for an impactful experience.
So to bridge this gap, third-party individuals, tech companies solve these ultra-specific problems by creating Add-ons.
Wondering what add-ons are?
What is Google Docs Add-ons?
Add-ons are a piece of software that enhances another software application. They give a value-lift to the original software.
Add-ons can't run independently, they only upgrade and customize another application.
In this case, Google Docs Add-ons enhances the usability of the specific Google-based application, Google Docs.
Why it is important to use Google Doc Add-ons?
To attain fulfillment in your business and personal life, you must use tools that make your life process seamless.
Google Docs Add-ons will increase your efficiency, save you time, and help you work smarter so that you can achieve success in your work and personal life.
But to enjoy these, you must note these 5 tips.
3 Points to Note for Effective Google Docs Add-ons Use.
1. Install only Necessary Add-ons
Add-ons are great resources to extend your Google Docs features but don't abuse them.
The more the tools, the greater the risk of having problems when you work on Google Docs. Besides, each active add-ons slows down your work function and pace.
2. Avoid Similar Value Add-ons
Using two or more Add-ons with similar value is a waste of your valuable space and bandwidth. Pick a single Add-ons to solve a specific need.
3. Install Trusted Add-ons From Reputable Sources
Ensure that you only install add-ons developed by Google Add-on Repository or from a trusted company.
Installing third-party add-ons has potential security gaps, so you must be careful that the add-on is from a trusted party. That way, you can.be assured that the company or developer will fix any bit that poses a problem.
Now that you know the importance of using Google Doc Add-ons, would it not be cool to know how to install them?
Let's do this.
How to Install a Google Doc Addon.
Installing Add-ons is an easy process.
On your computer, open Google Docs. Then, Click Add-onsGet add-ons.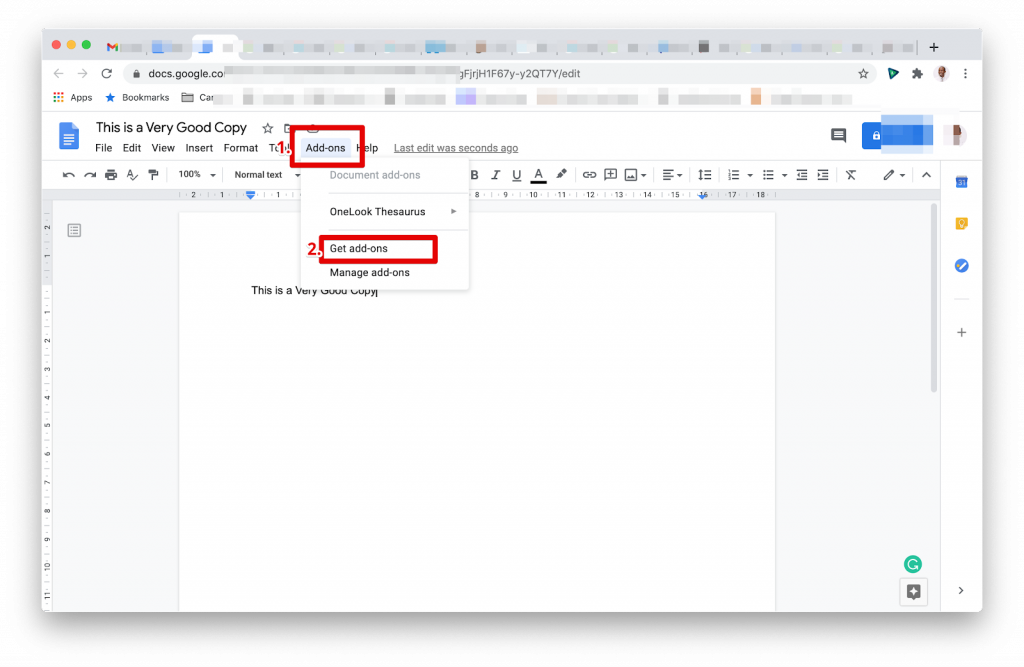 Point to an add-on to see a short description. To see a full description, click the add-on.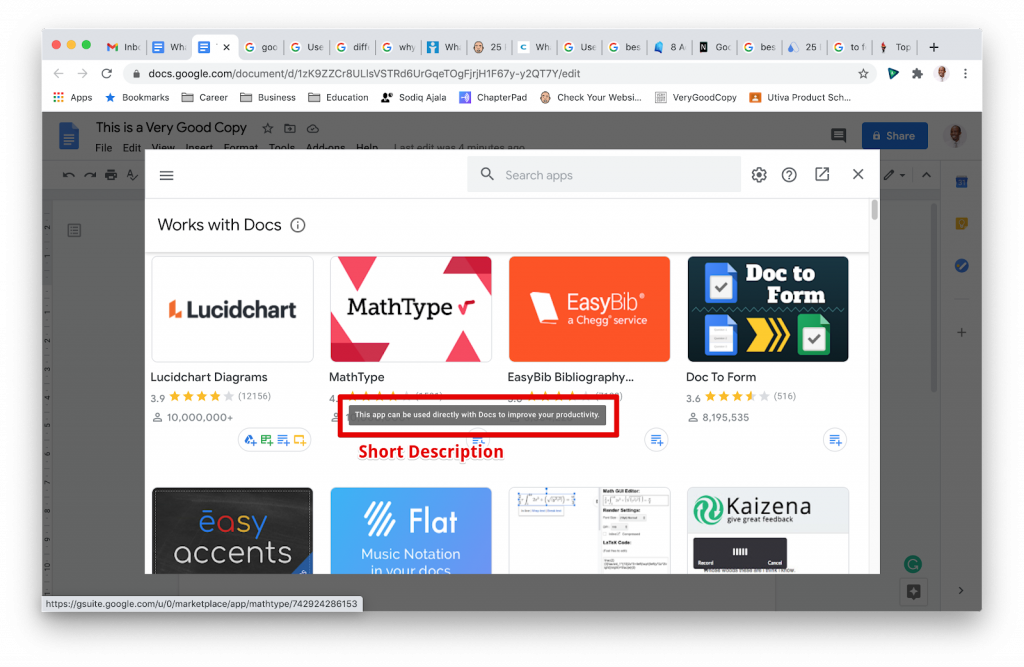 To install the add-on, click InstallContinue.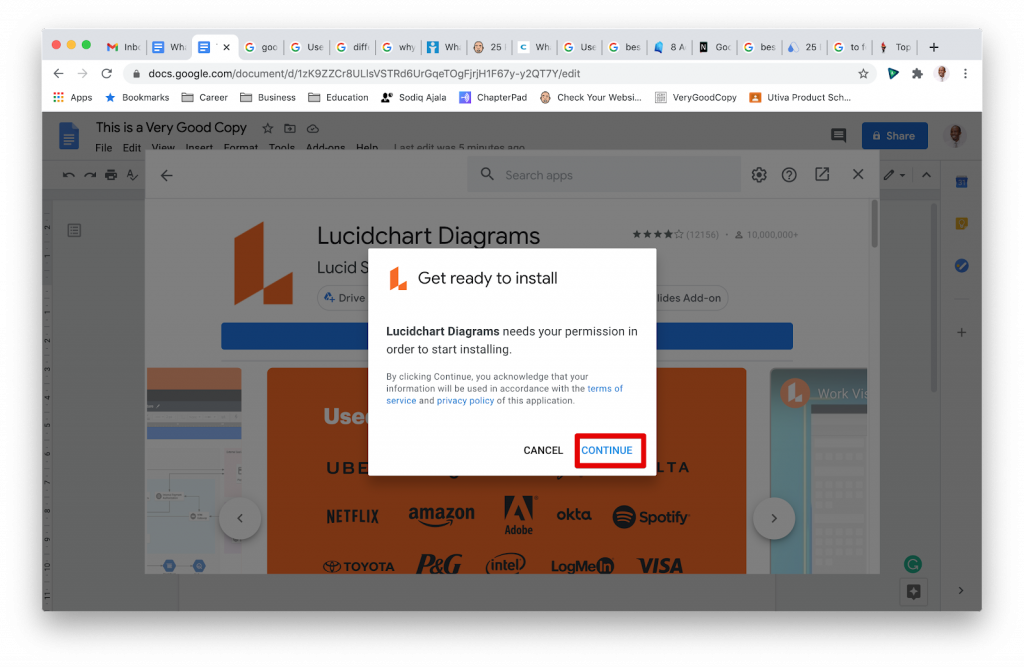 For most add-ons, a message will appear requesting access to data that the add-on needs to work. Read the message, then click Allow.
After the add-on installs, click Done.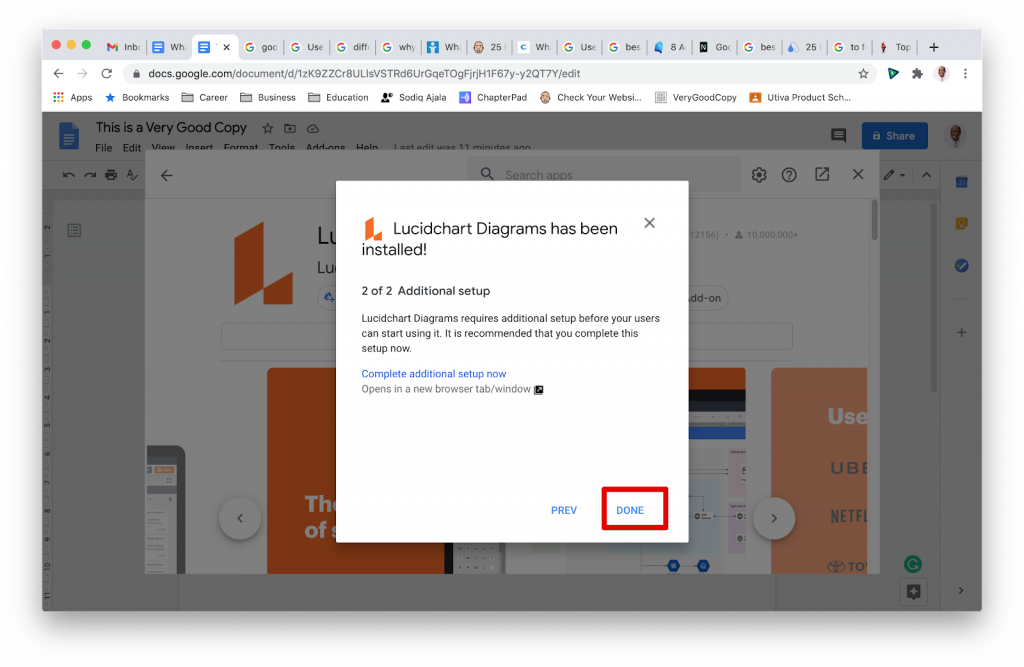 Now it's time to have a specific and valuable use of Google Docs.
The Best Google Docs Add-ons.
There are several Add-ons on the Google Doc Add-ons marketplace. Looking for the best ones will bite a large chunk of your time. To save you stress, I've listed some of the best Google Docs Add-ons by specific categories.
Best Google Docs Add-ons for Writers
1. MindMeister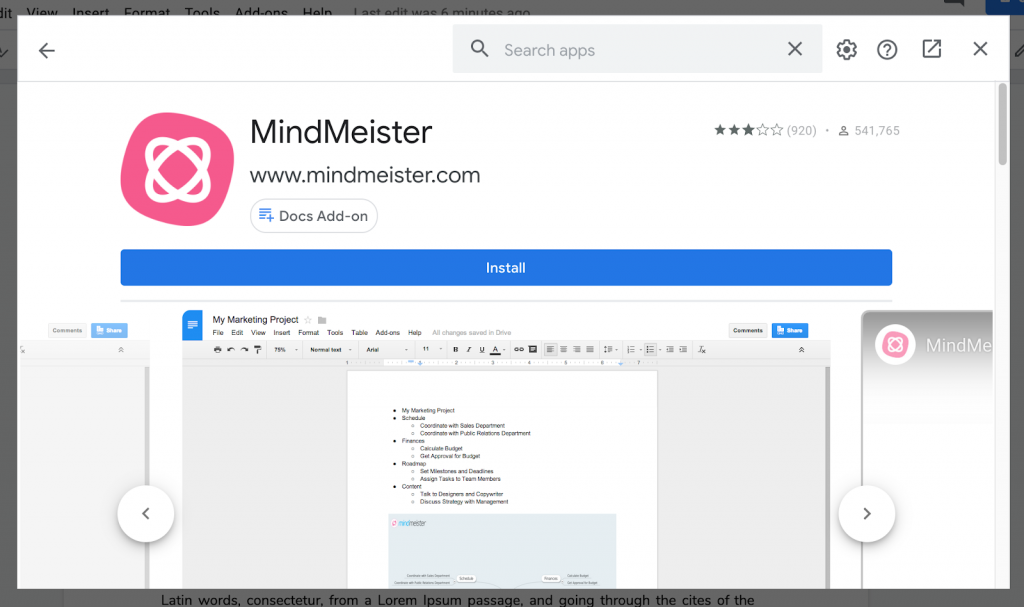 MindMeister is a Google Docs Add-ons that lets you turn any list of points into a visually appealing mind map.
It automatically inserts the visual mind map into it into your Google Document to reveal a stunning beauty.
The integration is a quick and easy method to visualize lists and add a graphical overview to your documents and data.
2. One Look Thesaurus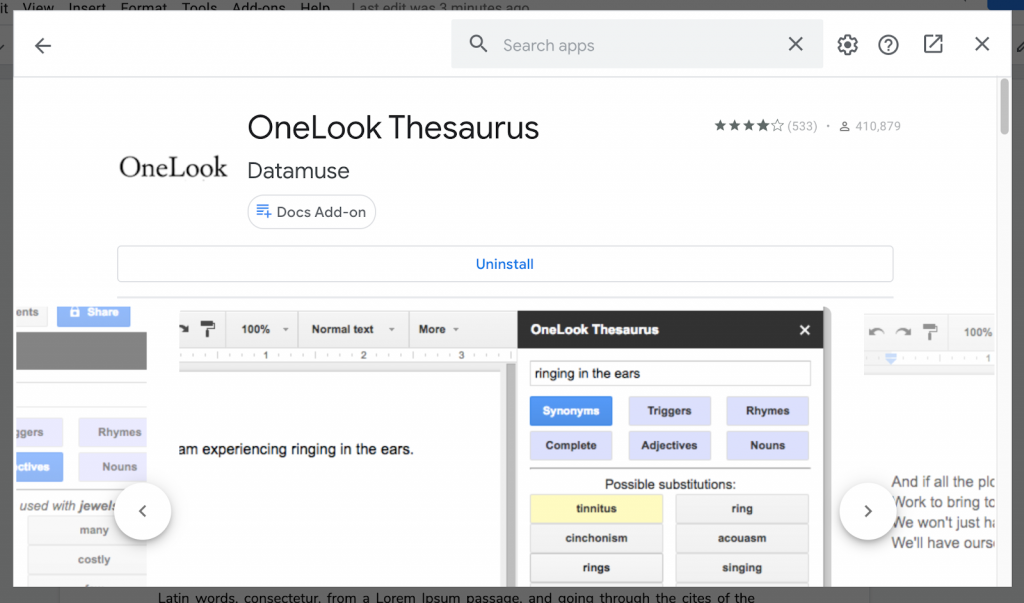 One look thesaurus is a brainstorming tool for writers that helps you find the literary and lexical character associated with a word.
You can search for the synonyms, related words, adjectives, rhymes, nouns, and trigger words.
This Google Docs add-on will use the word under your cursor to search.
3. EasyBib Bibliography Creator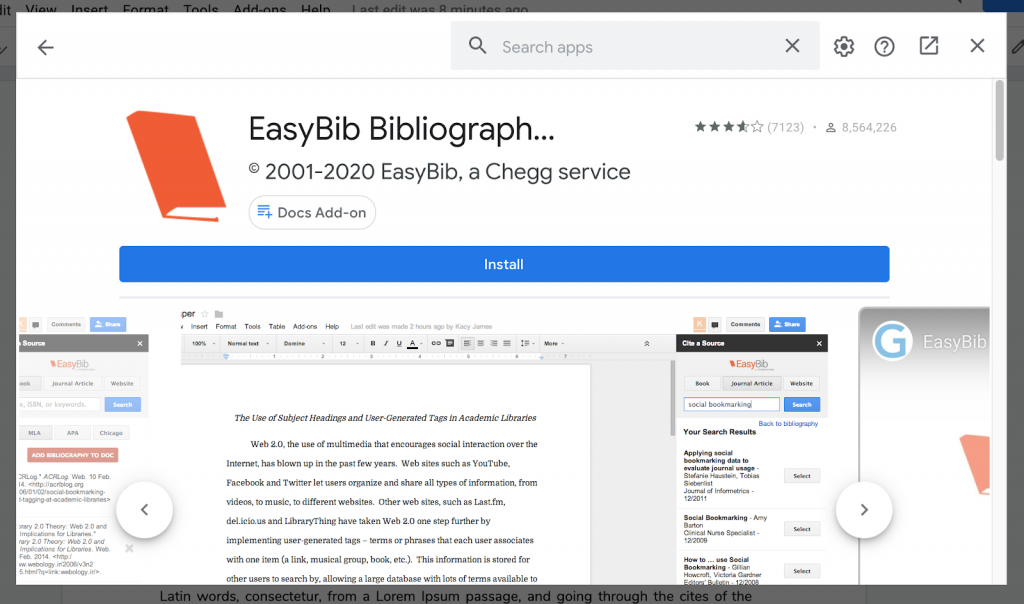 The EasyBib Bibliography Google Docs Add-on automatically generates a bibliography citation for your Google document.
It's capable of formatting your document in MLA, APA, or Harvard. It has over 7,000 styles.
With a single click of "Generate Bibliography", the tool will alphabetize your citations and add them to the end of your paper.
4. Writers Room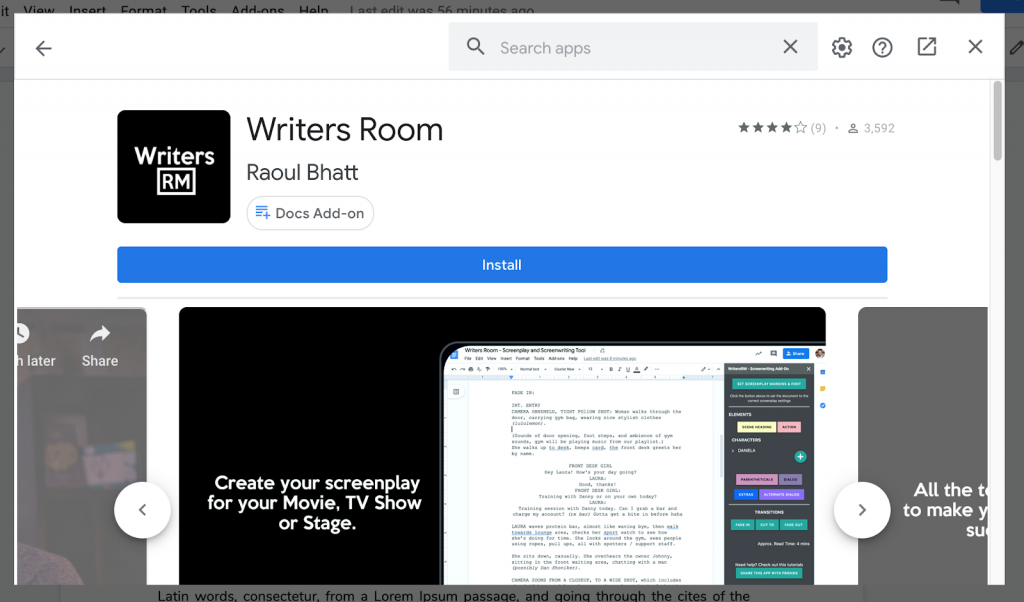 Writers' Room is for screenwriters and team. It allows individual screenwriters to collaborate in real-time to create professional movie scripts, tv shows, screenplays, or videos.
This Google Doc Add-on also offers enterprise-grade security which allows you to lock down your intellectual property on Google's secure cloud.
5. ProWriting Aid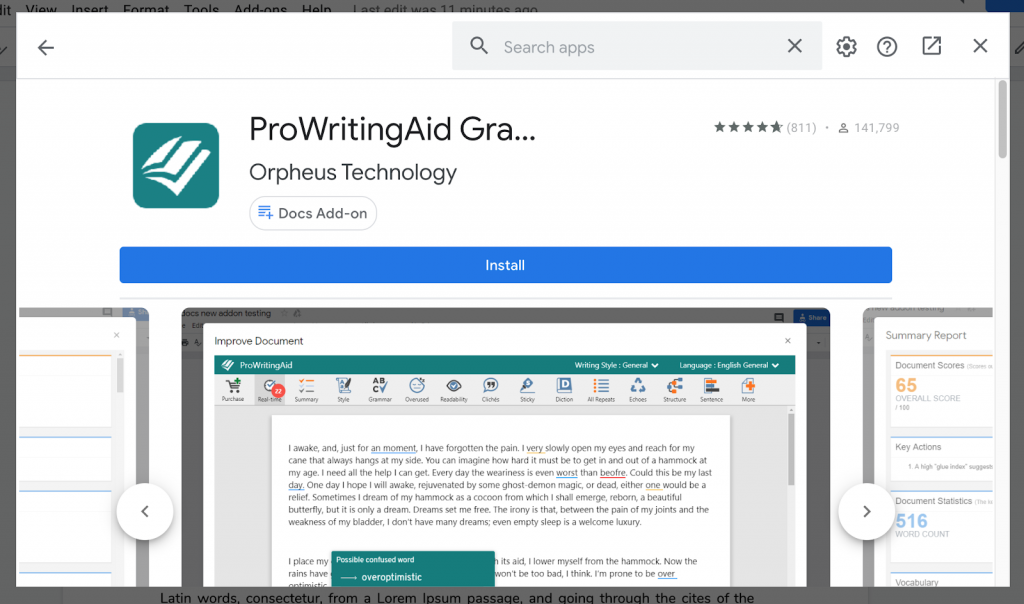 ProWriting Aid checks your grammar, edits your writing style, and provides you a writing mentor in one package.
This is so you can learn how to improve your writing and check for plagiarism.
Many writers regard this Add-on as your online writing editor and personal writing coach. It checks your entire writing for consistent spelling and grammar, hyphenation, and capitalization.
Best Google Docs Add-ons for Students
6. OrangeSlice for Students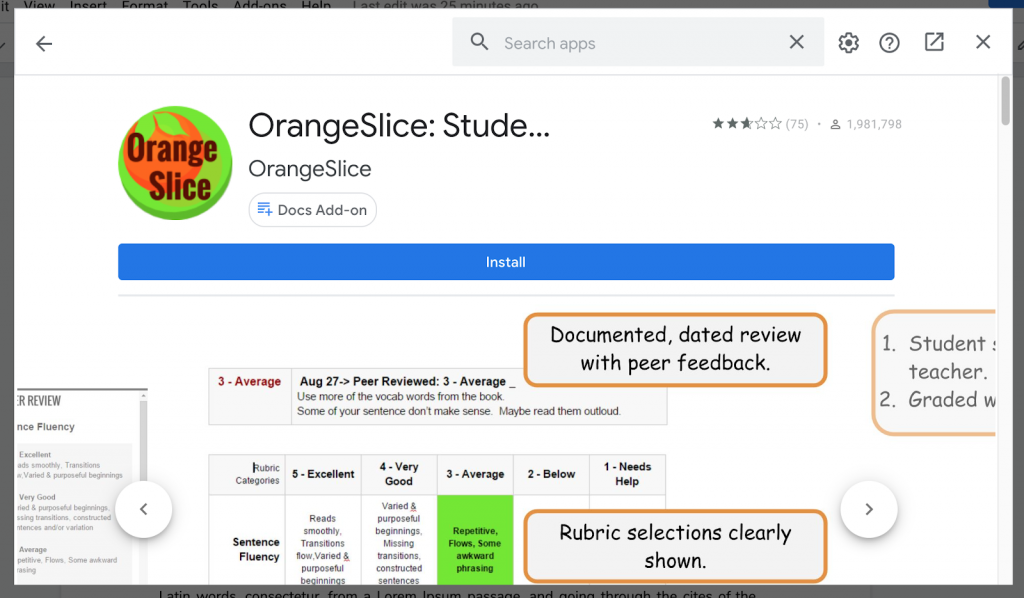 This add-on is the student version of the Teacher Rubric. It allows you to easily and quickly make rubric selections and provide your peer holistic and written feedback.
Then, the peer's review becomes a permanent record of your assignment. So, your teacher can use the Teacher Rubric to make the final assessment, the peer's comments, and rubric feedback.
This lets you see your progression from early on until the end.
7. Form and Quiz Maker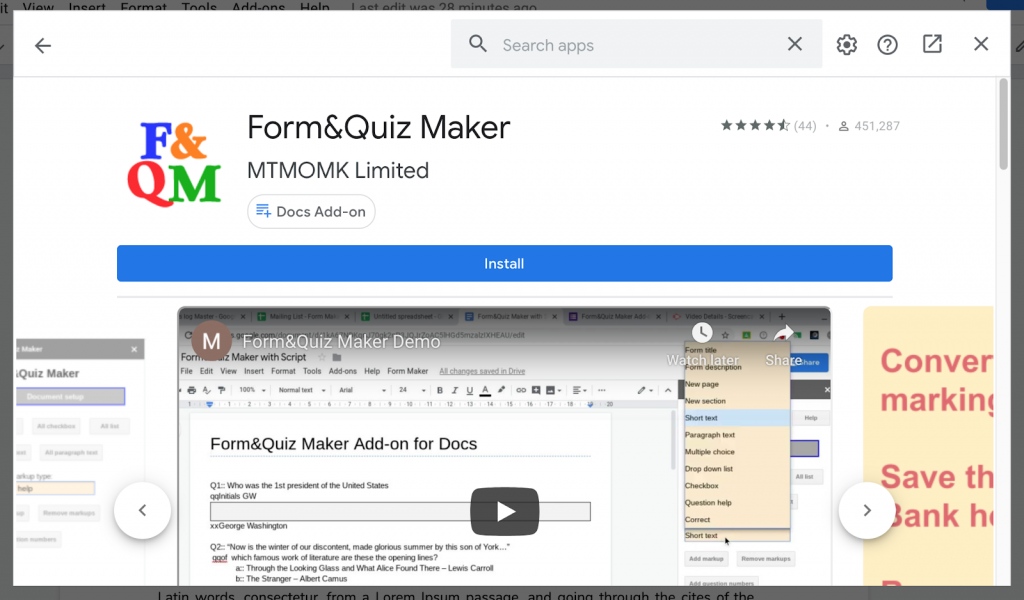 This simple Google Docs Add-on allows you to convert a worksheet into a self-marking quiz in under 5 minutes.
You can convert your Google Docs into self-marking quizzes quickly and easily. Then you save the questions into a Question Bank held in a spreadsheet file.
8. MathType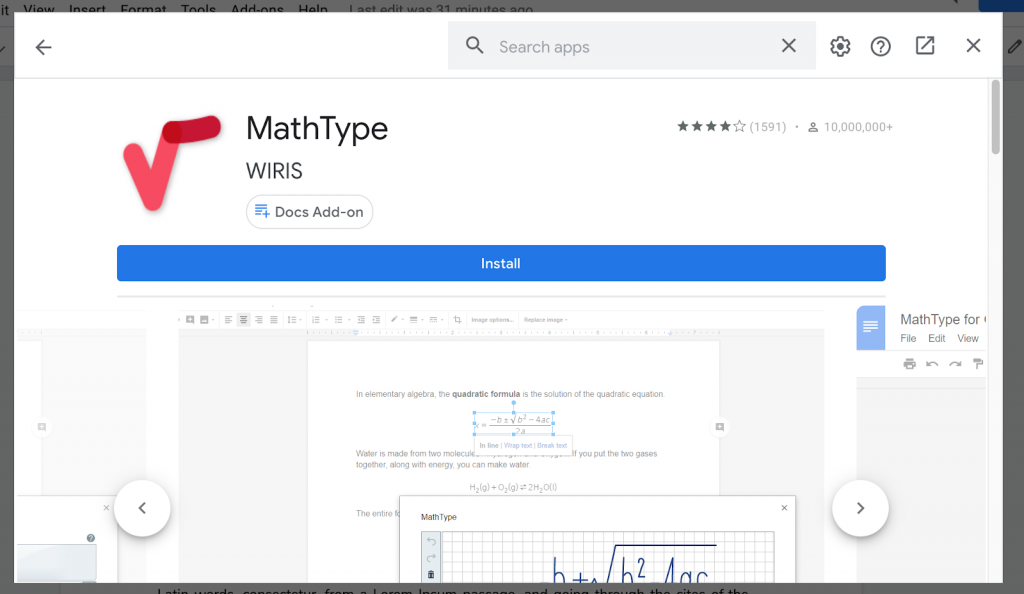 It's difficult to type mathematical functions in Google Docs. This add-on relieves your stress as it allows you to type, hand-write, and edit math equations and chemical formulas in Google Docs.
This add-on stands out with its powerful collaborative features that can optimize your work when creating your educational assignments, papers, or your STEM teaching material.
9. SpeakD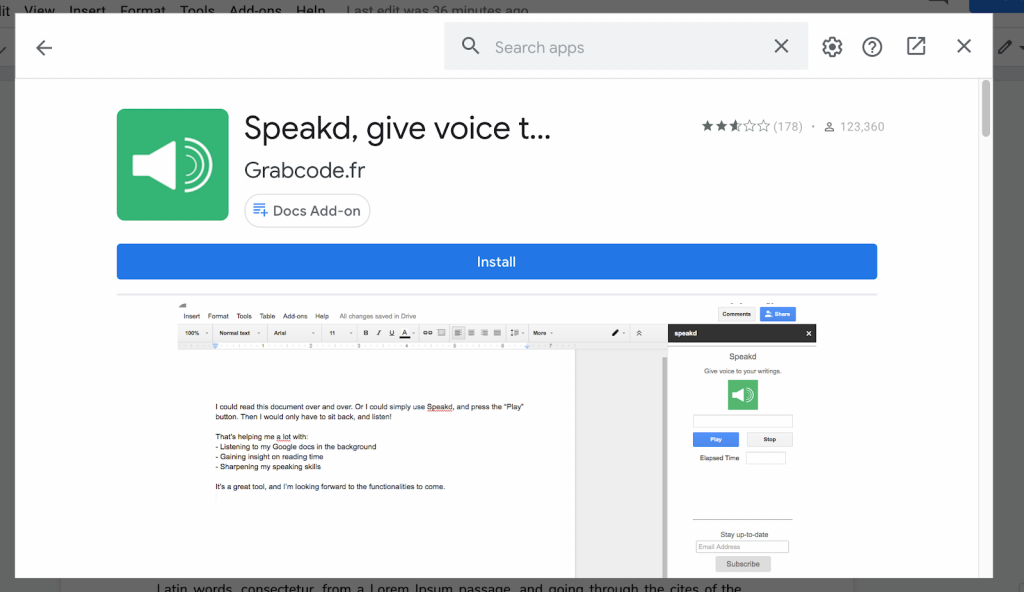 Want to check your document for reading flow? This Google Docs add-on lets you listen to your Google docs in the background.
It allows you to gain insight into your reading time and helps sharpen your speaking skills. This way, you can save time reading on Google docs. The tool does the reading work for you.
10. Yob-Graph Editor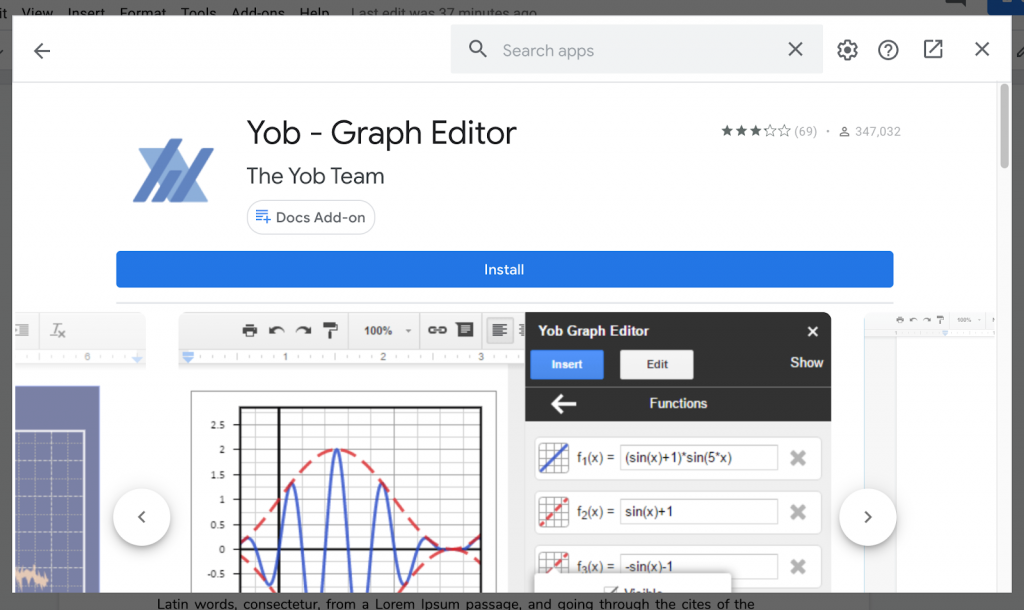 For many students, creating graphs is daunting. Never worry again, this Add-on will cover for you.
The Yob-Graph editor is a slick, powerful graph editor and analysis tool designed to help you create stunning and insightful graphs at the push of a button.
It provides plotting and regression functionality right along the side of the Doc you are working on. Its many advanced features are calculated columns and non-linear curve fitting. This also makes a useful tool for advanced users.
Best Google Docs Add-ons for Marketers
11. SEMRush SEO Writing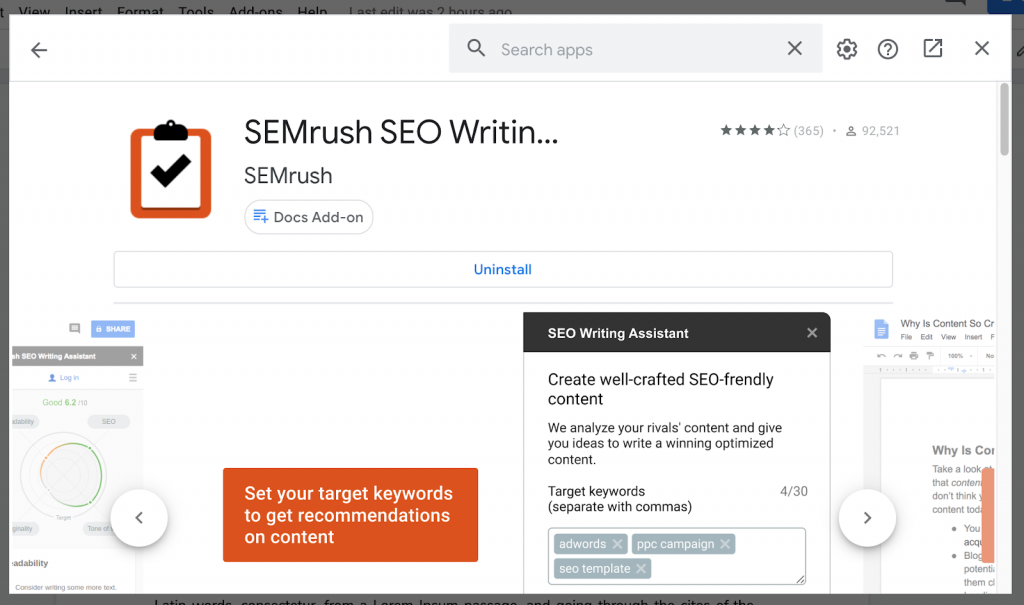 This add-on is a great tool to optimize your content for search engines. The SEO Writing Assistant provides you with instant recommendations for content optimization based on the best-performing articles in Google top 10.
Are you a content professional, blogger, and marketing expert, you can conduct a content competitive analysis by comparing texts or the texts of external writers if it meets various content-quality requirements?
12. Simple Booklet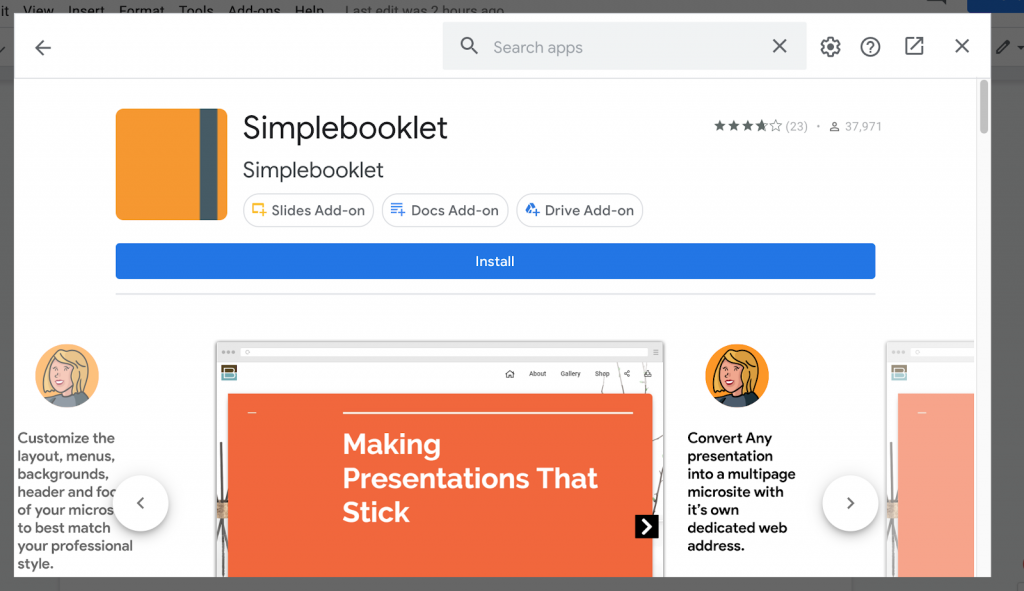 The simple booklet Google Docs Add-ons allows you to make a microsite from your Google Docs, Slides, and PDFs you can publish, post, pin, tweet, share, embed, print, email, and more from a dedicated, easy to remember URL.
13. GDoc SEO Assistant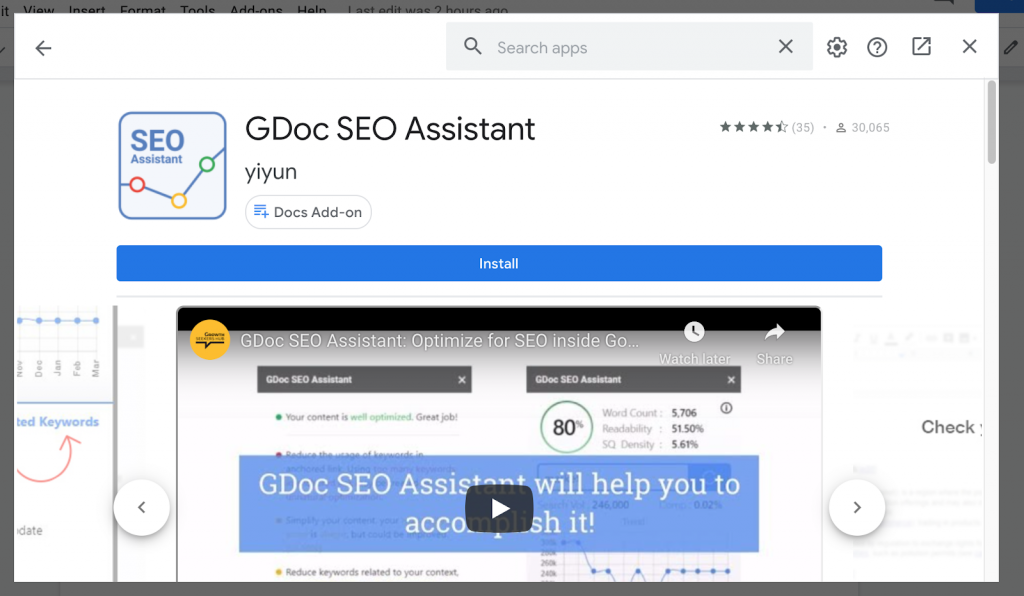 Another SEO assistant, GDoc SEO assistant lets you insert a keyword to generate relevant SEO suggestions and related keywords.
Then, you can optimize your content based on the suggestions given. This Google Docs Add-on allows content writers, bloggers, and online marketing experts to analyze and improve content for better SEO.
It also provides you with information on your target keywords. And you can get insights to choose profitable keywords content by conducting a search volume, trend, and competition analysis.
14. Knoema DataFinder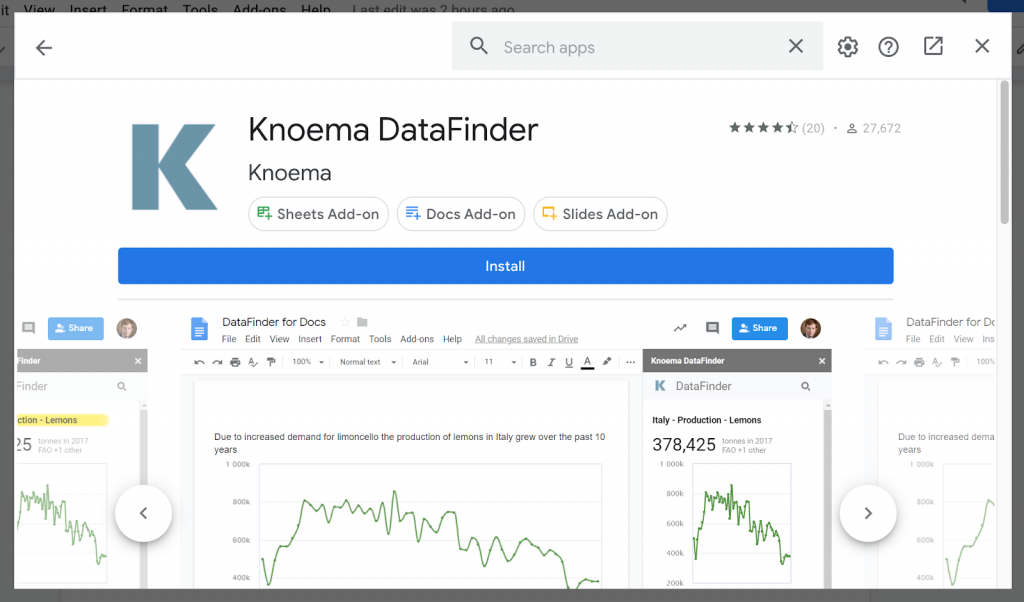 The Knoema DataFinder Google Docs add-on automatically finds, visualizes, and integrates relevant global data and charts into your workflow.
What this means is that you don't need to search for the data online, the add-on has an AI engine to pull the data and generate insights as you type.
As long as the Knoema DataFinder pane is open, you'll get insights (facts, statistics, time series, and datasets, all with sources) that are generated, and you can insert the chart at a single click.
15. Bjorn's Analyzer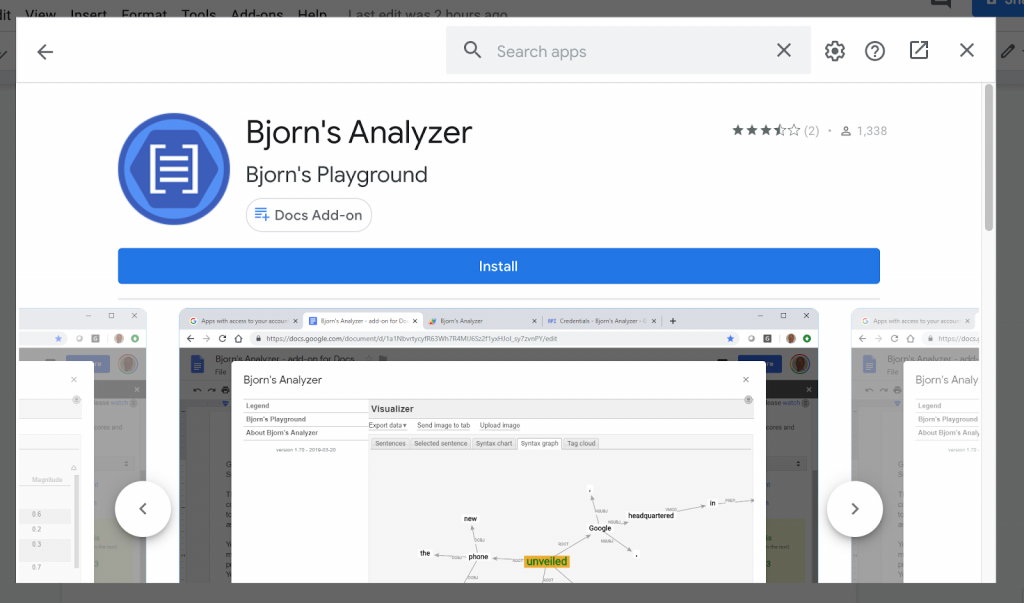 This Google Docs Add-on that encourages you to use AutoML in an easy way to find the incoherence of a document or selection, you can also use it to point out key phrases in a document or selection and detect entities.
The Google AutoML Natural Language is a natural language processing (NLP) service that uses machine learning to find insights and relationships in a text.
This tool also allows you to visualize the syntax using various kinds of graphs. And these graphs can easily be uploaded as images to your Google Drive.
Best Google Docs Add-ons for Teachers
16. Doc To Form
This Google Docs Add-on helps you convert your Doc to Form so that you can quickly and easily create a form from text within a Google Doc for your students.
Simply by selecting a text and clicking a button, you add your questions.
Best way to do this is to choose from several question types that are ideal for transforming regular worksheets to Google Forms.
17. Kaizena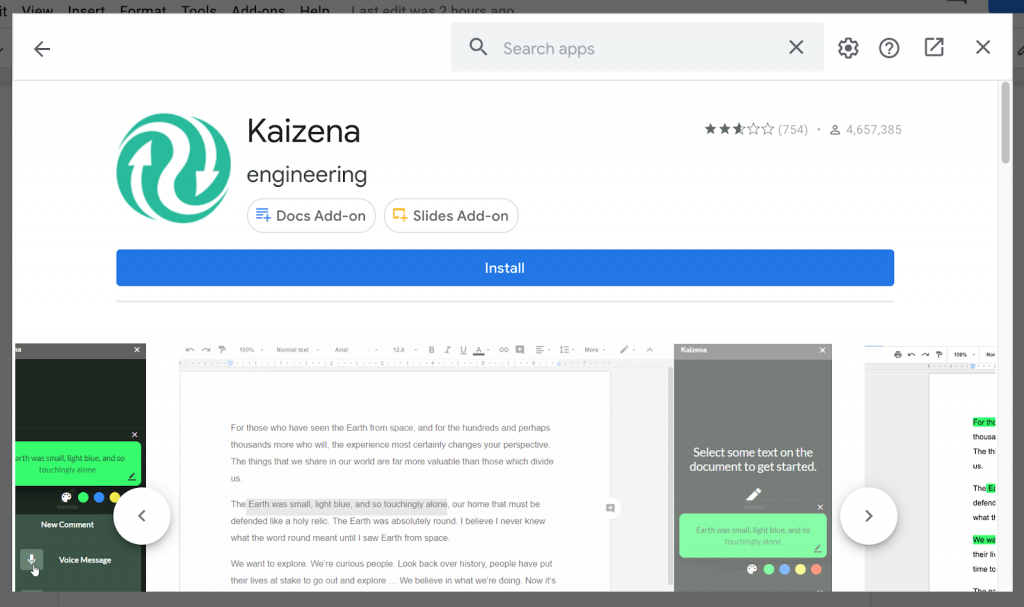 The Kaizena Google Docs Add-on helps teachers provide fast, high-quality feedback on student work.
If you're a teacher, you'll be able to add voice comments, lessons, and skills, right inside Google Docs. What this means is that you won't have to leave Google Docs to record voice comments, add lessons, or track skills.
This Google Docs Add-on also allows you to track evidence of skills students demonstrate in their Google Docs with our Skills feature.
18. Highlight Tool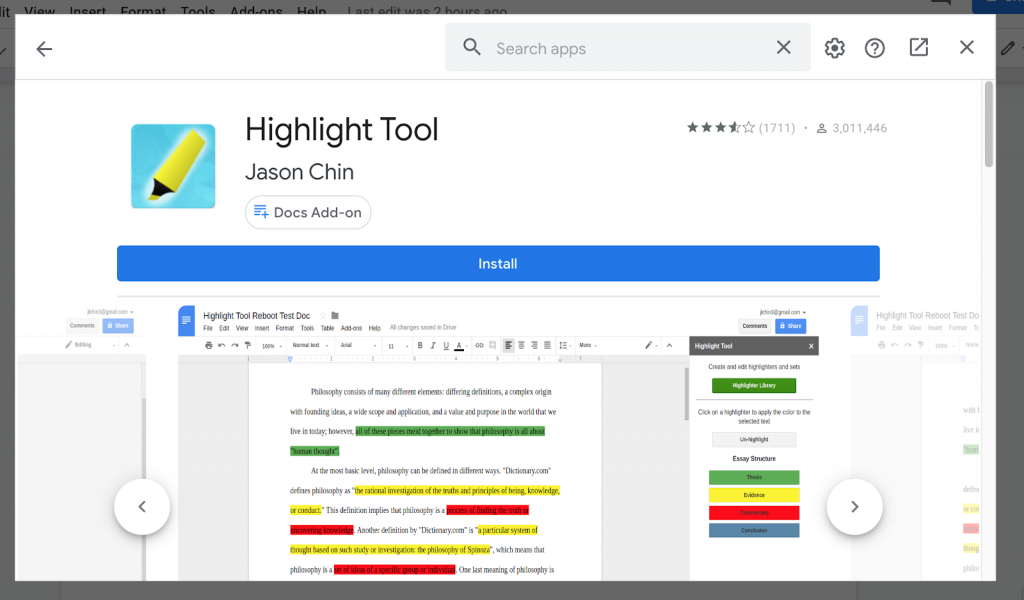 Sometimes you want to have different pens to differentiate highlighted points. This Highlight Tool for Google Docs gives you additional highlighting needs.
You can create and edit customized highlighters that automatically save.
And the fun is that you can export the highlighted text to a separate document by sequence or by color.
This Add-on is special as it helps you to organize essays, categorize ideas, or emphasize important facts. On the sidebar, there is a highlighter that permits you to highlight and select text to understand what the colours means.
19. Grade Tool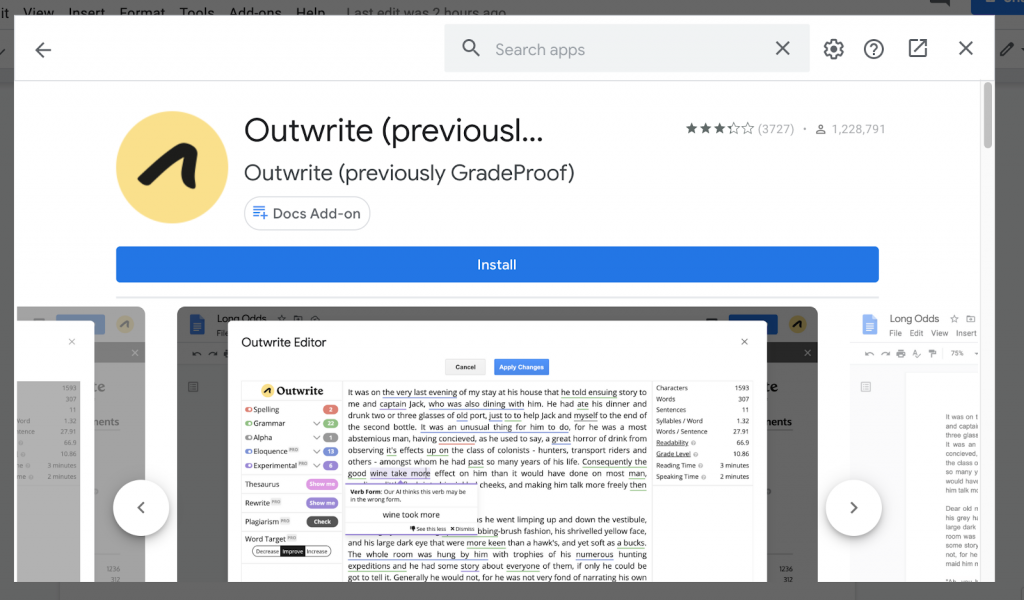 Teachers also need to write well. The Google Docs Add-on, "Outwrite" helps you become a better writer as the AI writing assistant guides you with grammar and spell checkers. This typically helps you to turn your ideas into powerful sentences.
This Google Doc Add-on allows you to rephrase sentences and boost your vocabulary.
20. Organize Slice for Teacher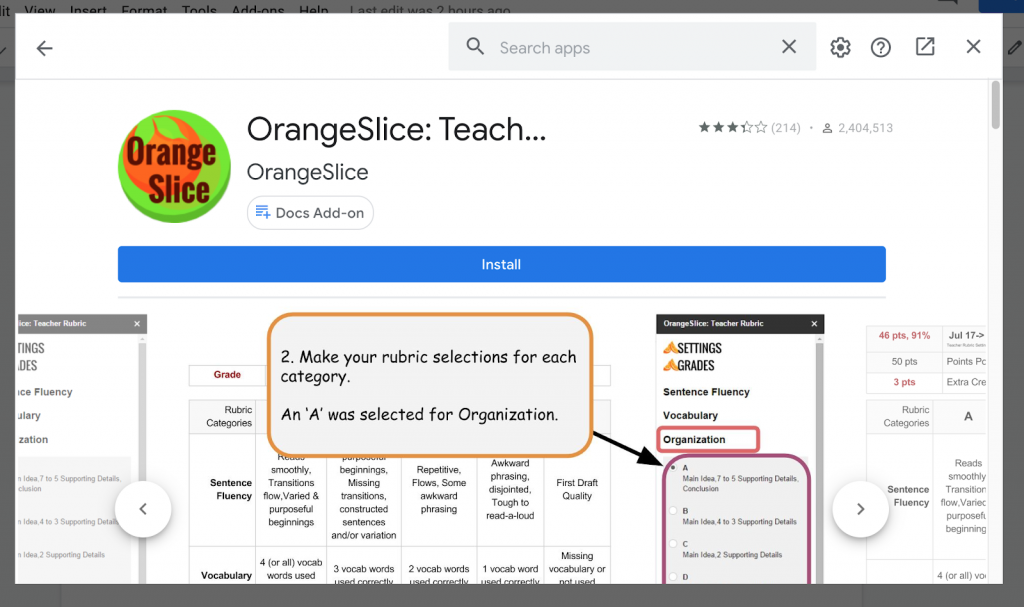 This Google Docs add-on is the complement of the OrangeSlice: Students. The OrangeSlice: Teachers is a Google Docs Add-ons that allows easy and fast rubric selections and converts the analysis into a percentage or points grade.
Also called the Teacher Rubric, the Add-on allows you to increase your grading productivity and it professionally presents a scored rubric and grade for your students.
It also has powerful applications to create, distribute, and receive submitted assignments from students.
Best Google Docs Add-ons for Web Developers
21. Code Blocks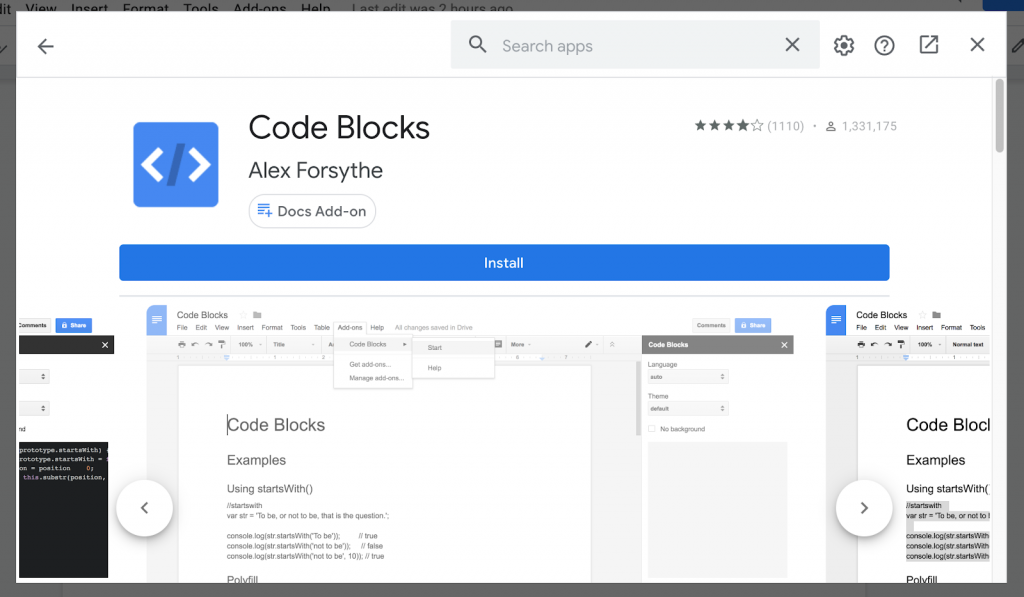 The Code Block Google Docs Add-ons allows web developers to highlight the syntax of their codes on Google Docs. It makes it seamless to transfer your code into Google Docs.
A simple task of clicking the "Format" button will format the color theme of your choice.
The tool also allows you to detect automatic language and format code inline or as blocks.
22. Docs to Markdown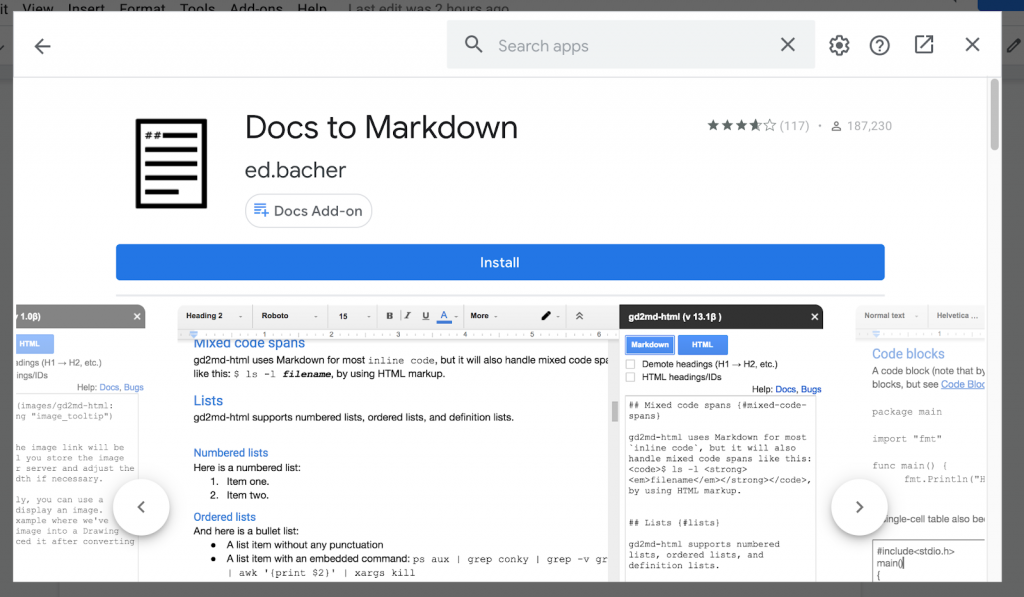 This Google Docs add-on converts a Google Doc to simple, readable Markdown or HTML.
The Docs to Markdown Google Docs add-on allows you to create documents using the editing and collaborative features of Google Docs, then convert to Markdown or HTML.
You can also store your document as a text file using a version-control system. The add-on marks up the content without preserving colors and styles in text.
23. Markdown Tools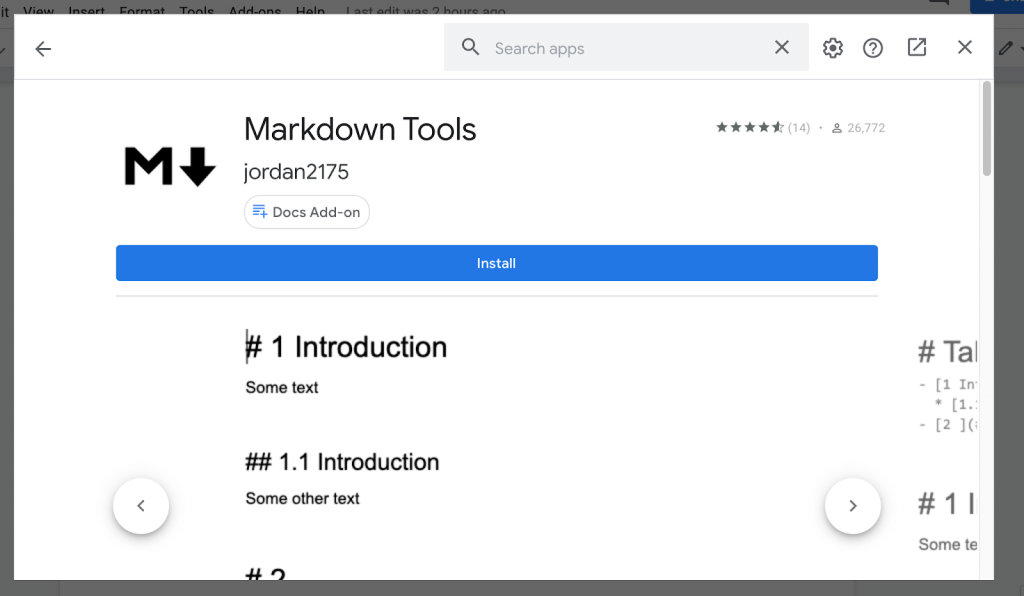 Unlike the Docs to Markdown Google Doc Add-ons, this add-on enables the heading numbers and the creation of a table of contents for markdown.
Markdown Tools is a simple Google Doc add-on which allows you to add heading numbers to the normal headings/styles in a Google docs document.
This tool allows web developers to add the heading numbers along with the markdown hashtags that are appropriate for each heading level.
And can also create and add a markdown styled table of contents to the document where the cursor is currently located.
24. PlantUML Gizmo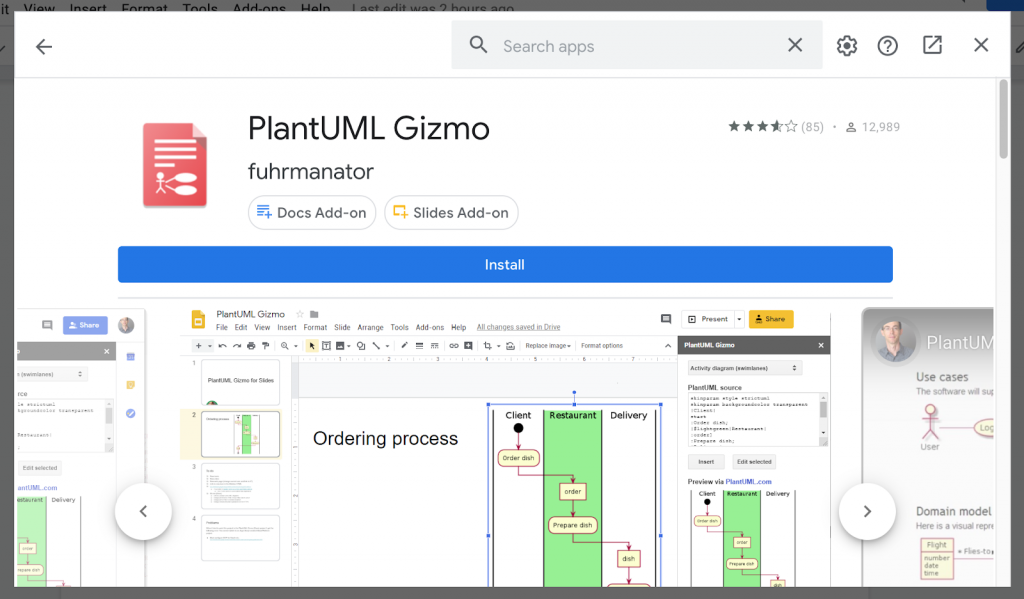 The PlantUML Gizmo Google Docs Add-on helps you to create and maintain UML diagrams using a text-based UML diagramming tool in your Google Docs and Slides. The tool automatically draws the diagrams into your Google Document as images.
With this, you never need to invest time in creating a diagram layout. You even have the freedom to edit the image and re-insert the diagram.
If you're new to the tools, you will find sample diagrams to help you start using the tool.
25. Code Blocks 2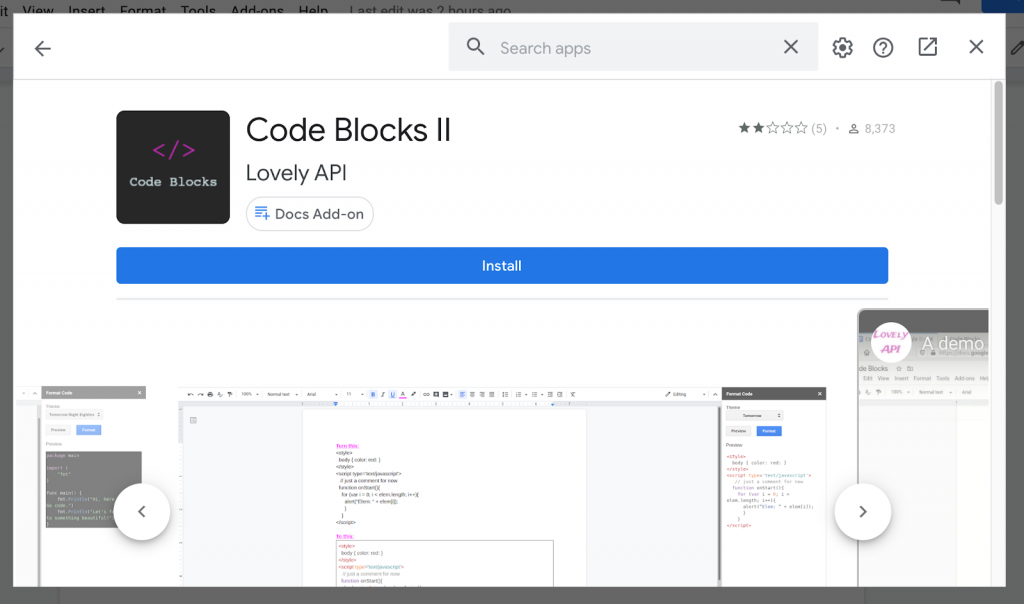 This Google Doc Add-on is the advanced version of Code Block 1. It helps you to format your code in many beautiful themes and you may include line numbers if you wish.
The Code Blocks for Google Docs will ensure your format code stands out from the rest of the text in your document.
It supports all programming languages and its indenting feature makes it amazing.
Best Google Docs Add-ons for Creatives
26. Balsamiq Wireframes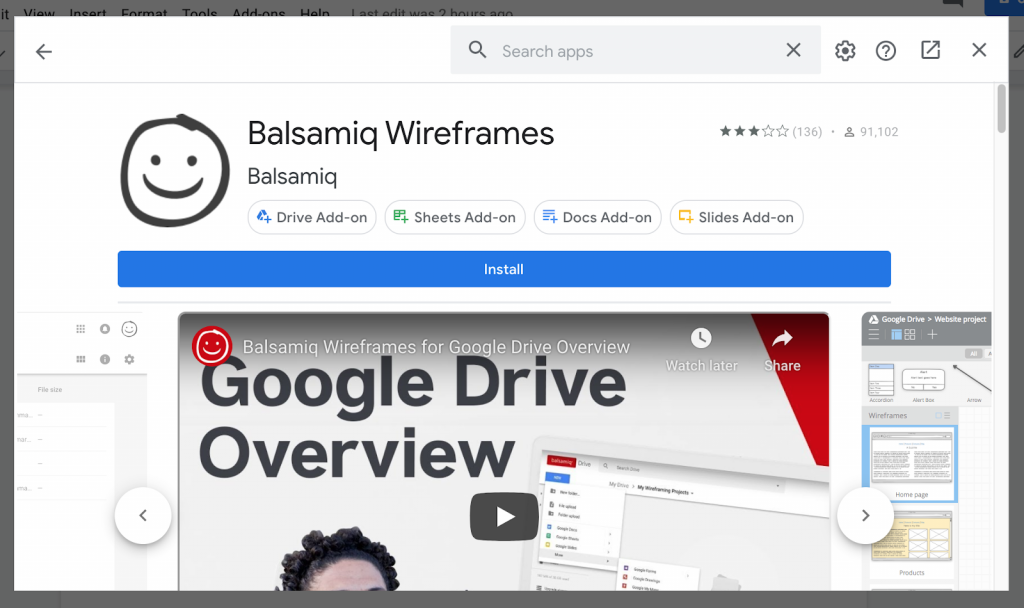 This awesome Google Docs Add-ons, Balsamiq Wireframes, lets you create, edit, and share sketch-quality wireframes within Drive and the Google Suite apps (Docs, Sheets, Slides).
Balsamiq Wireframes is a fast and easy way to wireframe on the Internet. You can collaborate on your wireframes with others, and it will be done in real-time.
It also has a feature that allows you to quickly browse and insert your wireframes in your Google Suite documents.
27. Easy ClipArt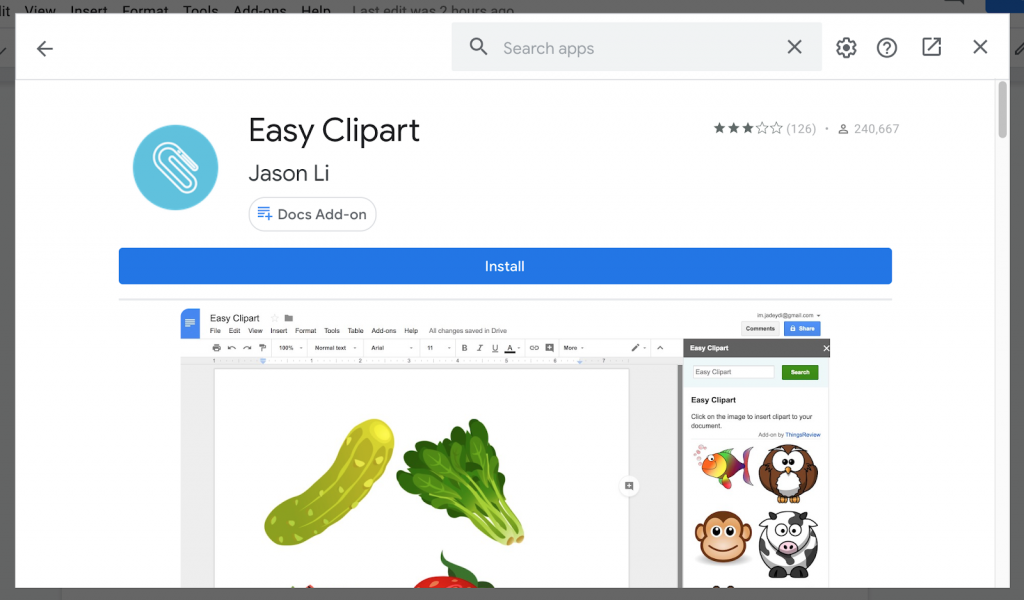 Difficulty in inserting clipart into your document is gone for good. This Google Docs Add-on allows you to reflect that "a picture is worth a thousand words" by letting you search and insert clipart images into your Google Docs.
This brings an easy experience to insert beautiful clip art images in your documents.
28. Extensis Fonts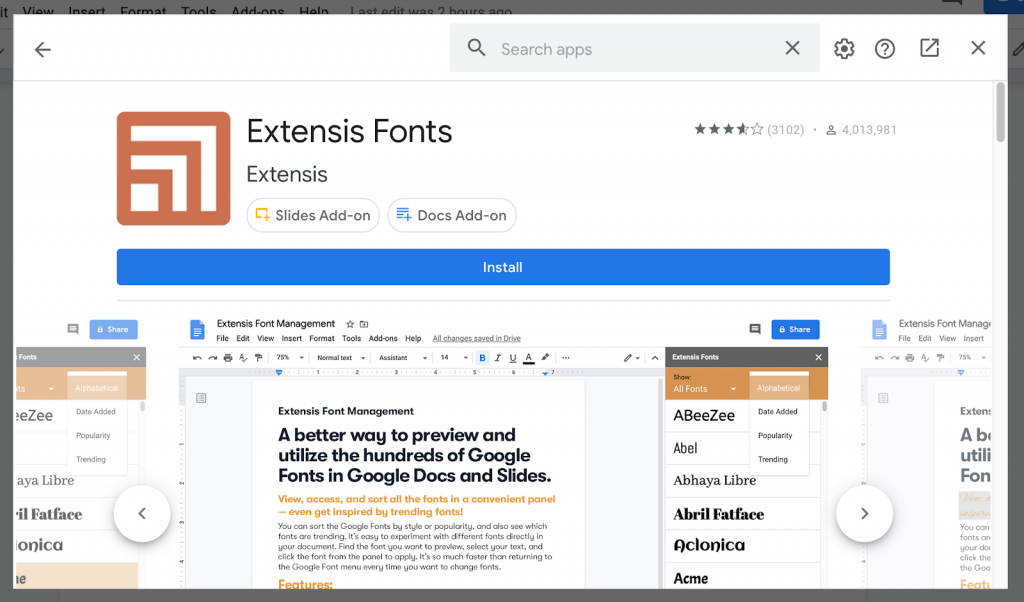 Fonts make your writing appealing to the eyes. This Google Docs Add-on makes it easy for you to preview and utilize the hundreds of Google Fonts in Google Docs and Slides.
It allows you to view, access, and sort all the fonts in a convenient panel without toggling back and forth.
Aside from that, it lets you filter fonts by popularity, style, and trending. Then preview it, and select your text. All these are available at a click from the font panel. It gives the best experience when experimenting with different fonts directly in your document.
29. Word Cloud Generator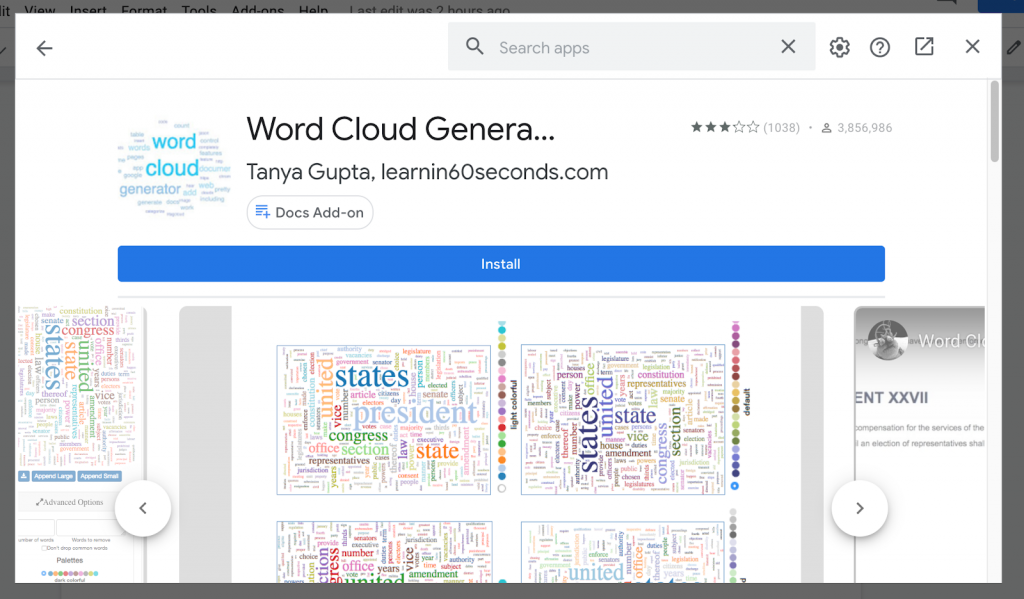 The word cloud generator Google Docs Add-ons allows you to generate a downloadable word cloud. This is useful to emphasize a word from a group of related words.
It has many features that give you control over the number of words, dropping words auto pretty & word tables. With this add-on, you can quickly assess your emerging theme and best categorize your document.
Aside from that, it is colorful and loads colorful clouds, and lets you download the image in two sizes and your choice of palettes.
30. Icons for Slides and Docs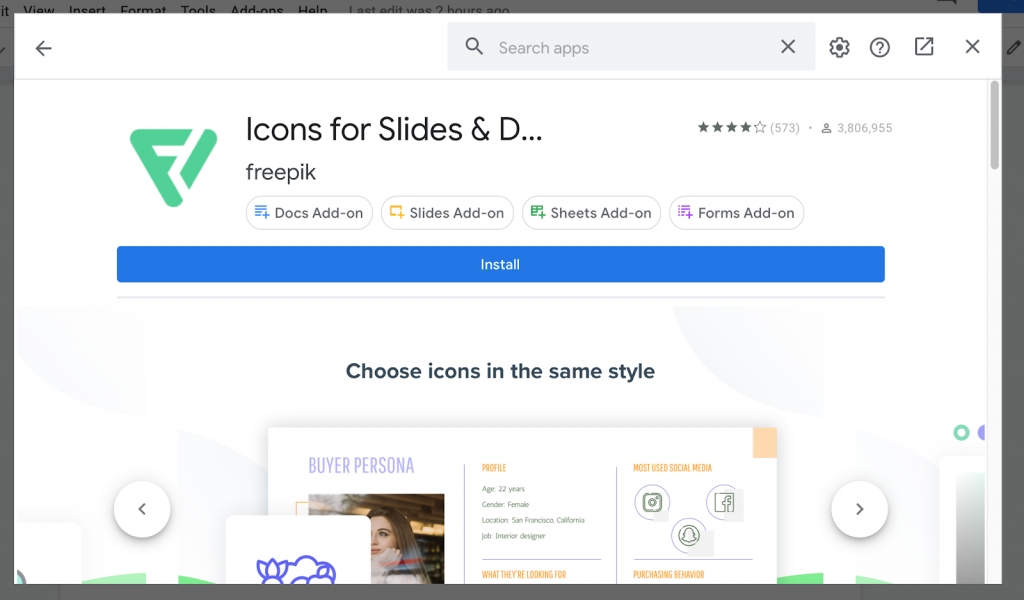 Icons are great for representation. This Icons Add-on for Google Chrome gives you unwavering access to Flaticon, the largest icon database.
With it, you will have free access to icons that you can use for your Google Docs and other Google tools.
Final Thoughts
Google made life easier by providing tools that let people get things done easier and faster. In areas where they didn't, they made opportunities accessible for third-party companies to solve the problem.
Are you a teacher, writer, web developer who wants to make the most impact with your Facebook Group, our Google Chrome Extension, Group Leads can help you achieve that fast?
Do you need to convert your new Facebook Group Members into leads and paying customers? Get the Group Leads Chrome extension free in 7-days.