Smart entrepreneurs understand the need for speed. They make investment decisions sooner than later because it is the best way to achieve fast ROI and set the business for the right momentum.
As an entrepreneur, you need to spend your time wisely.
Facebook CRM tools are excellent for managing your time and business. With over 2.7 billion monthly active Facebook users, you're likely to have your target audience lying somewhere on the platform.
Facebook CRM tools allow you to quickly engage new leads and help them understand your business or make a purchase. Because the longer you wait, the less likely you will convert them to customers.
However, there are several of these CRM tools available in the marketplace. And it's confusing to know which is best for your business.
In this article, I'll review the Chatsilo and Pepper4FB chrome extensions and suggest which is better.
What is Pepper4FB?
Pepper4FB is a Google Chrome extension that lets you automatically target specific prospects within a Facebook group of your choice.
You can automatically send friend requests based on keywords. Once they accept your friend request, the extension automatically sends a preset welcome message in Facebook Messenger and personalizes these messages with the contact name.
This tool also converts your Facebook Messenger into a user-friendly CRM so you can track your sales process and radically boost your productivity.
Not just a Google Chrome extension, the Pepper4FB CRM tool has a web app to perform all the tasks.
You can follow up and respond to messages using canned responses enable within Facebook Messenger. And you can manage templates and tags within the web app and set up automated friend requests from the extension.
Pepper4FB integrates directly with Facebook Messenger, so you can tag and track leads within Messenger instead of switching back to the Pepper software.
A Better Pepper4FB Alternative that you Need.
Amongst other CRM tools available in the marketplace, Chatsilo is outstanding in its beneficial features, time savings, and customer support.
Chatsilo is a better alternative to pepper4FB.
What is Chasilo Chrome Extension?
Chatsilo is a robust Facebook Messenger CRM chrome extension that automatically runs your interaction with visitors as you convert them to paying customers.
It sends friend requests to Group contacts using tags, welcome messages, and canned responses. It also turns your Facebook Messenger into a mini CRM with color-coded labels and lead tracking.
You can also create custom tags to manage your leads, write detailed reminder notes within Messenger, and create unlimited message templates to respond to essential conversations at a single click.
Chatsilo lets you step up your sales funnel with direct integration with your Google Calendar to enable you to set up reminders for follow-ups, so you never miss an opportunity in Facebook Messenger again.
Chatsilo works on the old and new Facebook layout, and it's commendable for its ease-to-use functionality. Its interface is friendly and allows anyone to master the features in a matter of hours, and it's available as a Google Chrome Extension and a web app.
The new web app from ChatSilo enables you to manage everything in one convenient place, while the Chrome extension lets you work directly in Messenger or Facebook without switching tabs.
Chatsilo Vs Pepper4FB.
Now let's highlight why Chatsilo is by far a better alternative to Pepper4FB.
Custom Tags and Color
The inbuilt custom tags let you label your leads by your chosen criterion. It could be by the version of the product they subscribe to or their subscription type. It all depends on your use case.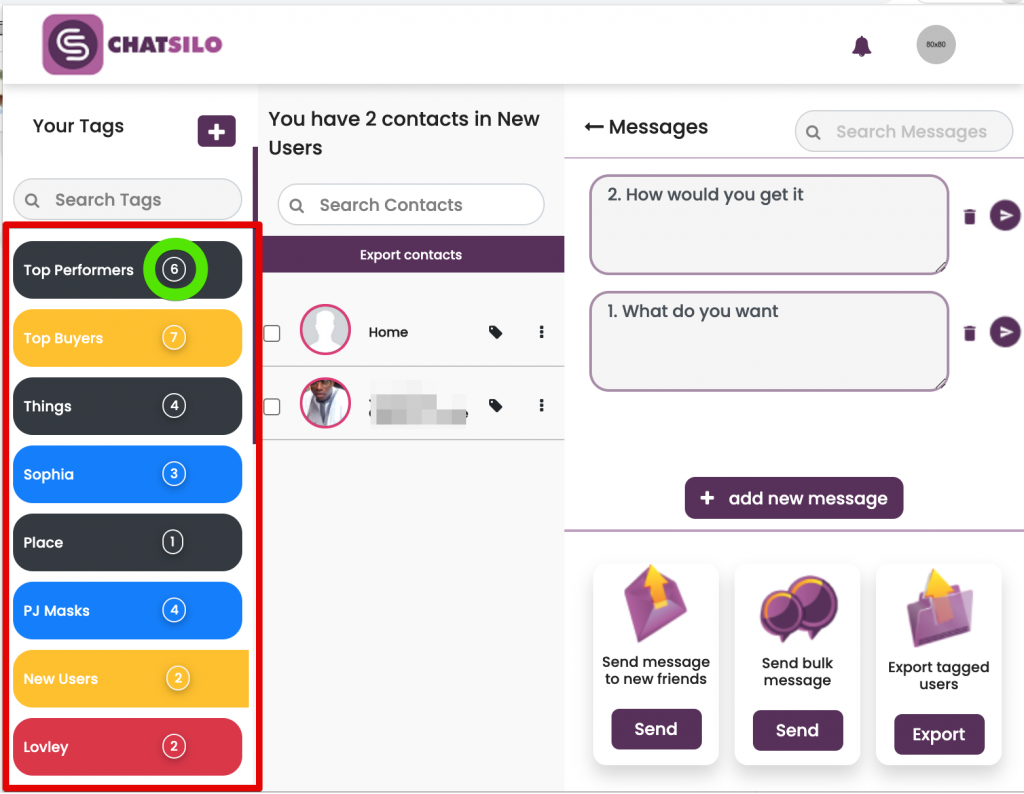 Let's assume that you've segmented your leads by the stage in the customer journey or by customers' insights, but you have several of the labeled segmentation that they can be easy to confuse.
With the Chatsilo Chrome extension, all you need is to assign color-coded tags to the labeled users and conversations. You can adequately manage your leads, create beneficial sales funnels to ensure you properly prospect, and document your Facebook leads acquisition and nurturing for retention.
Also, creating custom messages and templates through the Chatsilo platform keeps tracks of leads from your chat.
Facebook Marketplace Support
Facebook marketplace is an open exchange where users can buy and sell new and pre-owned items to other users. This feature is ingenious; however, the Pepper4FB chrome extension doesn't have it.
If you use the Facebook Marketplace with the Chatsilo Chrome extension, welcome to the land of sales opportunities.
As you list your products or services for sale and gain access to a local audience, Chatsilo will help you put leads from that platform, so you continue to nurture them for further sales.
The good news is that Chatsilo's support for Facebook Marketplace is exemplary. It gives you the opportunity to not only but also control communication with your customers on the bustling Facebook Marketplace.
With ChatSilo, you can easily keep track of potential customers and stop missing out on legitimate sales.
Mind you, this support is also available on your Facebook pages.
Individual and Group Tagging
Unlike Pepper4FB, ChatSilo allows you to tag individual Facebook users or entire Facebook groups.
What this means is that you can identify a Facebook group, tag them by interest, and specifically craft a copy for them, so they purchase from you. Quick and simple.
While Pepper4FB uses human-generated keywords that are likely to skip potential clients, ChatSilo grabs all the clients, so you don't leave any cash on the table.
Another sweet spot is that you can tag an individual, say, a client you just finished pitching to, then add a note and reminder to follow up in their days.
And when Pepper4FB doesn't let you see the number of contacts tagged, Chatsilo shows you the number of tagged contacts. You must see the numbers.
Unlimited Daily Friend Request and Welcome Messages
Okay. So Pepper4FB allows you to send 50 friend requests daily.
Chatsilo has no limit on the number of daily friend requests.
And when Pepper4FB can only send a paltry 20 welcome messages per day, Chatsilo sends an unlimited number of messages, and you can delay and set intervals to the frequency.
When Pepper4FB forces you to send messages in batches, Chatsilo improves your Facebook Messenger CRM features by letting you send messages manually or send them to as many contacts as you wish
Also, it makes it easier for you to follow up with leads, and as well it integrates directly with your Google Calendar, so you get an alert in case you forget a scheduled client's call. You can set up custom reminders and prevent leads from getting lost in chat, a feature that is not available with Pepper4FB.
Robust Knowledgebase with Support and How-to Articles
How do you tap all the benefits a tool has when you don't get enough knowledge about the product? Besides delivering excellent customer service, the Chatsilo team provides a robust knowledge base system and how-to articles to support your process of using the tool so that you don't get stuck in your journey to engage with your potential customers.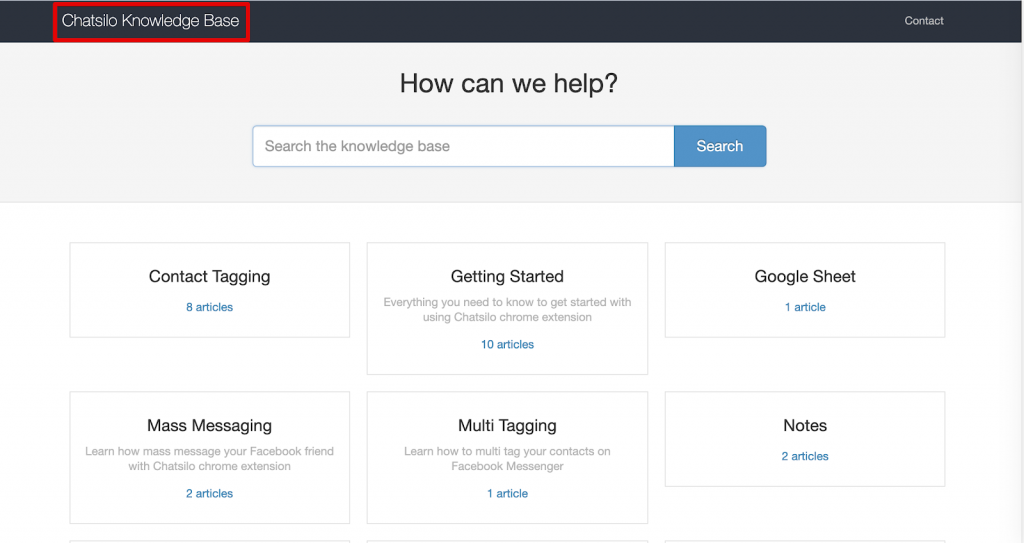 This system isn't available for the Pepper4FB Google Chrome extension and web app.
Final Thoughts
To most people, time is money, but to entrepreneurs, time is more than money. It's life – family, work, and personal life.
So smart entrepreneurs strive to use their time well, so instead of experimenting and signing onto one tool or the other, I've picked two top Facebook CRM tools – Chatsilo and Pepper4FB chrome extension, and I've reviewed and suggested which is better.
Now it's your turn to choose the tool that allows you to spend quality personal and productive business time versus being buried in work all day.
Without any upfront commitment, sign up for chatsilo free trial today and see how transformed your life would be.