Are you looking to shorten your blog links so they can look fancy and less overwhelming when you promote them on social media?
Or you want to brand your Google form link, so your audience trusts that it's you and participate in your survey?
URL shorteners are your best bet.
So in this post, I will share with you the best URL shortener in 2020.
Let's get started.
What are the URL Shorteners?
URL shorteners are online tools that shorten URL, customizes them into brands, yet direct users to the original location or page.
This tool can do more as it allows you to manage, click, promote, and analyze the link's activity.
Why should you shorten your URLs?
Shortening URLs protects your brand and helps grow your business.
When you shorten your website or blog post URL, those unnecessarily long and disturbing-looking URLs become short and fancy. It becomes easy to read, type, and remember.
Ultimately, it compels people to click on them.
Aside from that, on the growth side, readers always prefer branded URLs to those long hard to read URLs. Particularly if it's the brand they already trust. And this makes it easy to track engagement to improve your marketing strategies.
How do you shorten URL?
How to shorten your website URL is as easy as pie. Simply head over to the URL shortener site of your choice.
Copy and paste your URL in the provided box.
Then, Click on the "Shorten URL" button.
Best URL shortener in 2022
There are many URL shorteners on the world wide web; looking around to pick the right one is taxing.
However, to save you plenty of work, I have carefully reviewed the best URL shortener in 2022.
Here you go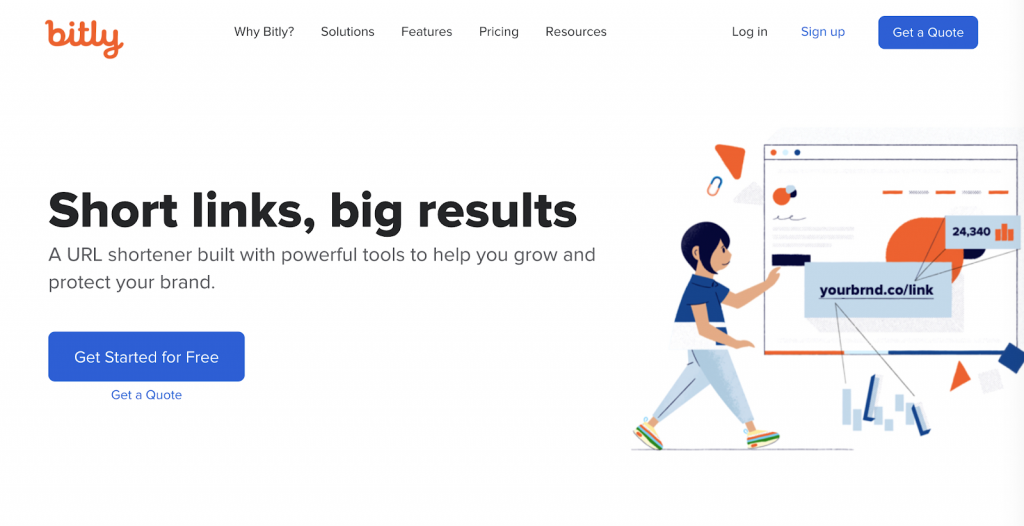 Bitly is a URL shortener platform for businesses. It has some exciting offers for business growth. Aside from that, it is super easy to use and has a detailed analytics dashboard. Some of the business-centric metrics are links, organic shares, and clickers' location.
This tool has a generous freemium offer, and this makes it my best. For free, you can customize the end-half of your URL. And you can perform some extra basic activities like track click rates, access referrers information, and brand 1,000 non-branded links per month.
If Bit.ly's freemium offer could be this superb, ever wondered what the premium version would house? For more prominent brands, bit.ly allows for complete link branding and link tracking.
Pricing
Free:- $0/month
Basic – $29/ month
Premium- $ 199/ month
Customized solution – Get a quote.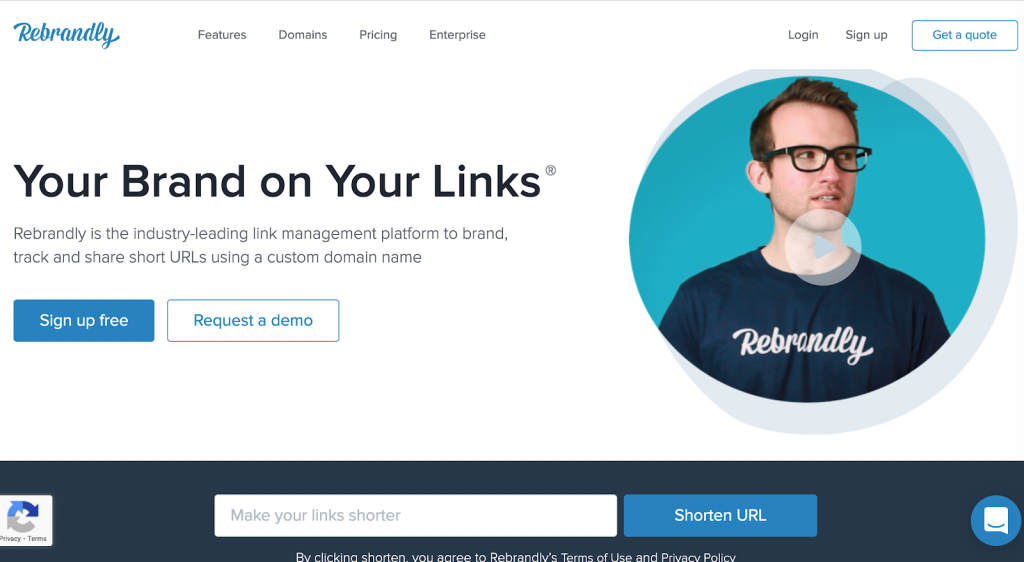 Rebrandly has a slight feel when compared to other URL shorteners. This tool wants you to profit from customizing your URL. So references it all over the world wide web.
Rebrandly even allows you to cloak your link in a QR link.
Pricing
Free:- $0/month
Starter:- $29/month
Pro:- $69/month
Premium:- $499/month
Enterprise:- Custom Price
TinyURL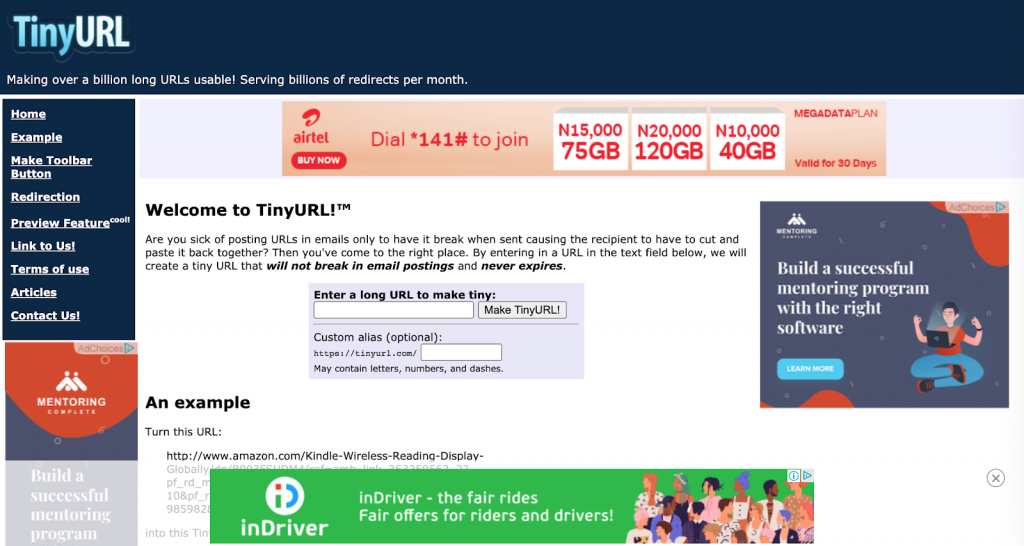 TinyURL shortener lets you create links that never expire. And it's free any day, anytime. This tool has an AI crawler that shortens URL for you, or you can customize the result.
The TinyURL shortener has a small bookmark feature, called the bookmarklet. It is a javascript code that, when added to your web browser's toolbar, generates a short link from a web page at a button click.
Then it redirects to the TinyURL platform so you can copy the generated link.
Pricing
Free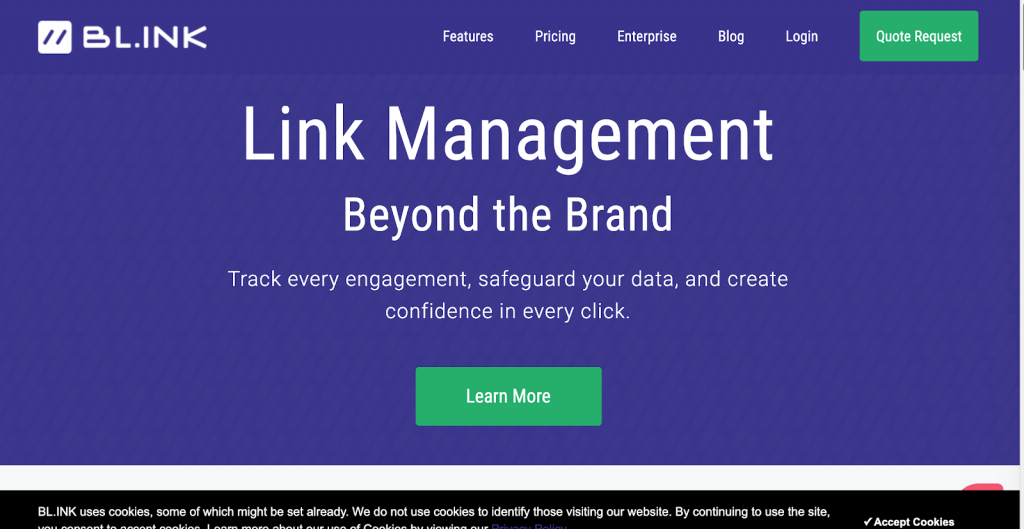 BL.INK URL shortener shortens links and tracks the traffic the link brings. It has an exceptional dashboard that shows the general statistics of the link and how it is trending.
This tool has the most comprehensive analytics. You can do a deeper dive to highlight traffic by device, referrer, location, and even by clicks and time clicked. It also allows you to tag your link to view the link traffic and better manage your campaigns.
Pricing
Free: $0/ month
Expert: from $12/month
Small and Medium Business: from $99/month
Team: from $299/month
Business: from $599/month
Enterprise: Custom Price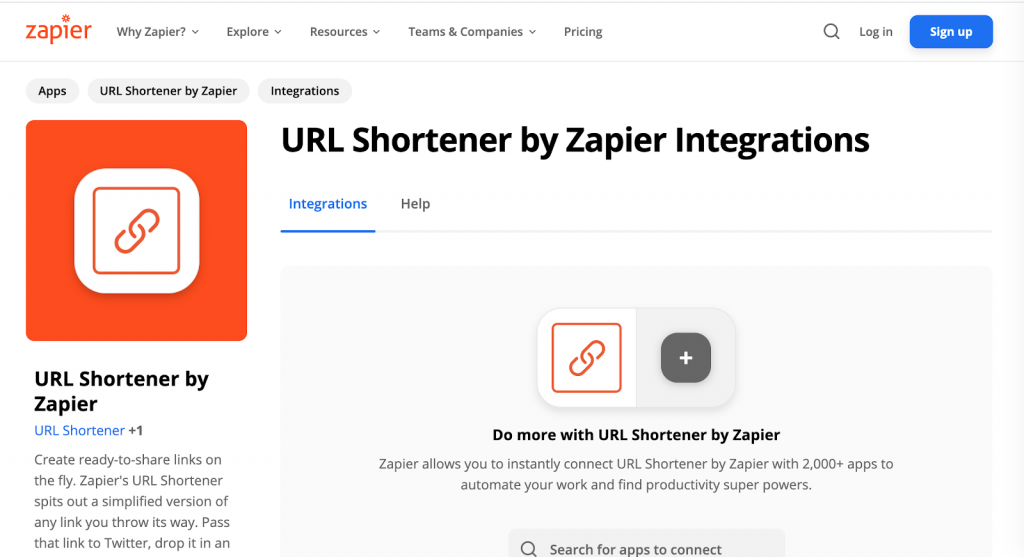 Why do I love this tool? It's automatic.
Zapier's URL shortener creates and saves short links for you automatically. It makes building an automated workflow seamless. Imagine you can shorten the link of your social media post and, at the same time, saving it on Google Sheets.
Should it be via SMS or on Twitter, this tool saves you the extra cost of sending links and additional text characters respectively. The fun part is that Zapier integrates with over 2,000 applications including Google Drive, Slack, Pipedrive etc.
Pricing
Free.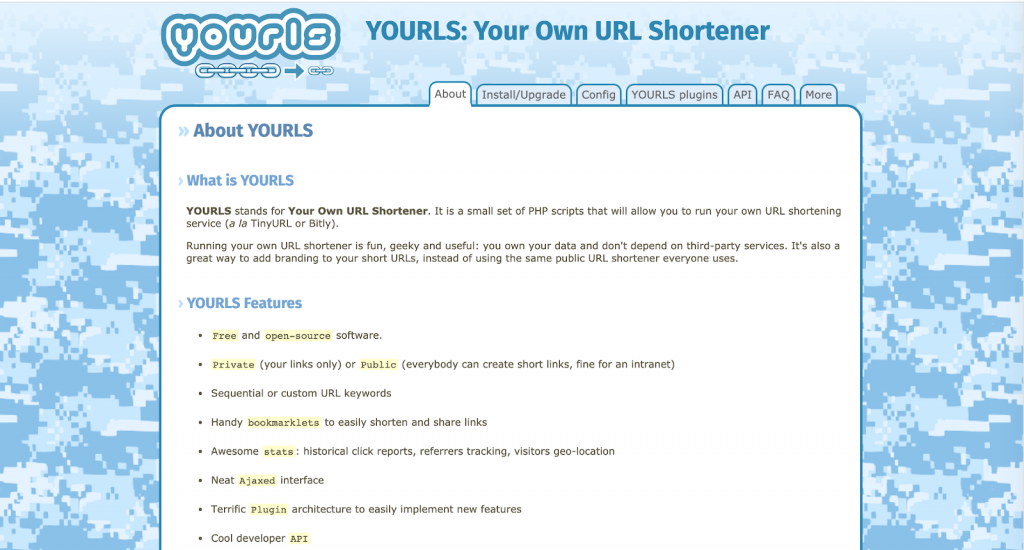 YOURLS is an open-source URL shortening tool. The acronym is Your Own URL Shortener. With it, you can create private and public links. And you can do this with both sequential and custom URL keywords.
This tool includes a plugin architecture that lets you add new custom features. And its robust analytics does geolocation, referrers tracking reports, and historical click reports.
As the name implies, "Your Own" – You can run your own URL shortening service using this tool's small PHP scripts.
Pricing
Free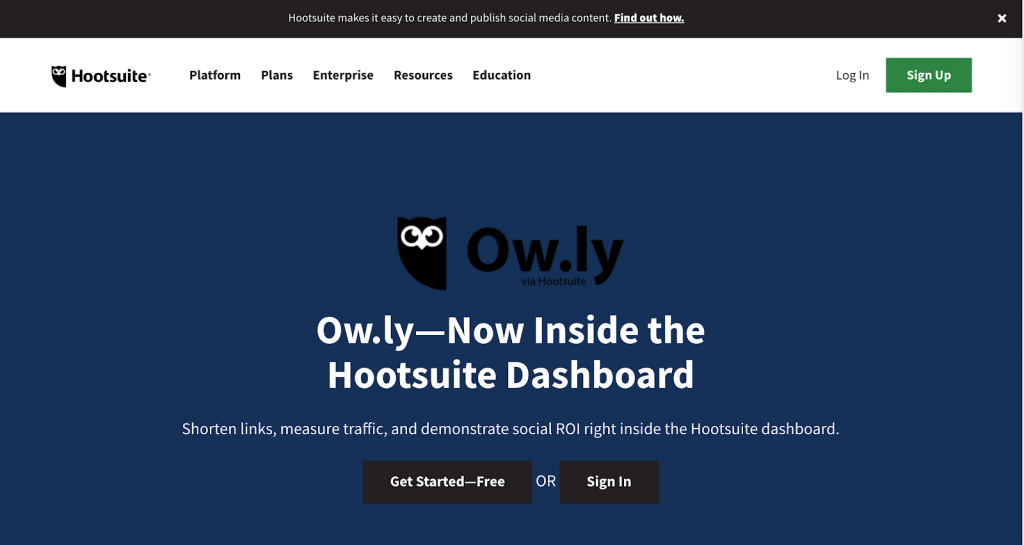 Ow.ly URL shortener permits you to track your link traffic after shortening them. Be it links to your newsletters, social media posts, comments, or micro-sites. Besides, you can give access to multiple team members to shorten your link.
Unlike many other shorteners out there, this tool prevents you from cyber attack by checking links against Google's Safe Browsing blacklist. And it redirects and indexes your links to suit SEO best practices.
Pricing
Free: $0 for up to 3 social profiles.
Professional: $29 per month for up to 10 social profiles.
Team: $129 per month for up to 20 social profiles.
Business: $599 per month for up to 35 social profiles.
Enterprise: quote-based plan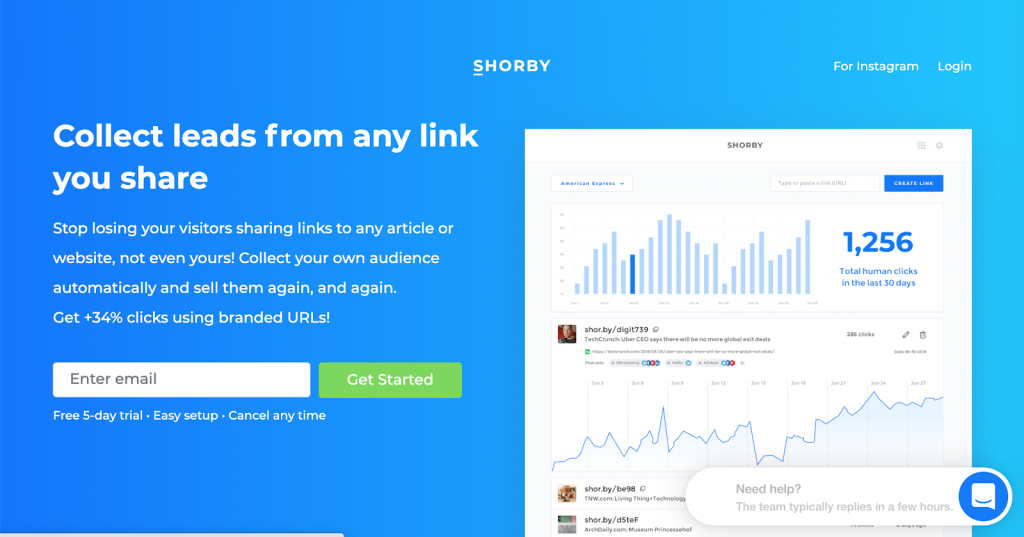 This URL shortening service is specially designed for Instagrammers. Shorby provides short URL profile link customization for Instagram users.
Before Shorby, Instagram users will consistently update their bio link to promote each of their links. However, with Shorby, just only need to add your fresh content to Shorby and let your bio link stay the same.
This tool enables you to track analytics for your Shorby link you can pay by the content you display.
Pricing
Free plan: No, but there is a 5-days trial.
Paid plan: Basic Start plan from $9/month, add Google Analytics and advert tracking for $29/month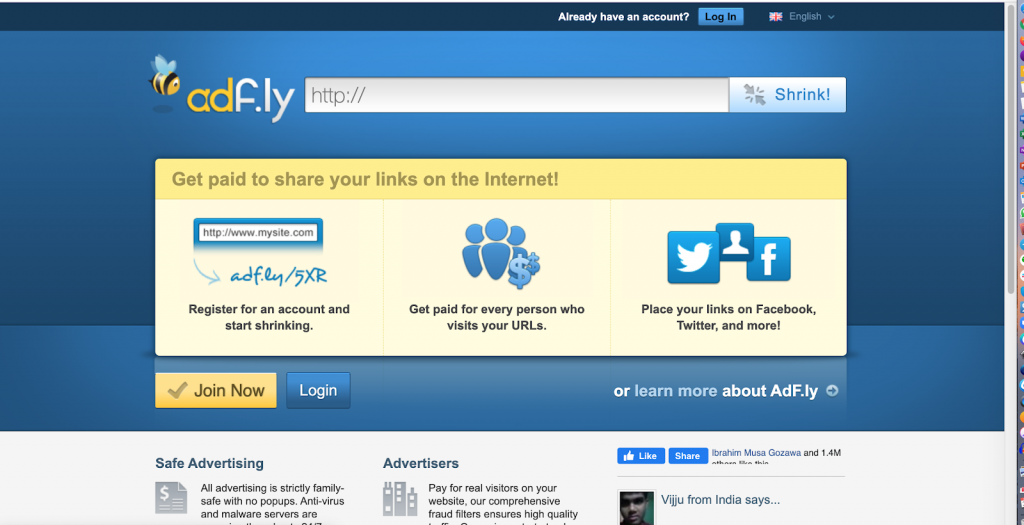 AdFly is a free URL shortening tool that helps you shorten and monetise your links.
Once you sign up and create an account, this tool permits you to make money each time a user clicks on your shortened link. And you can promote your links to social media to drive more clicks and visibility.
Also, you can make business decisions by tracking your links' performance.
Pricing
Free.
Tiny.cc is a URL shortening tool that encourages you to create and smartly target your users based on language. It has a retargeting offer to measure your campaign performance and boost your returns.
This tool keeps you on a budget by letting you create keyword-rich and vanity URLs for branding and visibility.
Pricing
Basic: $5 per month
Business: $25 per month
Pro: $44 per month
Enterprise: Quote-based
Final Thoughts
Every tool has a unique feature. And for business, your best option is to choose one that works for you by considering your budget, business size, and target audience.
Check out Group Leads, another software that can help you generate leads from your Facebook group(s).