Are you still struggling to manage your Facebook group effectively? You've put immense effort into developing valuable content for your members, but the supervision is insufficient.
Worry less! Facebook has launched an AI to facilitate automated group management, which allows you to focus on other activities. The tool assists as a gatekeeper in moderating the group. Facebook has asserted that the motivation for developing this virtual group assistant is to assist group managers in prioritizing their time.
Aside from that, there are more benefits to enjoy from using this Facebook group assistance.
In this article, you'll learn about the Facebook group admin assist feature and how to implement it for your Facebook group.
What is a Facebook Group Admin Assist?
Admin Assist is a new Facebook automatic service introduced on October 1, 2020, to alleviate group administrators' burdens. This functionality is accessible to both public and private Facebook groups.
Even when you think Facebook group management is easy, imagine how much time you spend commenting, regulating, and monitoring posts in your group. Now you can sit back and relax as the Facebook group admin assistant completes these tasks for you.
Facebook group admin assist helps you around the clock in managing your group and ensuring that everything is in order. The beauty of this AI assistant is that it can only act and function following the criteria you specify. This indicates that you are in complete control through delegation.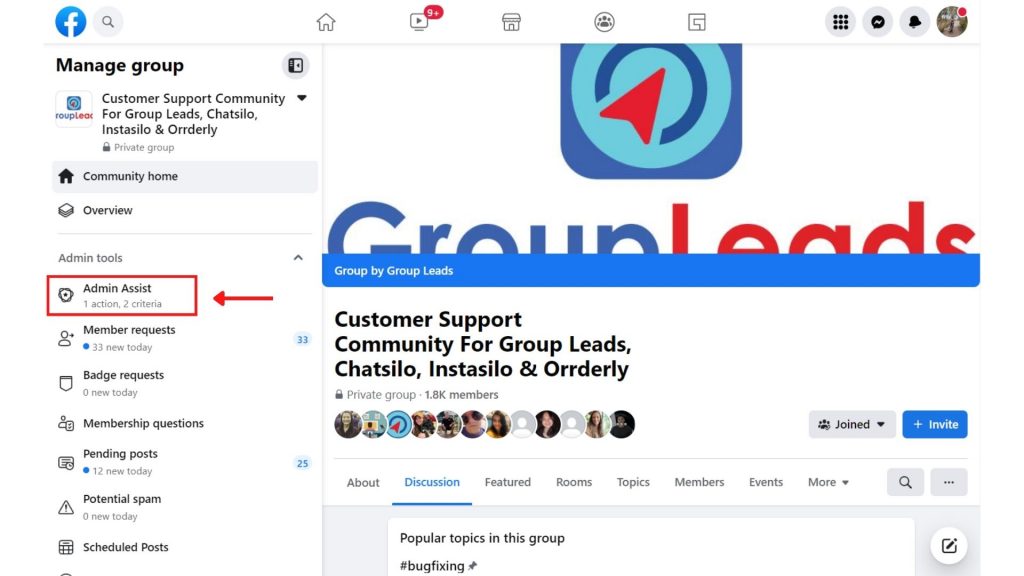 Benefits of Using Facebook Group Admin Assist
As previously said, there are various advantages to using Facebook group admin assist. Most significantly, it simplifies your work and allows you to be more productive. You can devote more time to meaningful activities that benefit your community.
The following are some advantages of using Facebook group admin assist.
Efficiency
The purpose of Facebook in creating this great admin assist feature was to 'do more in less time.' The goal is to enable managers to work effectively as group managers while also maximizing their time.
Transparency
Facebook admin assists only work on defined criteria. You can see how each criterion affects group performance and examine it over time. Likewise, your members can read the post criteria so they know the guidelines ahead of time.
Flexibility
With various settings, Facebook group admin assist increases administrative flexibility.
Time Management
Time is one of the most challenging resources for managers to manage efficiently. For administrators, managing comments, establishing standards, and eliminating conflicting conversations may be time-consuming. By establishing rules or criteria for group admin assistance, Facebook group administrators can save substantial time.
What You Can Do with the Facebook Group Admin Assist
This new admin tool functions simultaneously with other existing tools, such as Facebook group keyword alerts, post approvals, and member requests. Facebook claims that group admin assist automatically moderates the group depending on your specifications.
Here are some tasks that Facebook group admin assist can support you with:
Remove reported posts to manage conflict.
Limit group participation by automatically denying incoming posts from specific users, such as new members or those who do not have profile images.
Manage posts that contain inaccurate information as assessed by independent fact-checkers automatically.
Accept membership or participant requests from specific users, such as those that answered the membership or participation questions.
Minimize inappropriate content in your group by enabling predefined filters that automatically reject spammy posts and comments.
Control commercial content by banning postings that contain links or specific phrases.
Share feedback automatically with those whose posts do not satisfy each requirement, providing them the option to change and resubmit their posts for evaluation.
How to Set Up Admin Assist on Facebook Group
You can set up admin assistance on your Facebook group by following the steps below.
Log in to your Facebook account by entering your username and password.
Tap Groups to choose a particular group.
Head over to the admin tools menu on the left side of the screen, and then click 'Admin Assist.'
Select the action you wish the group admin assistant to perform.
Choose different criteria based on your objective and click 'Apply Criteria.'
How to Use Facebook Group Admin Assist to Moderate Member Requests
As previously stated, you can use Facebook group admin assist in automating various tasks such as declining posts or comments. In case you want to use the Facebook group admin assist to decline member requests, follow the steps below:
1. Select a membership task from the Admin Assist tool.
2. Click 'Add' next to 'Approve member request if' and 'Reject member request if.'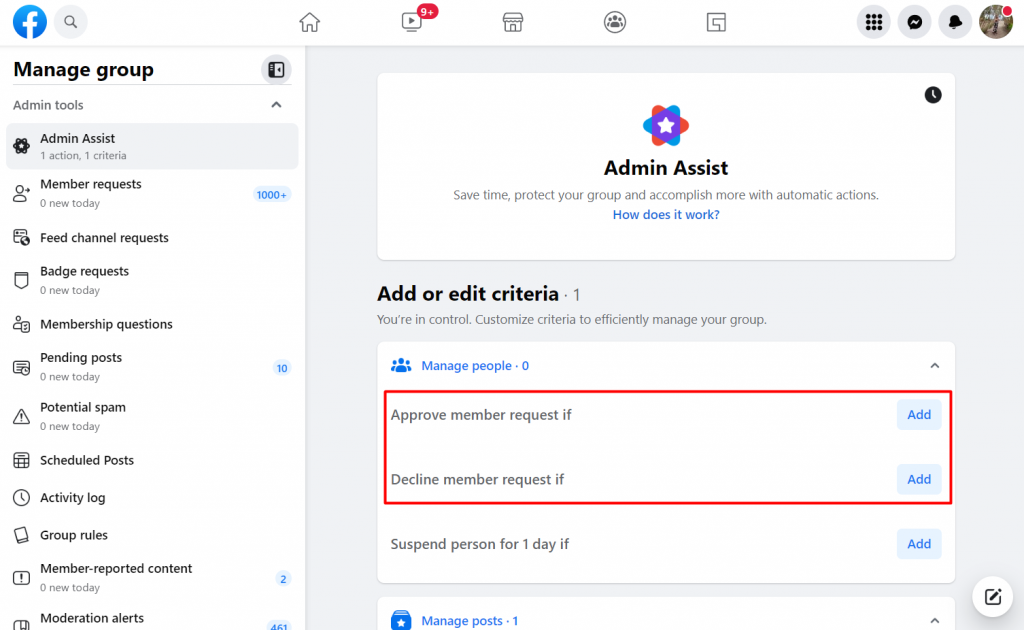 3. And then establish criteria for accepting and rejecting specific individuals. Those who did not completely answer the membership questions could be the criteria.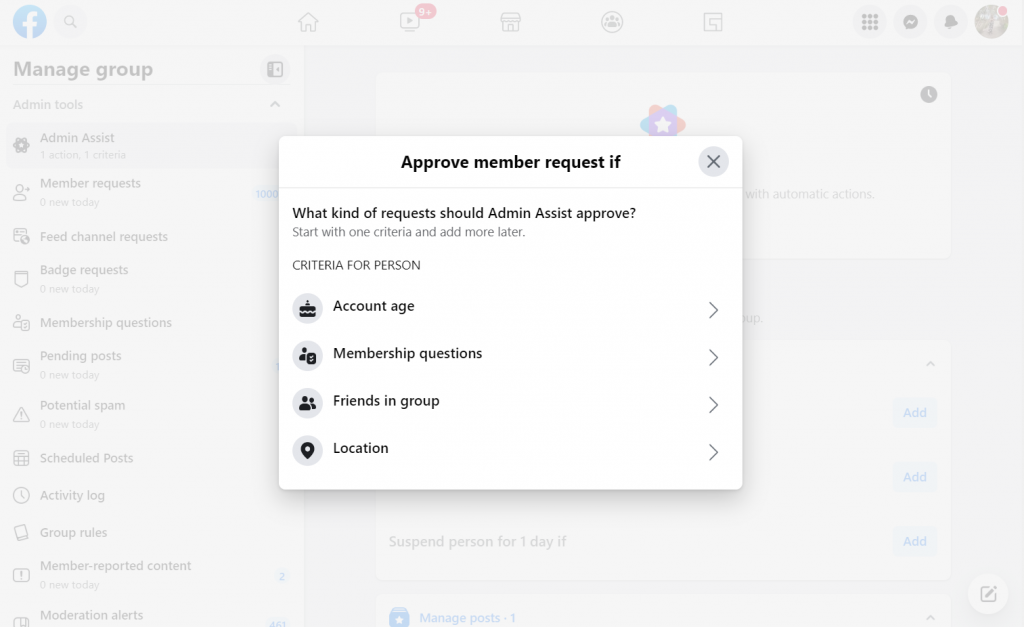 4. Only if all requirements are met will Admin Assist automatically approve or reject a member request. It will be authorized if a request meets both approval and denial criteria.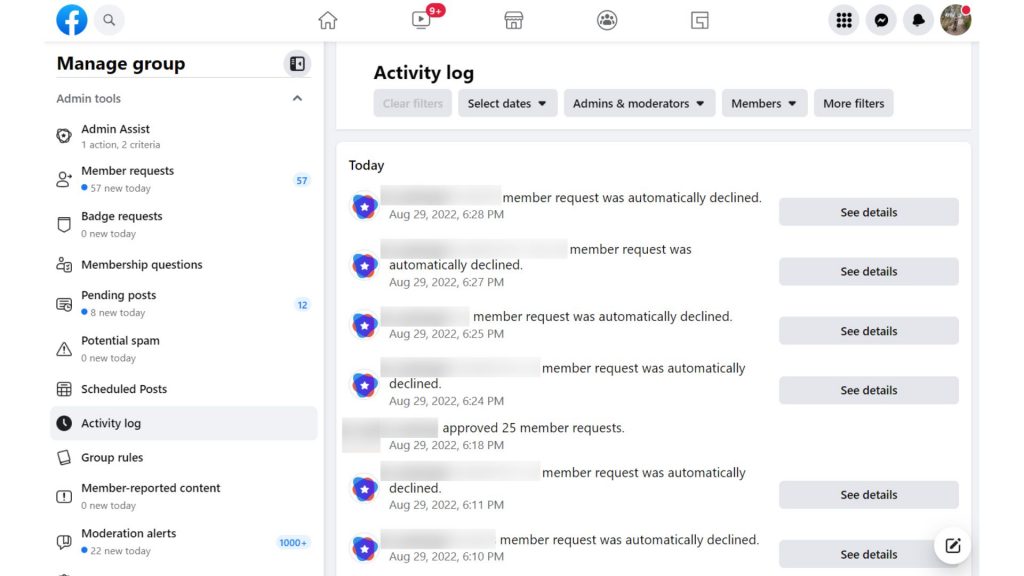 How to Use Facebook Group Admin Assist to Moderate Post Approvals
The Admin Assist also functions in moderating new posts. Here are the steps to set it up:
1. On the Admin Assist page, scroll down and select 'Manage Posts.'
2. Click the 'Add' button next to the criterion you wish to set up.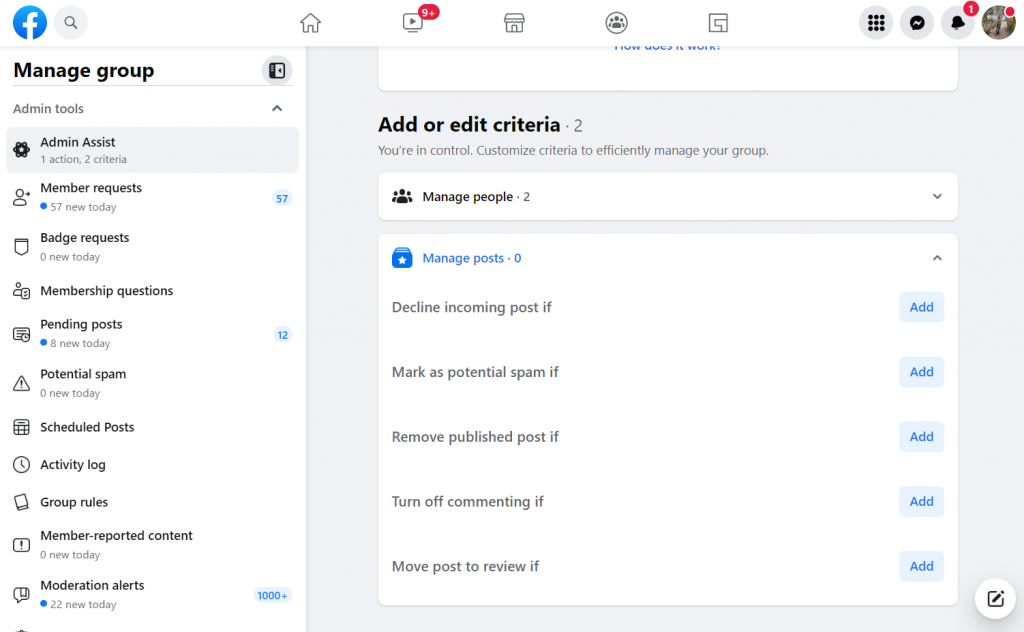 3. Set up the specific criteria most suited to your needs. It would be an absolute timesaver for spam posts to be automatically declined.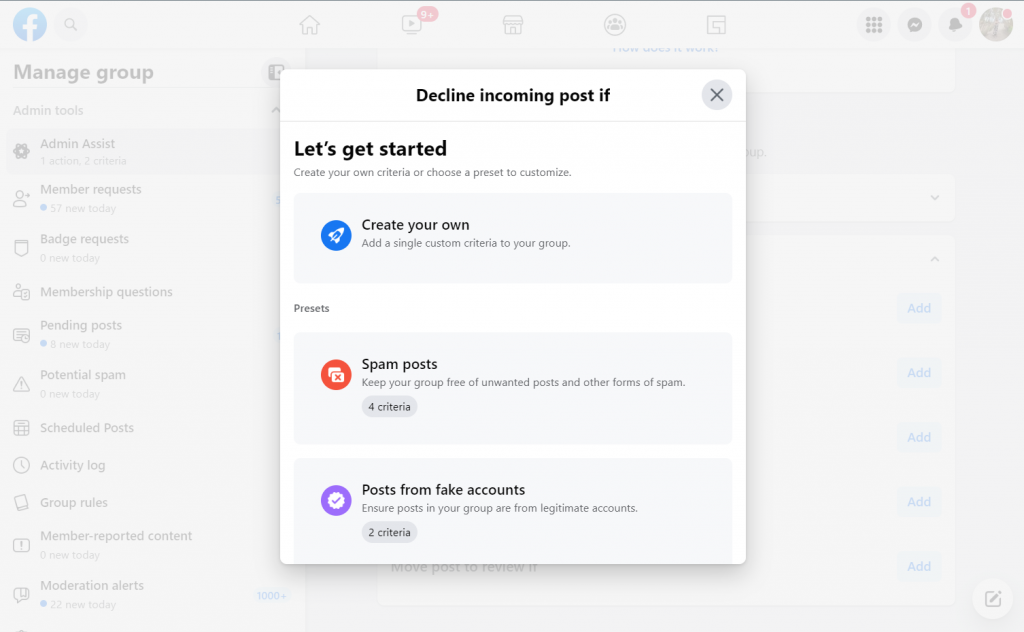 4. Incoming posts meeting the criteria set up will be automatically approved or declined. You will see this in the activity log of your Facebook group.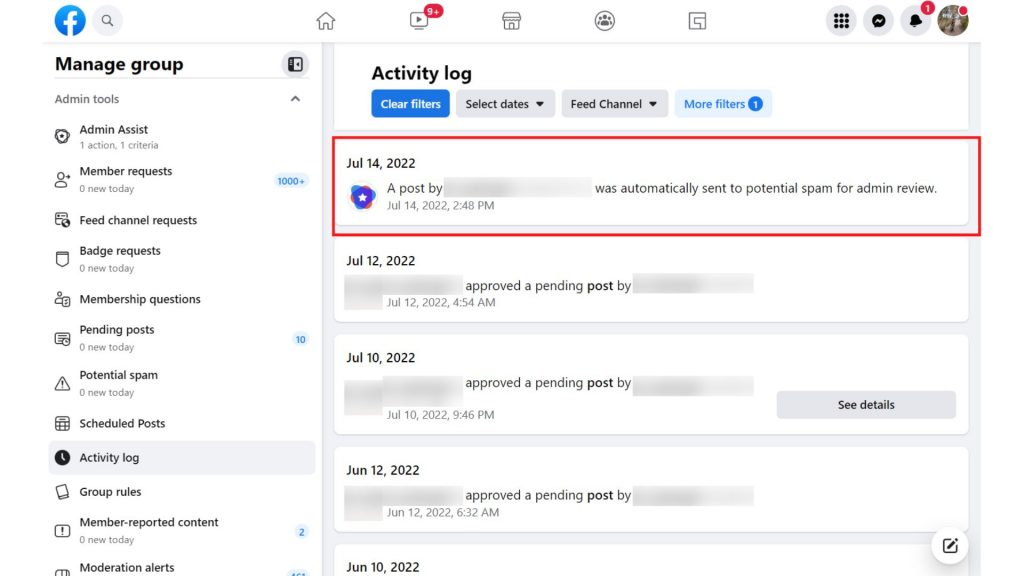 How to Turn Off Admin Assist on Facebook
Turning off admin assistance on Facebook is as simple as turning it on. To disable the automated group assist, follow the steps below.
Tap "Groups" to select a specific group.
Head over to the admin tools menu on the left side of the screen.
Select 'Admin Assist.'
Next to the criteria, click the pencil button. Another menu will pop up.
Click 'Delete.'
Confirm the removal process.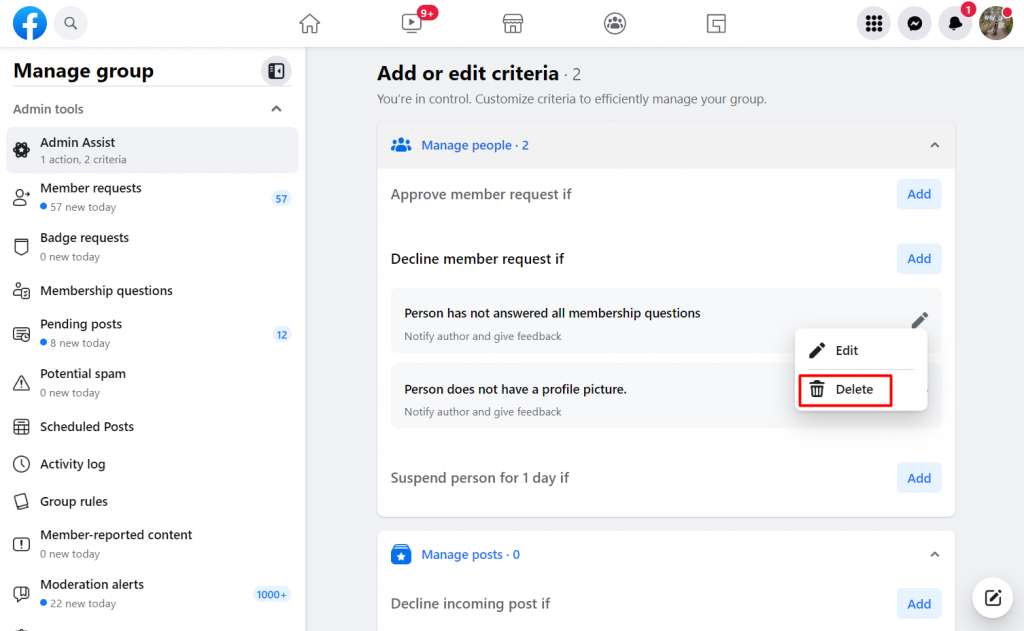 Final Thoughts
We live in the age of automation, and one of its defining characteristics is the ability to complete tasks more quickly and efficiently. Facebook provides the best group automation tool, allowing you to be an effective Facebook administrator. It is free and easy to use.
Facebook group admin assistance is the most effective way to manage and regulate a Facebook group around the clock. Even as you sleep, your group actively adheres to your established rules.
Now is the time to work less to achieve more automatically.
Want to convert new Facebook group members into leads and paying customers? Try Group Leads for free.