Are you trying to find out how to make, post, find, pin, and remove Facebook group announcements? If so, this guide is for you!
Facebook group announcements are a great way to keep everyone in your group informed about upcoming events, sales, and other important news.
What if you've posted one, but no one seems to be seeing it? How can you find other people's announcements if they're buried somewhere in the sea of posts on your group's page?
In this guide, we'll walk you through the process of making an announcement in your Facebook group and then using the featured post section (formerly known as pinned post or announcements), so they can easily find it whenever they need it.
What is a Facebook Group Announcement?
You can let your members know about the most important updates on your group using the Facebook group announcements feature.
For administrators and moderators of Facebook groups to connect with group members more effectively, Facebook added the Facebook group announcement feature in 2018. It was formerly called pinned posts section, and now it is called Featured Posts
Posting announcements to a Facebook group helps members stay informed about what's happening. You can make up to 50 announcements simultaneously. Isn't it easy for group administrators and moderators to notify everyone about the latest updates on the group?
Many group administrators and moderators used Facebook group announcements to highlight significant posts. It makes it simple and effortlessly possible for you to add posts to the top of the page.
You may announce something in your Facebook group for various reasons. For instance, you could need to make a change to the group rules, promote an upcoming event, or acknowledge a specific group member. Group administrators and moderators love this new feature for these reasons.
Facebook Group Announcement vs. Pin
Do you think pinned posts and announcements are the same? Well, it used to be. But now, these two are different.
When a post is "pinned" on a Facebook page, it moves to the top of the feed. It's not in the feed any further down. However, announcements are posted more than once. You can scroll down in the group to see the announcement post both in the feed and at the top section for announcements.
Also, Facebook removed the "Pinned Post" feature from Facebook groups not too long ago. Facebook changed it into "Featured" or "Pin to Featured."
Pinning a post provides no additional exposure other than moving it to the top of the feed. When you mark a post as an announcement, it will appear in the notifications of any group members who have enabled their notifications.
Are Facebook Group Announcements and Featured Posts the Same?
We know we're not the only ones who have noticed this. You may have asked yourself: "Are announcements and featured posts on Facebook groups the same?"
And the answer is yes!
Facebook has made some changes recently, and now all your announcements will appear as featured posts in your group. It means that all you're announcements will now appear at the top of your Facebook group as featured posts.
How to Make an Announcement in a Facebook Group
Are you excited enough to use the new announcement feature of Facebook? Here's how you can make an announcement in your Facebook group.
You can either pin an existing post or create a new post.
1. First, choose which Facebook group you want to make announcements on. (Note: Make sure you're an admin of the group to post for announcements.)
2. Create a post in your group by clicking "Write something…" Then, click post.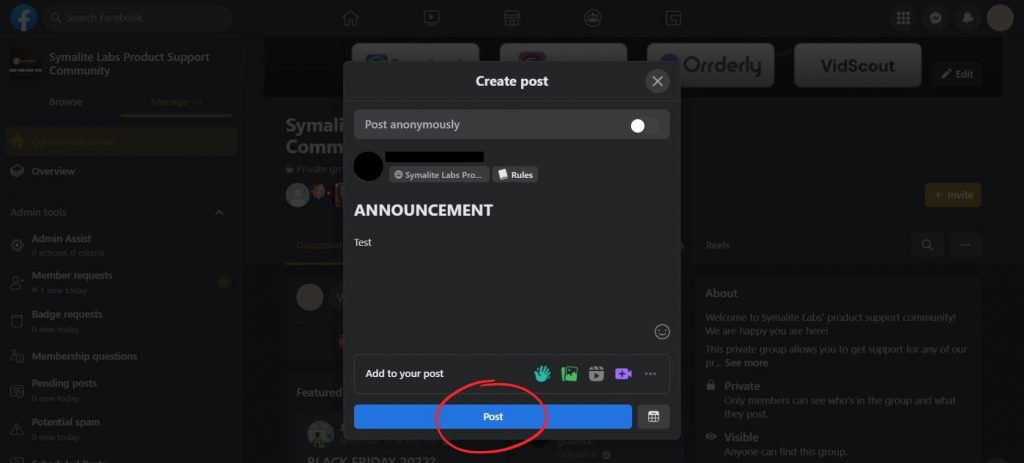 3. When you see the post in the Facebook group feed, click the three dots in the top right-hand corner. And select "Pin to Featured."
Or, you can choose an existing post, click the tree dots and click "Pin to Featured."
Where to Find Facebook Group Announcements
It is essential to know the latest announcements of your groups. And to help you keep up with the recent announcements, just go to the group's page and look for the "Featured" tab in the sidebar to find Facebook group announcements. You'll also see a "Featured" button under the group's cover photo. From there, you can see all the announcements on your group with all the details of it.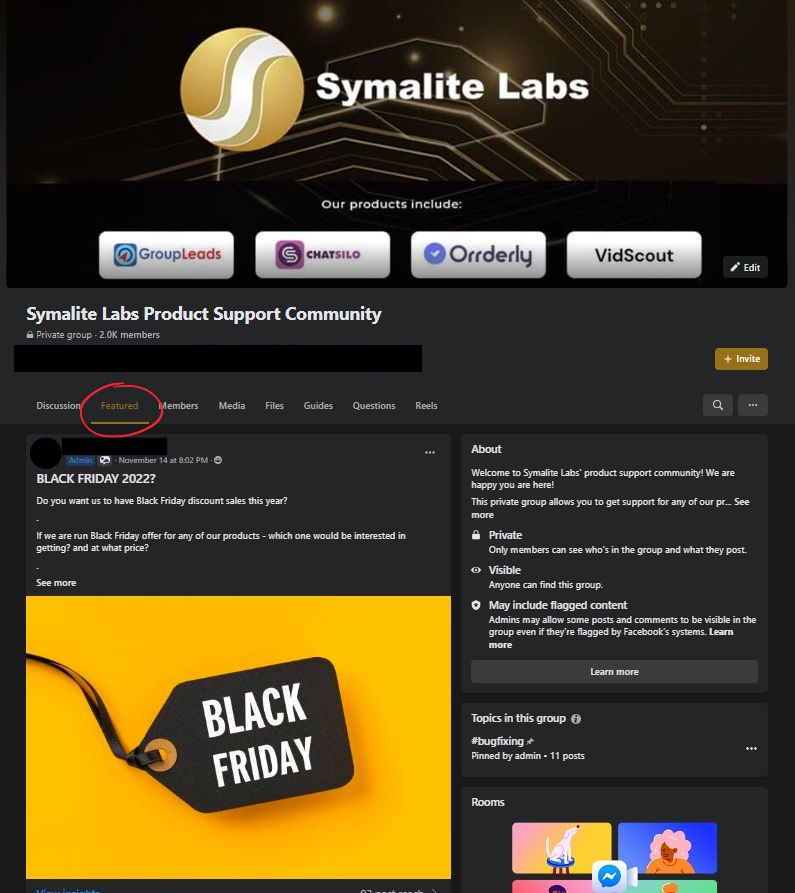 Another way to find group announcements is below the "Write Something…" section of your Facebook group. There's a section labeled "Featured," where some parts of the announcements are displayed. You can scroll sideways to see more of the announcements. Or, you can also click each to see more details.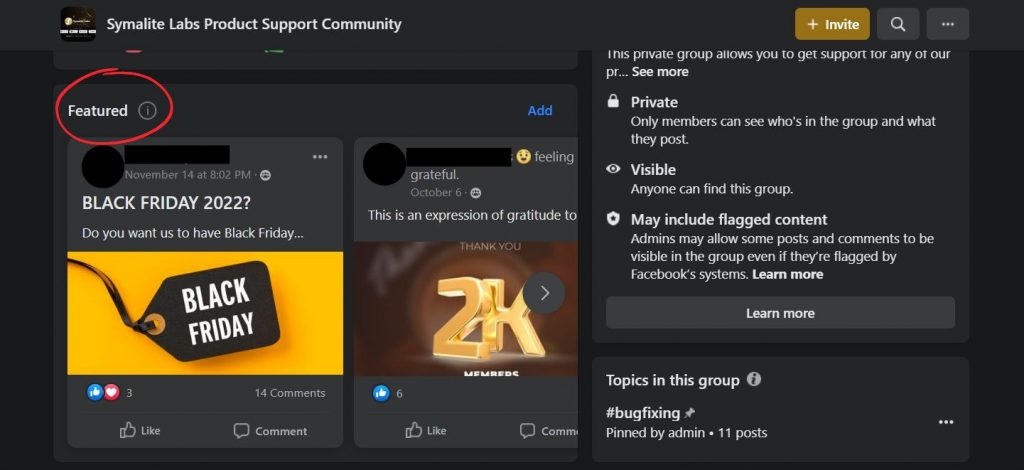 How to Pin an Announcement in a Facebook Group
However, you can also use the old way of pinning an announcement on your Facebook group. Pinning an announcement will "bump" the announcement to the first slot of the carousel. Here's how you can do it.
Click the three dots on the announcement or post you want to pin.
Click on "Pin to top." And to remove the announcement from the top, just click "Unpin from the top."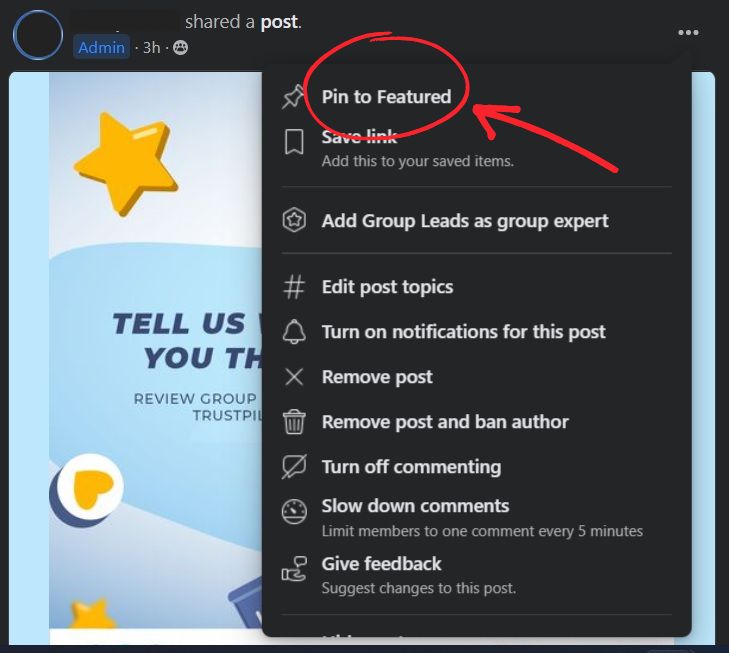 But the downside of this is you can only pin one post. So, if you want to use this old way of making announcements in a Facebook group, you must ensure that all the information is in one post.
How to Remove Facebook Group Announcements
Sometimes, you won't need to show your post as an announcement any longer. Here's what you need to do to remove an announcement from your Facebook group:
Click the three dots next to the announcement under the "Featured" tab.
And select "Unpin from Featured."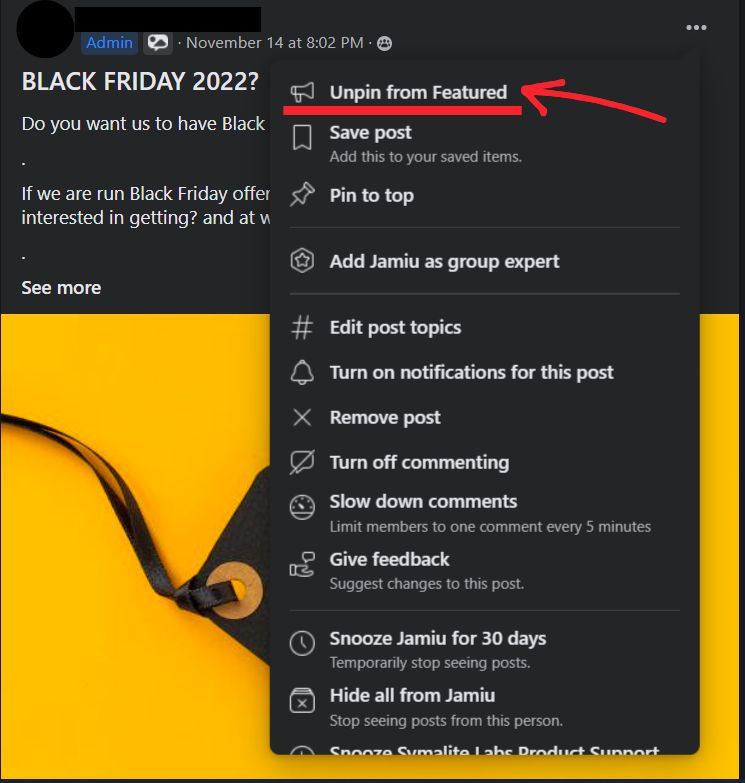 Frequently Asked Questions
Who can make Facebook group announcements?
The group administrator can only make Facebook groups. The administrator is the person who created the group and has administrative control over it.
You must be an admin to make an announcement in a Facebook group. If you're not an admin, then you can't make announcements. You can still post to a public page or share content from other places on Facebook, but you won't be able to make announcements in any groups.
Is an announcement the same as a pinned post?
Only Facebook Pages can have pinned posts, and only Facebook Groups can have announcements or featured posts. They both do the same thing, which is to put a post at the top of the page and highlight an important post. But each kind of account has its way of doing it.
How do I edit a Facebook announcement?
Start by going to the announcement that you want to edit. Then click on the three dots in the post's upper right corner. And click "Edit this post."
Note: Only those who posted the announcements/posts can edit them.
Why is Facebook group announcement missing or not showing?
Facebook group announcements are a great way to let your members know about the latest happenings in your group. But sometimes they go missing or don't show up when you make them.
And the possible reason for this is you're not using the most recent version of Facebook. If your browser is outdated, it may not be able to render the latest features and thus won't show your announcement.
What does marking as an announcement mean in a Facebook group?
Marking a post as an announcement means you want to make sure all the members of your Facebook group see it. It will also ensure that the post isn't buried in your group's news feed since it will be pinned in the featured section of your Facebook group.
Final Thoughts
That's it! You can make, post, find, pin, and remove Facebook group announcements. It is so easy! Also, making announcements are a great way to organize Facebook group content.
Now you're ready to start using Facebook groups to boost your business. Speaking of business, you should check this article about using Facebook groups to generate revenue and automate your email marketing using Group Leads.