You've been running your Facebook Group to grow your community for a while. Often, it must have sounded like a load of repetitive work.
Some Facebook Group Management Tools to successfully run and grow your group might be missing for you. In this digital era, the secret to growth has proven to be 'Automation' – making as many of your redundant daily actions run on their own.
How do Facebook Groups Work?
It was in February 2017 that Mark Zuckerberg, founder of Facebook and Meta Platforms, decided to launch Facebook Groups to allow Individuals to have the power to Grow communities.
We bet that's your goal, too – to build and grow your community on Facebook, where friends, coworkers, or individuals with comparable interests can gather to discuss a wide range of subjects. Groups offer a forum for honest debate regarding your items and/or services.
People create and utilize Facebook groups for personal engagement, as a discussion forum for a topic, as a place to showcase their content, to sell things, to build email lists, e.t.c. To this, you have to go through a loop of administrative tasks that are very repetitive in nature.
Approving people into your group, rejecting irrelevant requests, sending welcome messages, moderating the discussions, tracking growth, converting conversations into potential leads, e.t.c. All of these can be done faster using automation with Facebook Group management tools.
What distinguishes a Facebook Group Admin from a Facebook Group Moderator?
A Facebook group's founder, known as an "admin," is in charge of all group settings. And a moderator is someone who assists the admin in monitoring group activity and making sure everything is running smoothly.
Why is a Facebook Group Management Tool necessary for Facebook administrators?
How much work Facebook groups require is one of the most common complaints. And certainly, creating a strong community takes effort. In this age of digital automation and technology and the abundant use of tools, there must be some management tools that ease the complaint.
Groups function best when participants drive the conversation while facilitators support it. You may conduct interactive live video events that encourage conversation and sharing. You may ask for updates on a certain subject or experience in weekly posts that are the same each week. Perhaps you have picture prompts. Your material effort drastically decreases at this point, allowing you to focus on facilitation and moderation, which enhances the members' overall experience.
The objective is to let people submit content that is motivated by your facilitation. Proper group topic planning, Facebook group control, and analytics to determine what is working to enhance and successfully expand your group can all be done in three simple steps. The tools for managing Facebook groups can be used to accomplish all of this.
Advantages of Facebook Group Management Tools
There is so much time freed when you automate repetitive tasks in your Facebook group. With the help of Facebook group management tools, you can easily manage content planning and execution for your group effectively. Some significant advantages are as follows: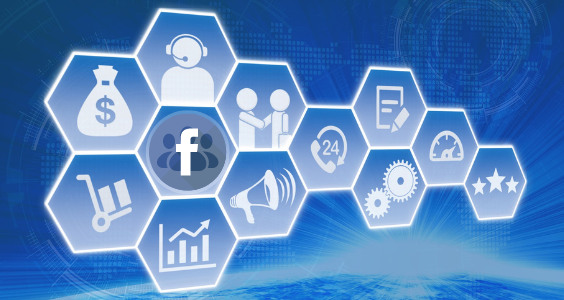 Time Reduction
You can keep up a consistent online presence by using advanced scheduling for one or all of the Facebook groups you are an admin of. Instead of racing to publish content during busy periods of the day, your team may operate more effectively by batch scheduling posts at the most opportune moment.
Reputation Management
Facebook group management tools help you track comments and posts by the members to manage the reputation of the group. The tools have features for tracking spam, irrelevant or abusive comments, and content. This helps you to quickly address problems before they erupt.
Audience Demographics
Tools for managing social media help you understand your audience better. Across all of your social networks, you can see who is following you and their geolocation and other pertinent information. Making better marketing decisions depends on incorporating this data into your overall marketing strategy.
Quick Replies/Responses
Some Facebook group management tools allow you to create and store saved replies. This reduces redundant times and can accelerate quick responses to similar questions within your Facebook group. Keeping track of and answering inquiries from leads and prospects might assist them in moving more quickly toward making a purchase.
Additionally, it results in higher group engagement among members. According to research from the Harvard Business Review, clients that get a response to their social media queries are more likely to stick around, spend more money with the brand, and refer business to others. All of this can be streamlined for you with a Facebook group management tool, making it much simpler to view your comments and mentions from that one area across one or all of your Facebook groups.
4 Top Facebook Group Management Tools – 2022 Comparison
Let's take a look at the top 4 Facebook group management tools that can assist you in running and growing your Facebook group successfully: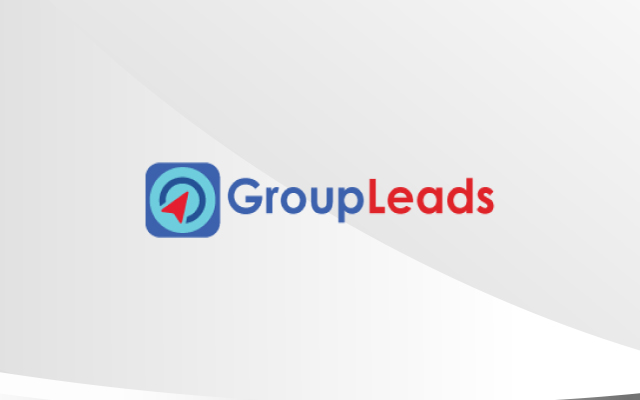 #1) Group Leads
Group Leads is a Facebook group management tool that helps Facebook admins automate a lead generation process for your group. It is also a powerhouse tool that allows you to manage and run your group on autopilot.
By setting up the Group Leads Chrome extension, you can create funnels for your marketing strategy. New Facebook group members can now be turned into leads twice. You can build your email list, spend less time copying and pasting, and earn more money from Facebook thanks to this.
With the aid of this extension, you can collect the information from each comment made in any group and add it directly to a Google Spreadsheet or an email marketing program that supports import from CSV. There is no longer a need to manually enter the lead information or to send it by email and run the risk of losing the lead information for your marketing strategy.
This plugin works its magic and adds the lead right into a Google Spreadsheet or your email marketing platform in around 2-4 minutes. The amount of time depends on the number of groups you are using this extension on at once and the number of comments you receive in each group every hour.
We've also developed an automation hack that will enable you to simultaneously obtain leads from up to three separate groups, which will speed up the process even further.
Group Leads has also developed an automation hack that will enable you to simultaneously obtain leads from up to three separate groups, which will speed up the process even further.
Features of Group Leads
Automatic member approval
After checking all of the pending member requests, it is quite simple to go in and click Approve All, but Group Leads goes one step further with its Automatic Member Approval tool. As long as they meet specific requirements, you can use this to automatically approve new members. This allows you to automatically approve members even when your moderators or admins are not alert. For the success and growth of a Facebook group, It is important to show that you are accessible and to approve requests that urgently need to be approved, such as those made when you are going live or delivering a session in your group that you have been actively promoting outside of the group.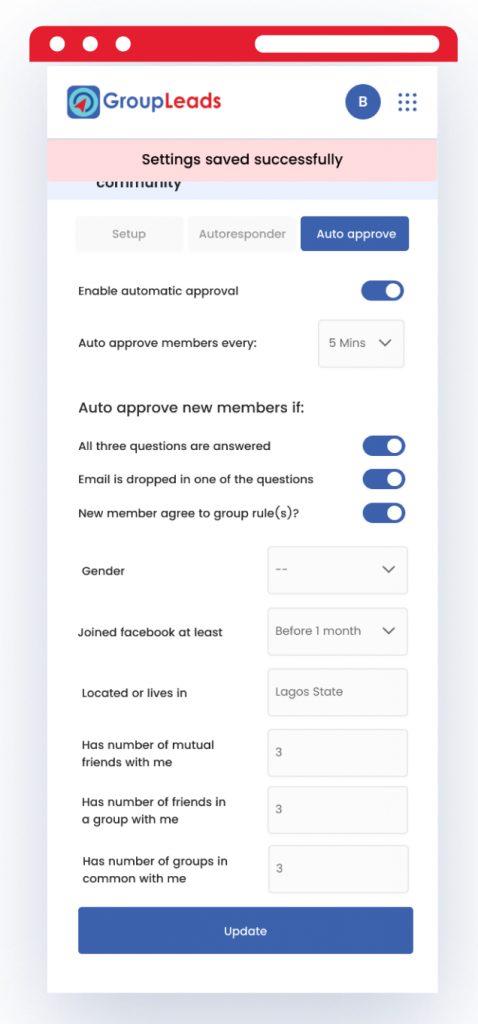 Auto Message Declined by Group Members
Similar to automatically accepting members who meet certain requirements, you can reject them if they haven't responded to the membership questions and even notify them via a Facebook direct message. You may customize your rejection message with fields like the user's name, your group name, etc.
This is an effective technique to politely reject users who haven't answered your queries and remind them to come back and do so. By raising the admission threshold, you are also increasing the group's exclusivity and guaranteeing that its members are of the highest calibre.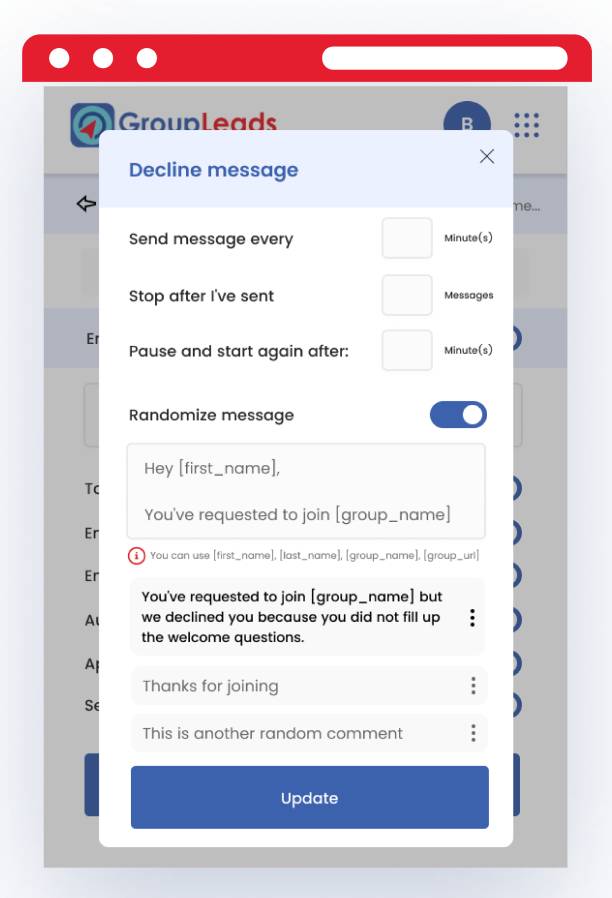 Tag new members in a welcome post
You can add the group members you've approved to a welcome post using Group Leads. Even better, you can add a few different message variations and randomize the welcome greeting to ensure that it is never the same. Then, you can decide whether to tag them in the welcome post one by one or in groups. If you decide to tag them in groups, the messages will be divided into no more than 50 people per message to stay under Facebook's restrictions.
It is always good to extend a warm welcome to all new members in a post and to remind them of any resources or products you provide. They can already feel connected because everyone will be viewing the post, which also allows them to examine the bios and comments of past participants.
Doing this is less spammy instead of making a fresh welcome post each time a new member is approved – and it saves so much of your time.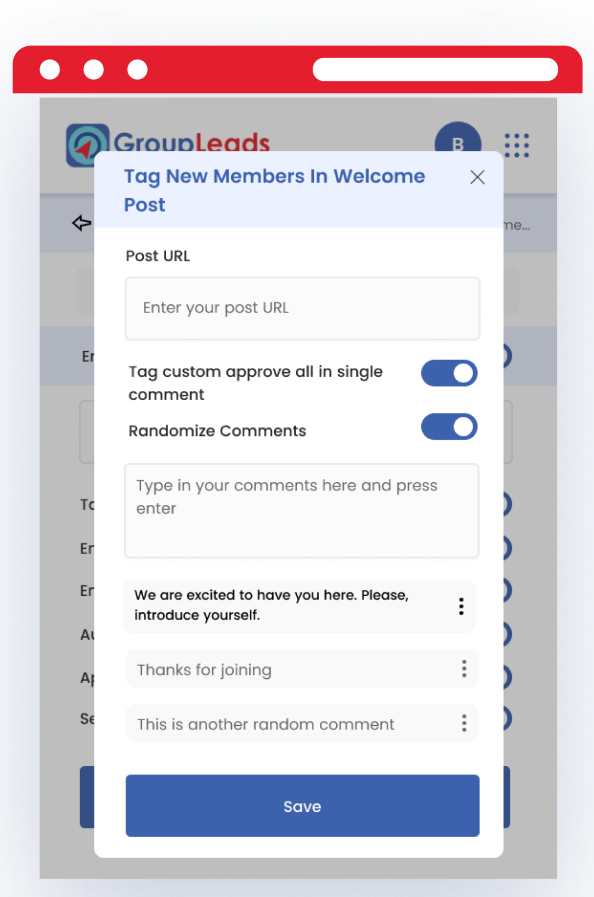 Auto Decline New Group Members
You can automatically reject users based on certain keywords in their answers to reduce spam. Since this feature is intended to reject spammers, no message is issued when you use the term because they will just be denied.
Message New Group Members Before Approval
As a Facebook group admin that uses Group Leads, you send reminder private messages to members who have not yet responded to the membership questions, thanks to a new powerful tool that Group Leads introduced at the beginning of November. This solves a problem that many community leaders have, and it also greatly increases lead generation and saves time.
Apply Tag To New Members (via CHATSILO)
In your Facebook Group, with the help of Group Leads's Chrome plugin called Chatsilo, you can automatically tag your new group members. This helps you keep track of all the members based on criteria you set to differentiate them.
Send New Group Member Data to Three Places
No more data loss. You can gather all the information of the members in your Facebook group at once and add it to three places:
On a Google spreadsheet: Group Leads automatically fills out a Google spreadsheet with information about all your Facebook group members, even the ones that keep adding.
To your Email Marketing software: So that you can continue to market to them, Group Leads add the submitted emails to your preferred email marketing program.
Leads Dashboard: Group Leads add the information of your new and old Facebook group members to your personal Group Leads Dashboard for you to keep track of and review.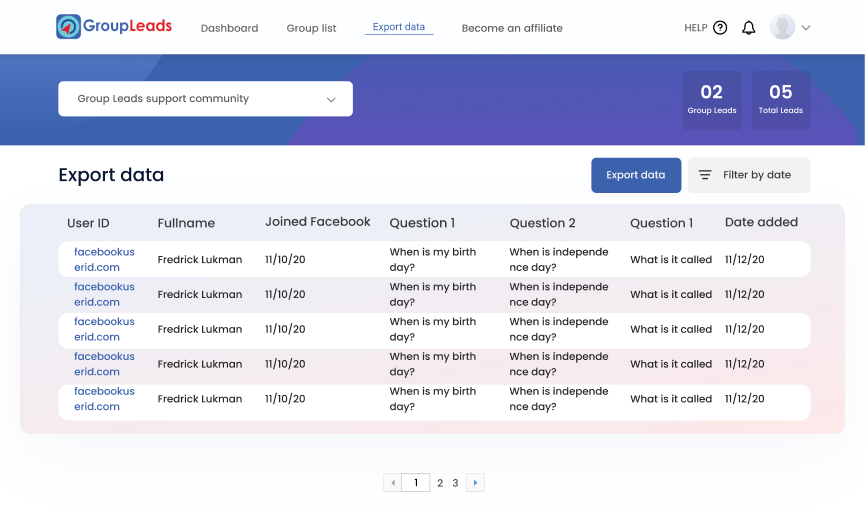 You can go ahead and try Group Leads for free here to learn how you can automate and accelerate the growth of your Facebook group using this Facebook group management tool.
#2) The Facebook Group Manager
Facebook finally came around to understanding the consistent problems faced by Group admins and moderators and has now begun introducing new tools for managing interactions, preventing misinformation, and maintaining the safety of their groups. When you are in your Facebook Group, you can now shortly find access to the Facebook Group Manager that assists you with some of the tasks that you had to manually do earlier like rejecting incoming posts that have been flagged as containing misleading material. Let's dive in to see some more notable features of this Facebook group management tool.
Features of the Facebook group manager
Trap Misinformation
According to Facebook, the group manager's main feature allows you as a Facebook admin in stopping the spread of false information within your group.
Muting and Banning Content
An additional feature of this group manager by Facebook is to change the 'mute' feature and update it to 'suspend'. This allows you to temporarily ban users from publishing, commenting, reacting, taking part in group chats, and more. The new feature will simplify group admin management for you and restrict undesirable members.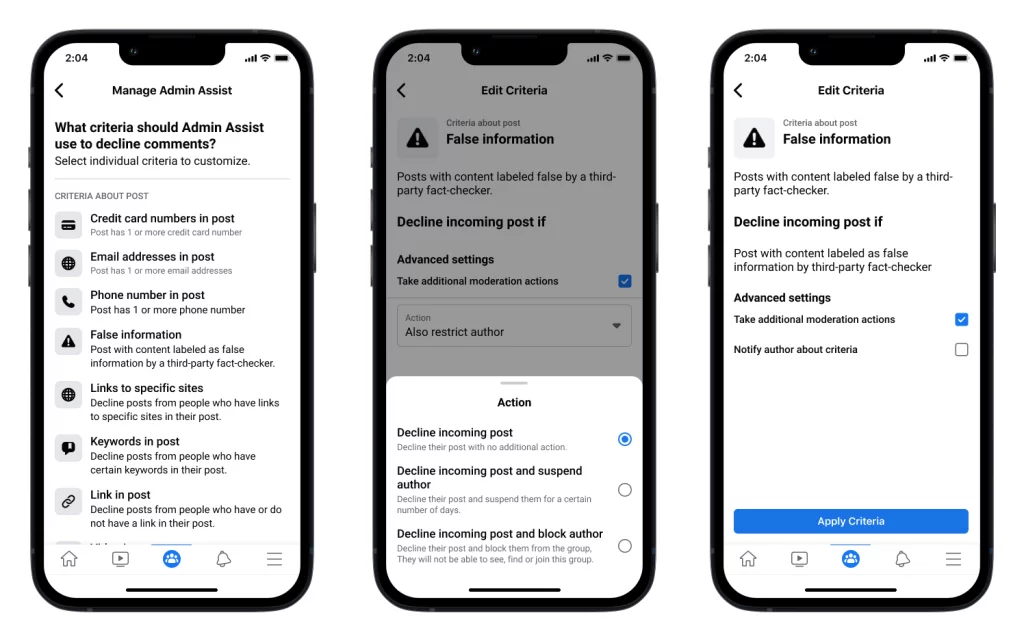 Auto Accept & Reject
With the Facebook group manager, you can now automatically accept or reject member requests based on predetermined conditions you establish, such as whether they responded to the group admission questions. Facebook is also redesigning the group's 'Admin Home' page, which will show an insight area on the desktop to make it easier for you to instantly evaluate topics that deserve attention. To help you view the growth and engagement within your group, a new insight overview will also be available on mobile.
Email & QR code Invitations
You can use the Facebook group manager to invite people to join your group by sending them an email invitation, or a QR code which you can download and even use offline. Once your potential invitee scans the QR code, they will be able to instantly visit the 'About' page of your group.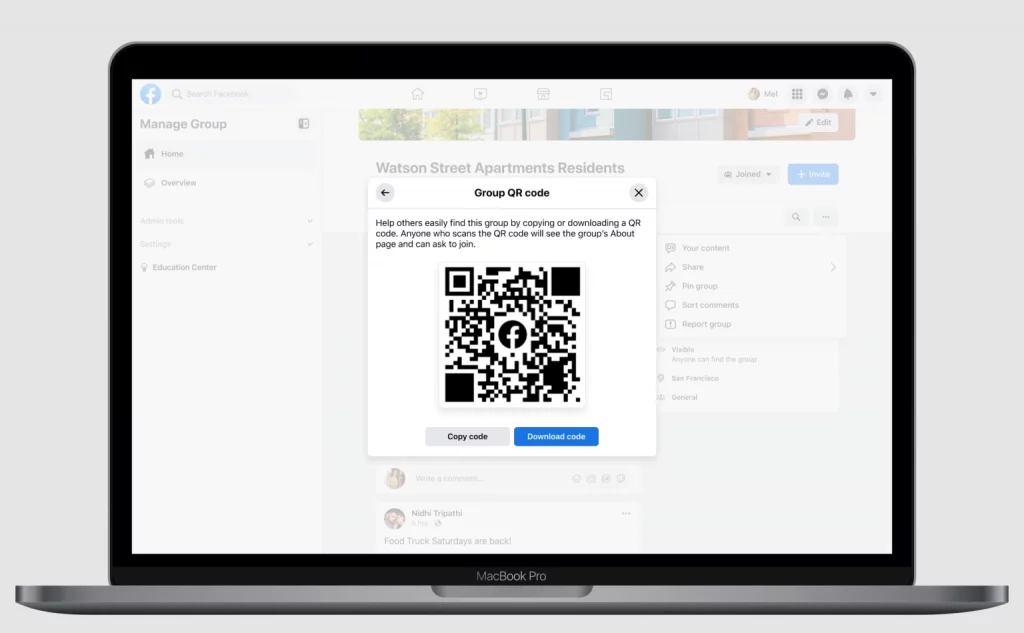 Enhance Content Moderation
Facebook aims to tackle the problem of Facebook groups being used to spread false information, spam, health misinformation, e.t.c. You can even restrict how frequently group members might post to allow you to moderate your group for an even discussion throughout. Using this Facebook group manager tool, you now have more power over your groups and how they are run successfully.
The Facebook group manager tool for managing your Facebook group will be rolled out by Facebook directly to you as part of the global release process. If you have used it, let us know in the comments what you think about it.
#3) Grytics
Grytics is a Facebook group management tool that aids in raising group productivity and fostering community involvement. You can achieve your goals with the aid of all the stats on your group's activities, member posts, and comments – this enables you to have an in-depth understanding of the community within your Facebook group.
Features of Grytics:
Grytics is an effective Facebook group management tool since it enables you to comprehend both the community's strengths and its areas for improvement. You'll be more ready to take steps to broaden your Facebook audience with the help of an analysis of your stats. Some main features of Grytics include:
Manage Your Content
With the help of Grytics, you'll be able to manage the content within your group. You'll be able to see better-performing content and use that to grow your group. You'll also be able to find out the best times for you to publish content in your group to maximize visibility.
Reports and Insights
Grytics provides statistics on Facebook groups and their development, posts and comments within your group. The tool has interactive charts and efficient dashboards that make it possible to control group activity and even customize the reports. Grytics also allows you to download group activity reports. You can also receive PDF reports via automation straight into your mailbox.
Moderate Your Groups with Alerts
You can create custom lists of keywords and phrases to set up alerts. This will help you to moderate and respond to content that may need more immediate attention. Grytics also has a tag system that allows you to categorize the posts in your groups.
Post Scheduling for the Group
Save time by easily scheduling and managing your publications in one place.
A major concern for Facebook group admins has been the inability to schedule posts to Groups. With the publication tool in Grytics, you can automate your publishing by scheduling posts in advance.
Grytics does not offer a free trial of their software, however, you can request a demo here: https://grytics.com/schedule-a-demo . This Facebook group management tool is a true growth accelerator.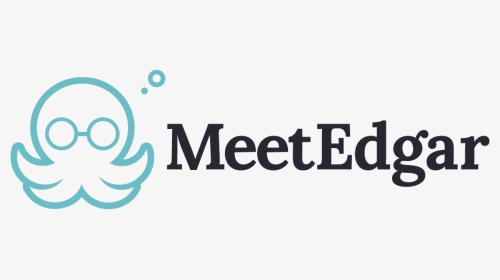 #4) MeetEdgar
MeetEdgar is the perfect social media management tool for every entrepreneur, business, small business, freelancer, and service pro. It is not just another scheduling software but a great management tool. Specifically, if you're a busy person and don't have much time to run your Facebook group, you can use Meet Edgar to run consistent content in your group and manage it effectively.
Features of MeetEdgar
While MeetEdgar supports users of all social media platforms like Twitter, LinkedIn, and Facebook, it is specifically great for busy Facebook group admins to manage their group. This tool supports Firefox, Google Chrome, and Safari browser extensions.
Everflowing Content
Are you a busy entrepreneur with not enough time to consistently create content for your Facebook group? Meet Edgar helps you batch create content and deposit it in the Meet Edgar library. The tool then consistently posts into your Facebook group without you having to worry about it. If you do not add fresh content, then MeetEdgar takes your best running post and schedules that up. In that way, your group doesn't slack behind, instead grows fruitfully.
Content Scheduling
With MeetEdgar, you can pass on the task of remembering when to post. You can create your content in bulk and use their easy scheduling to plan and run your posts appropriately.
Experiment Content
MeetEdgar allows you to A/B test your content to see which performs better in the group. If your focus is on growth, you can track the results from the A/B tests and use that in your post strategy.
Growth Accelerator
MeetEdgar tracks and engages with your most active audience, helping you convert your new followers into leads and eventually sales. You can get a 14-day free trial to test how valuable MeetEdgar is for your Facebook group here. They offer feasible plans for all to use and have pretty powerful features for you to grow and automate your Facebook group.
Final Thoughts
We utilize various technologies to expand, moderate, engage, and monetize our Facebook Groups, and you ought to do the same. As they will ultimately keep your sanity, save your time, and increase your efficiency!
The tools on this page are life savers and create an amazingly potent toolkit, from automatically adding new group members to your email list to keeping your members interested with the best-performing content data.
So cut down on the repetitive work that you need to do to run and grow your Facebook group. Try the above Facebook Group Management Tools and let us know which helped you the most.