With billions of active users on Facebook, it's undoubtedly the best choice of platform to promote any impactful product, either business or social.
Even better, Facebook groups are the real deal as they already have people with aligned interests and focus.
Going live on Facebook groups to showcase your business, educate or entertain your audience has been the smartest choice for businesses lately. It's not only easy to key into but also cost-efficient.
Over 80% of businesses have been going live on Facebook groups to connect with their existing and prospective customers.
Recently, Facebook live has amassed much popularity. In 2019, Facebook's live view passed 2 billion viewers, and the daily watch time for Facebook's live broadcasts has been increasing ever since.
In this article, you will learn how to go live on Facebook groups. This includes the benefits, tools, and some ideas to explore.
Let's begin with the benefits:
Benefits of Going Live on Your Facebook Group
1. Facebook Live is Cost-effective
Facebook doesn't charge you a dime for going live on the platform. It's as easy as pressing the live icon, and all your fans and customers across the globe can hear loudly and see you clearly.
The convenience, high quality, and affordability are unmatched, particularly when you have the right tools to leverage.
With the Facebook group live feature, you can boost sales, increase engagement and build business connections with little or no cost.
2. It is Easy to Use
When compared to other platforms, Facebook live is very user-friendly. Not much complication while using, as long as you know the right option to click.
Almost anyone familiar with the Facebook platform finds their way around starting a live session on it. The interface has its options insightfully arranged so much that you use any feature without supervision.
Another interesting thing is that you can live stream on private mode and watch replies to ensure things are working well.
3. It Increases Awareness and Exposure
Considering the almost 3 billion people on Facebook, it is unlikely that you won't reach thousands of like-minded people who share similar ideas and interests with your course or the problem your business is solving.
The Facebook live feature allows you to improve your business reach and increase your sales. It is one of the best platforms for businesses.
It notifies your followers when you go live and provides better ranking on your news feed so people who are yet to be on in your circle can have a feel of the value you're providing, before they can subscribe to it.
Many times, it helps you to increase your followers and customers. And there would be more than members on the Facebook groups, so your chances of getting business visibility will keep growing.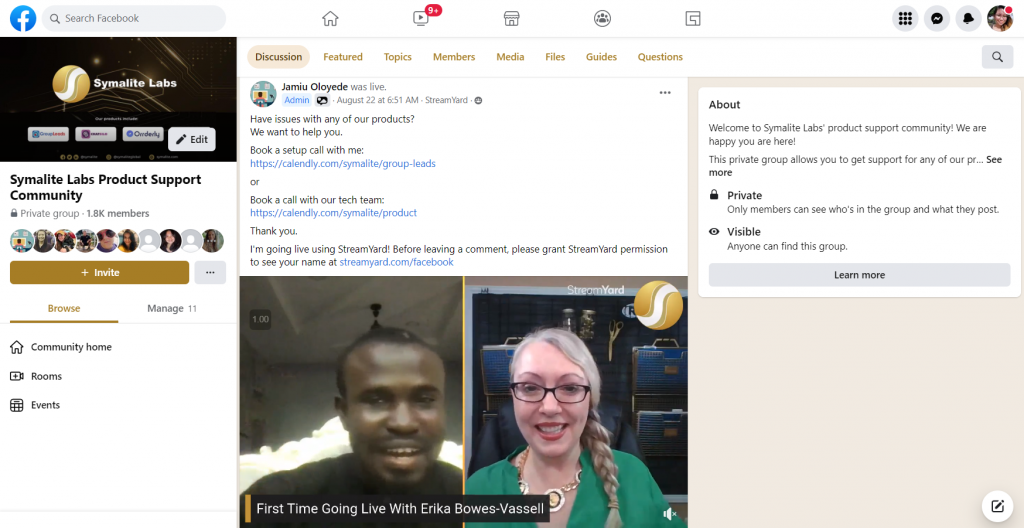 Can I go live on Facebook to more than one closed group simultaneously?
Businesses going live on Facebook groups have become so seamless that you can simultaneously go live on more than one closed Facebook group.
With the new Cross Posting feature, you can share a single broadcast across multiple Facebook groups and pages as an original post.
This feature works when you have multiple pages with a large audience and want to save yourself the stress of creating the same content for them on different occasions. You could simply create one and cross-post it across your groups.
Another hack is to create a live stream on YouTube, copy the link, and then share it across your multiple Facebook groups.
As you create Facebook group live sessions, here are some ideas that you can quickly tap into;
5 Ideas for Facebook Group Live Video
Live Consulting Session
For an industry that majors in coaching or rendering services, you can use Facebook live to showcase your skills. This allows you to show capacity, build authority and practically provide detailed information to your audience, helping them solve some of the problems they may be facing in their business.
Teach a Class
One of the best ideas of video sessions is to educate your audience. Facebook group live makes this easy. You can organize a free session for your audience. In the session, you provide enough valuable information that your audience can't help but keep coming to you for more.
Doing that will place your brand in a respectable position that your audience will think about you as their first solution when such problems arise. Also, your audience will understand your product or services better.
Whenever you have an important announcement to make about your company, say an acquisition or merger, you can decide to involve your customers and audience on a Facebook group live session. This will thrill your customers and they will respect your for your transparency and for always updating them with relevant company information.
Also, you can announce information about new products, promotional offers, and job offers.
Doing this makes you pass the necessary information to your audiences.
Fundraising for a Cause
Should you operate a nonprofit or social course, or your business CSRs want to involve your customers and audiences, you can use Facebook live as a medium to raise funds or, for businesses, raise money through consumers to buy your product so you can support the courses.
A live stream that supports your values and raises awareness for the things you care most about is essential for the progress of the course. During this live stream, you can give relevant reasons why you are raising money and how the audience can contribute.
Host Weekly Events
Suppose your business or course relates to this. In that case, it's thoughtful to schedule an event where you talk about interesting topics, social issues, or invite celebrities as brand ambassadors to promote your business. This will help you engage with your audience and encourage partnership for your business.
Giving your audience the best entertainment ever makes them eager to watch your event or show.
How to Go Live on the Facebook Group
To go live in a Facebook group;
Log into Facebook, and tap on the left pane of the platform. You could also tap the group icon on the right (as shown in the image below).
Then select your group.
If you don't see Groups, tap See more.
Tap "Write something" text box, as shown in the image below.
Then click on the see more icon (…) as shown in the image below.
Once you click on this, it will open other options for you.
Now click on Live Video as shown in the image below.
Tap Go Live.
As you go live on Facebook, your fans and audience from any part of the world can connect and be a part of the valuable content you're delivering.
That said, you can quickly go live on your mobile device or desktop and interact with your audience, fans, or customers in real-time without the need for implementing specific codes and cloaking URLs.
To take Facebook Live a step further in audience engagement and personalization, there are several tools that you can complement it with to create broadcasts with more complex productions.
Below are some available options to help you go live on Facebook groups.
Tools to Go Live for Facebook Groups
Wirecast is a video capture program that allows you to broadcast live video to Facebook from various devices, including your desktop computer, iPhone, and DSLR.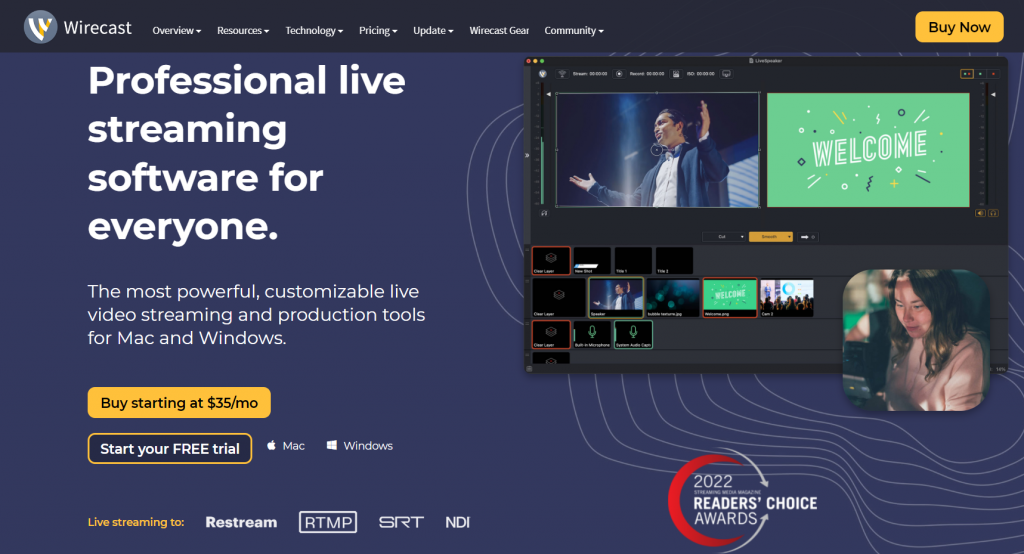 Its uniqueness allows you to enhance your video as your broadcast. It adds flavors of transitions, text and lower thirds, countdown timers, title screens, scoreboards, and audio mixing, to make your live events appear like a live TV broadcast.
Wirecast has a free trial, and you can purchase at a one-time fee starting at $599 for the lowest option.
Zoom Meetings surfaced in the heights of social distancing. Then the company created Zoom Webinar. This platform allows you to create a conference room, invite participants, and stream live to Facebook or even YouTube.
Also, this platform welcomes as many people as possible watching through Facebook Live.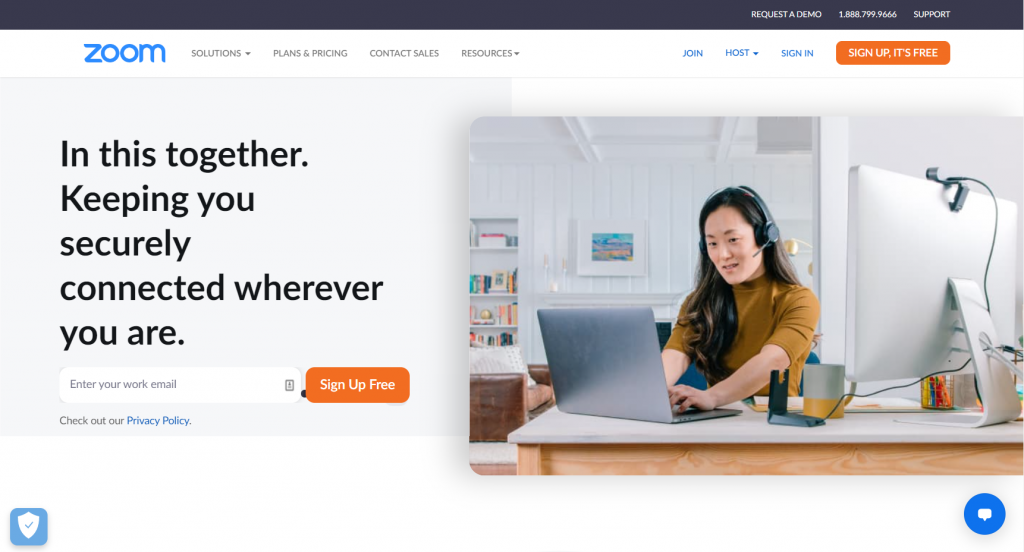 Zoom doesn't have the features for users to brand their stream, and it's not a good option if your live stream is regularly scheduled.
The Zoom Webinar package costs $54.99 at 100 attendees if attendees are being invited to watch within Zoom.
LiveWebinar allows you to screen share, do live video streaming, broadcast to social media (YouTube, Vimeo, and Periscope, aside from Facebook), and HQ recording on the cloud-based solution.
You may quickly host a webinar and join a meeting without downloading apps or installing software. By embedding a webinar room on your website or using the tool's enterprise white-label option, LiveWebinar gives you two distinct methods to tailor your production to match your company's branding and be hosted under your domain.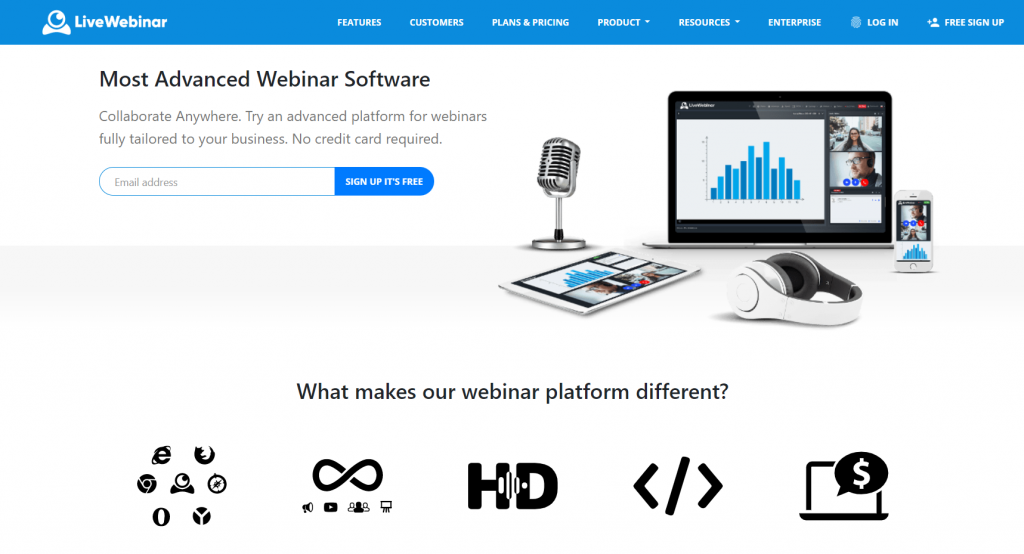 HubSpot, Zapier, AWeber, Slack, and MailChimp are some of the marketing tools that LiveWebinar interacts with to help you not only assess the efficacy of your stream but also make your marketing effort consistent.
BlueJeans is another multi-party video platform that enables you to effortlessly create video conferences for various purposes and stream them on Facebook Live. BlueJeans allows you to stream live using both its meeting software and events software.
BlueJeans can be a decent alternative if you find yourself in a situation where you need to live stream a once-off, significant virtual conference.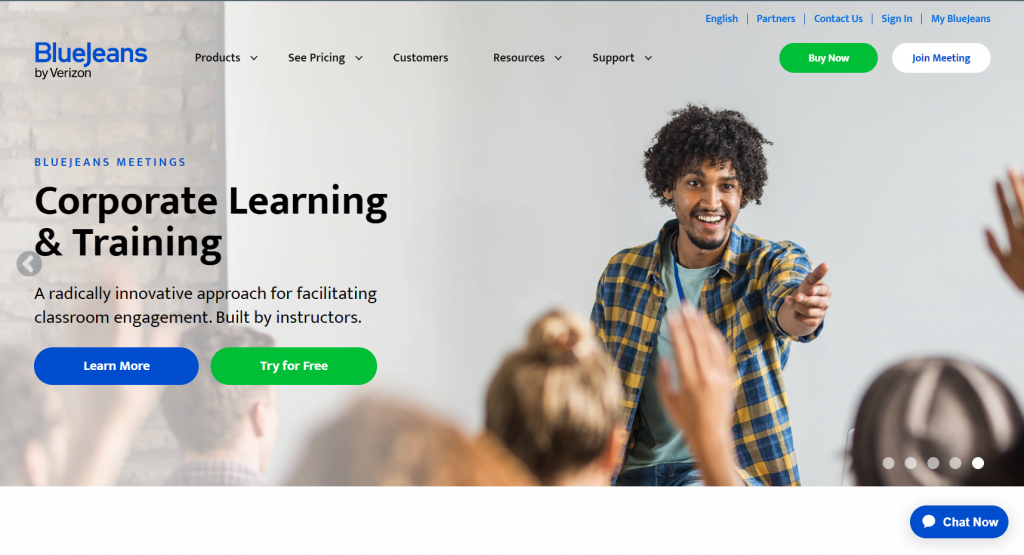 The BlueJeans Meetings package starts at $12.49 per month and allows you to invite up to 50 participants, which is relatively affordable if you need both a virtual meeting and a live stream solution in one.
Free Facebook Live Streaming Alternatives
OpenBroadcaster is not a meeting software. It enables you to pick a particular video source that may be edited in the software and transmitted through Facebook Live (such as your desktop or webcam).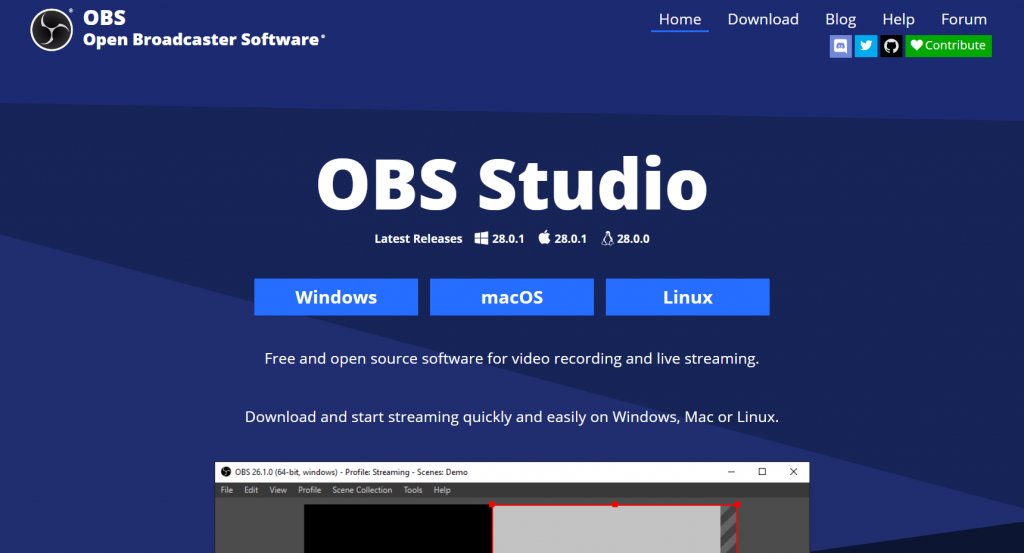 A good feature of OpenBroadcaster is the ability to switch easily to various displays while streaming, whether from a DSLR camera, pre-recorded video resources, a microphone-only setup, or something else. You can get everything set up on YouTube with the help of a variety of step-by-step video guides.
Open Broadcaster has a great community that is eager to assist you if you have any questions, and it is also fairly robust. Plus, it's free.
With Streamyard software, you can invite up to six other people, which is a lot for a free choice. If you want to brand your stream, you can add banners and choose a specific brand color for all names and comments, but you will unavoidably add the StreamYard logo, which you can get rid of by upgrading to a paid plan.
Additionally, you will be able to have all stream comments imported into the program, so you won't have to constantly go between it and Facebook. You must upgrade to the subscription plan if you're interested in using overlays and backgrounds. One more thing to keep in mind about the free plan is that you can only stream for 20 hours each month.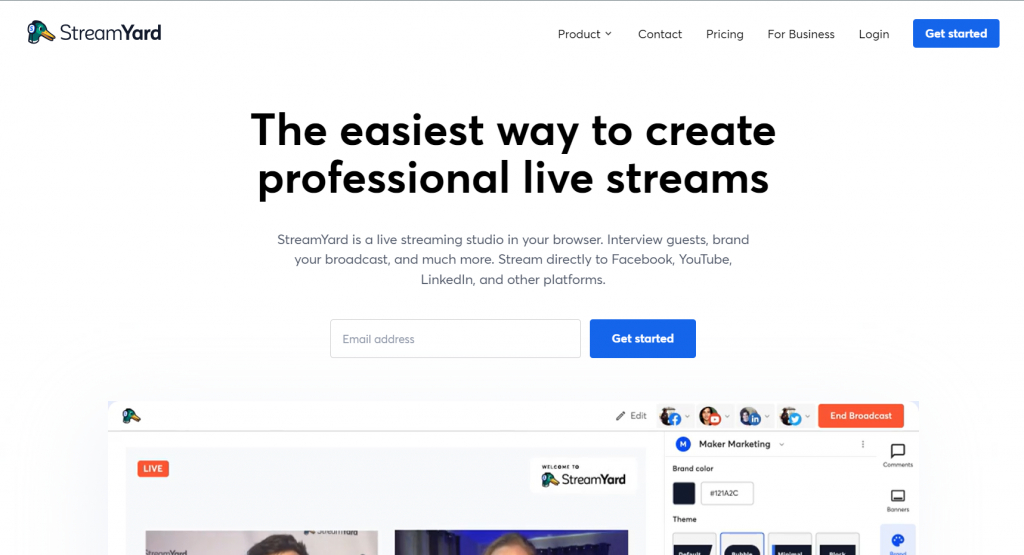 StreamYard is free but to access more features; it costs $25 per month or $20 annually.
BeLive is an easy-to-use and free platform that allows you to go live with a single participant. It allows you to control the layout of your dashboard and your guest's video with the click of a button.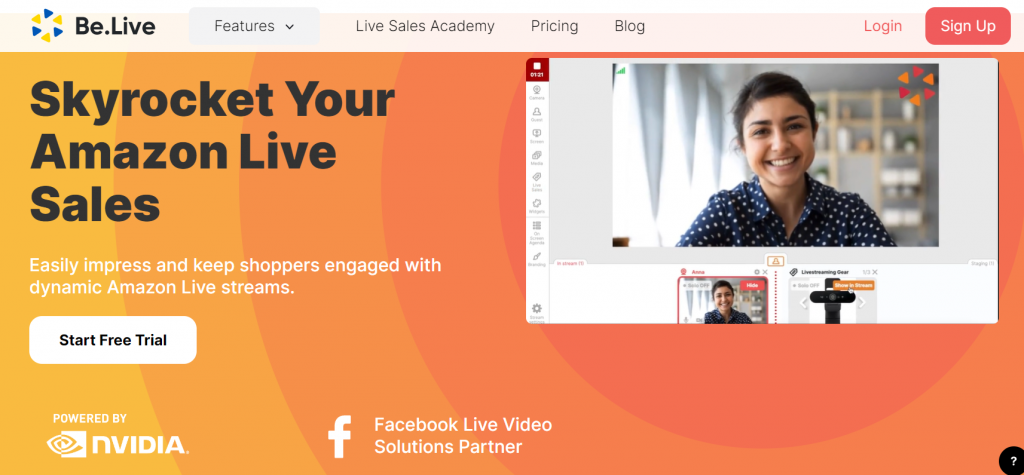 In situations where you want to project information to your viewers, the platform allows you to write text on the screen that you can show on your Facebook stream. This saves you from toggling between your Facebook page and video chats to monitor comments.
Final Thoughts
Now you can go live on Facebook groups and reach your fans, customers or audience from any part of the world. There's a lot you can do on the Facebook group platform, you can also convert all these audiences into paying customers by collecting their contact information and selling relevant products to them.
Group Leads lets you do this. Try Group Leads for free!