Not sure how to increase LinkedIn group members? Or how to get your first 1000 members?
You've come to the right place.
LinkedIn is a community of 850+ million entrepreneurs and business owners. These users are engaging on the platforms daily.
So, if you're in a B2B business, owning a LinkedIn group is a great way to nurture your prospects and turn them into customers.
But most group owners struggle to add new members or keep them engaged. You will often find abandoned LinkedIn groups.
Unfortunately, if your group isn't engaged, it isn't very helpful. No matter how often you sell to these group members, they won't convert.
But if your group is engaged, you can build an entire business from that group.
Good news. Building an engaged LinkedIn community that grows on its own is doable.
You only need to put in simple work consistently to get there.
This post will give you proven strategies to increase LinkedIn group members. If you follow them consistently, you will start adding new members weekly.
Let's dive right in.
1. Determine Your Group's Objectives
The right way to scale into growth is to get the basics right. So, your first step is to determine your group's focus.
You don't want a group where members talk about random things that are not at all related to your business. These members are not ideal prospects and will never be your customers.
You want a group where members discuss things that align with your business goals. Your product or service is the perfect solution when they have a problem.
To build such a group, you need to figure out its objectives. So, take some time and ask these questions to yourself:
Why do you want to create a LinkedIn group?
What is your end goal?
What type of members do you want?
Once you have found your top 'one' reason for this group, adjust your messaging according to it. Create content that focuses on your end goal. Here is a successful example: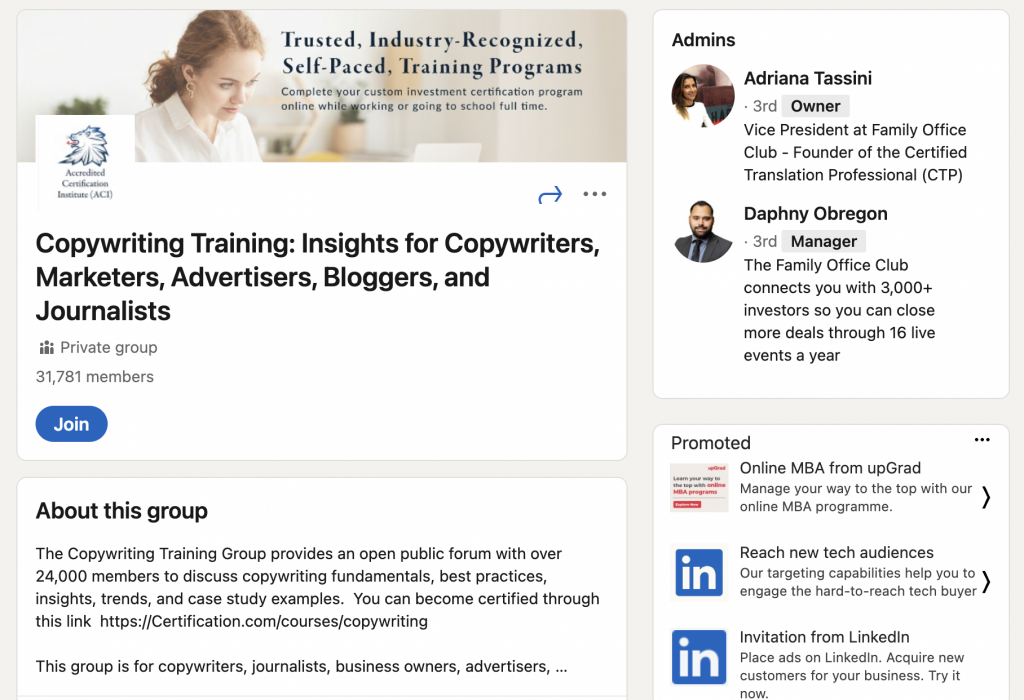 This group has one focus: copywriting. The group members discuss nothing else but copywriting.
So, if your group lacks focus, it's time to give it one because that's how you attract focused members who are also your target audience.
2. Optimize Your Group Listing
If your group already has a specific niche but is still not growing, it needs to be optimized to reach new audiences.
LinkedIn provides you with handy options to optimize your group listing. Make full use of these options so your group appears for relevant searches.
You can do this by clicking on the 'Edit Group' button. Now, optimize the blank spaces with appropriate details.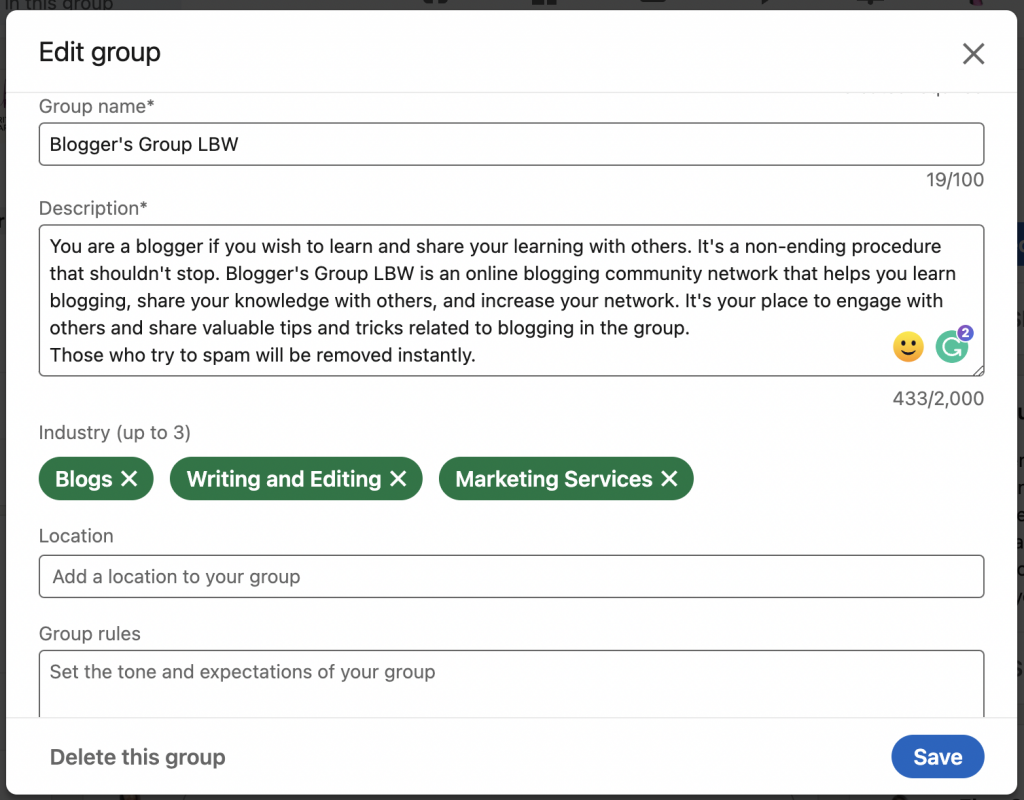 Group Name: Give your group a catchy name. Make it short and specific, and use keywords.
Description: LinkedIn is a search engine; it's an excellent place to use relevant keywords. But use this place to tell visitors the reason and benefits of joining your group.
Industry: Pick up to three relevant industries. It'll help your group appear on search results.
Group Rules: To maintain your group, write some rules your group members should follow. Here you'll tell members that your group is not for spam.
Group Discoverability: Keep this option turned on if you want your group to appear on search results.
Permissions: Choose if you want existing members to invite new members. This option will enable members to invite their connections.
Give some time to fill out these details. Pay extra attention to writing a nice group description, as most visitors will decide to join your group only after reading the description.
3. Invite LinkedIn Connections
Want to know who is the most likely to join your LinkedIn group? Your current connections.
If you've been building genuine relationships with your current connections, they can be your first few members.
Even if your group is old and you've already used this feature, you should send invites again to any new connections or old ones which might have missed your initial request.
Click the "Manage Group" button to invite your connections and go to the "Invited" tab.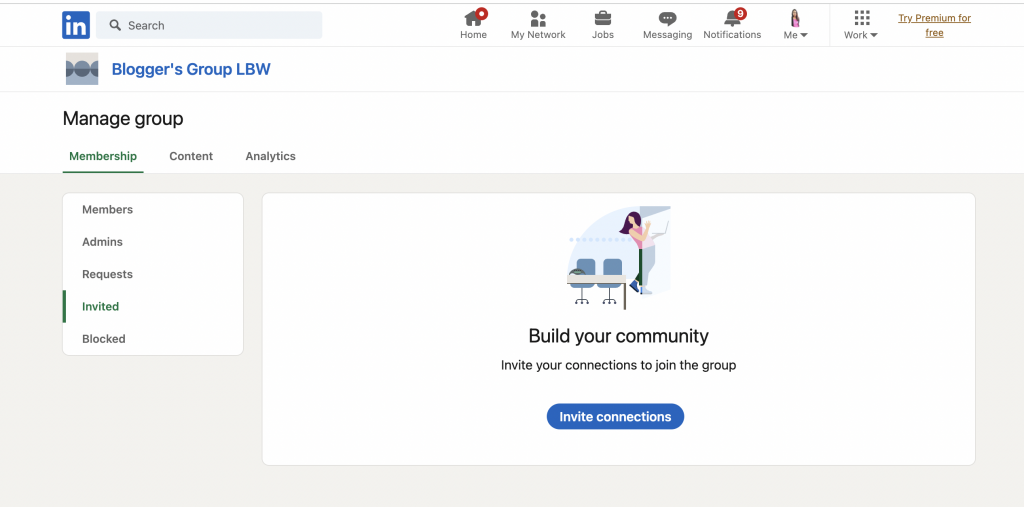 Click on the "Invite connections" button and send invitation requests.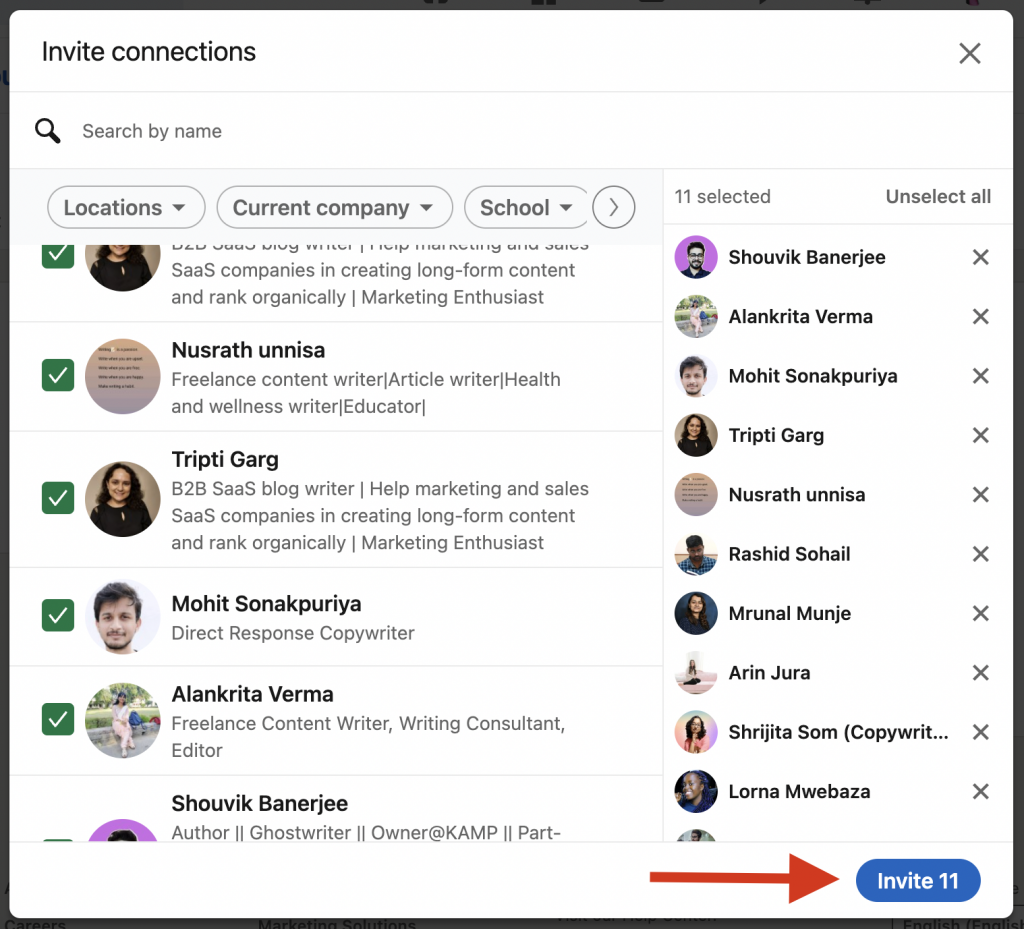 4. Ask Members to Promote Your Group
Another simple strategy to add more group members is to ask your network to promote it to their audience.
Since LinkedIn is an interest-based platform, your members' connections are highly likely similar to yours. They share common interests as yours and can be perfect for your group.
As a constant effort, ask your group members to promote the group to their connections. You can keep reminding them about promotions as you keep adding new members.
5. Create an Amazing Experience
One smart way to keep increasing members is to stop the existing ones from leaving. So how can you ensure that your current members stay in your group?
It's pretty simple.
By creating a wonderful welcome experience, you can keep your group members. Provide so much care and value that they don't want to leave. You can do many things:
When a new member joins, send them a personalized welcome message. You can use this opportunity to invite them to check out more of your resources.
Engage them in daily conversations.
Solve their problems.
Doing this shows your members that they're in the right place to find answers to their questions.
If you can't send messages to each member, use the "pin at the top" option to write a welcome message to new members such that when they join your group, it's the first thing they see.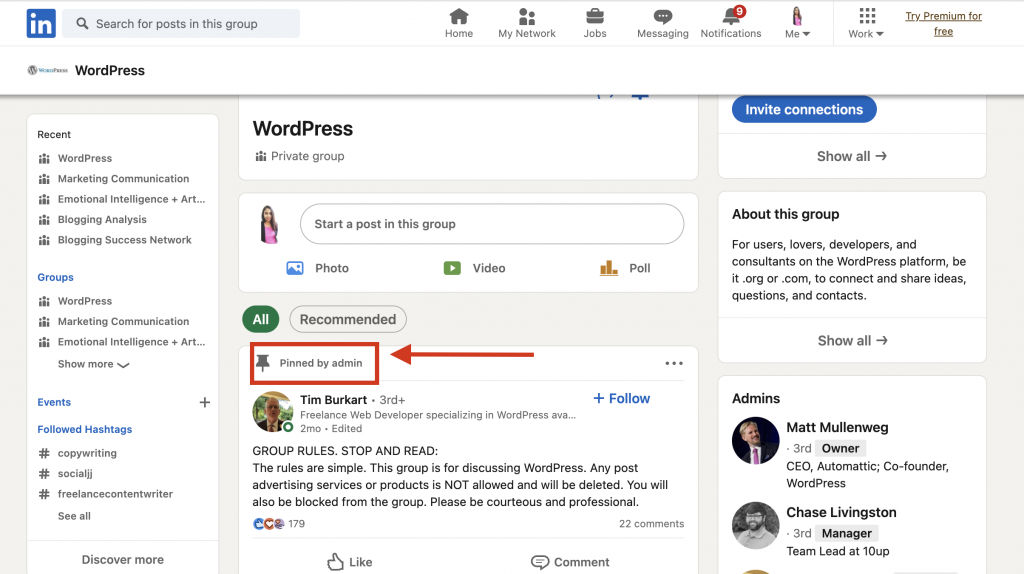 You can also use this button for new announcements or offers.
6. Engage Daily
Imagine this.
You go to your joined groups list and are surprised to see many groups you don't remember joining. Ever happened to you?
Yes? It happens to everyone. But do you know why?
It's because the owners of these groups stopped creating content or, should I say, abandoned them.
Many people start a group and forget about it. The truth is LinkedIn is full of inactive groups. For example, the last post on this group was two years ago.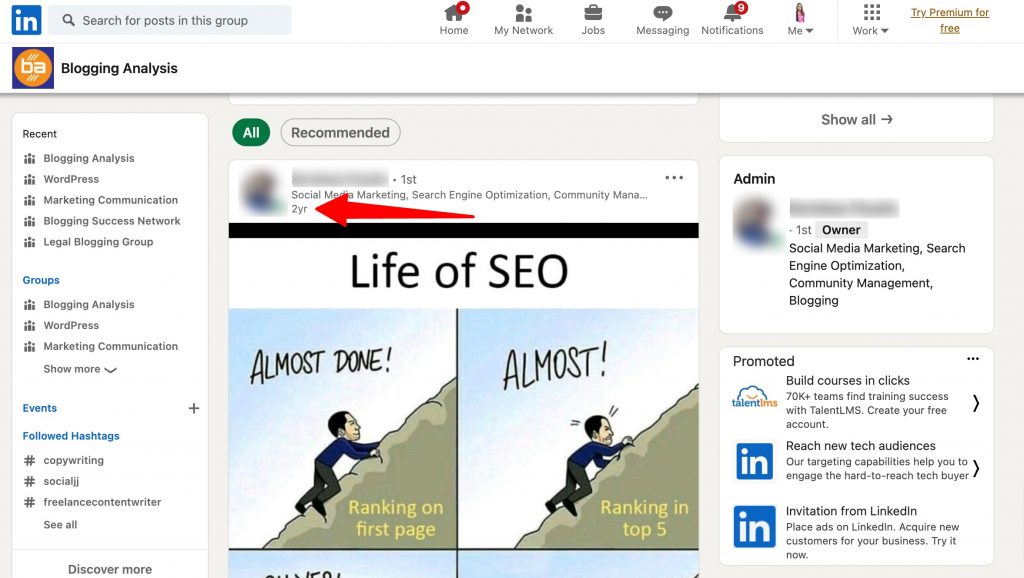 If you don't want your group to end up like this, you must keep the interaction going.
The good news is engaging group members isn't hard. It's similar to engaging your LinkedIn audience.
All you have to do is show up daily and encourage group members to show participation. Ask questions, share tips, share wins or losses, give advice, and do anything that makes your group pop up in your members' feed.
Yes, it's that simple.
7. Promote on Other Social Media Channels
With many social media platforms, it's evident that only some of your audience is on one platform.
A part of your audience will be on Facebook. Some will be on Twitter, and some on any other social network.
And this audience (from all platforms) might need to learn that you have started a LinkedIn group where they can interact and get their questions answered.
You can leverage this chance to increase your LinkedIn group members.
So what can you do?
Simple.
Share with this audience that you have a LinkedIn group and give them a link to join. You can occasionally promote your group on your social profiles, as you will keep adding new followers everywhere.
8. Promote on Your Blog (YouTube)
If you run a blog or a YouTube channel, these are great places to promote your group. Because these places drive consistent organic traffic, and you can keep getting new members automatically.
How?
In every new blog or video you publish, you can talk about your LinkedIn group or how it's helping members. Just like Jamiu promotes his Facebook group in blog posts.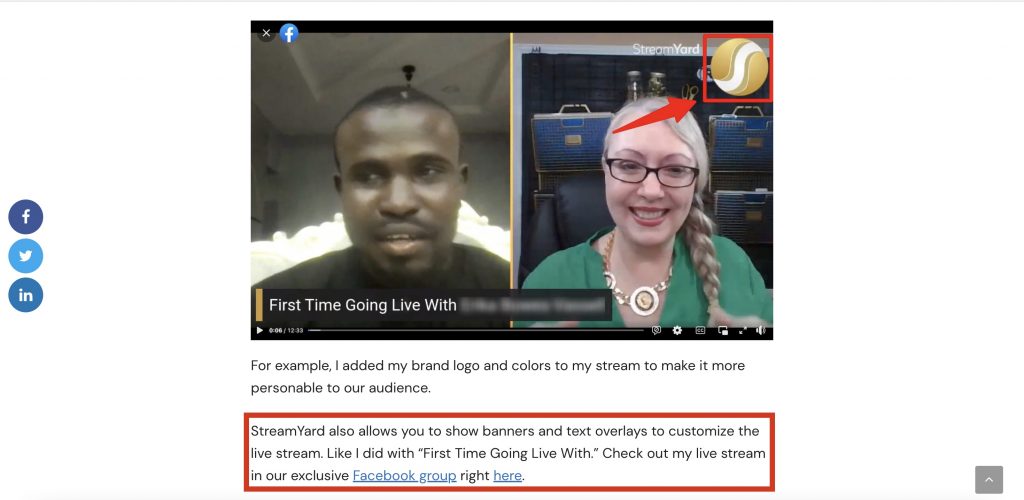 Whenever a visitor reads this blog post, he will want to check out this group. He might even consider joining.
9. Leverage LinkedIn Ads
A guaranteed way to get more members is by using LinkedIn ads.
If you have the budget to spend on LinkedIn ads, you can add highly targeted members to your group. That said, you don't need a huge marketing budget to run LinkedIn ads. You can get started for as little as $10.
The benefit of using LinkedIn ads is the freedom to choose the type of audience you want to target. You will get many filters to customize your target audience type.
This method allows you to attract highly intentional members. Plus, sponsored ads are easy to set up.
10. Accept Only Focused Members
The last thing you want for your group is to have irrelevant people who do not add value.
Most new course creators make the mistake of making the group public or accepting anyone to their group to increase the member count. It's a big no-no.
In this case, the members' count is a vanity metric.
These members are not your ideal customers. They probably joined your group without even reading the description. Some might even spam your group.
Remember we talked about the group's objective in step #1?
Another reason to only accept some people in your group is engagement. The LinkedIn algorithm favors engagement. If your group shows activity, it will appear to a more similar audience.
But if it has random members who do not interact at all, the engagement will remain low. LinkedIn will never promote an unengaged group.
11. Clean Your Group Regularly
With that said, you can't completely prevent spammers from joining. They will be able to get in.
So, you must monitor your member list closely and remove irrelevant or inactive members.
You don't need a large and unengaged group.
You need a small but engaging community.
My point here is to pay less attention to adding new members and more to keeping the engaged members only.
When you remove spammers from your group, you make it a better place for dedicated members.
Final Thoughts: How to Increase LinkedIn Group Members?
So these were some of the best ways to increase LinkedIn group members.
Whether your group is on LinkedIn or any other platform, maintaining it is the key. You will have to keep putting effort into building it into the group you want it to be.
Your ultimate goal should be to convert these members into leads and customers. You can do that if you keep nurturing them.
Converting group members into leads is easier if you own a Facebook group. You can use Group Leads to add these members to email marketing software where nurturing is more in control.
Do you own a LinkedIn group, or are you planning to create one? Have you tried any of these tips before? Would you like to add any to this list?