Many of your daily activities happen online. Yet, you always require your username and password to access your services for security reasons.
The advisable unique passwords are difficult to remember. That's why password managers are necessary.
Let's do LastPass Review 2022: Is it the best password manager?
But first,
What is Lastpass Password Manager?
LastPass is a password management tool that allows you to create and save your passwords for any time use. It also extends to helping you protect your other essential credentials and biodata.
But I can write my password in a note-taking app, and you might be wondering.
Well, here's why LastPass is important.
Why Use LastPass?
You should use LastPass because you can't remember or write all your several character passwords on a note-taking app, particularly if they are different across platforms.
Think about it, how easy will it be to start looking out for your password note while driving?
The LastPass password management tool makes life easy by managing your logins and protects your cyber experience.
So you can log in and get started immediately for free. However, for enhanced value, the LastPass password manager has a premium offer, and it's quite different from the freemium one.
What is the Difference Between Lastpass Free and Premium?
The freemium offer allows you to do some basics of creating a password vault, generating unique passwords, and autofill your data on any platform and all your devices. It also allows you to authenticate and share your passwords.
But the premium offer allows you to give emergency access to other people, say, a trusted member of your team. With their email address, you can provide them with access to the platform without sharing the password itself. You can even set a waiting time for them to log in.
The premium also offers improved security using fingerprints authentication and has a 1GB encrypted storage facility to secure your notes.
But then cybersecurity is a critical topic that leaves many with the notion that it is easier to say as lip service or a brand promise than in reality, so you might be wondering how safe and secure is the LastPass password manager.
How Safe & Secure is LastPass Password Manager?
Aside from infrastructure and regular updates, trust, and test matters in this situation, since LastPass has been tested by over 43,000 companies that include giant tech companies and Fortune 500, it can be safe. If those organizations can trust them, everyone should.
And besides, LastPass's annual pen test to strengthen their product using vetted third party checks is also crucial for guarantee.
Now, how do you set up LastPass to work?
Lastpass Setup: How-tos
How Does Lastpass Work
This password management tool works by encoding and decoding your input data at your device level. The specified data that you store in your vault will be kept secret, and your master password will be put in the LastPass server.
How to Use Lastpass Password Manager
Before you can use the LastPass password manager, you will need to download the tool.
Here's how to go about it.
First, use the Google search bar to source for "LastPass Chrome Extension Download."
Click on the first search result.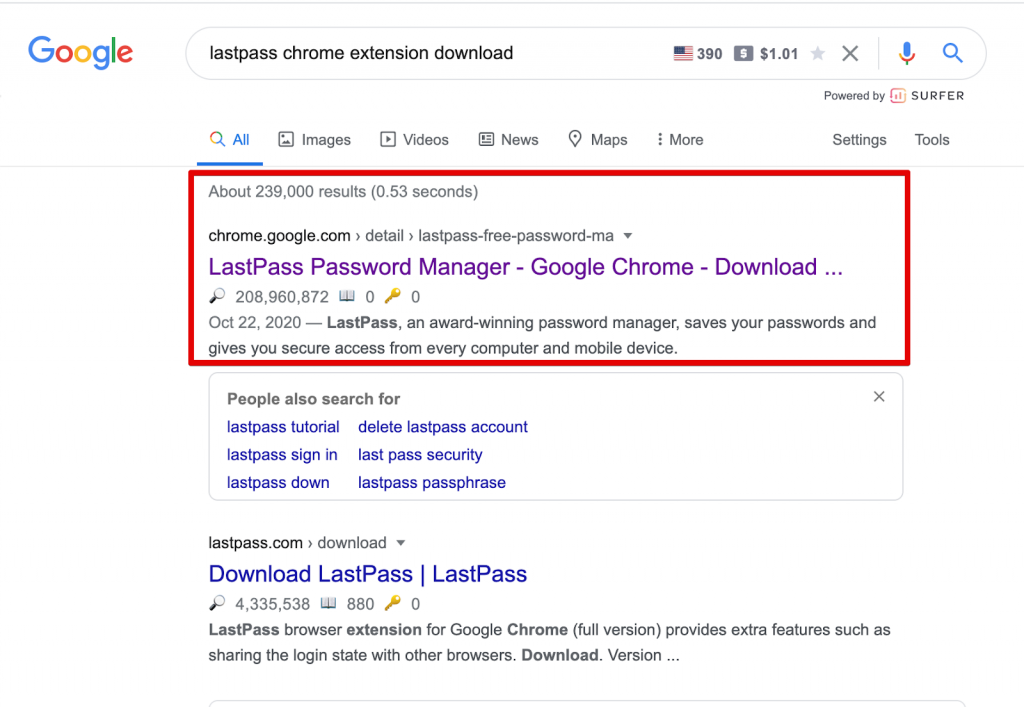 Then add the extension to Chrome.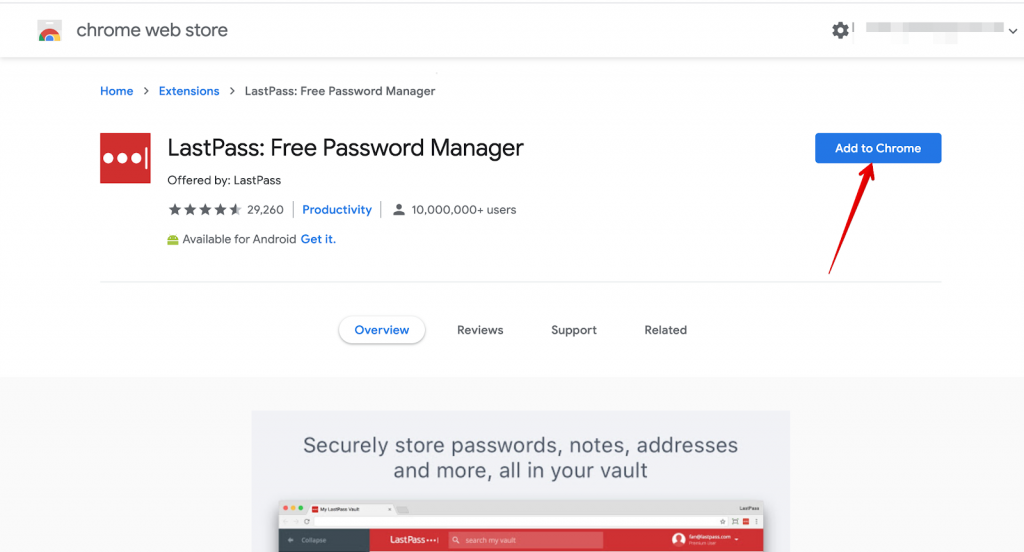 Once you've added the extension to Chrome, the LastPass password extension will display in a grey color.
And when you sign up with your email, it will change to red, and then, you can use the tool.

How to Disable Chrome Password Manager While Using Lastpass?
If you've noticed, Chrome automatically asks you to save your password each time you enter it on the Chrome browser. And when next you need to log in to that site, it suggests your password to you.
To allow the LastPass password manager, you have to override its obstacle – the Google Chrome password manager, but how would you do this?
First, head to the three vertical dots on the new tab of your Google Chrome browser, click on it, and scroll down to click on settings. Do as shown in the image below.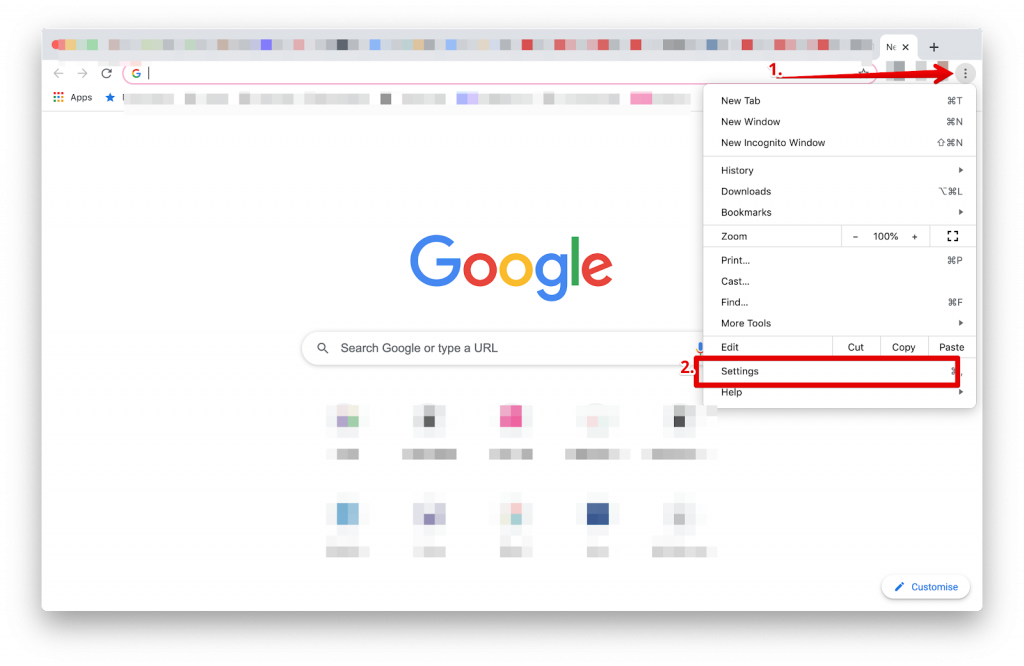 After that, click on the auto-fill tab, then click on the password, as shown in the image below.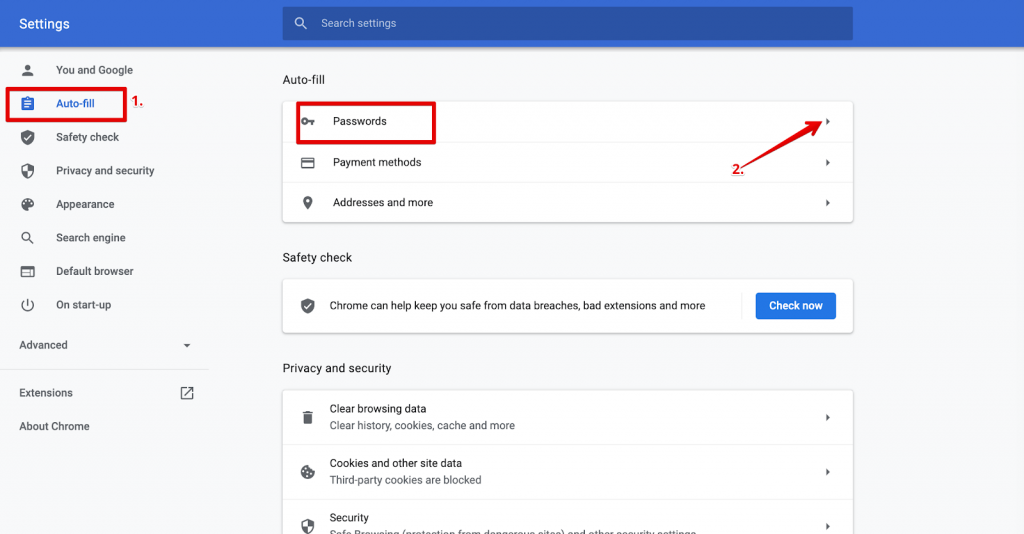 Then toggle "Offer to save password" and "Auto-sign in" to the left to switch off the activity. At this point, that part turns grey.
That way, you've disabled the Google Chrome password manager.

How to Add a Site to LastPass
LastPass also lets you add specific sites where you require it to remind you of certain details like your password. You can add these sites by:
Log into your LastPass dashboard, then select the password available on the left navigation.
After that, click the add icon, then enter the link to the site and the information you want to save concerning it, then click save.
Whenever you log in to that website, the accompanying data you saved with it will recall when you ask for it.
How to Use LastPass on Android
Using LastPass on Android is a no brainer. Download and install the LastPass app on your phone's OS marketplace, Playstore for Android or App Store for iOS, enter your username and password, tap Login.
And you're good to go.
How to Import Google Chrome Password Manager into Lastpass
Let's say you want to switch from the regular Google chrome password manager to Lastpass and transfer all your data.
Log into your LastPass dashboard and go to Account options. Then click on Advanced, then import, then select Google Chrome Password Manager.
There, you'll see all login credentials, check the ones you want to move, then click on Import.
A confirmation window will appear; click OK. Now, you're done.
How to Export Lastpass to CSV
You might also want to have your credentials on the local drive of your computer too. Just download the data. But how?
Log in to your LastPass account, head over to Advanced. Then Export, then LastPass CSV.
You'll get a prompt to enter your master password because you're on the verge of downloading a confidential document. Enter your master password, and click continue.
Your computer will request you name the file you're about to download, name the file, and download. After this, you should know that the security of your password details is also up to you.
How to Change Password in Lastpass
You want to change a platform-specific password on your LastPass password list.
Do this by logging into your LastPass dashboard, then click open my vault. You have all your passwords listed on your vault.
Now look for the password you intend to change, hover around it and click on edit.
After that, click on the auto change password. Note that a new browser will now open, click on change password now, and LastPass will do the rest.
LastPass will automatically close the opened browser window and pops up a confirmation message. Click OK, and the LastPass will automatically synchronize your new password on all your devices.
How Do I Add Folders to Lastpass Password Manager
To add folders to your LastPass password manager, Login to your dashboard. Click to open your vault. Select the item for which you want to create a new folder. You'll see that on the left navigation bar.
Then hover on the add (+) icon, located on the bottom right corner, then click Add new folder.
Enter the folder name and click save.
That's it.
LastPass Review
Pros
LastPass is widely known for its awesome value. It is:
Accessible on all your devices:
You can use the LastPass password manager on all your devices. So if you're using your smartphone, desktop, or tablet, the tool synchronizes across all your devices.
Available on multiple platforms:
Irrespective of your web browser or your device's operating system, LastPass allows for seamless use and easy integration on any platform.
Smart password generator:
This tool lets you go beyond thinking about the right and unique character combination for your password. It generates it for you and helps you remember it whenever you need it.
Secure notes:
Beyond password, you can save important notes of your important documents thereby acting as your digital abode for the information you shouldn't lose.
LastPass authenticator:
To ensure that your digital identity is always safe. LastPass provides an authenticator which is three-step support to free you from the hands of cybercriminals. These include time-sensitive six digits codes, a one-time tap push notification, and another 6-digit code authentication.
Upgraded LastPass authentication:
Aside from the regular LastPass authenticator, the premium offer also comes with an upgraded authenticator that integrates passkey from third party password applications and also a fingerprint authentication.
One-to-many sharing:
Depending on the version of LastPass that you're using, you can choose to share your password with one or more people in your trusted team. This brings comfortable sharing access without directly revealing your password.
Cons
However, it has some downsides. LastPass has:
No Universal Two-Factor (U2F) support
LastPass does not support the U2F FIDO standard. It relies on the TOTP method, which explains that whenever you use Yubikey to log in as a premium user, the key supplies a string of authentication numbers. LastPass believes that the U2F authenticator is stressful, so it lets your device be your own trusted device.
Design and some parts are outdated.
Many people talk about LastPass design as not so great when compared to their competitors. Also, some components of the LastPass platform are outdated, given a kinda old look for the user experience. However, the functions are excellent. So when selecting a password manager, you should look closely and experience the app feel before deciding.
No VPN Offering
LastPass doesn't have a VPN offering for its customers. This is seemingly serious as most customers who use the service all feel the need to stay anonymous when using public WIFI.
LastPass Pricing:
The LastPass prices vary across user-type and purposes.
How Much Does Lastpass Cost?
For Single Users and Families
Free Package costs $0 with 30 days free premium trial.
Premium Package costs $3 with 30 days of a free trial.
This allows for multiple sharing on devices, including a 1GB of encrypted file storage for personal security.
Families cost $4 with 30 days of a free trial.
This provides password management comprising six premium licenses for seamless password sharing.
Business Plans
MFA package- costs $3 per user per month with 14 days free trial.
This package increases business security using multi-factor authentication.
The team package costs $4 per user per month with a 14-day free trial.
This business package is for a team of a maximum of 50 people.
Enterprise package costs $6 per user per month with 14 days free trial.
This has a single sign-on and password management solution for an unlimited amount of users.
Identity package costs $8 per user per month with 14 days of a free trial.
This also has a unified single sign-on, multi-factor authentication, and password management.
LastPass Alternatives
Is LastPass Better than 1password?
1 Password is one of the best password managers in the online market. Asking which is better out of LastPass and 1Password could be a tall order, but then, here's a bit of comparison.
User Interface:
LastPass is an excellent and sleepy design, but its layout is too busy and studded with information here and there. However, 1password is clean, and the organization of the text and layout is clean and easy to navigate.
Data Protection:
LastPass uses an advanced security protocol 256-bits AES+PBKDF2 SHA-256 while 1Password uses an advanced security protocol of 256-bit AES in addition to a unique 32+ digit alphanumeric 'Secret Key' to strengthen the security for every signup.
Account recovery:
Using the LastPass password manager, you can recover your account using SMS codes, precisely -One Time Password, or via email. In comparison, 1 Password uses an emergency kit with a 3 step combination of a secret key, email address, and a master password to build the height of security, and Account recovery is possible through the team and family plans.
Access restrictions:
When you travel out of your home country, LastPass denies you access to some platforms unless you allow grant access to your new country. This means that you can't be inaccessible anywhere outside your country. With 1PAssword, you only need to activate travel mode to set specific as safe to visit.
LastPass vs. Google Chrome Password Manager
LastPass is a better option than the Google Chrome password manager. For many reasons ranging from flexibility to storage.
The LastPass password manager is supported across several platforms and web browsers like Chrome, Edge, Safari, Opera, Firefox, etc. and devices. It allows for 2FA (Two-Factor Authentication), can generate passwords for you, and it has an advanced encryption method of 256-bit AES and PBKDF2-SHA256.
LastPass is more feature-rich than Google password manager, which only saves your password and does nothing significantly more.
What is Better than Lastpass Password Manager
For now, there is no better password manager than the LastPass password management tool. This is closer to it than the 1Password password management tool.
Final Thoughts On LastPass Review
You shouldn't run a business if you're not ready to secure your account logins. Particularly if your team is growing, there shouldn't be any excuse to ensure that your data is safely hidden from cyber crawlers searching for essential business data.
As you jealously guide your data from competitors and cyber attackers, remember you can also scale and fuel your business with automation.
Try Group Leads for free to build lead funnel and raise your business profit.