Of all the chrome extensions there are, is there any Pinterest Chrome extension?
This is the question I'm about to answer in this article.
At the end of this article, you'll have:
learned if there are Chrome extensions for Pinterest
whether or not you should use the Pinterest Chrome extension at all
few of the best Pinterest chrome extensions,
how to install the Pinterest Chrome Extension and
how to update Pinterest Chrome extension.
Without further ado, let's cut right to the chase now, shall we?
The World is Evolving and Computer World With it
The world has progressed. So also, the computer we use and its various software and hardware.
The computer itself is evolving daily. As it gets smaller and smaller, more operating systems are coming up.
New software tools and apps are getting built daily.
According to a report, the Apple Store alone has an estimated 2.2 million Apps for download while Google Play has a whopping 2.8 million Apps for download.
Talking of extensions, statistics have shown that there are an estimated 188,260 total extensions in the Google Chrome store alone. As many as this looks, a good percentage of those extensions are not getting installed.
About 50% of all Chrome extensions have as low as sixteen installs only. This is according to a recent scan done by Extension Store on all Chrome Web Store.
Now, in case we have a less tech-savvy reader here, you might want to ask, what exactly are Chrome extensions? Do you know what Chrome extensions are and what they do? Here, let me answer that as elaborately and yet as briefly as I can. After my explanation, you won't need to read elsewhere about Extension because you'll have understood it entirely.
What are Chrome Extensions?
Everyone wishes to customize just about everything they use. You can customize your T-shirts, your phone, your home, your computer, and even your browser.
There are some algorithms and systems in place to make such customizing possible and easy. For instance, to customize your smartphone and the way it looks, you can download theme apps or theme software on your App Store. All you have to do is change the Theme from the different themes available in the software app you downloaded.
In this same way, to customize your browser and your browsing experience, what you need to have installed are small software programs called extensions.
Unlike Web Apps that have all its content online, extensions have all its software programs packed together in a single file called a zip file.
These extension files that are zipped together into a single .crx package can be downloaded and installed on your computer to be used on your browser.
Extensions are usually built on web technologies such as CSS, HTML, XHTML, and JavaScript.
They allow you as a user to tailor your Chrome browser and its functionalities to your preference, needs, and taste.
Moving on, an extension must be able to fulfill at least a single purpose. And it may contain several components all working towards the single purpose to which the extension was built.
Is There a Pinterest Chrome Extension and Should You Use One?
Here, the first important question to ask is, what is Pinterest?
Pinterest is the world's first visual discovery engine. It is used for finding different visual concepts and ideas like home decoration, food recipes, style and design inspiration, and much more.
On the question of whether or not there's a Pinterest Chrome Extension, the answer is yes there is. There are quite a few of them. And you should try some of them to help you tailor your Pinterest experience on Google Chrome to your taste.
Pinterest, as it is, is an amazing tool on its own with mouthwatering features. Yet, you can improve its key features even further by using the available collections of more Chrome Extensions.
Take, for instance, you can add a zoom extension to allow you to zoom an image without having to click on the image to be able to enlarge it.
In this same way, you can enlarge your pins and images as you scroll or as you surf the internet. All you do is hover your mouse cursor over those images and you can perform different wonders.
Some of the extensions allow you to Pin or like an image without having to pass through any rigor or pass through some repetitive boring activity like clicking on such images or opening the options to reveal the inner functionalities.
With the move of a mouse, you can do all that in a twinkle of an eye.
That said, let's discuss some of those cool extensions, shall we?
6 Best Pinterest Chrome Extension
After all, have been said, here is a list of six(6) of the best Pinterest Chrome Extensions there are:
Pinterest Recent Activity Expander
Pinterest Pro
Pinterest Image Expander
Easypinner for Pinterest
Image Search on Pinterest
Pinterest Enhanced
You must know that the above list is not exactly exhaustive. There are more Pinterest Chrome Extensions. We have only picked these six from a web store full of such beautiful extensions. That being said, let's quickly get on with the explanation of the above-mentioned extensions.
1. Pinterest Recent Activity Expander
There are different segments on Pinterest and Recent Activity is one of them. When you install the Recent Activity Expander extension, it allows this section to display an enlarged image of the thumbnail picture of each of the activities whenever you hover your mouse on them.
Also, with this extension, you can easily see which of your pins are liked or have been repinned.
From the Pinterest Homepage, you can hide the Pin button once you have installed this extension because the button won't be serving any purpose with this extension installed. Try this Pinterest extension today. You're guaranteed to love it.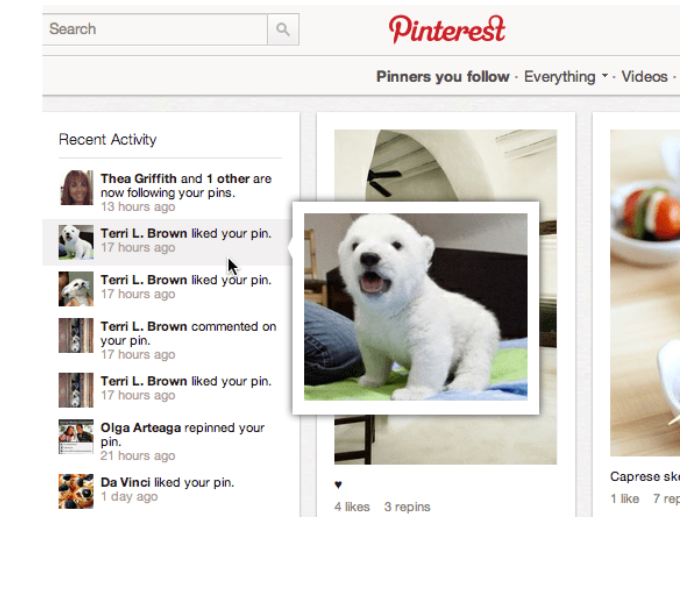 2. Pinterest Pro
This is one of the beautiful extensions which does not just have a single feature but different amazing features that offer you amazing Pinterest experiences.
A few of these amazing features are listed below:
You can hover your mouse over the Pinterest icon and it will suggest a series of popular pins, randomly. This feature makes it easier for you to have a good user experience on Pinterest. What can be more beautiful than being shown popular pins without having to dig for them first?
This extension also allows you to enlarge the images in your Pinterest interface by just hovering your mouse on any of the images. It makes it work as the Pinterest Recent Activity Expander extension explained previously. In case you need to see some little details on an image while it's still a thumbnail, simply hover on the said image and it'll automatically get bigger.
If you wish to Pin any image you like to Pinterest, all you have to do is right-click on it. Pinning an image has never gotten any easier with this extension.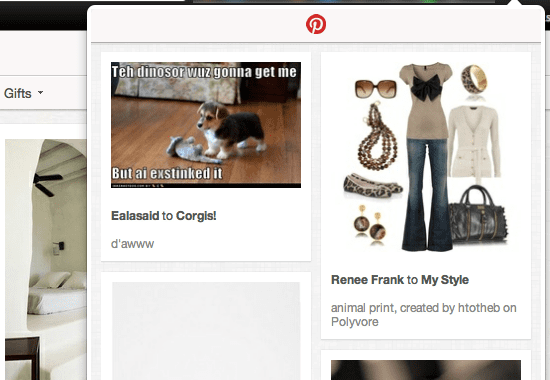 3. Pinterest Image Expander
Ordinarily, when you're scrolling through your Pinterest home page and you want to enlarge any image Pin, you first need to click on that image. This hinders your user experience directly or indirectly. You can solve this hindrance with this Pinterest extension.
So, what do you do after you have installed this extension? Nothing!
Yes, nothing. As you scroll down the Pinterest interface, it automatically enlarges the little thumbnail images as you hover your mouse on them.
It has a somewhat similar function as the Recent Activity Expander, don't you think?
You must know that if you're using another zoom Extension, you should consider removing one for the other and consider not using more than one at the same time. Otherwise, both of them shall display the images in an enlarged format with one image above the other.
4. Easypinner for Pinterest
This extension allows you to pin an image without having to right-click on it.
As you're surfing the internet, anytime you come across an image, this extension automatically adds Pinterest to it as well as a Facebook like. Hence, by hovering your mouse cursor on the said image, you see "Pin" and "Like" so that you can click on either or both.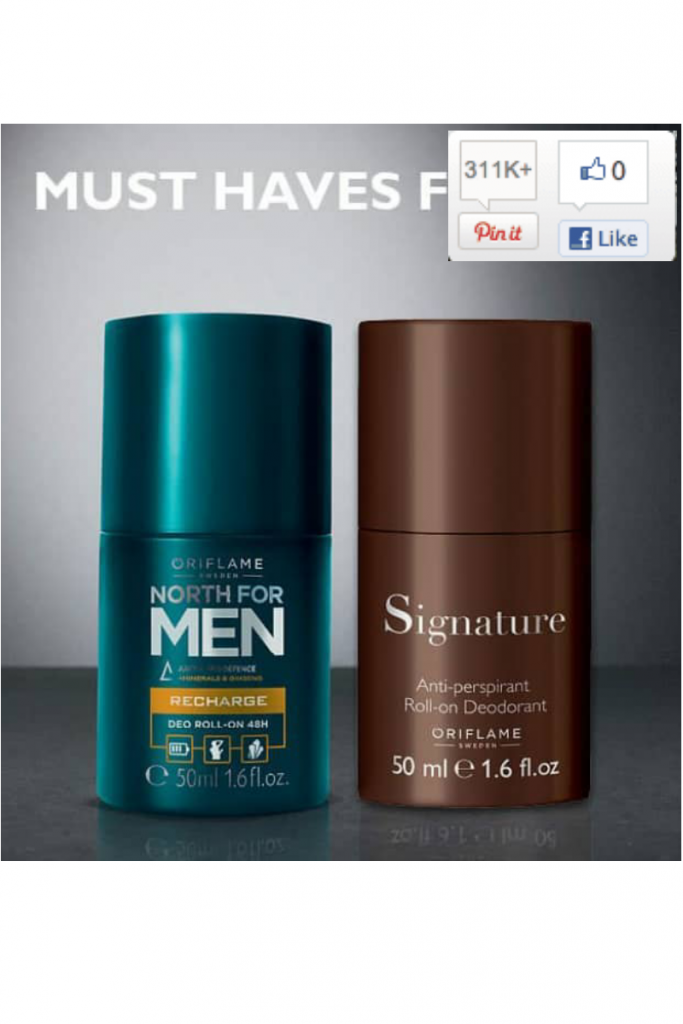 5. Image Search on Pinterest
This extension automatically includes a search icon or button once you install it on your browser.
It allows you to search for images on Pinterest. Anytime you click on it, it'll bring the option to do an "image search" on Google.
With the search option, you can find similar images on Google, you can find the other sites where the image appears, and so on.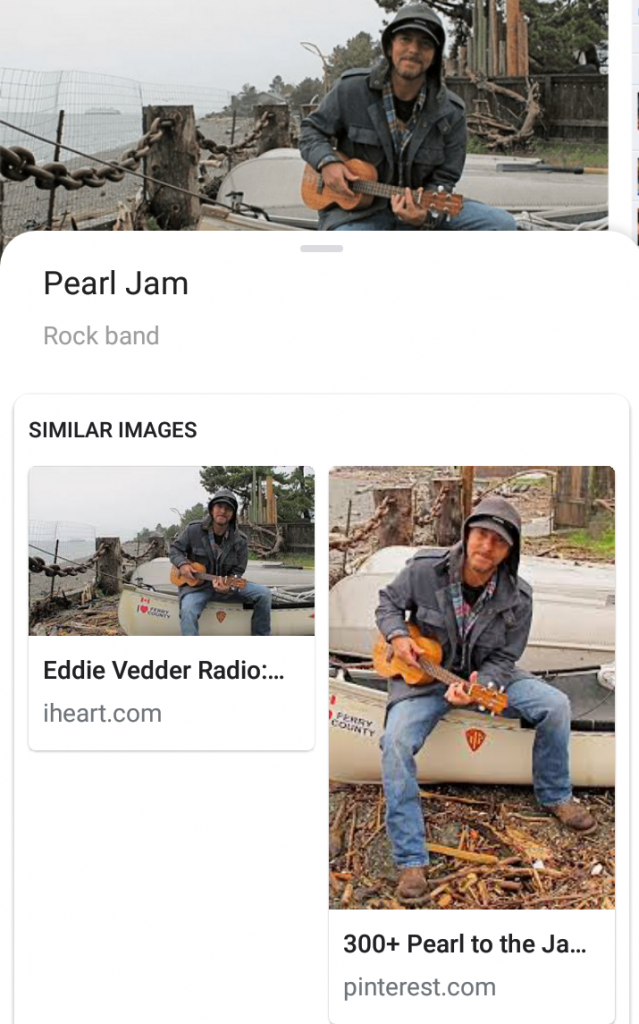 This is about the five extensions I wanted to show you.
Moving forward, let's now talk about how to install them on your computers.
6. Pinterest Enhanced
It has a Pinterest Enhanced Experience some of which are:
It has Fixed Height
It can download Full-Size images
It contains Google Image Search
It contains Arrow Keys Navigation through pins
It contains normal Pinterest but makes it more efficient.
This extension allows you to focus on content and images and an enhanced UI removing any distractions.
Some of the key features are:
It helps you search for images on Google
It allows you to download pin images
It allows you to navigate through your pins with right and left keys.
It allows long pins to slide and glide as you hover your mouse on it. This means you don't necessarily have to open it before examining it.
It allows you to see the information about the pin when you hover your mouse on them. This allows you to pay good attention to images.
It gives all pins the same dimensions: This prevents you from being distracted by any of them which may be otherwise bigger than the rest.
How to Install Pinterest Chrome Extension to my Computer
With all that said, where do we go from here? I'll like to show you how to install the Extensions.
This is a simple three-step by step guide on how to install the Pinterest Chrome Extension on your computer.
Visit Chrome Web Store Page here.
Hover your mouse on the icon that says "Get Our Browser Button"
Move further from there by following the prompt to install the Pinterest browser button to your chrome.
How to Update Pinterest Chrome Extension
At this juncture, you'll find that it can get complicated to update a Pinterest Chrome Extension. But no, this problem isn't peculiar to Pinterest extensions alone. It's peculiar to all Chrome Extensions.
You may think that when an updated version of an extension you're using is published on Chrome Web Store, that extension either automatically updates itself on your Chrome Browser or your browser offers you a button to update it that easily. Unfortunately, this is not necessarily so.
While it is possible to manually update the new versions of updates being rolled out by Google to Chrome and other software, it is difficult for Chrome to initiate this update by itself. It simply does not come with this functionality. It's not programmed to do so automatically.
The Chrome Web Store will contain a new version while on your Chrome browser, you will have the outdated version.
In such cases where there are new updates on the store, you may have to wait until Google delivers the update to the browser.
Sometimes, this problem may persist for more than 24 hours where your Chrome browser will contain only the old version without it giving you the option to update it to the new version available on the Web Store.
So, what do you do to force this update without having to wait for Google? The solution is to manually update your Chrome Extension and by extension, update your Pinterest Chrome Extensions.
How to Update Your Chrome Extension Manually
The summary of the main gist here is for you to first download the Pinterest Chrome Extension from Chrome Web Store. Then you install the update manually and it overrides the old version on your browser. But it's not as easy as it sounds.
You'll have to follow these simple steps:
Step 1: Get the Chrome Extension called Get CRX
This extension allows you to get the source .crx of any Chrome extension by downloading to the local system.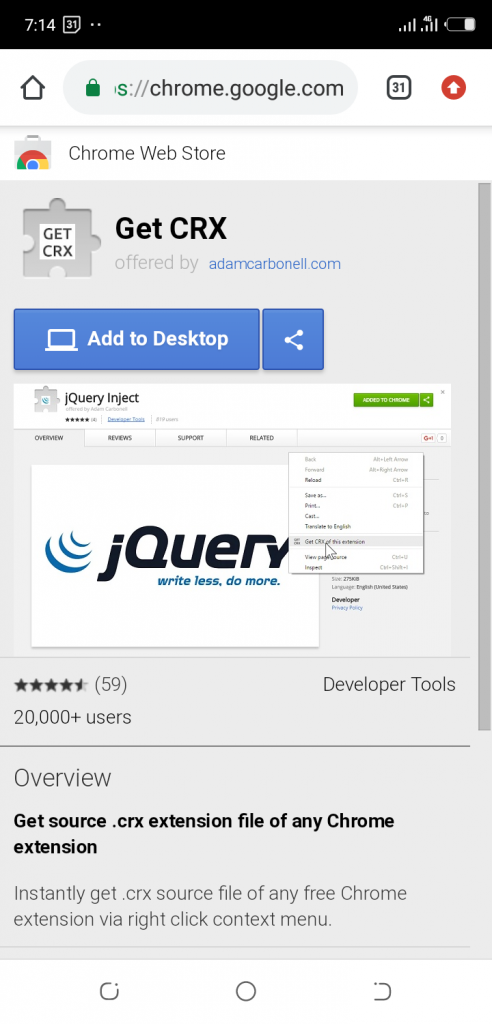 Step 2: Go to the Store Page of any Pinterest Chrome Extension that you wish to update.
Step 3: Right-click on any blank portion of the entire page of that Extension. Then hover your mouse on the "Get CRX of this extension".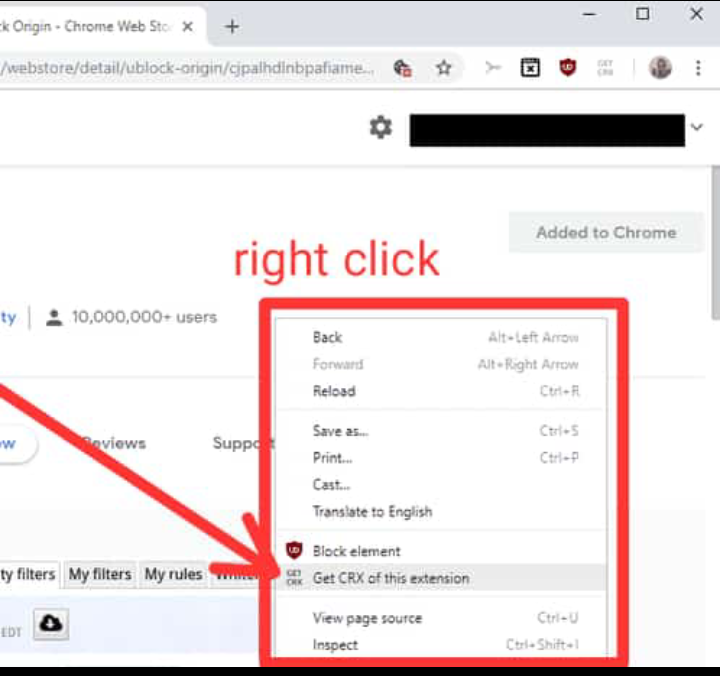 Step 4: When you do the above, a download window pops up and you can download the new version of the extension file directly to your computer.
Step 5: Afterwards, open this on your computer address bar: chrome://extensions and enable "Developer Mode".
Step 6: After doing the above, an overlay showed up on the windows with the name "drop to install". Then, you need to drag and drop the extension you have downloaded into the window to be able to install it.
Step 7: Once you do the above, continue with the installation and follow the prompts to update the Pinterest Chrome Extension as you'd typically do.
Your chrome browser will now install the new version of the Pinterest extension you wish to update.
You must know that the above steps will work for you if the Chrome Web Store already has the updated version of the Pinterest extension you wish to update.
That's it!
Final Thoughts
With that being said, you have learned all about Chrome Extensions, Pinterest Chrome Extensions, how to install them, and lastly, how to update Pinterest Chrome Extension.
That said, in case you're looking for a software tool to help you fully automate your business, I encourage you to try Group Leads today.