Want to know how to sell and buy fashion items quickly? And how to do it in a fun way? Then the tool I'm about to share will make sense to you.
Most fashion businesses struggle with making fashion wear and managing their business at the same time. Even buyers are confused when deciding which cloth to buy. Or when they want to put their old clothes for sale.
Poshmark is the solution to every fashionista's nightmare. So you don't have to worry again.
In this post, I will highlight the top 5 Poshmark Chrome Extensions in 2021.
But first, let's do a quick deep dive into the Poshmark pool.
What is Poshmark?
Poshmark is a platform that connects the devoted lovers of fashion to the fashion business, individuals, or styles they admire. This allows you to shop in a fun and easy manner. And you can become a seller too by putting out your old fashion items for sale.
So, whether you're a fashion business or a regular fashion lover that wants to venture into the business side of your love – you can learn how to sell on Poshmark.
How to Sell on Poshmark
Poshmark has more than 60 million members in its community. And there are over 100 million items there for sale. To sell on the platform is pretty easy.

In 60 secs or less, you can list your products for sale by:
1) Using your phone to snap a photo of the product you want to sell.
2)Filling in a description for the product and
3) Setting the price.
That way, potential buyers identify the item, read about its uniqueness, and decide if they are a fit buyer.
But Poshmark is not the only marketplace for fashion items. Have you forgotten eBay?
eBay is a famous marketplace for item sales. But here's how it differs from Poshmark.
Poshmark vs. eBay
Poshmark is known for fashion items and accessories, while eBay is a marketplace for general items from household items to clothing and electronics.
You might want to stick to a more targeted platform like Poshmark if you're strictly in the fashion business.
Businesses on Poshmark get to list their products for free every month, and they can do that for as many products as possible. Unlike eBay, which allows you 50 free listings monthly and requests that you pay from the 51st listing and above. The product description is easier on Poshmark, but it's a hell of a job – very time-consuming on eBay.
Poshmark is smooth and easy to get your buying and selling up faster. However, if more functionality is essential to you, then choose eBay.
Poshmark also provides numerous selling features like private discounts, multiple purchase discounts, and authentication.
Charges are important to your business. In a situation where Poshmark charges $2.29 for purchases between $1 and $15 and does 20% for sales above $15, eBay charges a whopping 10% sales fee, and this doesn't include another 3% Paypal transaction fee.
What this means is that eBay may be better if you sell expensive items.
Top 5 Poshmark Chrome Extensions in 2022?
As sleek as the Poshmark app on your smartphone is, you can get an almost similar feel if you use the Poshmark Chrome Extension on your desktop.
Here are the Top 5 Poshmark Chrome Extensions.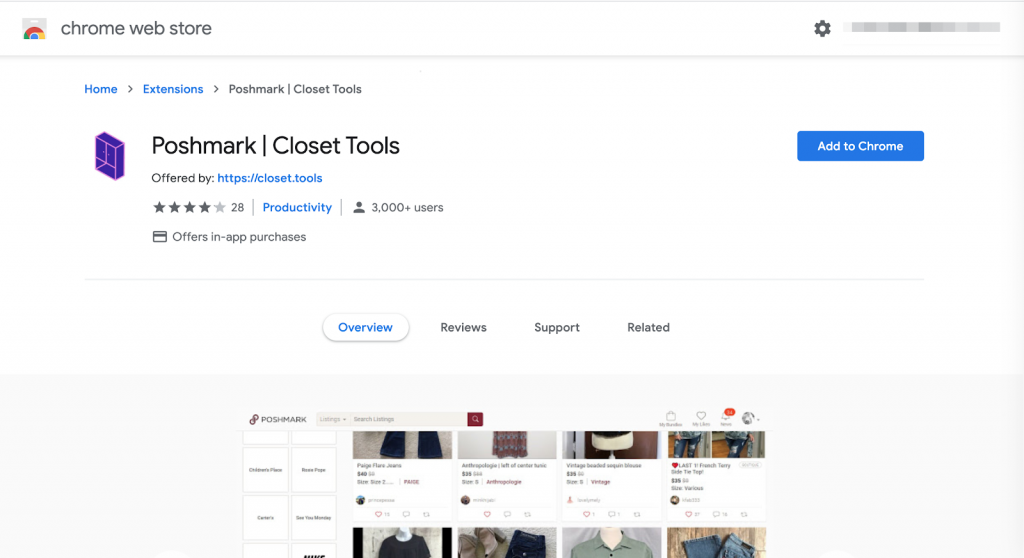 The Poshmark closet tool allows you to share your fashion products, get followers, and increase your sales on Poshmark. You can do so automatically when you install the Chrome Extension. It pops up when you log into Poshmark.
The tool also lets you share information from your closet brand listing or feed with the stress of logging in. So using it will help you to save time and focus on your core activity.
Features.
It allows you to present an offer to likers automatically.
It allows you to schedule sharing and offering to likers.
You can share items directly with your followers.
It lets you organize your closet.
And it automatically solves captchas (via 2Captcha).
Pricing.
Closet Tools has a 7-day free trial. And the premium offer is valued at $29.99/ month.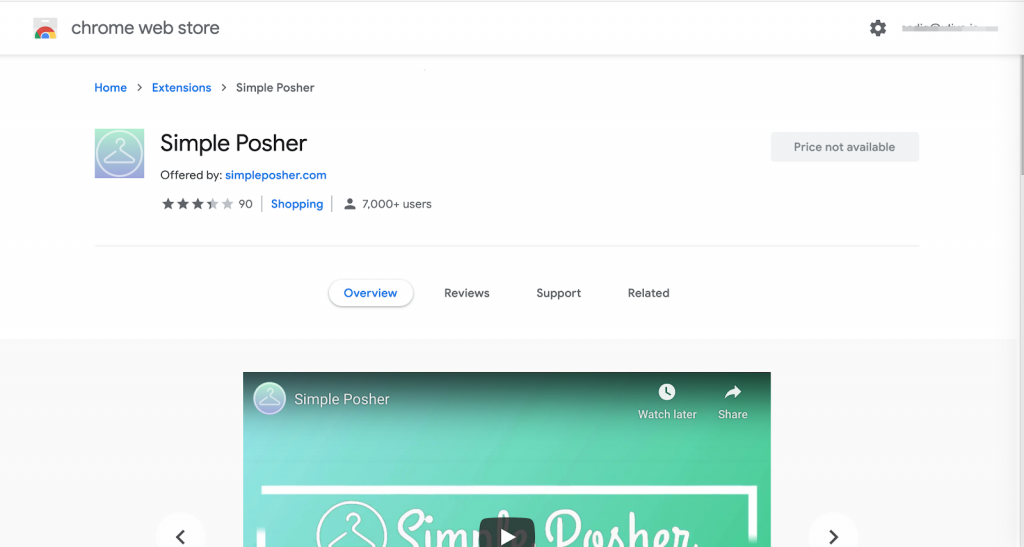 Simple posher is another Poshmark Chrome Extension that helps you to automate all your Poshmark activity so that you can grow your business. With this tool, you need not bother with sales on Poshmark as it will connect with your customers and engage them with a wonderful customer journey.
While designating your number of items, the tools let you randomize your order share from your top to bottom closet so that your feeds are constantly updated.
Features.
This tool allows you to share items from your closet or other people's closets, news feeds, and parties.
It lets you automatically follow and unfollow anyone from the news feeds, parties, or page.
This feature returns support by sharing and following the activity of those who follow or like your activity.
Pricing.
The Poshmark Chrome Extension is free to try, but it costs $9.99 a month for its premium features.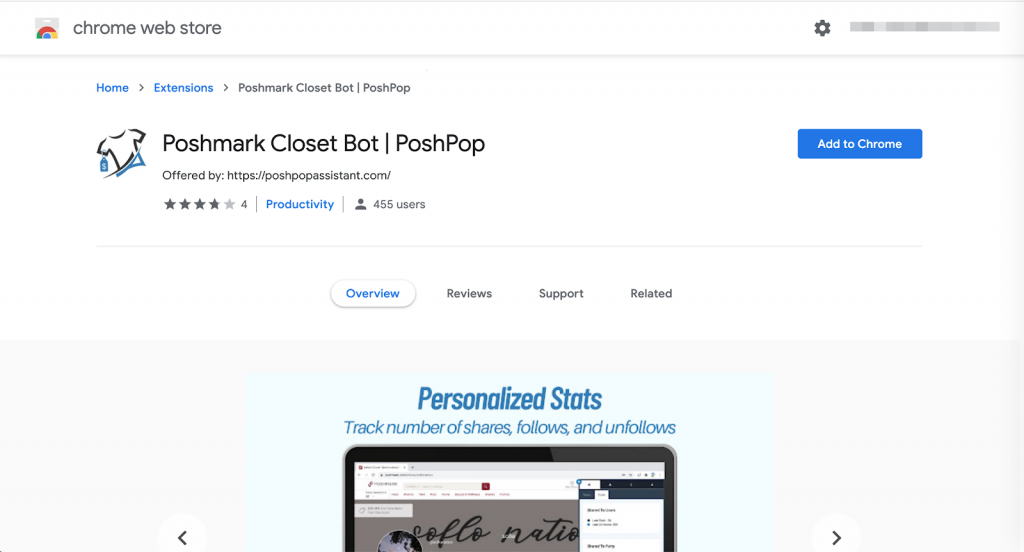 The Poshmark Closet Bot made easy is a Chrome extension that makes your activity on Poshmark easy. It is quite a minimal tool that only lets you automate your shares and following on Poshmark.
This tool makes it easier to automate your Poshmark activity so that you can focus on your core, which is creating new items. It is essentially Poshmark virtual assistance that shares your closet, helps you follow your users, and increases your product sales on Poshmark.
Features.
This chrome extension allows you to share your products for free on Poshmark.
It also permits you to edit your description without stress
It has a free task limiter that allows you to control the bot activity on your account.
It also allows you to measure and tracks your growth by displaying your personalized stats
You can also use the tool to schedule sharing on your account.
Other maniac tasks like closet organizing, reverse sharing, and the task progress bar is available on this tool.
Pricing.
Poshmark Closet Bot is free.
Poshmark Tools: PoshAccess Lite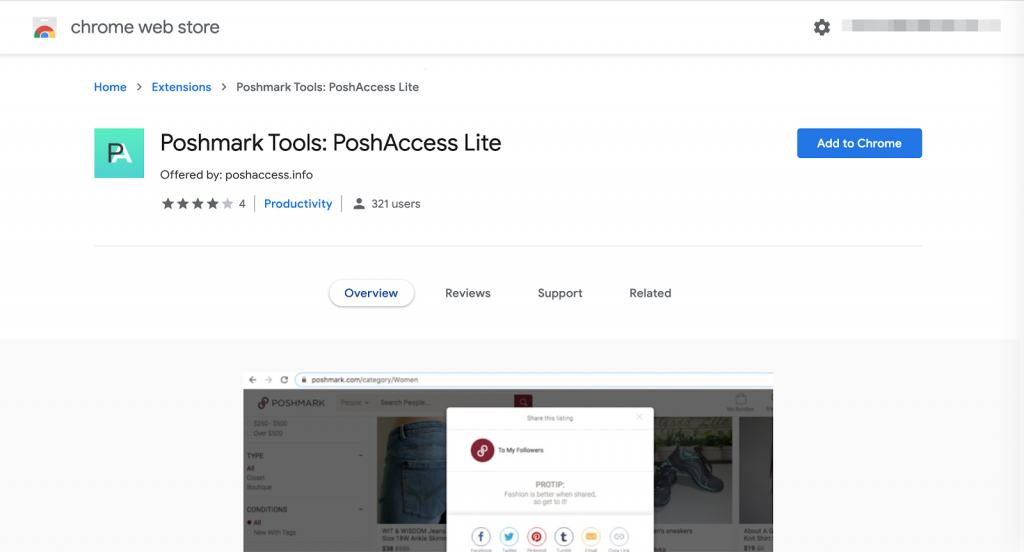 The Posh Access Lite Poshmark Chrome extension helps you do repetitive tasks that eat up your time on Poshmark. It saves you physical and mental strain by automating your sharing and following activities on the platform.
So you can continuously share items on your feeds by looping your closet activity until you refresh the page. This tool helps you identify the process by highlighting your active item, which automatically moves away when the share is done.
Features.
This tool allows you to automate all your tasks on Poshmark.
It also allows you to continuously share your items and keeps you abreast of the currently happening at your party.
This tool keeps you informed of all your activities in real-time.
Aside from that, it organizes your closet automatically, it offers you multiple sharing options as a "share all at a time" or "share in bits."
Pricing.
Posh Access Lite Chrome extension is free.
Final Thoughts
These tools have their particular strengths and weaknesses. Your choice should depend on your needs and how it works for your business.
However, to reap the lasting benefits of the Poshmark platform, irrespective of the platform you choose, you should ensure that the quality of your product photos are top-notch and your creative descriptions are great too.
And beyond using Poshmark, you should check out Group Leads, a Facebook group automation system that takes care of your business while you spend quality time with your family.