You've always wanted to contribute to Facebook group conversations anonymously. But the fear of doing so under your name is dragging you back.
With Facebook's group feature for anonymous posting, you can now put your thoughts out without anyone knowing it's you.
This feature makes Facebook group discussions interactive and genuine. So people can share their vulnerabilities and pains without fear since their identities are hidden.
Considering Facebook's mission statement, it has worked tirelessly to make its mission a reality by implementing product and service innovation:
"Give people the power to build community and bring the world closer together."
With Facebook groups' anonymous posting, there allow members to share their stories and communicate their pains to uplift others.
In this post, you'll learn how to post anonymously in a Facebook group. Also, you'll also debunk the myths about anonymous posting on Facebook.
What You Need to Know About Anonymous Posts in Facebook Groups
Facebook introduced an anonymous posting feature in 2020 to provide maximum flexibility for group conversations. It's possible to post to a Facebook group without anyone knowing who you are.
Before this feature, group members who wanted to post anonymously would contact the administrator to post on their behalf. The administrator may accept or reject their request.
You don't have to go through that process again. The only downside is that when you post anonymously, group administrators and Facebook can still see your identity, but the Facebook group members won't know it's you.
For instance, you and your spouse are members of a parenting-focused Facebook group. And you want to post a sensitive issue about your home, and you feel that your spouse may not be comfortable with it.
You can do that easily now. Other group members, including your spouse, will not know your identity, so this is not a problem.
Note: You can only post anonymously if the group admins permit or activate the anonymous post feature.
Few Limitations of the Anonymous Posting Feature on Facebook
Anonymous posting is fantastic because it allows members to speak freely, share their problems with people, and inspire others with their stories.
However, it has some limitations. Here are they:
Only the post's author has access to the feature. This implies that other members who leave comments on the post will not be anonymous.
When the admin disables the anonymous post feature, all other anonymous posts in the group become untraceable.
In a group, you can only post anonymously if the group admin has enabled the feature.
Your identity is known to group administrators and Facebook.
Some information in your post may reveal your identity.
Reasons for Anonymous Posts in Facebook Groups
Posting anonymously allows group administrators to increase Facebook group participation. In fact, the feature was initially implemented for parenting groups so that members could discuss sensitive and impactful topics.
Being part of a Facebook group with family and friends restricts group members from asking for help and support. Every parenting-themed Facebook group uses this feature to allow members to share their deepest thoughts anonymously.
Similarly, other Facebook groups that discuss sensitive issues such as sexuality, sexual identity, politics, religion, etc., may prefer to post anonymously.
Essentially, it is a method for exercising freedom of speech in a Facebook group.
How to Enable Anonymous Posting in Facebook Groups
If you're a group admin on Facebook, you can enable anonymous posting in your Facebook group by following the steps below.
Click on Groups from your profile page.

Then choose the group you want to set anonymous posting for.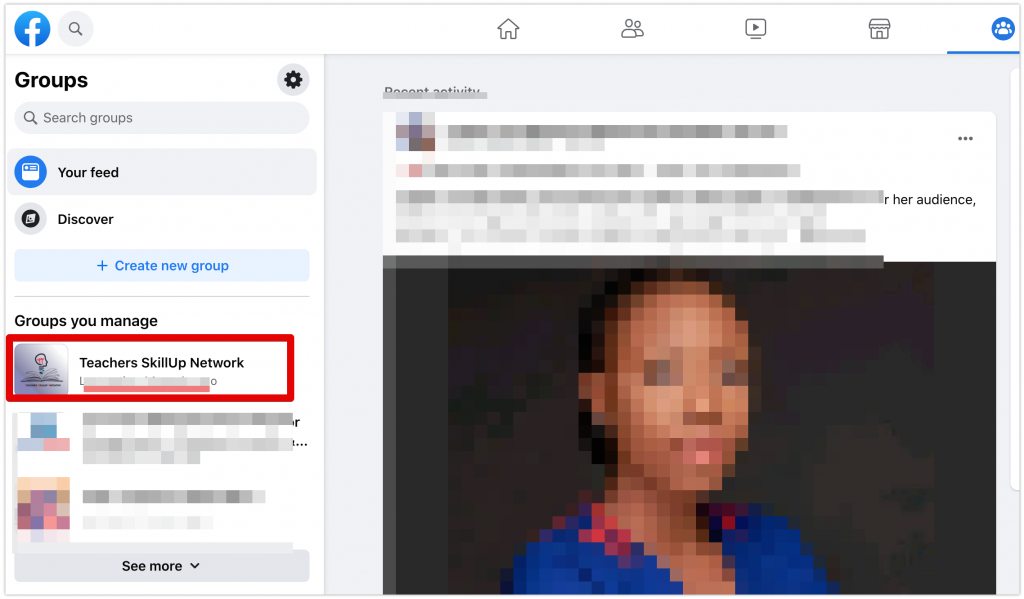 Click "Group settings" under the admin tools. Then, scroll down to "anonymous posting" in the add extra features section.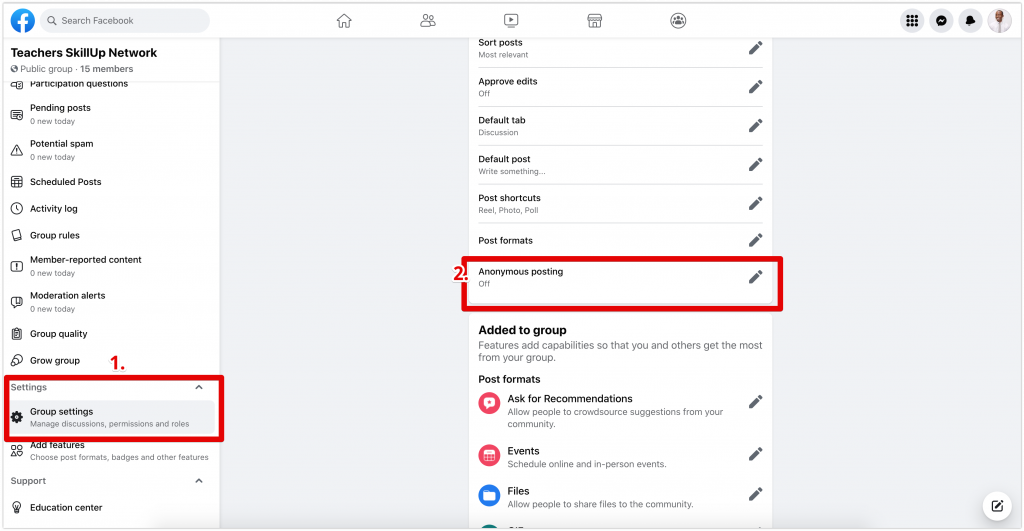 Select the pencil icon next to the Anonymous Posting.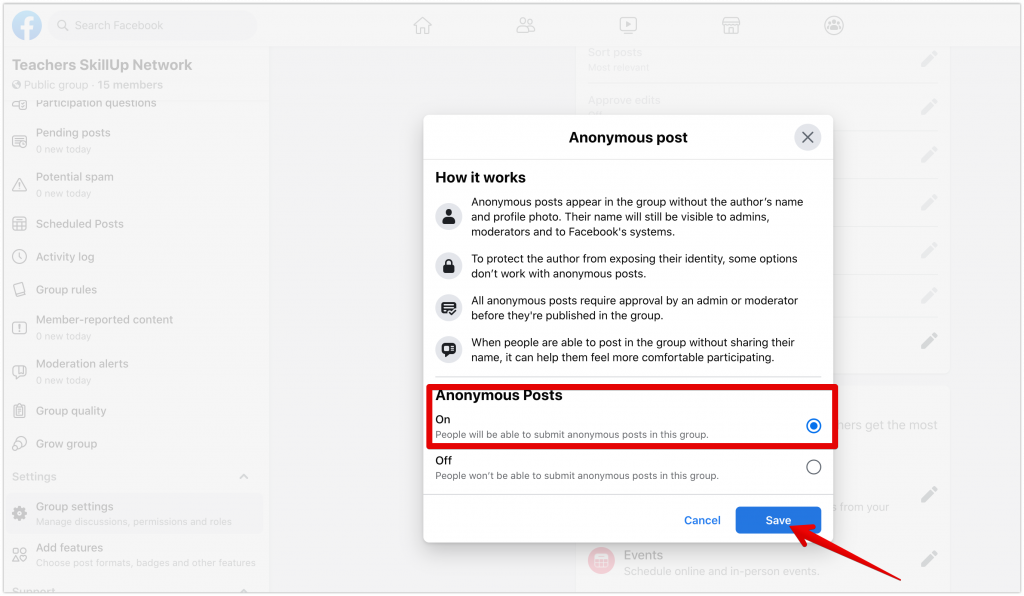 Select On and click Save.
How to Post Anonymously in a Facebook Group
To post anonymously in a Facebook group, follow the steps outlined below.
Log into your Facebook account.
Then scroll to the top right of Facebook and click "Groups."
Choose the group where you want to post anonymously.
Click to write something.
If the group admin has enabled anonymous posting, you will see the anonymous post option, as shown in the image below.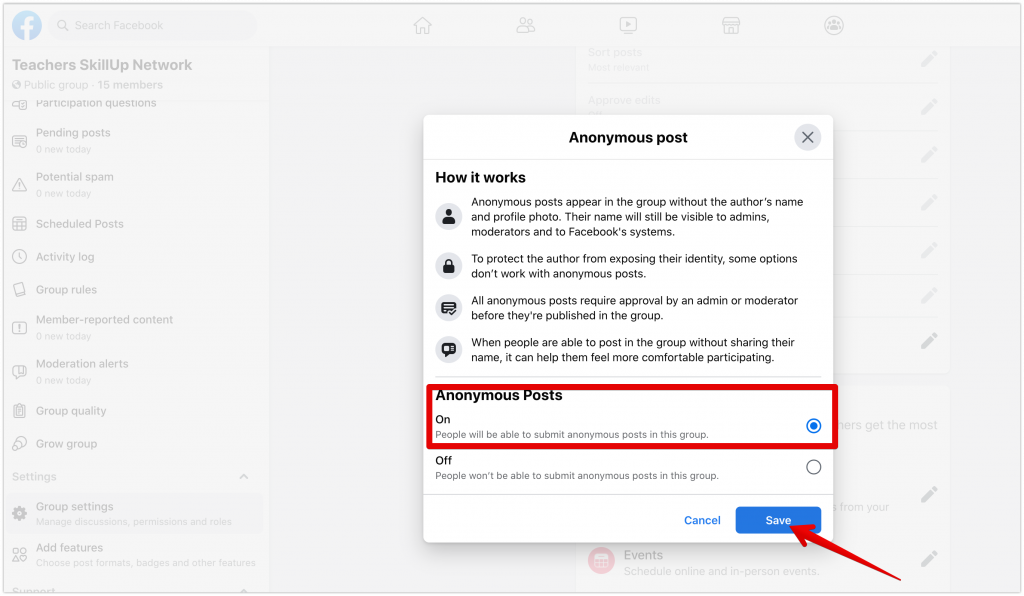 Tap on Anonymous Post, which is close to the post-creation section. A page will open with highlights of anonymous posts. Click the "I want to Post Anonymously."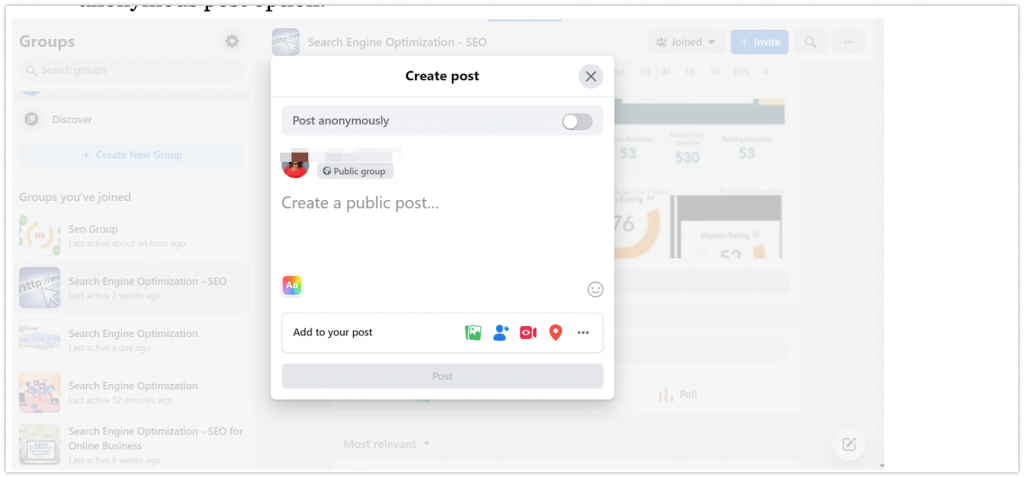 Make the post and then click Submit.
Your post is automatically sent to the group admin for approval after submission before being published to the main group.
After the post is approved, the sender's name will be displayed as a Group member (in private groups) or Group participant (in public groups), and the profile picture will remain anonymous, too.
Why Can't I Post Anonymously on Facebook Groups?
You cannot post anonymously in a Facebook group because the administrator has disabled the feature. Facebook has made this feature available to all parenting groups to promote anonymity.
Therefore, a group administrator must set the group's mode to parenting to enable anonymous posting. You can contact the group administrator to enable this functionality for the group.
Final Thoughts
You can now participate in Facebook groups more securely using the anonymous post option.
Stop repressing these perplexing issues. You can always seek assistance and advice from group members on Facebook. Simply toggle the anonymous posting option.
Even if the administrator of your Facebook group has not enabled this feature, you can still contact them to activate it.