Skool.com is an innovative online platform changing how people learn online.
You no longer have to use different systems, like a Facebook group and a separate learning management system, to get to course content and talk to your students.
Skool.com seamlessly combines the best of both worlds.
It's a one-stop shop for both course creators and students.
Not only does it speed up the learning process, but it also makes learning more fun by making it more like a game.
Never before has learning been so exciting and fun! Get rid of dull, repetitive schooling and join the Skool community today.
But first, read this skool.com review to know everything there is to know about the platform.
You'll know after reading this if it's worth the name.
Skool.com Features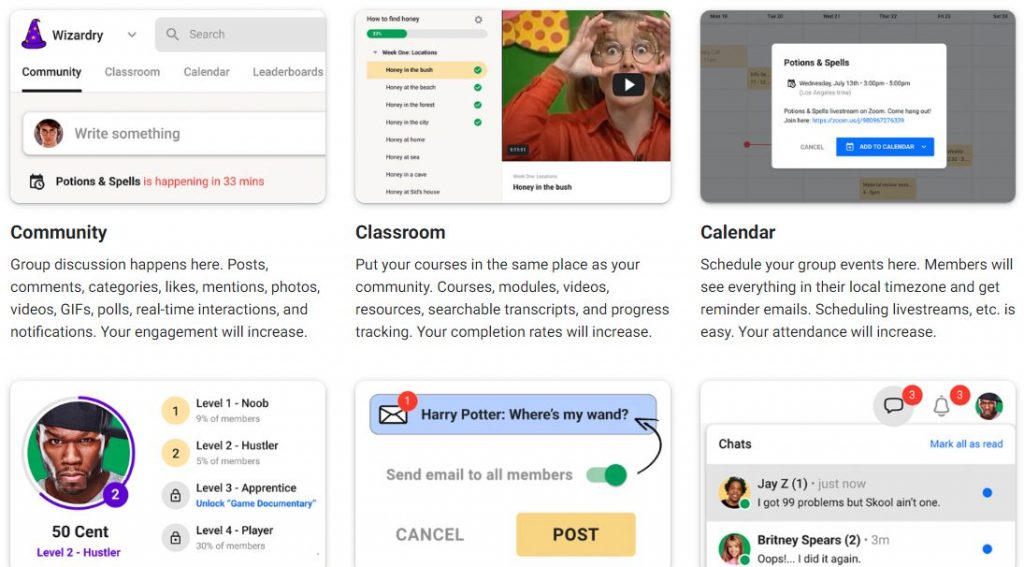 Skool is a platform for group communication that works similarly to other social media sites, so it has a wide range of features. 
Here's a comprehensive list of everything you'll enjoy about Skool. Skool includes numerous features designed to improve online learning. Some of these things include:
Skool's Online Course Feature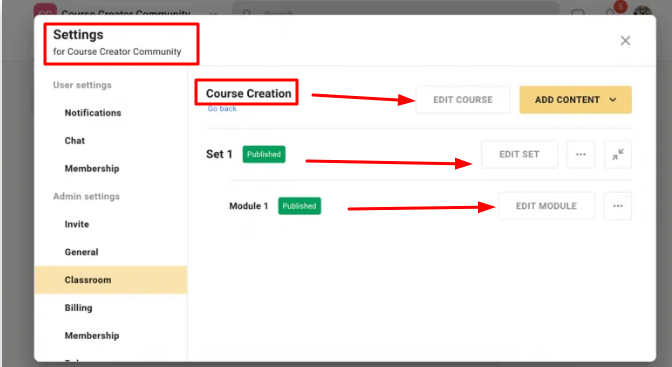 You can access a wide range of course content, including multimedia and interactive materials, all in one place. This is usually the core of your program and includes videos, pictures, downloads, etc.
Skool.com makes the process easier by giving you a simple back-end menu for adding content and dividing your course into "Sets" and modules. 
Each module can have one video, a description, action items, multiple links or files, and a transcript.
Please remember that Skool does not currently support video hosting, as mentioned in the "Cons" subheading later on. Hence, you will need to use alternatives like YouTube, Vimeo, Wistia, or Loom.
Skool's Community Feature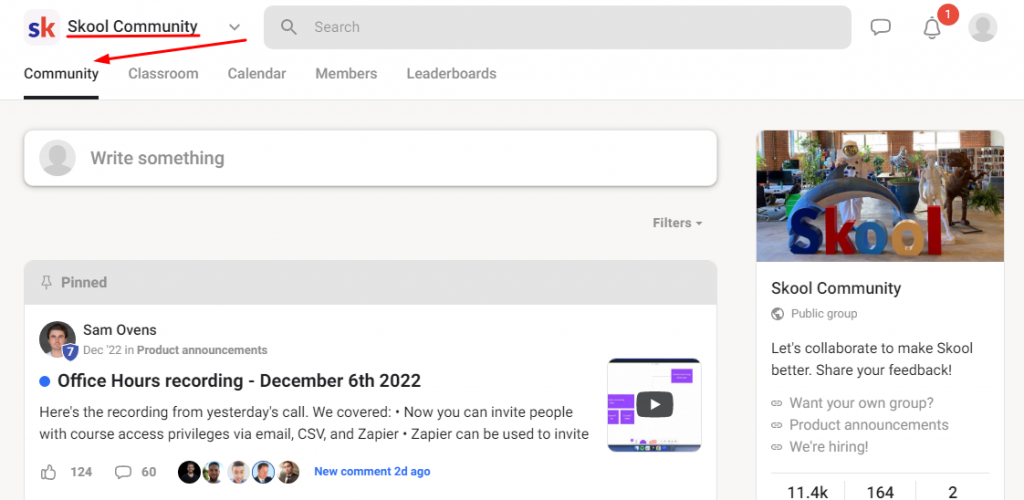 People can join active online communities with other students and teachers, creating a place to learn where people can work together and help each other.
The community feature is the most significant part of the platform. It has been the company's main focus when making new features.
The Community tab on Skool's interface is made to look like a Facebook group feed.
It gives users a place to talk to each other and interact. Both admins and users can make posts with text, video, polls, links, or GIFs.
You can put these posts into categories to make it easier to find what you're looking for and to keep the content clean.
Users can like and comment on posts and sign up to be notified when there are new replies. They can also add their own files to their answers.
This makes the community feature a flexible tool for building communities and getting people involved.
The platform's focus on this feature shows that the company wants to help its users feel like they are part of a community by giving them a place to meet, share, and learn from each other.
Thus, the community feature is an integral part of the platform because it lets users interact with each other dynamically and engagingly.
Users can connect and build relationships through the Community feature, which allows them to share ideas, ask questions, or chat.
Skool's Calendar Feature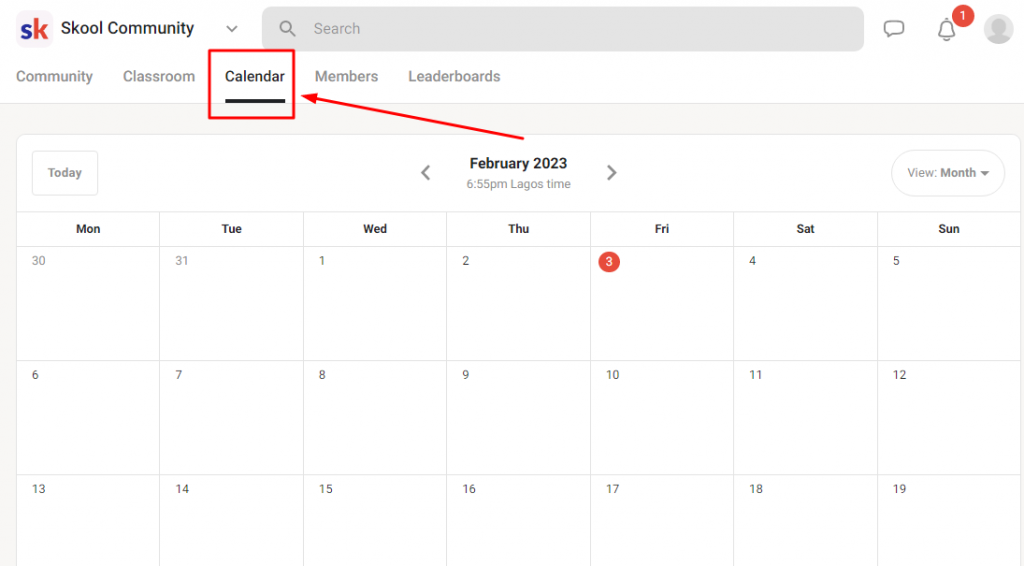 The calendar feature of the Skool platform is a powerful tool that helps users manage their schedules and plan their activities well.
The calendar works with the rest of the platform to give users a complete picture of upcoming events and deadlines and help them keep track of their schedules.
The interface for the calendar is simple and easy to use. You can choose between day, week, and month views.
Users can add events to their calendars by providing the date, time, and name of the event, as well as other details like the location and the people who will be there.
They can set reminders and alerts for upcoming events so that they never miss a deadline or appointment that is important to them.
The calendar also works with other parts of the platform, like the Community tab, making it easy to see events and activities related to a specific project or group.
The calendar can be used for more than just personal events. You can also use it to keep track of group activities and events.
Admins can make events that all members of a particular group can see, and members can sign up and get notifications for these events.
Because of this, the calendar feature is a valuable tool for teamwork and project management because it helps teams stay organized and on track.
Basically, the calendar feature of the Skool platform is a vital tool for anyone who wants to keep track of their schedule and stay organized.
The calendar is an essential tool for anyone who wants to use the Skool platform as productively and efficiently as possible. It is easy to use, has powerful features, and works well with other parts of the platform.
Let's move on to the next feature.
Gamification Experience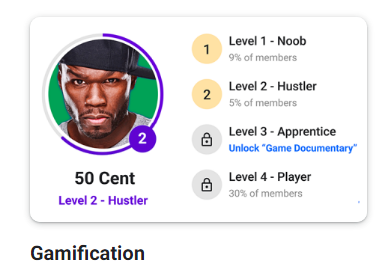 A gamified learning experience with rewards and achievements for student progress can make learning fun and exciting.
The Skool.com platform makes learning fun and interesting by making it more like a game and less like work. The platform gives users rewards when they finish tasks and reach their goals.
This makes learning more fun and keeps people motivated.
Users can keep track of their progress and interact with community content with the help of the built-in gamification reward system and group metrics.
Users can get points, badges, and other rewards for what they do successfully, which makes learning more fun and gives them a sense of progress and accomplishment.
There are also "Levels" and other competitive elements in the gamified experience, making it fun to see how you compare with others and give you more reasons to keep trying harder.
Skool's game-like features are a great way to make learning more exciting and fun, and they also help users stay motivated and on track.
Whether you're working on a project, taking a class, or just looking around the platform, the gamification adds an extra layer of fun and makes the experience more enjoyable.
Finally, the gamified experience on Skool is a great way to make learning feel less like a chore and more like a game. It gives users a fun and engaging way to reach their goals and full potential.
Now, let's talk about the email marketing side of things.
Email Broadcast Feature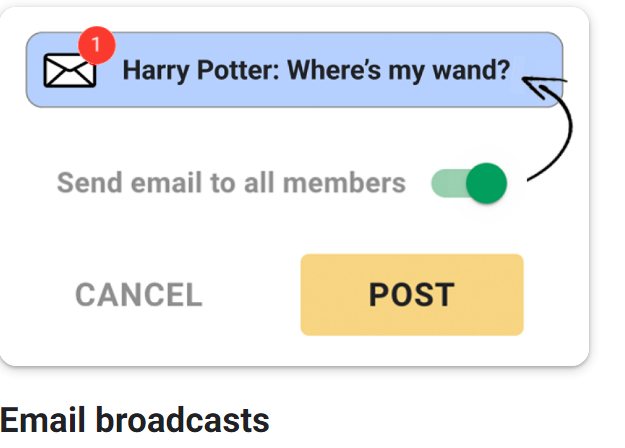 Skool's email broadcast feature is a valuable tool for course creators to communicate with their students. They can send a message to all community members with a single click.
This eliminates the need for list segmentation, tag addition, and formatting concerns.
The email broadcast feature's simplicity makes it an effective tool for course creators to keep their students updated and engaged.
Furthermore, the feature is not limited to text-based messages. Course creators can enhance the impact of their broadcasts by including images and multimedia content.
This feature lets course creators keep their students updated on the latest news, announcements, and updates while avoiding the technical aspects of email marketing.
Skool.com's email broadcast feature is a valuable addition to the platform. It allows course creators to communicate with their students in a simple and effective manner, while also keeping the community connected and engaged.
Skool's email broadcast feature is a must-try whether you're a course creator or a student.
Learning Resources
Learning tools are essential in a community platform like Skool.com since they assist learners in improving their knowledge and understanding of a subject.
The platform includes a variety of learning resources, such as quizzes, assignments, and other interactive tools that make learning more exciting and pleasant.
Quizzes and assignments assist students in tracking their progress and assessing their understanding of the material. It allows them to reflect on areas they need to work on and concentrate on improving their talents.
The quick feedback method enables learners to fix and learn from their mistakes, which is critical for their growth and development.
Furthermore, Skool.com's interactive tools assist learners in visualizing and comprehending complicated subjects.
These materials make learning more pleasant and accessible, resulting in greater motivation and involvement in the learning process.
Finally, learning resources are critical in a community platform. They give students the tools and resources to improve their knowledge and understanding of a subject while making the learning experience more exciting and fun.
Live Messaging Feature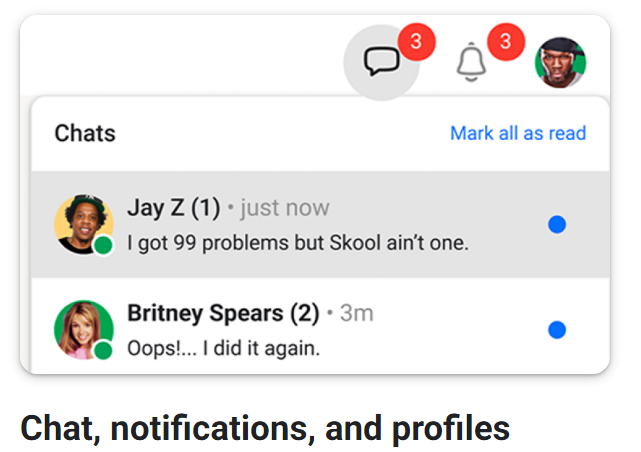 Skool.com's chat feature lets users communicate with other members in real time, allowing course creators and students to discuss course-related topics and collaborate on projects.
Users can stay up to date on essential conversations and never miss a beat with in-app notifications and email digests.
Furthermore, users can configure their preferences to receive only notifications that are relevant to them, making it simple to stay on top of what's important.
Having a single profile for all the groups in which a user participates makes it easier to keep track of conversations and stay in touch with other members.
The chat feature is a great way to connect with others in the Skool community, share ideas, and collaborate. Whether you're a course creator looking to connect with students or a student looking to connect with other students, the chat feature makes it easy to communicate and stay engaged.
Expert Team
Skool has a world-class team working behind the scenes to ensure that users have a safe and cutting-edge place to learn online.
Metrics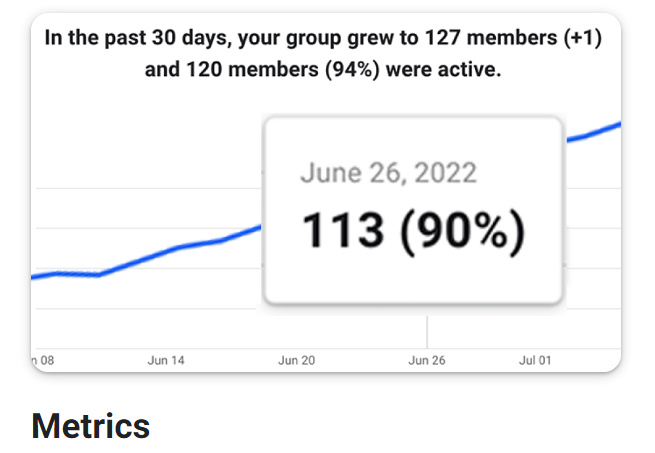 Skool.com has a feature that lets you view and track important metrics for your community or group. This helps you figure out what your members are doing and how involved they are.
With the group metrics feature, it's easy to see how many members you have, how many posts have been made, how much engagement (likes, comments, etc.) there is, and other essential data.
This information can help you decide how to improve your community or group and track how well it's doing over time.
Access to this information in real-time can be beneficial for people who create courses, run communities, or want to grow their online presence.
What Skool.com Is Missing
Skool, like any other platform or tool, has some drawbacks. Some of these include:
1. Creating an Account is Not Entirely Free
Creating an account is not completely free. To create an account with Skool, you must enter your payment card details for a 14-day free trial. After this period, you start to pay a monthly membership fee automatically.
What about those who prefer to try a product before committing to the premium version? This platform has no plan for such a set of customers.
2. Discretion
The entire company's growth strategy is not made public anywhere.
3. Limited Website Content and Information
The outside website only displays a small amount of content.
4. The Gamified Way of Learning Is Not for Everybody
The Gamified experience might not work for all students. Some might prefer more traditional and structured learning methods.
5. User Adoption
Skool's success depends on how many people use the platform and participate in online communities.
6. Lack of Email Marketing System
The lack of an email marketing system might be a big problem for course creators who use Skool.
Email marketing is vital for promoting courses, building relationships with students, and staying in touch with potential and current students.
If course creators don't have an email marketing system, they may miss out on chances to connect with their audience, give them updates and promotions, and get them involved.
This could make it hard for people to find and use their courses on the platform.
Also, course creators might need to use a third-party tool or platform to manage their email marketing, which could take time and cost money.
This may be a big problem for course creators who use email marketing to promote their courses and build relationships with their students.
7. No Support for Video Hosting
The fact that Skool doesn't support video hosting is another major disadvantage. In the digital age we live in, videos are becoming a more common and effective way to teach course material.
If Skool doesn't support video hosting, it may limit the types of courses and content that can be offered on the platform.
This could also make it hard for course creators to deliver their content in a way that is interesting and easy for students to understand.
For students who prefer to learn through videos, this could be a significant downside of Skool that could affect their overall learning experience.
8. Lack of Learning Tools
Another essential feature missing from Skool's online course creation is that it doesn't have any learning tools like quizzes, assessments, PDF embedding, or other tools that help students test themselves and take action.
These tools are essential because they help students remember what they've learned and see how well they understand it.
Without these tools, students might not have an effective way to see how far they've come and how they can use what they've learned. This could make the platform less useful for students who need these tools to thoroughly understand what they are learning.
When deciding if Skool is the right platform for them, students should think about how they learn and what they like, as well as the course content and resources available.
These are some of the drawbacks of Skool. If you want to consider using the platform to build your community, weighing the pros and cons and making an informed decision based on your needs and preferences is essential.
9. Lack of Cart or Checkout Page
Another potential problem for people who use Skool to sell courses is that there is no way to check out or put things in a cart.
This system is critical for managing payments and completing transactions for the platform's courses.
Without a checkout or cart system, it may be hard for course creators to sell their courses on Skool.
This could affect how much money their courses make and hurt the success of their business.
Also, if there isn't a checkout or cart system, students who want to buy courses may have to use an external payment system or process, which can be confusing and inconvenient.
Skool doesn't have a shopping cart or checkout system, which may be a big problem for course creators who want to make the payment process as easy as possible.
What We Love About Skool
Skool has some remarkable features that I enjoy. Here is what we love about it:
Its Great User Experience!
I have to say I'm pretty impressed with the Skool platform.
One of the things I love most about it is the back-end interface. It's so simple and sleek! It looks a lot like what the end user will see.
Hence, there's not much of a learning curve for your students when it comes to using it.
The interface is clear and concise, making it easy for me to manage my course and engage with my students. I don't have to navigate through a series of confusing menus or spend hours figuring out how to do something. It's all right there in front of me, making my life as a course creator much easier.
I really believe my students would find it easy to use as well. So, if you're looking for a platform that's easy to use, I definitely recommend giving Skool a try. It will let you focus on making great content for your course and getting to know your students.
The user experience is simply out of this world. Current users are already making more feature requests. You can check them out to see some of the features Skool can improve before you try it out.
Skool Customer Support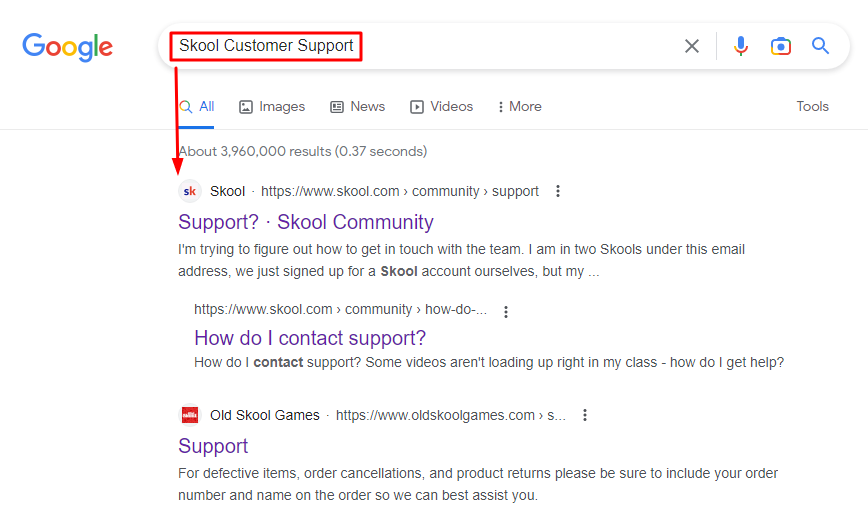 Skool's customer service is currently limited to emailing the support team via email: [email protected]
However, the platform has its own active and helpful community of members and users.
This community can be a great place to find answers to questions and get help with Skool issues.
Also, the platform is easy to use and navigate because its interface is straightforward. This makes it less likely that you'll need help from the support team.
Some users might miss having live chat support, but the platform's active community and easy-to-use design can help to make up for this.
If you need help, the Skool support team is dedicated to helping users and will respond as soon as possible to any questions. Generally, Skool's customer service is good, and most users are happy with it.
Skool Review
My review of Skool Will is that it's an excellent platform that takes a novel approach to online learning. 
As a user, I appreciate the platform's simplicity and ease of use.
Skool's sleek interface provides a pleasant user experience that is both engaging and informative.
It is an all-in-one solution that saves time and resources by combining Facebook group resources and a Learning Management System (LMS).
The ability to make money from your community and the built-in reward system make the platform stand out. It also makes it encouraging for people to use.
I also like how the platform provides live messaging, allowing users to connect and collaborate in real-time.
One feature of Skool that I like is the customization available for profiles and communities. 
As the creator of the course, I have complete control over the content I share and the level of access I give members. The built-in community calendar is also helpful for keeping everyone up-to-date on upcoming events and activities.
While the lack of video hosting and email marketing support may be disadvantages for some, Skool more than makes up for them with its other features and benefits, the platform has an active and helpful community of members who are always ready to help. The team behind it is the best in the world.
Overall, I highly recommend Skool to anyone looking for a fun and innovative way to learn and build a community online. Skool has something for everyone, helping you achieve your goals, whether you're a course creator or a student.
FAQs Related to Skool.com
Here are some frequently asked questions (FAQs).
What is Skool.com?
Skool is an all-in-one learning platform for course creators and students. It combines the advantages of a Facebook group and a traditional LMS (Learning Management System), allowing users to access course content, communities, and learning resources conveniently and efficiently.
Sam Ovens, an online entrepreneur and rebel, started Skool in 2019, intending to make learning more fun and exciting for students. Skool is a fun and innovative way to learn and grow, with features like live messaging, customizable profiles, ways for group creators to make money, and a built-in rewards system. Skool is the ideal place to start if you're a course creator looking to build a community of students or a student looking for new knowledge and experiences.
Does Skool Have an App?
The answer is no. The community does not have an app right now, even though it has been part of community requests.
Pricing Plans for Skool.com
Skool's pricing model is simple, with only one plan available for $99 per month per group.
Within that one group, this plan gives members, communities, classrooms, and full calendar access at all times. If you need to create more groups, it will cost an additional $99 per month per group. This straightforward pricing structure makes it simple to understand and budget for those interested in using Skool for course creation and learning.
Final Thoughts
In conclusion, Skool.com is a unique and innovative platform that combines the best parts of a Facebook group and an LMS.
This makes it easy for course creators and students to use, and it works really well. With its gamified learning experience, live messaging, and customizable profiles, Skool makes learning engaging and fun. 
However, the platform has some limitations, such as the lack of quizzes and assessments, video hosting, and an email marketing system.
Even with these problems, Skool is easy to use because it has a simple, straightforward interface and a simple pricing structure that makes it affordable for everyone. 
If you're looking for a platform that combines social learning with course creation and management, Skool is definitely worth checking out. So why not try and see how it can enhance your community experience.