Are you looking to build an online community to connect and interact with your customers? If that's the case, Tribe.so might be worth a look. In this review, we'll look at what Tribe.so has to offer, what its users think of it, and whether it's a good fit for you or your business.
You'll find all the information you need to make an informed decision about whether Tribe.so is the right choice for your community building needs, whether you're a small business owner, marketer, or industry professional.
So keep reading to learn more about this adaptable and affordable community software solution. Tribe.so is a cloud-based community platform that helps businesses and organizations build and interact with their online communities powerfully and flexibly.
Tribe.so differs from other community software on the market because it is flexible in various ways. It has an app store for adding new features and can be built into products.
Tribe.so is designed to meet your community-building needs and help you connect with your customers in new and innovative ways, whether you're a small business owner, marketer, or industry professional.
In this review, we'll look at Tribe.so's key features and functionalities, who it's most likely to be useful for, and the advantages of using this innovative community platform. So, if you want to learn more about Tribe.so and whether it's a good fit for your company or organization, keep reading.
What is Tribe.so?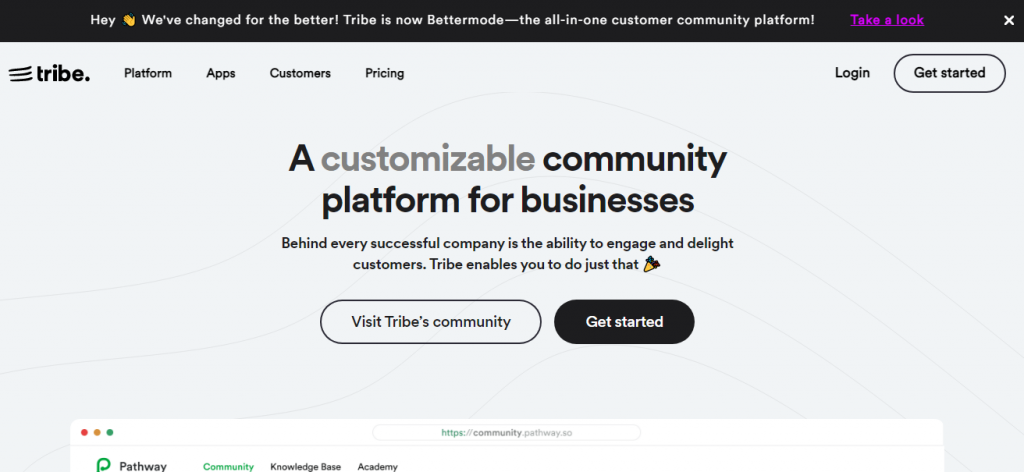 Tribe.so is a community platform based in the cloud. It gives businesses and organizations a powerful, flexible way to build and interact with online communities. 
NB: Tribe.so has evolved and has now changed its name to Bettermode. Hence, you might see us use both names interchangeably in this review. Please note that both names refer to the same platform if you do.
This software is a good choice for businesses that want to connect with their customers and build a community around their brand because it is easy to customize, has an app store for adding new features, and can be embedded into products.
Businesses can use Tribe.so to make and run online communities that encourage customers and the business itself to talk to each other, connect, and get involved.
Tribe.so is a cloud-based platform for creating and managing online communities that businesses and organizations can use. 
The software offers many customization options, enabling businesses to create a one-of-a-kind online presence that reflects their brand and meets the needs of their customers.
One of the best things about using Tribe is that it makes it easy to talk to your community and customers. So, it's an excellent way for companies to improve customer service and support.
For example, it allows businesses to create a community where customers can share their experiences and connect with others. Support teams can respond to customer inquiries and resolve any issues that may arise.
As a result, customers are more engaged and satisfied, which can help drive business growth.
Tribe.so also helps businesses deal with some of the problems they face when trying to build and run an online community. 
It eliminates the need for businesses to create their customer community platform, saving time and resources.
Furthermore, it provides businesses with an app store where they can add new features, making it simple to expand the capabilities of their community platform as their needs change over time.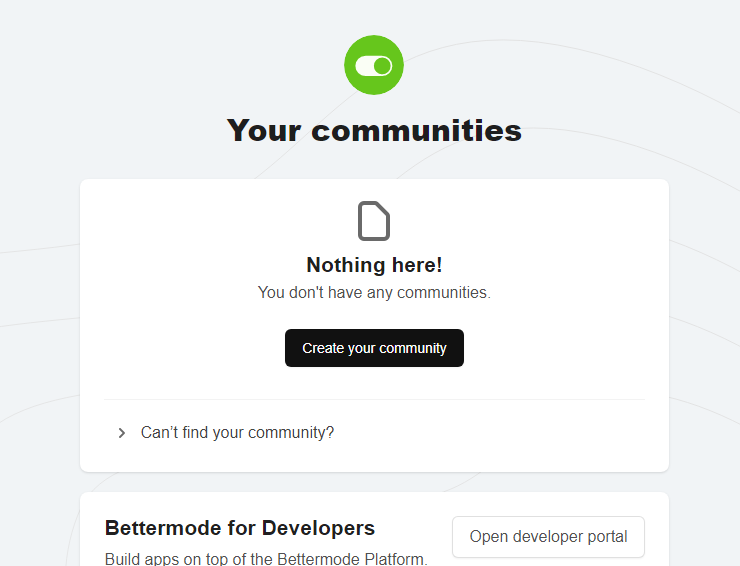 Tribe.so is an excellent option for small businesses, startups, and organizations that want to build a thriving online community and connect with their customers in new and meaningful ways.
Tribe.so has the tools and features you need to succeed, whether you want to improve customer service and support, increase customer engagement, or build a strong brand community.
Why Choose Tribe.so?
Tribe.so offers several key benefits for businesses and individuals looking for an online community platform. Here are some of the reasons why Tribe.so is a popular choice:
1. Customizability: Tribe.so offers excellent customizability options, allowing users to create a unique online community that reflects their brand and values.
2. App Store: The app store provides users access to various tools and functionalities, allowing them to add new features and enhance their community.
3. Easy Integration: Tribe.so is designed to be easily integrated into other products, making it an ideal solution for businesses looking to engage with their customers online.
4. Affordable: Tribe.so offers an affordable solution for businesses and individuals looking to start their online community, making it accessible for even those on a tight budget.
5. Wide Customer Base: Tribe.so has a broad customer base, including well-known brands such as IBM, Pipedrive, ConvertKit, and ASUS. This reflects the app's versatility and adaptability to different industries and business needs.
6. Transparent Interaction: Tribe.so allows for easy interaction between customers and business owners, making customer service more efficient and transparent.
7. Connecting Customers: Tribe.so enables businesses to create a community of customers who can share experiences and resolve issues, which can help improve customer satisfaction and loyalty.
Overall, Tribe.so is a powerful and versatile community platform that offers many benefits to businesses and individuals. Whether you're looking to start your online community or engage with your customers in a new way, Tribe.so may be the right solution for you.
Who Should Use Tribe.so?
Tribe.so is a community software platform designed for startups, small businesses, and existing organizations wishing to build and manage an online community of consumers or users.
Tribe.so was created to help companies connect with their consumers and engage with them in new and unique ways. The platform allows businesses to create and manage their online communities where consumers can share their experiences, offer comments, and receive help. This makes it an excellent platform for organizations aiming to promote consumer engagement, brand loyalty, and satisfaction.
Tribe.so is also perfect for organizations and businesses wishing to connect with others who share their interests.
Tribe.so, for example, might be used by hobby clubs, non-profit organizations, or industrial groups to bring their members together in an online area.
Tribe.so is a dynamic community platform that can fulfill the demands of many businesses, organizations, and people wishing to create and sustain an online community.
Tribe.so is an ideal option for anyone trying to develop a thriving online community, whether you are a startup looking to interact with consumers or an established corporation aiming to improve brand loyalty.
It is excellent for SaaS firms trying to scale growth by streamlining the customer experience.
It can be used in consumer products and services to establish a community of enthusiastic consumers. It can also be used in online training and education institutions to promote student success and engage alums.
Tribe.so may be used in support and success to scale programs and retain more customers.
It can be used in product development to gather feature requests and ideas and in marketing to ignite community-led growth and generate brand leadership.
Customer self-service, ideation and feedback, and customer interaction are some of the other use cases for Tribe.so.
Finally, Tribe.so provides the tools and capabilities you need to fulfill your goals, whether you want to enhance customer happiness, produce better products, or grow your community.
Features and Functionalities of Tribe.so
Tribe.so has a wide range of features from a community platform, gamification features, and more!
Customizable Community Platform
Tribe.so allows you to personalize every part of your community platform to correspond with your brand identity, giving you complete control over the appearance and feel of your community.
Benefit: This feature gives businesses a unique platform to exhibit their brand and helps them to differentiate themselves from competitors by providing a distinctive customer experience.
Example: A software business can develop a community where consumers can debate product features, request new features, and share their software experiences. Customers can perceive the community as an extension of the company's product if they tailor the community platform to fit their brand identity.
Omnichannel Notifications
Tribe.so works with Slack and other platforms to keep members up to date on community activity, ensuring that no critical information is missed.
Benefit: This feature allows for continuous communication within the community, ensuring that members are constantly up to speed on the most recent information.
Example: A fitness studio may utilize Tribe.so to create a community where members can exchange exercise techniques, get advice, and compete in competitions. Members will receive alerts on their preferred platform, such as Slack, when new challenges are published, ensuring they never miss out on an opportunity to participate.
Fast and Simple Platform
Tribe.so is meant to be quick and simple to use, making it accessible to both commercial clients and creative economy experts.
Benefit: This feature makes it easier for users to explore the community and participate in discussions, enhancing engagement and retention.
Example: A culinary school may build a community where students can exchange recipes, seek advice, and cooperate. Students may locate what they seek and join discussions with their friends thanks to the fast and easy platform feature.
Gamification Features
Tribe.so contains gamification elements that incentivize member involvement and boost engagement.
Benefit: This feature encourages members to participate in community events, which increases engagement and retention.
Example: An online store may utilize Tribe.so to create a community where consumers can exchange product reviews, get advice, and participate in reward programs. Consumers may receive points for their involvement in the gamification elements, motivating them to connect with the community and become loyal customers.
Custom Domain Name
Tribe.so allows companies to start their online community using their domain name, giving them total control over their corporate identification.
Benefit: This feature raises brand awareness and makes it easier for members to locate and access the community.
Example: A marketing agency may utilize Tribe.so to create a community where clients can exchange marketing ideas, get advice, and cooperate. The firm can guarantee that the community is easily visible to its clients and matched with its brand identity by utilizing its domain name.
Widget-Enabled Community Touchpoints
Tribe.so allows businesses to design widgets that can be integrated into their product or website, extending the reach of their community.
This feature may be beneficial to firms in a variety of industries, such as SaaS, consumer products and services, online training and education, support and success, product development, marketing, and others.
Benefit: Organizations may increase engagement and involvement by integrating their community into their current digital platforms.
Example: A technology business can build a community where engineers can exchange code samples, seek advice, and cooperate. The IT business may improve engagement and involvement in their community by developing widgets that can be incorporated into their developer platform.
Profiles of Members
Members of Tribe.so may establish profiles containing information about themselves, such as their hobbies, talents, and expertise. This allows other users to learn more about them and engage with them more personally.
Benefits: Member profiles promote networking and cooperation within the community, allowing users to connect with others who have similar interests and aspirations. This function is especially valuable for firms wishing to engage with industry influencers or thought leaders.
Example: A marketing agency may establish a network for social media influencers to engage with businesses. Each user develops a profile that includes their number of followers, interaction rate, and specialization. This allows marketers to look for influencers that share their target audience's beliefs.
Automated Moderation
To keep communities safe and secure, Tribe.so incorporates automated moderating capabilities such as profanity filters and spam detection.
Admins can also create rules and standards for member conduct that are automatically enforced.
Benefits: Automated moderation saves community managers time and money, allowing them to focus on creating connections with members rather than monitoring material. This function is very beneficial for large communities with high member participation.
Example: Tribe.so is used by a sports fan community to talk and exchange material about their favorite teams. The automated moderating mechanism removes inappropriate language or spam from the community, keeping it safe and courteous for all users.
Members Badges
Tribe.so enables community administrators to design bespoke badges for members who reach particular milestones or exhibit certain behaviors. Badges can be awarded based on activity, expertise, or other factors.
Benefits: Member badges incentivize involvement and motivate members to give back to the community. They also provide a sort of recognition and can assist members in developing their brand within the community.
Example: Tribe.so is used by a software development community to exchange code and cooperate on projects. Members who submit the most codes, answer the most questions, and attend the most events receive badges from the community manager. This encourages users to be more active and involved in their communities.
Integration with Well-Known Apps
To simplify communication and data tracking, Tribe.so interacts with popular tools like Slack, Google Analytics, and Mailchimp. This allows community administrators to manage their community from a single platform while tracking key indicators such as engagement, retention, and income.
Benefits: Integration with popular applications saves community managers time and money by allowing them to automate chores and access critical data without switching platforms. This tool especially benefits businesses trying to grow their network and measure ROI.
Example: A B2B software firm builds a community for its clients to join and share comments. Tribe.so is integrated with the community manager's CRM platform, allowing them to measure customer engagement and retention rates. They also work with Mailchimp to send customized email marketing to community members based on their behavior and interests.
Cons of Using Tribe.so
Tribe.so is a fantastic tool for creating online communities, but users should be aware of some limits. First off, customization is restricted to altering colors and images. Second, the platform lacks built-in communications capabilities, and the Telegram integration is inadequate. There is also no smartphone app to download, and users will not receive notifications on their phones. However, these restrictions may not be essential for certain users, and Tribe.so still provides many valuable capabilities for creating and maintaining online communities.
User Reviews and Testimonials for Tribe.so
Here, we'll provide a well-balanced review of actual users that have used Tribe.so.
These reviews will cover both pros and cons of what actual users say. This means we won't just be sharing positive-only reviews or negative-only reviews. We'll cover both.
Some of these reviews will be in written form. Some will be screenshots, while others will be a combination of both. Some reviews might be in the form of videos.





"Tribe.so provides an excellent alternative to Facebook groups." Thomas C., Freelance Website designer.
Watch as he explains his testimonial in this video.


"I and my company have been using Tribe for several years now, investing heavily in building a community where people can exchange information and interact at no cost.
Recently, Tribe made the worst choice possible to cancel all free plans and set the entry-level pricing to $599. I consider this a straightforward steal from the customers that trusted Tribe for all these years."
Date of experience: December 12, 2022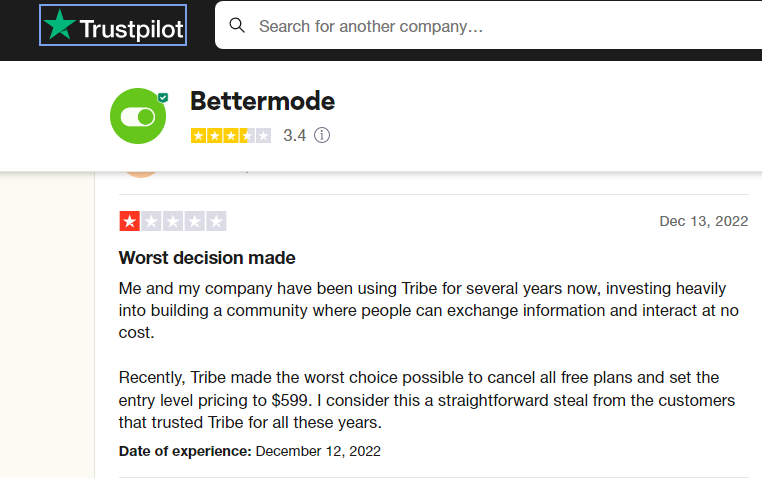 Alternatives to Tribe.so
Alternative 1: Discourse
Discourse is an open-source platform with features like flexible moderation, powerful search, and a simplified UI.
The emphasis on open source and the flexibility to interface with third-party plugins distinguishes Discourse from Tribe.so.
Discourse, for example, has a wealth of plugins for interacting with major platforms such as WordPress, Slack, and Zapier.
Furthermore, Discourse includes granular moderation capabilities that allow administrators to tailor moderation to individual users or groups.
Alternative 2: Vanilla Forums
Vanilla Forums is another popular community platform that focuses on customization and usability.
Vanilla Forums, like Discourse, have sophisticated moderating features and interfaces with third-party applications.
What distinguishes Vanilla Forums from Tribe.so is its emphasis on community interaction.
Vanilla Forums, for example, provide features such as reputation points, badges, and user profiles to encourage community engagement.
Vanilla Forums also includes features like configurable themes and comprehensive statistics to assist administrators in better understanding their communities.
Alternative 3: Muut
Muut is a cloud-based community platform with a sleek and modern layout, customizable choices, and seamless connection with various applications.
Muut differs from Tribe.so in its simplicity of use and ability to interact with other applications like Slack, Zapier, and Google Analytics.
Muut also provides robust moderating tools and extensive analytics to assist administrators in better understanding their communities.
Muut's emphasis on user-generated content is one of its distinguishing aspects, including features like polls, Q&A sections, and feedback widgets to promote involvement.
Pricing and Subscription Plans for Tribe.so
Tribe.so has several price categories to accommodate different demands and budgets. The app's basic version is free to use, making it ideal for individuals and small companies wishing to launch their community platform. However, it has some restrictions, such as the number of members and access to certain services.
Tribe.so provides a Plus subscription for $85 per month that includes unlimited members, API access, email and chat support, and more sophisticated capabilities. This tier is appropriate for larger companies or those that need greater control over their community platform.
Those who wish to test out the entire range of Tribe.so features may sign up for the Premium tier, which includes a 14-day free trial and costs $249 per month. This tier provides more sophisticated services, including bespoke branding, comprehensive analytics, and app integrations.
Tribe.so has an Enterprise tier for enterprise-level clients who demand the most significant degree of security and support. Exclusive app integrations, 24/7 support, and data transfer are all included in this tier. Customers interested in this tier may contact Tribe.so sales for additional information.
Finally, Tribe.so has a variety of price choices to meet various company goals and budgets, making it an appealing alternative for anybody wishing to launch their community platform.
Youtube
If you're interested in learning more about Tribe.so, you might find video reviews helpful too. This may be a terrific method to gain a more in-depth grasp of the platform's features and capabilities and how it functions in practice.
Several video review sites are accessible, including YouTube, Vimeo, and other video-sharing sites. Some of these evaluations have been made by independent reviewers, while others may have originated via Tribe.so's official channels.
When viewing video reviews, consider that they may provide a biased image of the site. Reviewers' objectives and opinions may differ from yours, so it's a good idea to watch numerous reviews and compare their points of view.
Altogether, video reviews may be a valuable resource for anybody curious about Tribe.so. Viewing these evaluations, you may get a better feel of what the platform has to offer and whether it is a suitable fit for your requirements. Here's one such comprehensive overview of a tribe.so hosted on YouTube.
Final Thoughts
Finally, Tribe.so is a robust and dynamic community platform that provides its members with a wide range of services and benefits. From its simple design to its gamification and custom domain name capabilities, Tribe.so offers a lot to businesses, creators, and anybody wishing to develop a solid online community.
While there are some minor downsides, such as restricted customization possibilities and a lack of messaging features, they do not distract from the overall value that Tribe.so delivers. Furthermore, with its reasonable subscription levels, customers may enjoy unlimited members, API access, and email and chat support at a low cost.
Furthermore, user evaluations praise the platform's simplicity and adaptability, making it a popular choice among businesses and creators.
With the availability of video reviews for individuals who want to learn more, Tribe.so makes it simple to get started and establish a vibrant community.
In conclusion, we strongly suggest Tribe.so to anybody wishing to develop a vibrant and active online community. Its remarkable features, ease of use, and inexpensive cost make it an excellent choice for both enterprises and creators. Don't put it off any longer; try it today and see for yourself!
Tribe.so can help you take your online community to the next level. Request a free trial to see firsthand how this powerful tool can help you grow and connect with your community in ways you've never seen before. Don't pass up this fantastic chance; click here to learn more and start with Tribe.so right away!
FAQs on Tribe.so
How Do I Choose the Best Membership Site Platform for Me?
Choosing the ideal membership site platform for your purposes necessitates careful consideration of several aspects, including your budget, goals, and target audience. You should compare each platform's features and functions, as well as their price plans, customer service, and user reviews. It's also a good idea to test out the platforms yourself by signing up for free trials or demonstrations to get a hands-on feel before selecting.
How Easy Is It to Use Tribe.so? Is There a User Manual or Other Documentation Available?
Tribe.so is intended to be user-friendly and intuitive, especially for individuals with less technical knowledge. Their website has a comprehensive knowledge library, including step-by-step instructions, video tutorials, and FAQs, to assist users in navigating the platform and troubleshooting any difficulties that may arise. Their customer service team is also available via email and live chat.
Is Tribe.so Compatible With My Device or Operating System?
Tribe.so is a web-based platform that works with all main web browsers such as Chrome, Firefox, Safari, and Edge. It is available on desktop and mobile devices with an internet connection. Tribe.so does not have a mobile app, but its web app is mobile-optimized, allowing users to use the platform while on the move.