Automation is the new secret sauce. It is the primary key of treasures for success in any business.
So what can you automate to make your business run faster and smoothly?
Today, you'll learn the top 10 Zapier alternatives of 2022
What is Zapier?
Zapier is a software that can integrate over 1000+ apps and web services for you.
This helps you to take advantage of automation by their combined functionalities.
What this essentially means is that your time is saved because you are running mundane tasks on autopilot.
What does Zapier Automate?
Here are what Zapier can automate for you:
Integration: It helps you link your web apps into a single platform.
Information: Automates the interaction of information between your apps with workflows.
No Code Innovation: Without you having to code, Zapier lets you build workflows quickly.
But Zapier's treasure comes at a deep pocket cost. How about we help you find another option from among the top 10 Zapier alternatives in 2021?
Top 10 Zapier Alternatives In Order of App Integrations
There are so many ways to list a choice of apps. But we are looking to automate the integration of as many apps as you can in one tool.
Here's our handpicked list of the top 10 Zapier alternatives in order of the number of apps they integrate for you on automation.
IFTTT :
IFTT is an acronym for If This Then That. IFTTT is a simple-to-use software that integrates your apps and devices.
It forms a chain of simple conditional statements that are known as applets.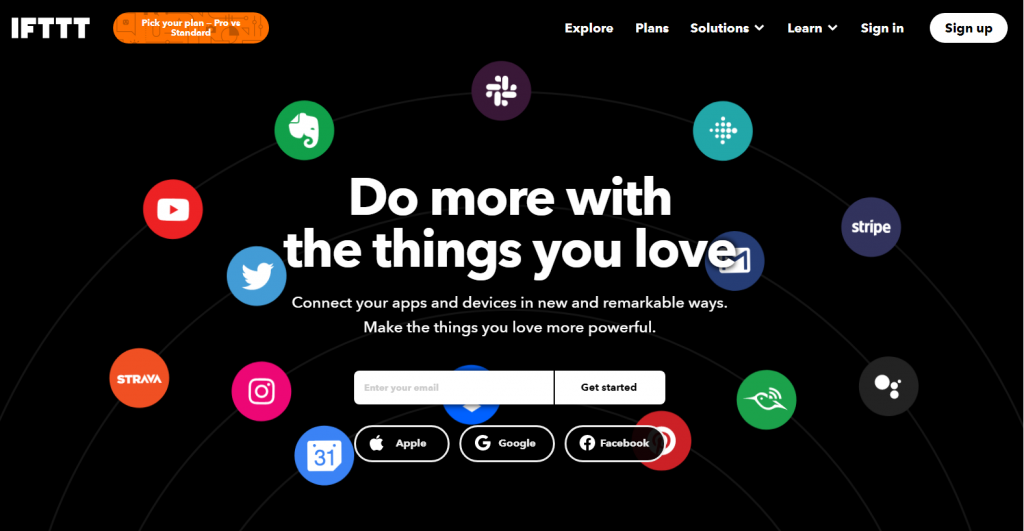 Pros:
It is excellent for integrating home systems & social media.
It provides robust automation for simple single integrations between apps.
It is free to use. Payment plans are cheaper for developers, custom pricing for teams and enterprises.
Cons:
It isn't open to new changes.
It has limited services and integrations compared to its alternatives.
It is difficult to set up multiple automation flows. This is good for simple automation.
Workato:
Workato is another Zapier alternative with a focus on enterprises and companies.
This tool connects your work apps that move or function with triggers, resulting in actions like notifications, creating an invoice or a ticket, etc.
Pros:
No coding is required to create recipes for the integration of apps.
It's an excellent tool for data, IT, tech, and other companies.
It works well with cloud-based apps.
Cons:
High pricing is a barrier for smaller companies and startups.
Workato requires a much greater library of self-serve resources to help clients spend less time haggling customer service for simple issues.
The debugging process of recipes is very cumbersome.
Integromat:
Integromat is another alternative tool to Zapier. In this case, Integromat is the glue of the internet because it provides advanced online automation.
It integrates apps like Google Sheets, Gmail, DropBox, etc., and at the same time, it transfers and helps transform data.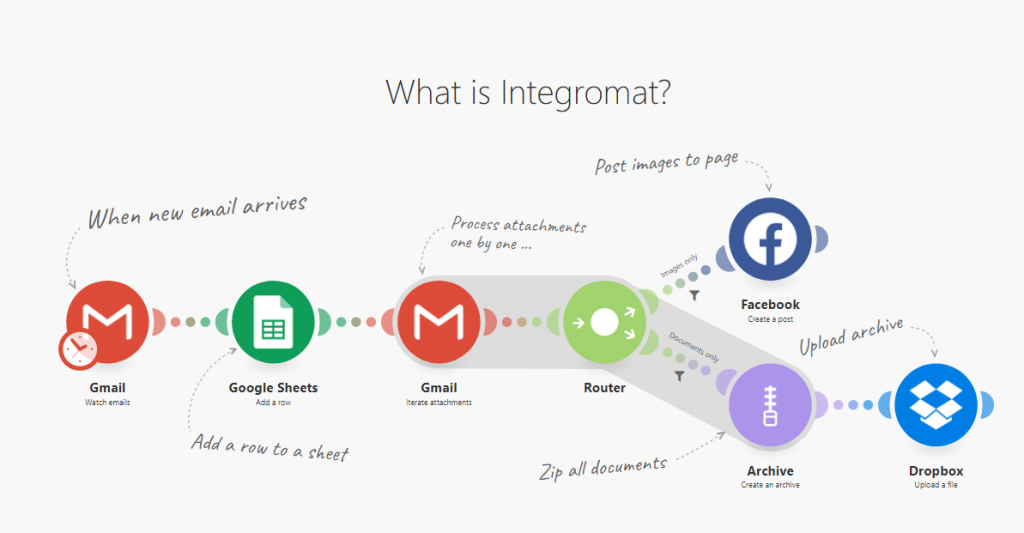 Pros:
It is a considerably cheaper alternative to Zapier and better for non-profits, smaller companies, or startups.
For a lower cost, it can provide complex scenarios and high functionality.
The user interface of Integromat is easy and visually friendly to use.
Cons:
It is not designed for everyday users. Integromat requires previous coding knowledge.
It has advanced level automation that isn't easy to get around easily.
It is challenging to test scenarios and re-run data through them.
Microsoft Flow:
Microsoft flow is designed to automate the business workflow process. A low-code or no-code integration system for your apps.
This Zapier alternative was built, keeping in mind the users who aren't familiar with web development and coding.
Pros:
It is a simple tool with an easy learning curve.
It comes with over 250 already built connectors to begin integrations without having to do them from scratch.
You can use Microsft flow to build connectors without any coding knowledge.
Cons:
There is time in lag in the execution of workflows after a trigger. The free plan works with a latency of 15 minutes, and the paid plans work with a latency of 5 minutes for complex workflows.
SharePoint items require an external party connector or web usage, as it isn't possible to set/change permissions.
Microsoft flows is a creator based software. Those who create the workflows and the related accounts are the only ones who can access and operate the workflows.
CloudHQ:
This tool helps integrate Gmail with a whole suite of productivity tools, including an email tracker, email templates, and email sharing.
This would mean complete productivity and automation with regards to receiving and sending emails and gathering and storing data from them.
Pros:
Cloud HQ has the best cloud storage solution among all integration tools.
Easy integration with the chrome extensions that bring together all the Google apps.
No software download is required. Just seamlessly add the chrome extensions.
Cons:
If your email suite isn't Gmail, then Cloud HQ doesn't work for automation.
The Free plan offers no tools.
There is no availability for API tools for automation on apps beyond the email suites.
Piesync:
This is a tool for the data transfer category of the Tech stack. It is a cloud-based solution designed to connect cloud applications.
Piesync is best known to connect CRM and marketing apps.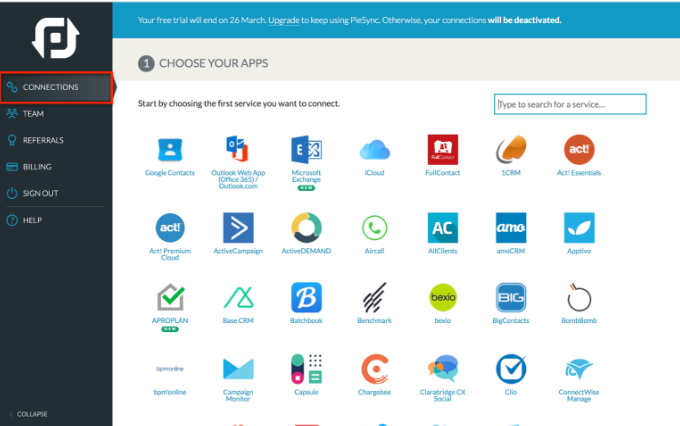 Pros:
Piesync is built for small companies, agencies, or freelancers.
Great to make simple connections between marketing systems.
Allows multiple partner integration in as simple steps as login, fill in the information, and work on the integration.
Cons:
It gets pricier when you have more contacts. The pricing is based on the number of contacts than the sync processes.
Many popular tools and apps are not available for integration with Piesync as compared to other tools.
Piesync can sync contacts only with their email addresses and no other fields.
Snaplogic:
Snaplogic is an automation tool built for the connection of cloud-based data and applications.
This Zapier alternative integrates complex tasks into 'Snaps' that break down into integrated tasks and subtasks that form modular and pluggable parts of logic.
Some of the integration tools that Snaplogic integrates are Amazon Redshift, Tableau, Oracle, Microsoft 365, Snowflake, etc.
Pros:
Snaplogic is an easy to use solution which mostly requires drag and drop features to create snaps.
It has a simple interface that doesn't require the user to be a developer.
It provides 'report' automation. Any business that requires to send reports on autopilot would hugely benefit from Snaplogic.
Cons:
Snaplogic isn't built for complex processing or logic for a business.
When the data volume is large, the snap process slows down a lot.
They do not have training or video tutorials. Also, their error messaging system needs to be refined.
Elastic.io:
Elastic.io is a cloud-based system that helps integrate cloud-based services for businesses.
It offers pre-defined connectors and provides a platform to custom-build connectors based on the business needs.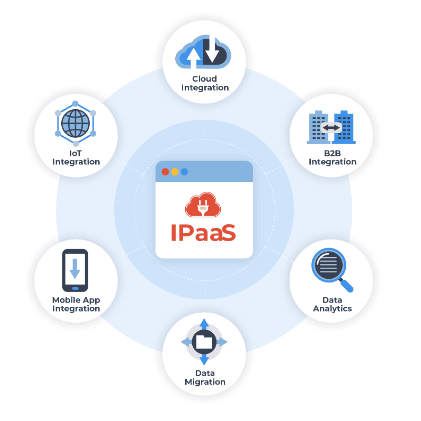 Pros:
It is an easy to use platform that supports API first approach.
It has a high horizontal and vertical scalability. This allows you to build your automated systems and increase the connectors easily.
Elastic.io has a shallow latency level. Even if you add in large data volumes, you will not experience a reduced speed in the connectors' functioning.
Cons:
The number of connectors available is quite limited.
The white labeling feature is missing in the standard pricing package.
Although the tool itself is free, paid solutions are quite challenging.
Automate.io:
Automate.io is another alternative to Zapier. This software helps with the integration of cloud or SaaS applications.
Automate.io allows single or complex workflow creations for sales, business, or marketing processes on automation.
Pros:
No coding is required. It is simple to use with a drag-and-drop interface.
Automate.io has over 100+ applications that can be integrated from its library. Some of these include Salesforce, Hubspot, MailChimp, Facebook, etc.
Very intuitive to use and highly affordable.
Cons:
Screens take a long time to load. Data lists require to be refreshed due to lag in loading time.
Users request more IF/AND functions within one bot.
Software tutorials are not comprehensive.
Tray.io:
Tray.io is an integration tool for services and is mostly designed, keeping in mind business needs.
It is an API integration software that automates various workflows without requiring complex development resources.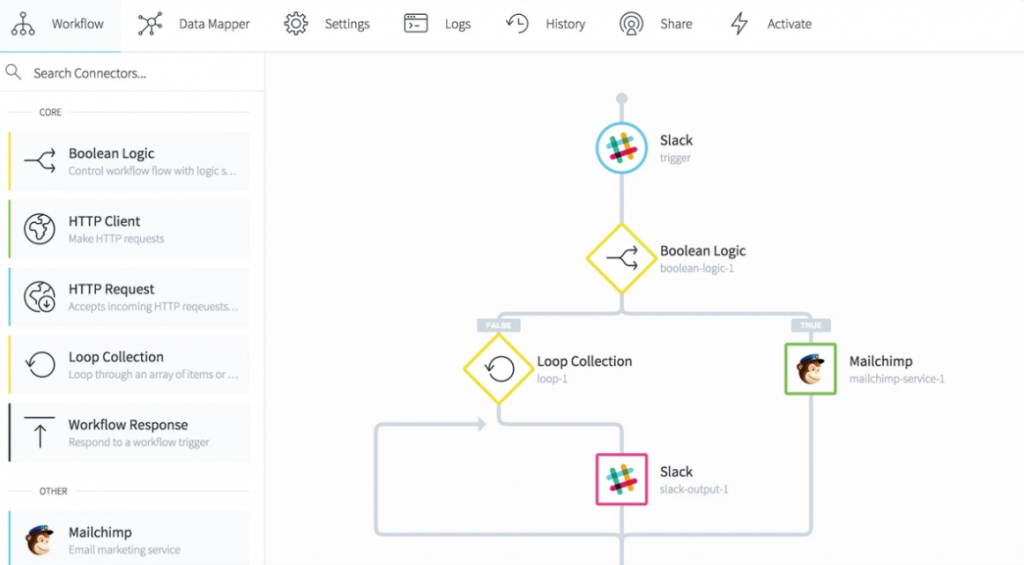 Pros:
It is a very powerful and functional tool.
It caters to both technical and non-technical users.
Very useful for setting up automation with many integrations within the business line.
Cons:
Requires more videos and support on the How to of some processes.
There are better-priced alternatives to Tray.io.
Debugging workflows is difficult to workaround.
Final Thoughts
There are many automation tools available on the market that will allow your business to grow faster.
The top 10 best Zapier alternatives listed can give you an insight into the pros and cons of usage.
Using this, you can determine your business type and your goals to select the appropriate Zapier alternative automation tool for you.
Feel free to check Group Leads – if you want to automate lead generation from your Facebook group. It's free to start & easy to use.