Most people using traditional currency are facing online issues with modern banking, and carrying cash everywhere is risky and stressful.
An excellent alternative solution to this problem is investing in cryptocurrency, the future of currency. Cryptocurrencies are increasingly popular alternatives for online transactions.
Cryptocurrency is a digital or virtual currency meant to be a medium of exchange. It is secured by cryptography. It does not have any physical embodiment, making counterfeiting impossible. Cryptocurrency is generally not issued by any central authority, which makes it free from government interference or manipulation.
One needs a cryptocurrency wallet to use cryptocurrencies, and these wallets can be software that is a cloud-based service. It can also be stored on your computer or mobile device. Wallets are tools through which you store your encryption keys which confirm your identity and link to cryptocurrency.
Since all cryptocurrency transactions are highly encrypted, exchanges are highly secured. Many cryptocurrencies use blockchain to manage and record transactions, where multiple entities maintain identical transaction records, making it an extremely secure technology for investment.
With cryptocurrencies, you have access to cheaper and faster money transfers and decentralized systems that do not collapse at a single point of failure.
With all these complexities, one may want to connect with others interested in cryptocurrency. There are different social media platforms and online communities where you can discuss cryptocurrencies. Facebook is said to be one of the best.
In this article, you will get to know about the best cryptocurrency Facebook group to join. Let's get started.
7 Benefits of Cryptocurrency
1. Cryptocurrency saves time.
Cryptocurrency makes transactions easier and faster; you don't have to worry about any technical issues or delays related to bank transactions.
Cryptocurrency transactions can be completed in a matter of minutes. Transactions are fully settled, and funds are available for use once the block with your transaction is confirmed. It is easier to transfer funds between two parties without needing a trusted third party like a credit card company or bank.
The transfers are secured by the use of public and private keys, including different forms of incentive systems. The absence of a third party makes transfers faster than standard money transfers.
2. Cryptocurrency is easy to access.
Cryptocurrency is available to every individual, whether poor or rich. Your computer or smartphone and internet connection are all you need.
The process needed to set up a cryptocurrency wallet is extremely fast and easily accessible compared to opening an account at a traditional financial institution. No verification ID is required, and there is no background or credit check.
Cryptocurrency enables those with no bank account to access financial services without going through a centralized authority. Some people don't have a traditional bank account due to one reason or the other. Cryptocurrency has made it easier for such people to easily make online transactions or transfer money to people across the globe.
3. Cryptocurrency fights against inflation.
Inflation has been known to exist due to the excessive circulation of money. It surfaced when the supply of money was higher than that of goods, which is terrible for the economy.
Inflation increases the prices of goods at a higher speed, lowering your purchasing power.
Cryptocurrency offers protection against inflation. Bitcoin is one of the cryptocurrencies that have a hard cap on the total number of coins that will ever be minted. As the growth of the money supply outpaces the growth in the Bitcoin supply, the price of bitcoin ought to increase.
4. Cryptocurrency maintains your privacy.
You don't have to register for an account at a financial institution to transact with or invest in cryptocurrency. Registering with the financial institution requires more details about you, but since you don't need that for cryptocurrency, you can maintain a level of privacy.
Transactions under cryptocurrency are anonymous. You don't have to reveal your real identity to other users. You will have an identifier on the blockchain which doesn't include any specific information about you. Your wallet address is that identifier.
5. Cryptocurrency adopts a secure and transparent transaction.
Cryptocurrency is a secured investment; nobody can sign transactions or access your funds unless you give them the private key to your crypto wallets. Your private key is your account security, so you must protect it.
The nature of the blockchain system also secures transactions and the distributed network of computers verifying transactions. It becomes even more secure as more computing power is added to the network.
Transparency is involved in cryptocurrency transactions. The transactions take place on a publicly distributed blockchain ledger. Tools are available for those who want to look up transaction data, including where, when, and how much cryptocurrency someone from a wallet address sent. The amount of crypto stored in a wallet is also visible to anyone.
This level of transparency can reduce fraudulent transactions. Transfers of money can be proven and confirmed.
6. It creates room for diversification
Cryptocurrency allows you to diversify from traditional financial assets such as stocks and bonds.
The prices of the crypto market and that of stock and bonds tend to be uncorrelated with other markets, which makes them a good source of portfolio diversification. By combining assets with minimal price correlation, you can generate a more steady return.
Cryptocurrency is generally very volatile and could end up increasing the volatility of your overall portfolio if your asset allocation is too heavy on crypto.
7. Cryptocurrency is cost-friendly.
Another interesting benefit of cryptocurrency is that the cost of transactions is relatively low. Compared to other financial services, cryptocurrency transactions are less expensive.
Even though demand on the blockchain can increase transaction costs, median transaction fees remain lower than wire transfer fees, even on the most congested blockchains.
The 6 Best Cryptocurrencies You Can Start Now
Bitcoin (BTC)
Bitcoin has proven to be the most valuable cryptocurrency for traders. It was created in 2009 by Satoshi Nakamoto, and it is known to be the original cryptocurrency.
Bitcoin is kept secure and safe from fraudsters by a process called proof of work. It was designed to prevent crypto coins from being fraudulently duplicated. It is often known to be one of the most friendly cryptocurrencies, and it uses digital technology known as the blockchain.
Blockchain is an advanced coding mechanism that disperses a single code over thousands of different computers. The current position of bitcoin at the top of the ranking for both market capitalization and popularity means that it will not go away anytime soon.
Most recently, the valuation of bitcoin has increased by more than 763% in just a year, out spacing traditional gains in the sock market. Bitcoin is acceptable to several high-profile individuals and businesses.
Judging by these, there is no doubt Bitcoin is going to be a huge success. It was speculated that Bitcoin might rise significantly if there is a surge in the market. The value of Bitcoin increases when more people are interested and more people are interested in buying it today than ever before.
When you invest in Bitcoin, you may be able to generate a considerable return on profit. Bitcoin trading volume increases exponentially as time goes on.
Ethereum (ETH)
Ethereum is also one of the most popular and widely used cryptocurrencies. It offers distinctive features that you can't find in every crypto.
Ethereum provides a different protocol for building decentralized apps, and these programs offer distinctive trade-offs that greatly facilitate the large separation of decentralized programs.
According to expert views, Ethereum is projected to increase from its present price to $1377 by the end of 2022. The price of Ethereum is expected to climb 400% by 2025 to roughly $20000 or even higher. There is no doubt that Ethereum is the second-biggest cryptocurrency, and it is a good investment option for you.
Solana (SOL)
This is a decentralized computing platform that uses SOL to pay for transactions. It aims to improve blockchain scalability by using a combination of proof of stake consensus and proof of history.
Solana, therefore, has been able to support 50,000 transactions per second without sacrificing decentralization. Congestion and fees remain low because of Solana's high speed.
Developers hope high speeds and low fees will eventually enable Solana to scale and compete with centralized payment processors such as visa. You can become a validator on Solana to enjoy the chance at earning sol and a cut of fees, and this could be done by staking your SOL after you become a participant.
You can also buy, send, and receive Solana using various crypto exchanges and wallets, including coin base and coin base wallets.
Litecoin (LTC)
Trading Litecoin is the same as trading any of the top cryptocurrencies. Litecoin transactions are known to be much faster than bitcoin. It costs less and has proven itself to be reliable and a survivor.
Litecoin is often considered digital silver and one of the oldest cryptocurrencies in the upper echelon of market capitalization. It has been a top-performing altcoin since its inception in 2011 and is often a leading indicator of the rest of the cryptocurrency world.
Much like Bitcoins, Litecoin is also proof of work. It has four times the supply of Bitcoin with a call of 84 million LTC. Litecoin is a good investment for those willing to take the plunge.
You can invest in Litecoin by mining or buying LTC online with a few simple clicks on a platform or exchange that offers cryptocurrency. You can then decide on several ways to invest in the market once your Litecoin is achieved.
Binance coin (BNB)
Binance coin is one of the largest crypto exchanges in the world. A Binance coin is a form of cryptocurrency that you can use to trade and pay fees on finance. It can be used for trading (including trading with other cryptocurrencies), payment processing, or even booking travel arrangements.
In 2017, Binance was just $0.10, but its price has risen to around $2499, resulting in a gain of 248,944%. Per the market prediction, the Binance coin seems to have survived the storm. The cryptocurrency market is now looking optimistic, with a brighter future ahead of this coin.
Binance Exchange provides support services for users to earn interest or transact with cryptocurrencies. It offers programs for miners and helps traders make investment decisions. It also offers discounts to users who pay in the native BNB cryptocurrency tokens.
FightOut (FGHT)
FightOut is also one of the best cryptos to buy now. It enables users to earn rewards for living a healthy lifestyle. With $FGHT, users have access to a platform that tracks movements and steps where they will be provided with rewards for working out, completing challenges, and growing the community.
Now is the best time for investors to buy $FGHT tokens. This is because $FGHT is in stage 1 of its presale and is currently available for $0.016 per token. FightOut is working with professional fighters and coaches to act as the brand's ambassadors.
These professionals also provide masterclass-style training content for users. Investors can use FightOut tokens to buy NFTs that can be used for unique cosmetics on the user's avatar. This avatar can be used in the metaverse to compete against other players as a user's strength progresses.
Users can also have access to real FightOut gyms which will be located in key locations globally. To earn these benefits, you must buy FightOut tokens, and now is the best time to do that.
10 Best Cryptocurrency Facebook Groups You Can Join To Stay Up To Date
Cryptocurrency Investing
This group comprises relevant information on crypto investing. This includes videos, posts, and cryptocurrency news. You can also ask any questions you have on crypto.
If you want to be guided on how to invest in cryptocurrency, this open group is a good option for you. The group has over 74000 members, and it does not require any permission to join. Give it a shot by clicking here.
Cryptocurrency Academy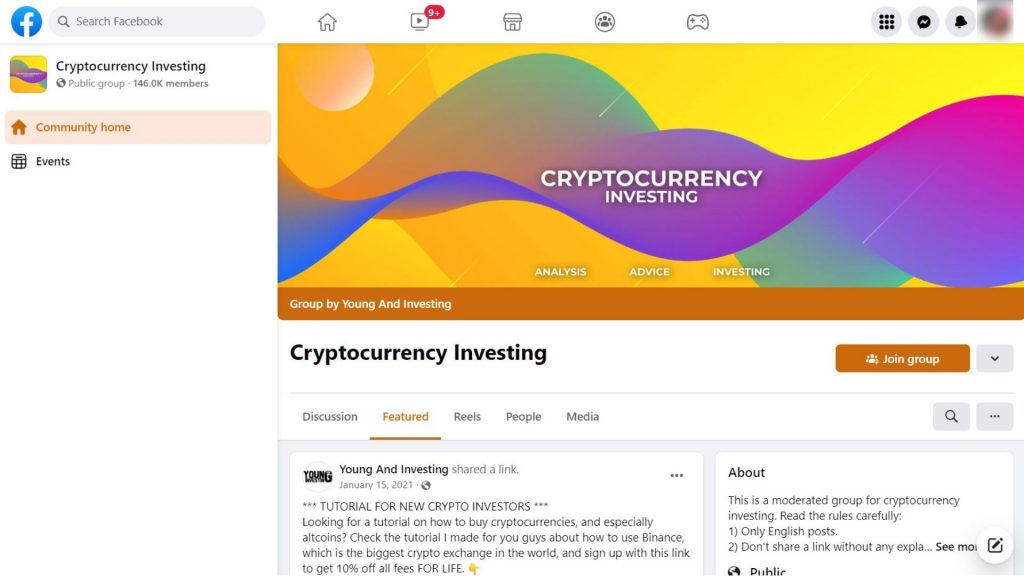 This is a legal platform where members can learn about cryptocurrency. Cryptocurrency Academy not only focuses on trading but also provides information beyond the expertise of trading.
Information on blockchain technology is also available in this group. You will be provided with all the necessary things you need about cryptocurrency, such as the best ICOs, live streams of conferences, etc.
Cryptocurrency News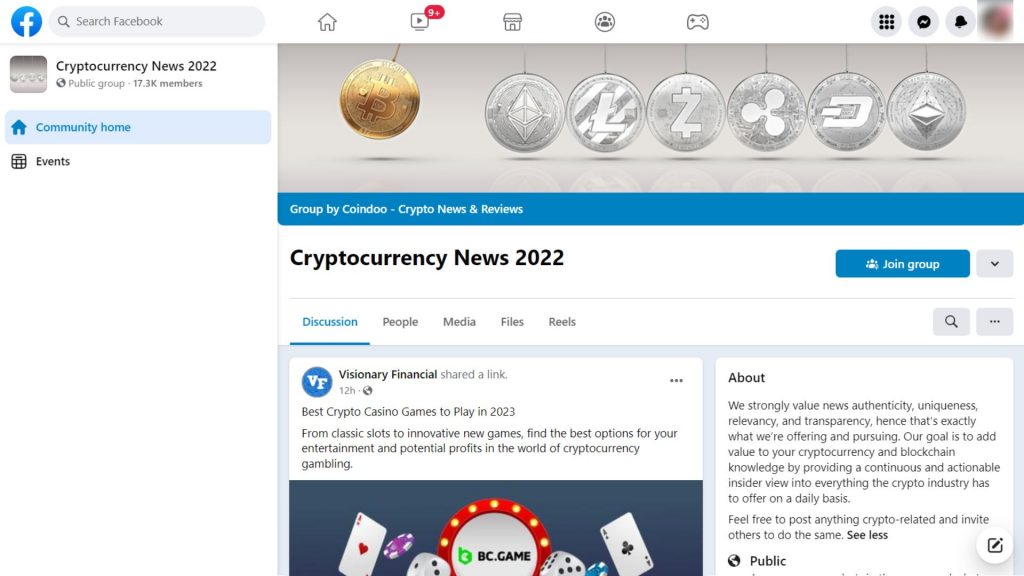 This group is created to keep you up-to-date with the most valuable news. It is confirmed by members that the contents posted on this group are of high quality.
Cryptocurrency News is best for those who want to enrich their knowledge in the crypto world. Its daily post shows how serious this group is. Don't miss out on the latest crypto news, and click here to join.
Bitcoin Argentina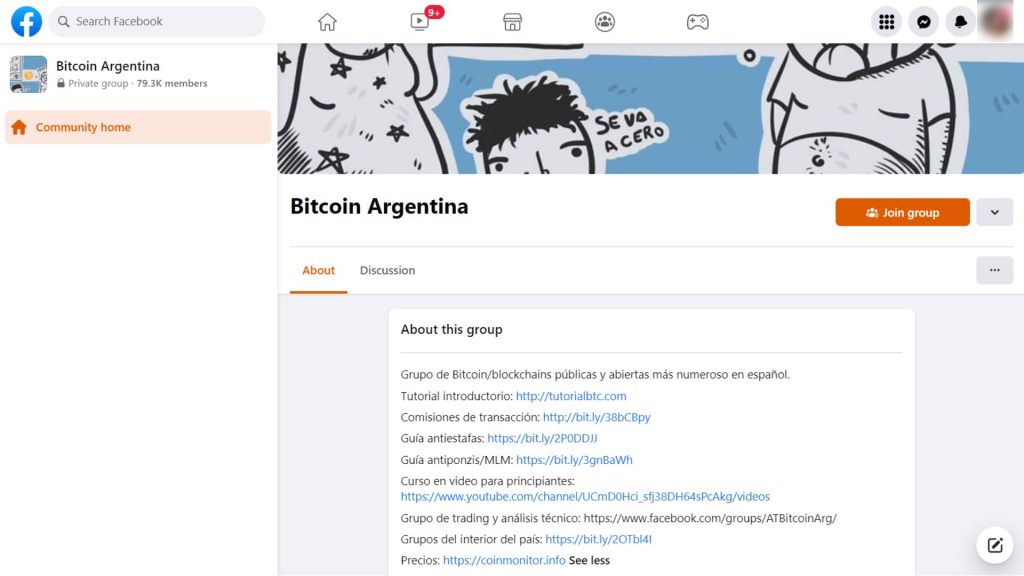 Bitcoin Argentina is created for cryptocurrency enthusiasts who speak Spanish. It not only provides info on Bitcoin, as the name implies, but it also provides information on cryptocurrency in general.
Bitcoin Argentina is growing fast, with about 62,000 members. You will need to apply and get approved to join because it is a private group. Click here to get started.
Bitcoin-public group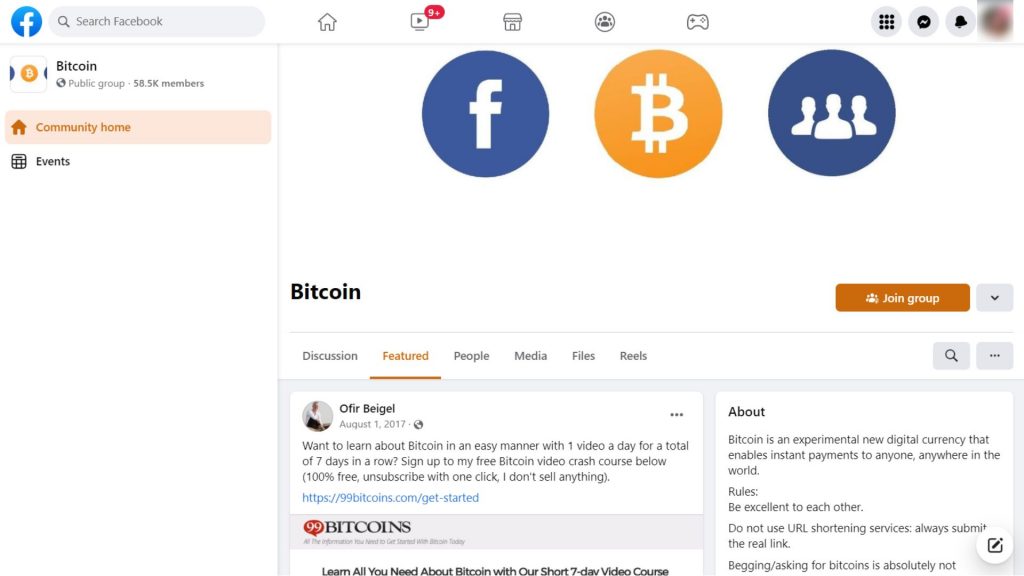 This group is the largest bitcoin group that you can find on Facebook. It is the right group to join for Bitcoin enthusiasts. It is a Bitcoin Facebook group that gives you access to countless articles, new products, suggestions, and questions on topics from the Bitcoin community.
Crypto Warriors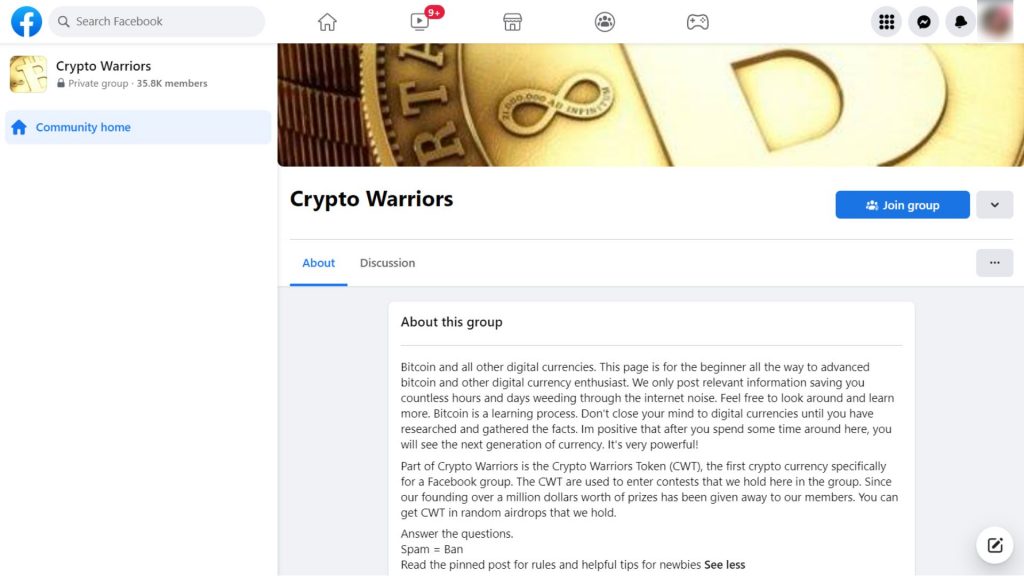 This is a unique group for cryptocurrency information on Facebook. Crypto Warriors is for those who use Crypto Warriors token (CTW). And this token is specifically for Facebook groups, which is the first of its kind.
The group also provides high-quality content from a large volume of information on the internet. Click here to become a member.
Ethereum Facebook group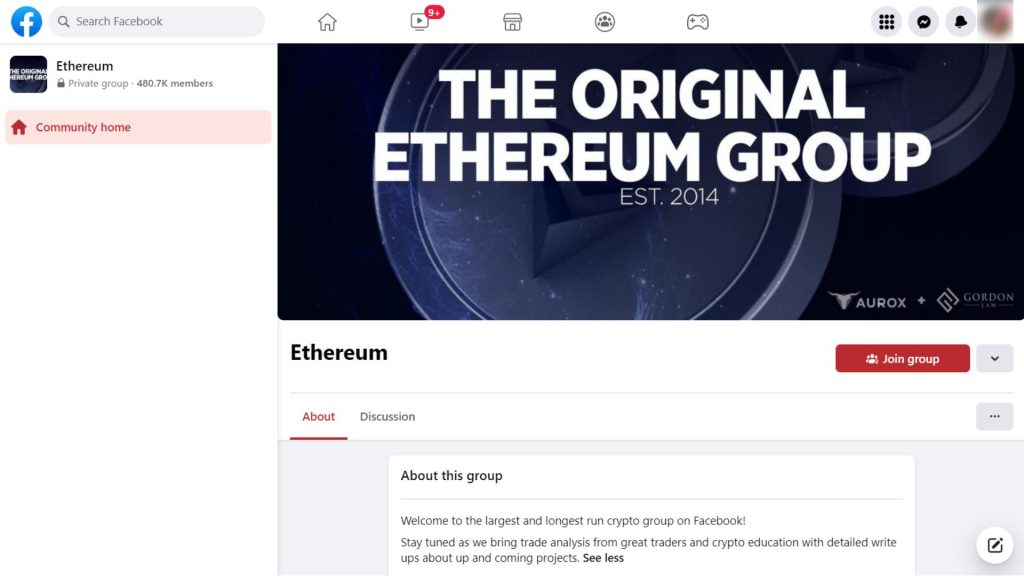 This group is specially dedicated to Ethereum. It is one of the largest and oldest crypto groups focusing solely on the Ethereum ecosystem.
Here, you will get the necessary information about trade analysis from great traders. And also will be provided with crypto education with a detailed write-up about upcoming projects. If you are or want to be an investor of Ethereum, this is the best group for you.
Solana Facebook group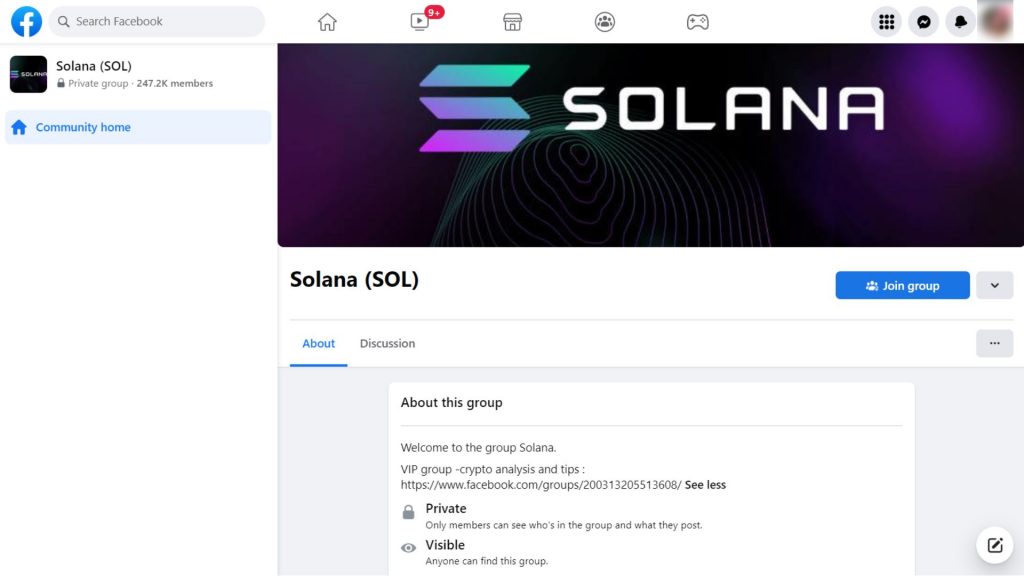 Solana's Facebook group comprises thousands of members. It is one of the most active groups where investors learn about the entire ecosystem from the NFT project, play-to-earn games, metaverse, DEFI, and much more. Click here to join and start enjoying these benefits.
Suppoman's Crypto Masterminds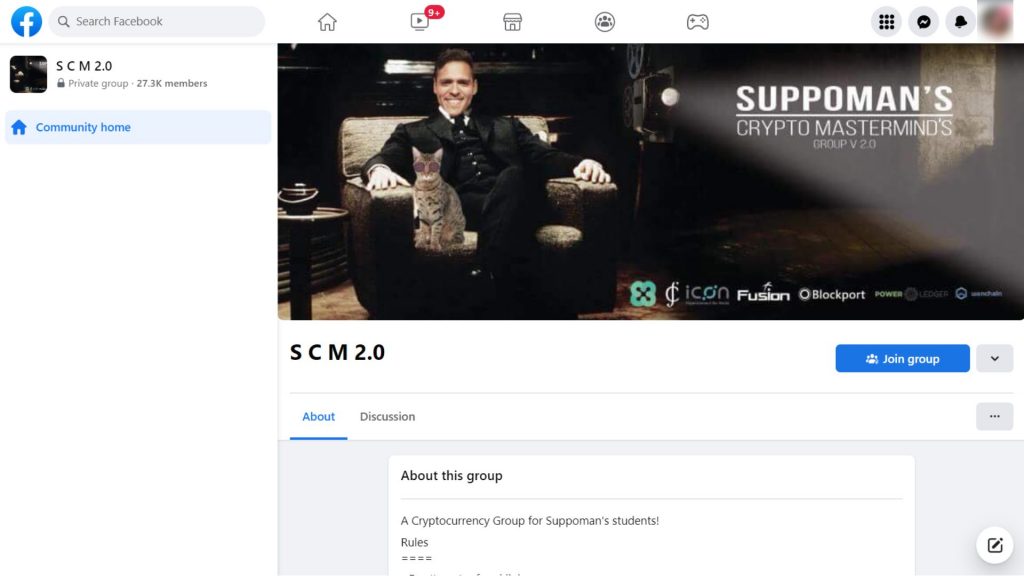 This is one of the most trusted cryptocurrency groups on Facebook. It is a very active group with about 25000 members and is still growing. Its daily post gives you what you need to know about crypto.
The group is created by a prominent figure in the cryptocurrency space known as Suppoman. He gives predictions on what is likely to happen in cryptos. Click here to join this growing community.
Captain Altcoin-Cryptocurrency community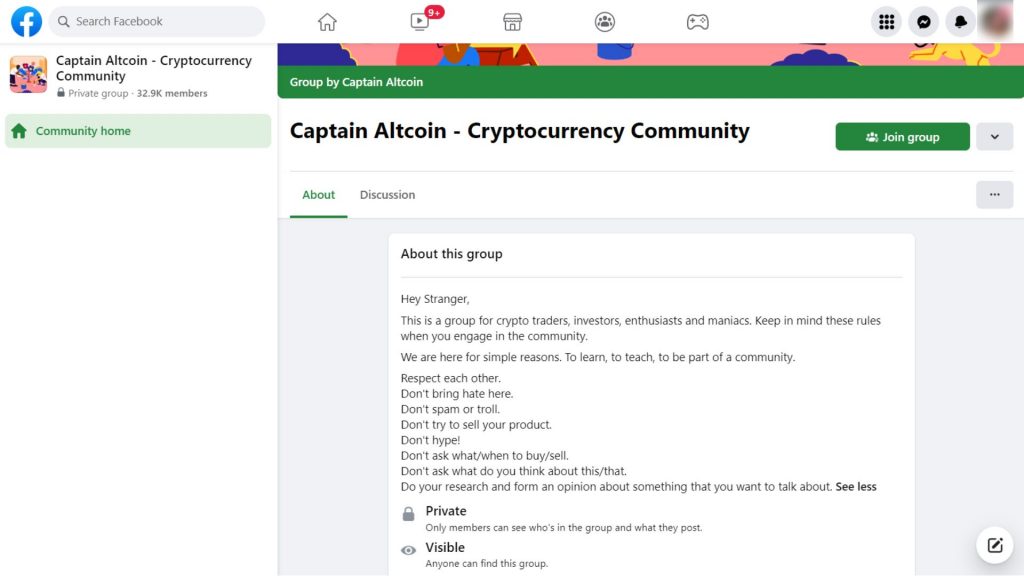 This is a platform for crypto investors, traders, and enthusiasts. Discussions concerning cryptocurrencies are organized in this group. It is active with its daily news and will help you better understand the cryptocurrency industry.
The group also gives you a solid foundation in trading and investment in general. Click here to join.
Final Thoughts
Cryptocurrency is here to stay and is not going anytime soon. It has saved us from the trouble of bank transactions and protects us against inflation.
Cryptocurrency does not require a huge sum of money to start. Its transaction cost is less and affordable. Not to mention how fast the operation is compared to bank operations.
When investing in cryptocurrency, you need to have it in mind that its value can rise and fall anytime given its volatility. You also don't need to feel insecure about it because cryptocurrency is secure and transparent. The benefits of cryptocurrency surpass the risks involved in it, so the risk is worth taking.
You can join the best cryptocurrency Facebook groups to learn more about this technology. These groups provide you with updates and all you need to know about cryptocurrency.
If ever you plan on creating your own cryptocurrency Facebook group, consider getting Group Leads to help you manage your community. With Group Leads, you can automatically connect with your new members by sending them DMs automatically. This helps you build a deeper relationship with them. Get your free trial here.