Chrome extensions are a time-saving treasure. Some of them have been developed for a smoother and enriched experience with the social media giant; Facebook, specifically Facebook group Chrome extensions.
Before we look at these extensions, let's see why we need them in the first place.
Facebook is a myriad of information, both useful and futile. If you happen to utilize Facebook for your marketing or business purposes, then you need to weed out the excess to focus on your game plan.
Some of these extensions are built to reduce redundancy and create clarity.
Developers have built a lot of chrome extensions for Facebook. However, in this post, we shall discuss the extensions for Facebook groups.
Now let's observe the top four Facebook group chrome extensions.
1. Group Leads
Group Leads is a Facebook group Chrome extension that is powerfully designed for a Facebook group to automatically garner a database with an email list and answers to the group's welcome questions
It is THE most useful Chrome Extension for Facebook Groups that helps all types of Facebook group admins.
The leads generated from this database are automatically transferred to your preferred email autoresponder.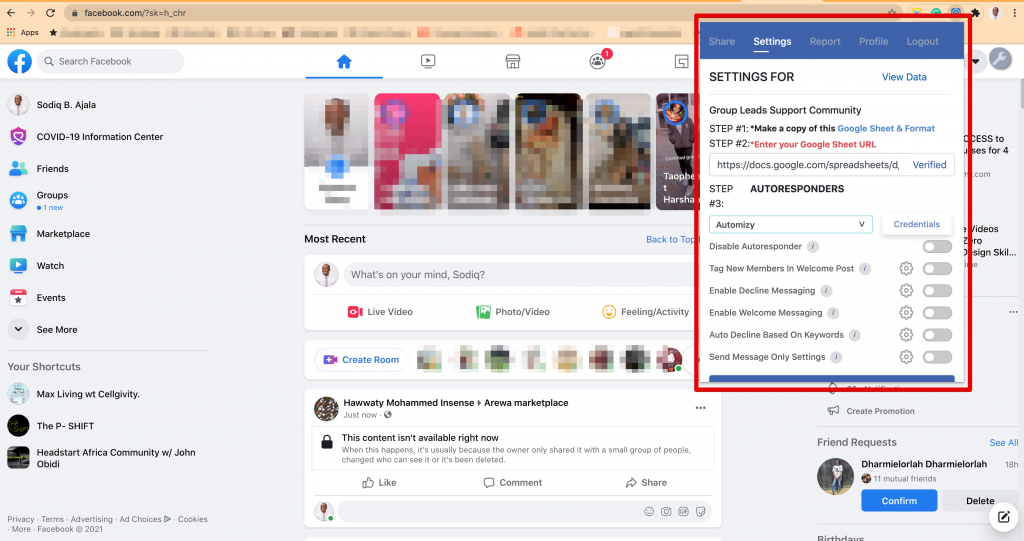 How it works:
First, you will have to download the chrome extension for Group Leads. Then, all you have to do is set up a Google sheet for your data and connect that, along with your preferred email autoresponder to the extension of Group Leads.
Each time you mass approve members into your group, the three answers that they enter at the time of joining are automatically moved by Group Leads to your Google sheet and from there to your email autoresponder.
In this way, you now have leads for your email list to send newsletters about your product or service. You also have a readymade excel sheet filled with content ideas based on the answers given by the new group members.
Useful for:
Marketers and Business owners who are aiming to grow their business to greater heights, at the same time wanting to generate leads from their group.
Group Leads Facebook groups Chrome extension can be downloaded from here:
2. Live Search for Facebook Groups
This is a Facebook group extension that helps to eliminate duplicate posts.
If you have multiple groups catering to different audiences or clients but have a concept that needs to be shared with all, then you need to be sure to post once in each group.
In this extension, you get to type in a relevant search word. This tool then live searches the group and returns the related results.

How it works:
First, you need to download the chrome extension. Then, you can enter a search keyword in the search bar of the Live search extension while being on the group page. The tool scans the group and comes back with the results.
These results appear in the form related or duplicate post that has been posted in the group.
Useful for:
This Facebook group extension tool avoids post duplication on a very active Facebook group.
The Live search for Facebook group Chrome extension can be downloaded here: https://chrome.google.com/webstore/detail/live-search-for-facebook/aphdbfipjfgkcddjjbkhiaofgaenabjg?hl=en
3. Social Media Group Keyword Notify & Highlight
Facebook groups are a great source of content for Marketers.
Besides your own Facebook group, you may have some target groups which you mine for content ideas.
The Social Media Group Highlight and Notify chrome extension for Facebook groups is like a magic wand that searches for keywords and patterns related to your search choice. You will receive notifications in the form of text snippets and the tool will scroll the screen to the post that contains the keyword or pattern.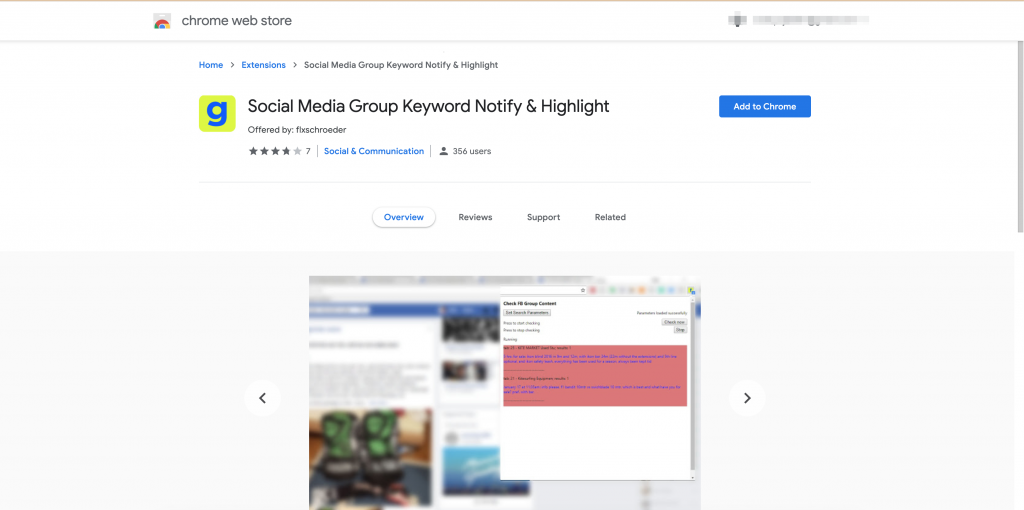 The best part about this extension is that it keeps a repetitive scan with an interval of 10 minutes. This helps to capture all relevant information without missing out on any new posts.
How it works:
You have to open the different Facebook groups in different tabs. Then you enter your choice of keywords in the search bar and press start.
The tool notifies you with matching keywords and patterns.
Useful for:
Gathering content ideas from Facebook groups of your choice or searching for keyword patterns.
Social Media Group Keyword Notify and Highlight chrome extension for Facebook groups can be downloaded from here:
4. Group Invite All for FB
A growing Facebook account with multiple friends added overtime requires a faster method for inviting them to join your Facebook groups.
Group Invite All for FB chrome extension helps to do just that in a very simplified and time conserving method. In just a single click, you get to add all members to a group.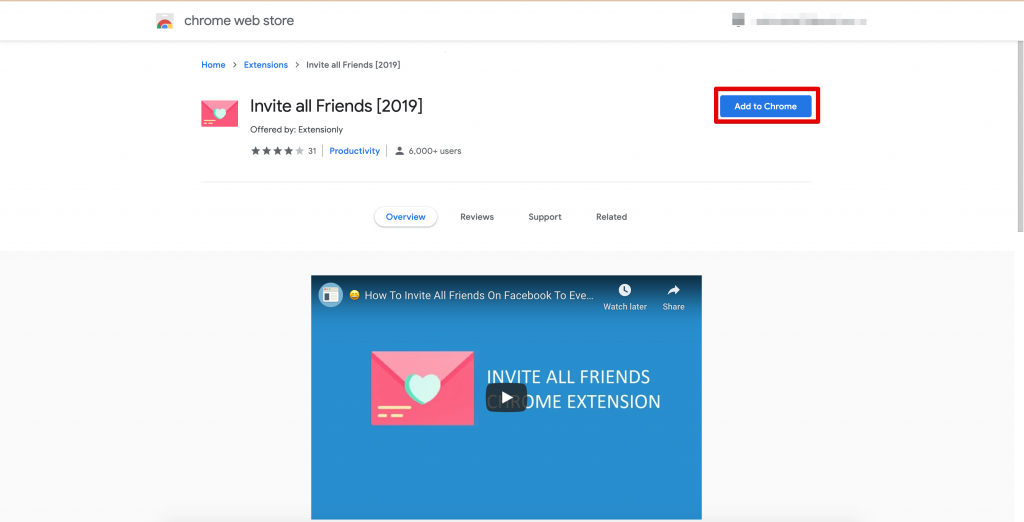 How it works:
You have two options for this. First, you can add multiple friends to one particular group. You get to select the time interval between each invitation. Then you enter the URL of the group you want them to join. Finally, you select the names of your friends from the list and click go!
The second option is to add each person or one person to multiple Facebook groups. For this too, you select the time interval between each Facebook group invite request. Then you enter the URL of the person you want to invite to the group.
This part of the chrome extension has an important box that lets you add an invitation note. This is very useful for marketers who are growing their business socially and friendly.
Useful for:
Adding newly made acquaintances as friends and eventually inviting them to join your business group.
Group Invite All for FB can be downloaded from here:
PS: As at today, March 30th, this Chrome extension is no more available on the Google chrome store. Take note.
Conclusion:
Facebook group Chrome extensions help save time, increase productivity and also generate leads and content ideas. All these are essentials for Facebook groups that aim to market their services, ideas or products.
While there are many other Facebook group extensions that claim do the same functions of Group Leads, they fall short either on compatibility, pricing, features or interface clarity.
To summarize, the most important Group Leads, Live Search for Facebook Groups, Social Media Group Keyword Highlight & Notify, and Group Invite All for FB are the best four Facebook groups Chrome Extensions in 2020.