Are you a business owner, entrepreneur, author, writer or social media influencer? Does your message get so many engagements that it becomes so daunting to attend to?
Yes, right?
I can relate.
Many times I see content creators miss out on great opportunities on their posts because they don't have the time to respond to people's comments on their posts.
Those that shelves giving attention to their posts accidentally skip some of the important comments because they become numerous.
I almost cried the day I realized the comment I missed responding could potentially have fetched me thousands of dollars in the long run.
That got to me so I sprung into research mode. After about one hour, I found Comment Funnel – a Google Chrome Extension for Facebook that helps users to save quality time, effort, and screen attitude by replying to post comments in bulk and at a single click.
What is Comment Funnel?
Comment Funnel is a Chrome Extension for Facebook that helps you to automatically reply to your Facebook comments with the click of a button. It is capable of working on your personal Facebook profile, page, or groups.
So for any post you put on Facebook, whether it's on your personal timeline, inside your Facebook group, or a public page that you're an admin, you can easily automate Facebook comments reply without a hitch.
How do you use Comment Funnel?
Once you've installed the Comment Funnel Chrome Extension for Facebook.
You'll see an icon as shown in the image below.

Go ahead to log into your Facebook account. Then at the top right of any of your posts, click and it will display something like this image to you.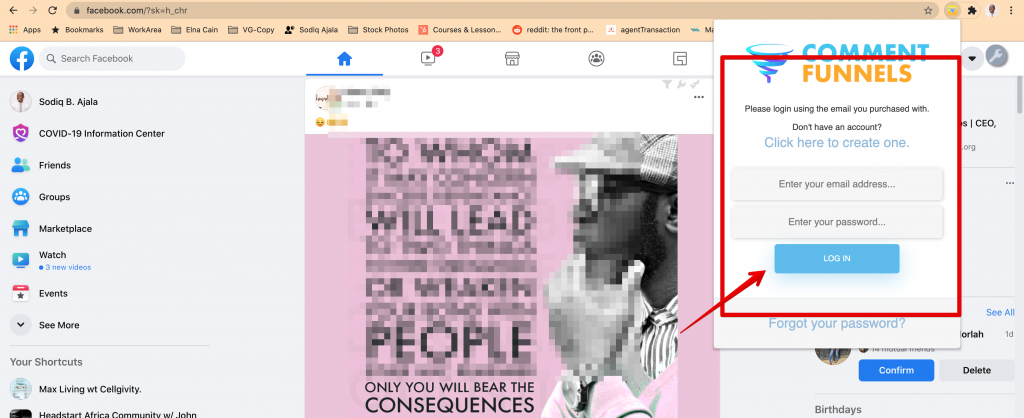 Once you see the "Use Comment Funnels" tab, that assures that you can proceed to automate your response on Facebook. Click on that and you'll head here.
Now you can begin to fill the spaces as they wish.
For you to get more clarity, I'll explain each of the headings to you.
Facebook posts with comments:
This is the link to the Facebook posts that you're trying to automate comments for. It automatically loads, so don't bother if you find it sitting there.
Link to your offer:
This is where you add the link to the offer you're promoting, also known as where you want to send your audience to. It could be a landing page, your website or a WhatsApp invite. It will automatically be added to the end of the automated comments.
The time delay between replies (in seconds)
Facebook is quick to identify you as spam if your response goes every single minute without break. You should set this to at least 10 seconds so that Facebook won't ban you.
Automatically stop after X replies
Again so it doesn't become obvious that there is a robot working at your back end, Facebook knows humans should rest. Ensure you set your automation to stop after a certain number of replies.
Take a temporary break after X replies
Make your automation seem that the person behind it rests for a moment, so set the system to rest after say, every 10 replies. What this means is that after 10 comments replies, the script automatically stops, then continues later. This is also to save you from having problems with Facebook.
Length of temporary breaks in minutes
This is the number of minutes you want the robot to take a break before swinging back into action.
Also are;
Reply text (variations)
If you're like me, you'd want to avoid having the same response for all comments. This part allows you to add as many variations of responses as you want. In the end, it will link to your offer.
Only reply to comments that contain one of the following words or phrases
Here, you have the opportunity to set keywords or phrases you'd like to comment on. Once the script senses any on the keywords you've set, it automatically responds. For instance, you're giving out a free e-book. At the end of your copy, you can ask your audience to comment, "I'm in", " I'm interested" or "Give me access." Then set these as your keywords so that the system automatically responds to the comment with those phrases.
Comment Funnels Alternatives
The bone of contention is that Comment Funnels has no alternative for now, and that's made it a pain for me. I'm hungry for more flexibility and text suggestions when wiring variations for my reply so that I will save more time focusing on my business.
How to get results by using Comment Funnels
To get better results using Comment Funnel. Obviously, it's not a one size fits all. I did a number of trials and errors before getting it right. This is because your target audience will be different from mine. So your tone, timing, and a reply will be different.
Who should use Comment Funnels
Though Comment Funnel is specifically designed for Facebook marketers, however, who says you can't use it if you're an individual who gets a massive response on your Facebook comments.
How to Automate Facebook Comment Reply With Comment Funnels
The designer, Zeky Ahmed puts a detailed step by step guide to help you transition into the world of ease.
Final Thoughts
That said, the question now is, should you subscribe to Comment Funnels Facebook Extension for Chrome?
Maybe not.
However, if you want to do away with the messy job of staying glued to your computer screen for hours, you might want to consider this tool. At least, you have a 14-day free $1 trial to ascertain if it's right for you or not.