Every Facebook group manager understands that engagement is the key to winning members' hearts. But, how do you keep track of what your group members are saying and respond quickly enough to strengthen that relationship?
The solution is right here – Facebook Group keyword alerts.
In 2019, Facebook introduced the keyword alerts feature to assist community managers in monitoring keywords in their groups. This new feature creates a more engaging community and increases conversion rates.
The goal of keyword alerts is to improve community management by allowing you to identify words that require immediate attention. It's another way to safeguard your brand's image and identity.
This way, the Facebook group keyword alert notifies you of the set words that don't align with your brand value so that you can act accordingly.
You can also consider the keyword alert to automate group navigation and monitoring.
Now to the point: How do you use Facebook group keyword alerts to improve your Facebook group engagement?
That is what this article discusses.
But first.
What is Facebook Group Keywords Alert?
Facebook group keyword alert is one of the automation tools available to group administrators for monitoring word usage within the group. The keyword alert enables group administrators to navigate comments and posts quickly and easily for effective engagement.
The keyword alert scans the group and notifies administrators when specific words are used. These words may include spammy, violent, or harassing terms.
Once you receive notification that a group member has used those words, you can swiftly remove the member or delete the comment before it stirs chaos in the community.
You can also set up alerts for birthdays, hashtags, brand mentions, etc.
How to Search for Keywords in Facebook Groups?
You can search for keywords in Facebook groups both manually and automatically. Though this manual process is time-consuming, there's no harm in knowing how to.
Here are the steps involved:
1) Log in to your Facebook account and select Group on the left side of your profile page, as shown below.

2) Select the group you want to search for the keyword as shown below.

3) Tap the search icon on the top right part of your Facebook group, as shown below.

4) Then type in the keyword you want to search for, and hit enter as shown below.

This will return all the post that has the keyword you've searched.
Alternatively, you can automatically customize the keyword alerts feature by adding the words you want to be notified about. You'll receive an alert whenever such words or phrases are used in the group.
Is Facebook Group Keyword alerts the same as Moderation alerts?
No, keyword alerts are not the same as moderation alerts.
Keyword alerts are a subsection of moderation alerts. It alerts you of keywords mentioned in the group, while the moderation alerts mainly notify you of specific activities on your post that require immediate attention.
Group admins and moderators can set and monitor moderation alerts to monitor the performance of the Facebook group.
There are three types of moderation alerts:
Keyword alert: This notifies you when people in your Facebook group use specific words.
Conflict alerts: This alerts you when there are words in the group that reflect conflicts.
Engagement alerts: This alerts you when your post receives a certain number of likes and comments based on your moderation alert settings.
Why you Should Set up Keywords Alert
An effective community manager must configure keyword alerts to be notified whenever specific terms or words are used in the group.
If you are strategic about keyword alerts, it will allow you to leverage quick responses to boost sales and engagement. Also, it will enable you to weed out negative activities that may taint your group's identity.
When you imagine how time-consuming it is to sift through your Facebook group looking for recent and negative comments, you'll understand how keyword alerts can make you stress-free and productive.
Can you Set up Keyword Alerts in Your Facebook Group?
Facebook group administrators can set up keyword alerts for their groups, and here is how to do it.
Click on "Moderation Tools" as shown in the image below.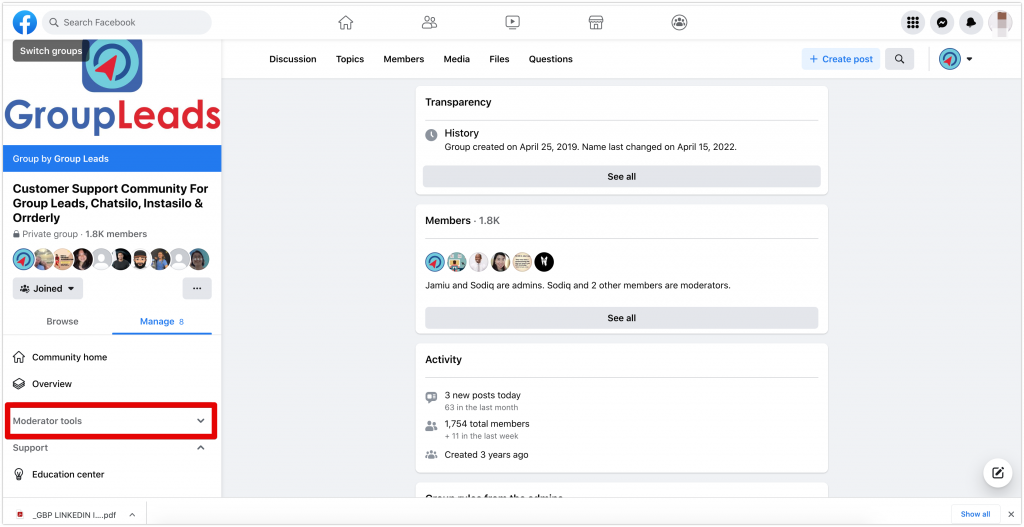 After that, click on "Moderation alerts" as shown in the image below.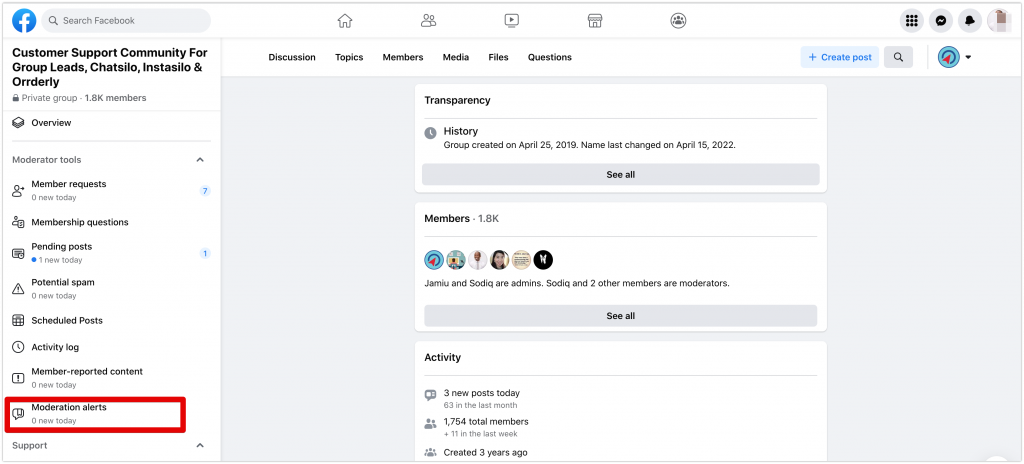 From the moderation alerts section, click on "Keyword" then on "Edit alerts." as shown below.

Next, click on "Create" as shown in the image below.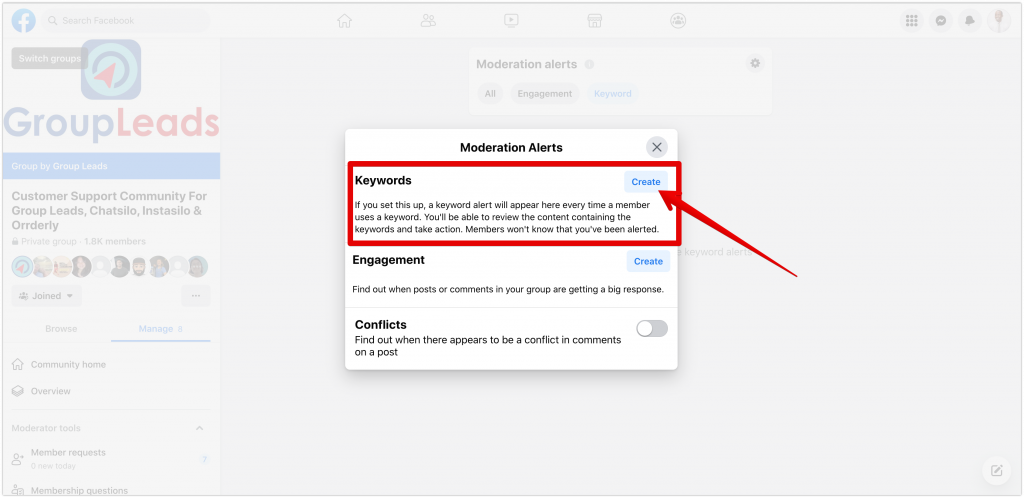 Now, type in the keywords for which you want Facebook to notify you, then click on "Add."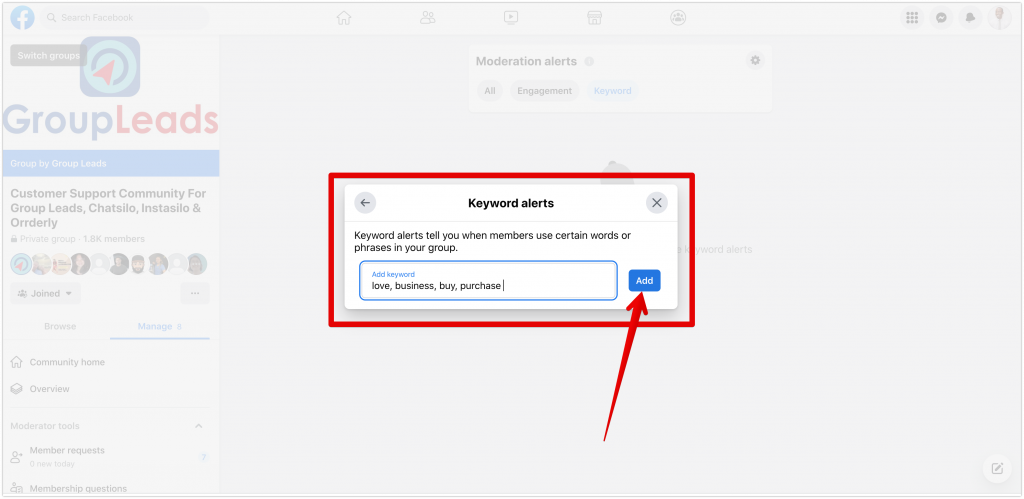 Once done, Facebook will notify you of the list of keywords you've added.
Note that these words could be negative words you don't want in the group or positive words that reflect your brand, name, etc.
How do you Monitor Facebook Group Keywords?
The Facebook group keyword alert is the most effective way to monitor group keywords. All you have to do is go to the admin tools section, then to the keyword alert section, and enter a list of keywords for which you want to receive notifications.
Then, be on the lookout for notifications so that you can act fast.
Final Thoughts
Unlike in the past, it's now more effective to function as a Facebook group manager. Without stress, you can easily monitor and engage with members of your Facebook group. Many thanks to the Facebook keyword alert feature.
Amazingly, there's no limit to the number of keywords you can add for monitoring. So, why shoot yourself with negligence when you can automate the most tedious part of your role?
As Facebook keyword alerts ease your life, so is Group Leads: a ​​Google Chrome extension that allows you to convert new Facebook Group Members into Leads & Paying Customers.