You had a great Facebook group.
Life happened, and it got abandoned for a while. And now you're looking for ways to revive a dead Facebook group.
Do not worry; it's not too late. In this article, we'll help you find out how to revive your Facebook group. A dead Facebook group can be revived, updated, and your involvement can be brought back to make it alive and thriving all over again.
Follow along to apply some specific strategies that will revive your Facebook group and engage your audience in your content. Let's dive in.
What is a "DEAD" Facebook Group?
A Facebook group that hasn't seen any activity in a while is considered dead. As a result of its existence, you could also term it a silent group.
Why does a Facebook group become dead?
When admins, moderators, and members stop posting in a Facebook group, the group may go quiet and die soon. Participants stop engaging when they feel they aren't benefiting from group interaction. In terms of metrics and KPIs, you'll notice complete stagnant zero engagement from everyone for quite a period of time.
16 Steps to Bring Your Dead Facebook Group to Life
Here are 16 strategies that you can choose to follow to bring your Facebook group to start up and thrive once again:
Plan your future course of action
You're giving the Facebook group another shot, so you'll want to add in a little solid ground planning before you start it up. For this reason, creating a plan for the Facebook group is essential. The first step of any plan is setting a goal. Answer the 'Why am I running this group? What do I hope to achieve in the end? How am I going to measure the success of this group?'.
Then, it's time to decide if you will continue the Facebook group in the same niche/direction or will you want to change it to a new one. Would you prefer to start over, deleting every member of the Facebook Group you now have since they are no longer your desired audience? Do you prefer to introduce the present Facebook Group members to your brand-new services? Spend some time formulating your future plan of action. Understanding the purpose and objectives of the Facebook group will help you market it effectively this time and maintain interest in it over the long term.
Read through all the previous posts of the group.
It makes sense logically. You will learn more about the group's history and be able to comprehend the kind of posts that have been made in the past. If any of these posts have generated engagement, you may determine whether it was satisfactory.
Now that you've seen such posts, you might want to remember that kind of stuff. Which post has the most engagement in the Facebook group? Was it a question, a video, or a picture? Observe it and include that format in your content plan.
We recommend spending at least 6 to 12 days (if your group has been around for a while) doing this since you won't be able to create a content strategy that provides the same value to the group's members unless you fully comprehend every aspect of the members and the value they received from the group through which types of content.
Think of your followers or members
Trying to think from the member's perspective. Most dead Facebook groups are a direct result of not thinking from your group member's point of view.
Why should people interact with your group if it doesn't provide value or provide them with what they want be involved in? So consider the following queries:
Who would be the best member or follower for me?
Why did they join my group, and what did they hope to gain?
What issue are they trying to resolve?
What sort of posts or ideas will assist them in fixing a particular issue?
And how can I approach this problem differently from other groups?
Reach out to the top contributors in the group
You'll find the most popular contributors as you carefully read through each group post. Reach out to them without hesitation because they are the ones who can provide you with a complete overview of the group, especially if an admin or moderator is not there.
Therefore, acquire answers to all of your inquiries and be sure to get the following ones:
Why did the group go quiet?
What kinds of postings does that individual enjoy reading?
Why did the individual enjoy being a member of the group?
How and what benefit did the admin/group provide to the group members?
Why was the group formed in the first place?
Continue the previous theme or re-align
You will undoubtedly see a pattern as you browse the group's earlier posts.
For example, it is an investment training group. You might note that statistics-based posts attracted the audience more.
Or there may already be a common topic, such as all of the posts made by moderators and members are related to investment tips.
You might want to keep with that subject and move on from there. Or you could decide to introduce something fresh, like posting and discussing both.
However, make sure all of your members agree. In essence, you have to strike a balance between the preferences of your community's members and your concept for it. When everyone benefits from the discussions in the group, you'll find it easier to revive a dead Facebook group.
Rebrand and Restart
It's finally time to generate buzz about your group in the feeds of the current members. Now that you are familiar with the group's history have chosen a theme, and have determined what group members enjoy the most, you can now start with a rebrand. After changing the group's cover image, begin posting valuable content that the members will enjoy. Your posts' design should be eye-catching and relevant. Posts that are designed with good aesthetics are instant-attention grabbers and often lead to more engagement.
Expecting users to engage with your first post after a long absence is impractical. They won't realize that the group is active again and establish a link with it for a few days and several postings. Remember that your posts might need to improve their life positively or help them achieve their goal since no other strategy will enable you to gain the community's trust. Your community is made up of the members and discussions in your Facebook group.
For example, you have a Restaurant Food Review Group where you and your members review new dishes and share their experiences at new restaurants in town. Please look at this; someone shares their experience with Kekou restaurant, which is newly opened and shares some mouthwatering pictures.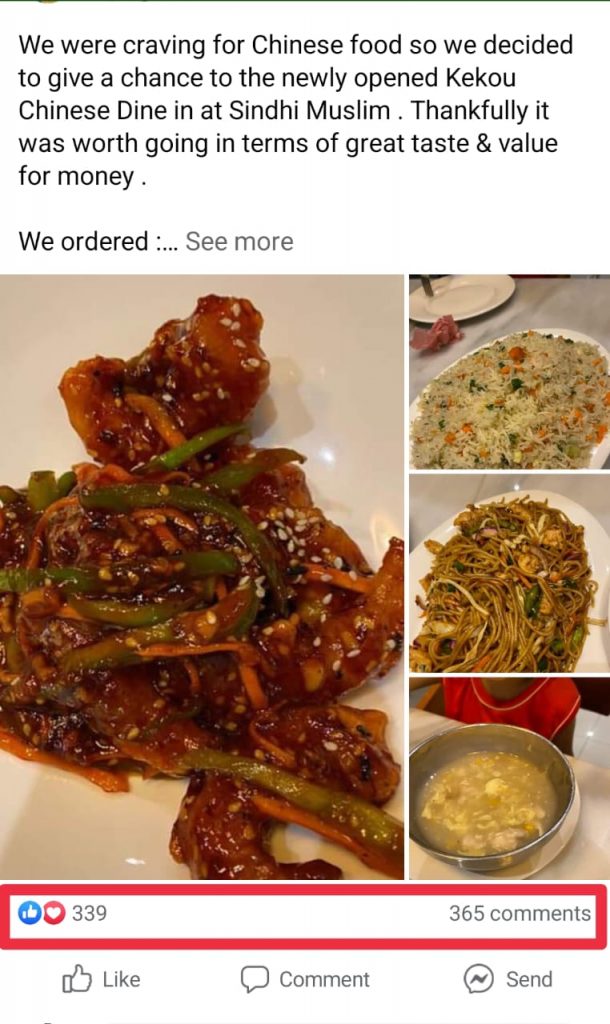 Who wouldn't want to stop scrolling when they saw this post in their feed? On the contrary if you were to just write long paragraphs of reviews of the same restaurants which only you visited and then persistently post to get members to buy coupons from you, you'll notice silence in the group with no sign of interaction. Members will interact with your content if it is unique and valuable to them. Additionally, by inviting your relevant friends, the group will assist you in getting the discussion going. Consider posting in many formats – gif posts, short video clips, podcasts, static posts, carousel posts etc. Check out what works and what doesn't with your group members. Do more of whatever gets you the most participation.
Announce the group's revival via a post on the Facebook group.
There's a decent probability that any Facebook group already has some members. These people visited your group years ago because they were attracted to the things you had to give. These people shouldn't be left behind. They might decide to read your blog for longer, offer suggestions in the Facebook group, and perhaps even buy something from you in the future. Posting in the group to announce the revival of the Facebook group is a great idea.
A few of the points you should address in your post to revive your dead Facebook group are as follows:
Inform them of your recent decision.
Explain your decision to quit publishing in the group to them.
When your niche is changing, let them know so they can decide whether they still want to be a part of this community or not.
Get advice by asking. Yes! Some of the best strategies to grow any Facebook group are to invite suggestions from the members. Let them choose how to move any Facebook group forward. Ask the participants what they hope this group will be like and what kinds of information they hope you will provide.
Form a connection again with your members
You may have noticed a few members commenting on each of your posts. Right on, then!
Now it's time to converse with them and get to know them. Include them in pertinent conversations and let them know you care about them and want to be of assistance because they are the individuals who will contribute to the advancement of your group.
Make sure they post in the group. React to their comments and postings. Make them feel valuable and unique by showing them appreciation. This is one of the best ways to bring life back to your earlier dead Facebook group.
Make sure your settings permit group members to post to it if you want to build a lively Facebook group. Click on Edit Group Preferences and scroll down until you find the option below to check or modify your settings.

If you'd like to control the direction of the conversations within the group or make sure only relevant posts are posted, you could select the option to approve member posts by the admin or a trusted moderator. In this way, your members get a chance to actively contribute to your group, increasing in value, while at the same time help you weed out irrelevant or spam posts.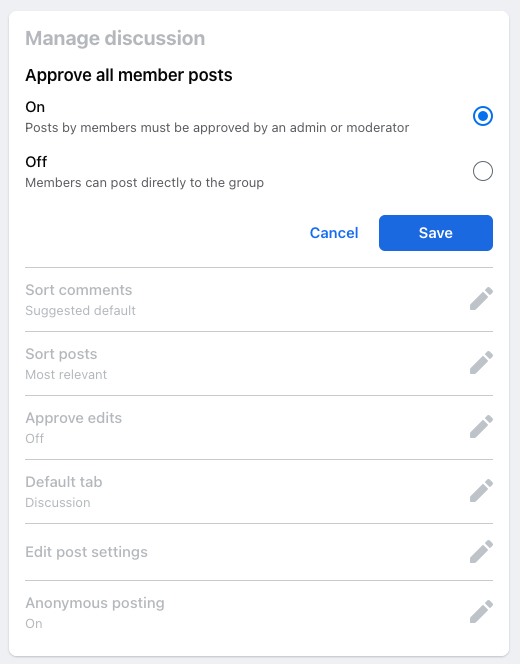 Promote popular posts
Promoting your most well-liked content is another approach to gain the most benefit from them.
Videos are excellent for this because they are Facebook's preferred content type, and Mark Zuckerberg himself predicted in 2016 that "in the next 5 years, Facebook will mostly be video content."
It will continue to be used since it is effective and a great approach to increase your audience's "know, like, and trust" factor.
Therefore, if you've already created videos, use them again!
Check-in regularly
If you don't seem interested in it, how can you expect your viewers and members to be involved in any Facebook group? Therefore, check in frequently and reply to postings and comments. To accomplish this without being distracted by Facebook and losing valuable time, schedule 5-minute check-in times throughout the day.
Add a Like box to your website.
Some of your most significant followers may not be aware that the Facebook group even exists, which could be the cause of its silence. Put a like box on your website homepage to fix this.
It will make it easier for individuals to find the Facebook group who already know about and enjoy your company.
Has someone from the Facebook group achieved great success? Or perhaps a client has left a recommendation or review on the Facebook page. In that case, include them in your newsletters.
Use Facebook insights
Investigating Facebook insights for the Facebook page is one approach to discovering some of the data mentioned above, as well as a ton more tactical information. You'll learn when your followers are online and what kinds of postings receive the most views, clicks, and comments. As a result, you can focus more on the things people like and less on the things they don't.
Filter out people
You may notice that some group members are silent observers after a month or two. Try to engage them directly, but if they've joined the group for no reason, think about excluding them from the group and filtering them out.
Remove any fake profiles or spam profiles as soon as you become aware of them.
Yes, it is a time-consuming process. However, there isn't another way to do that at the moment. If you're a one-man army, you can commit a few hours on various days to cleaning your group, or you can enlist the assistance of your moderators.
Add new members
It's the ideal time to bring some new life into your community because you're filtering out members. You can hold contests without inviting new participants for the same purpose.
This is a fantastic way to keep your members interested while expanding your guest list.
Additional ways to expand your group include:
Running a unique program with your group's most enthusiastic participants
Cooperate with other communities in your field
Never forget that it's all about giving your members value. As a result, your group will begin to expand, and members will become more engaged.
One Secret Tip – Group Leads
One of the easiest ways to keep up with your Facebook group is to automate repetitive and administrative tasks. In the earlier eras, you would hire people to do that. In today's world – technology and software have got your back! Look no further, for Group Leads is here to your rescue.
What is Group Leads?
Groups Leads is a management tool that allows you to run your Facebook Group on autopilot. Check it out for free here. With Group Leads, you can create marketing funnels, build your email list, spend less time duplicating, and earn more money from your Facebook group.
Some of the major time-saving and lead-generating features of Group Leads include:
Automatic group member approvals
Auto-decline message sending
Auto-decline spammy or irrelevant member requests
Auto-tagging new members in a post
Auto-messaging new members before approving into the group
Auto-tag group members to assist with segmenting
Triple save group member data
In short, running mundane tasks through smart solutions like Group Leads will help you revive your Facebook group faster than you could have done before. Some group admins have mentioned the need for less administrative/moderating responsibilities when using Group Leads.
Final Thoughts
These 16 strategies will get you started, but there are countless more you may try to revive your dead Facebook group.
Even if any Facebook group is now inactive, there's no need to worry. Start implementing these tactics now, and the Facebook group will undoubtedly transform.
As more individuals join your group, you'll notice it growing. Any messages or activities you conduct within the Facebook group will see active participation from them. And if you employ all the necessary steps, these individuals will certainly end up as your future customers.