Facebook group engagement features are evolving. Facebook now offers a feature that allows you to view the top contributors in your Facebook group, similar to how you can point out individuals who have made significant contributions to your life through thick and thin.
It is customary to send a message of gratitude to your helpers to appreciate their tremendous and selfless effort.
Correspondingly, Facebook included several insight features to assist Facebook group administrators in effectively managing their group, including identifying its top contributors. This is one of the elements that captivate your audience and possibly evoke emotion.
The reality is people feel loved when their efforts are recognized.
Therefore, include recognizing your group's top contributors in your engagement strategy calendar. You may choose to do it at the beginning of the month, weekly, or whenever is convenient.
There is a popular saying:
"Remember that a person's greatest emotional need is to feel appreciated. – H. Jackson Brown Junior"
Identifying the top contributors in your Facebook group will assist you in achieving the following:
Gain loyal members' trust.
Boost group engagement.
Gain an understanding of a specific demographic.
Conduct exhaustive market research.
Develop long-lasting relationships with members.
Identifying top contributors is one of the engagement strategies that can help you ignite the passion of your group members and reach a larger audience. Your group members will demonstrate greater responsibility and may refer others.
So, how do you implement your Facebook group interface to achieve this? That's precisely where this article comes in.
In this article, you will learn the simplest ways to see which members of your Facebook group contribute the most content and the benefits that this provides for your community.
Who are the Top Contributors in a Facebook Group?
Your Facebook group's top contributors are the members of the group who have the highest engagement metrics. They are also known as active members.
These users have racked up many likes, comments, and posts in the last 28 days. They also demonstrate a high level of interest, learning, and enthusiasm.
How to Find Top Contributors in Facebook Group on a Desktop / Laptop
Every Facebook group administrator must know how to identify the group's top contributors. You must acknowledge and appraise members who are enthusiastically driving group discussion.
If you're the administrator of a Facebook group and need to discover these active members on a laptop or desktop, here's how.
Log in to your Facebook using the appropriate username and password.
Open the group whose top contributors you wish to see.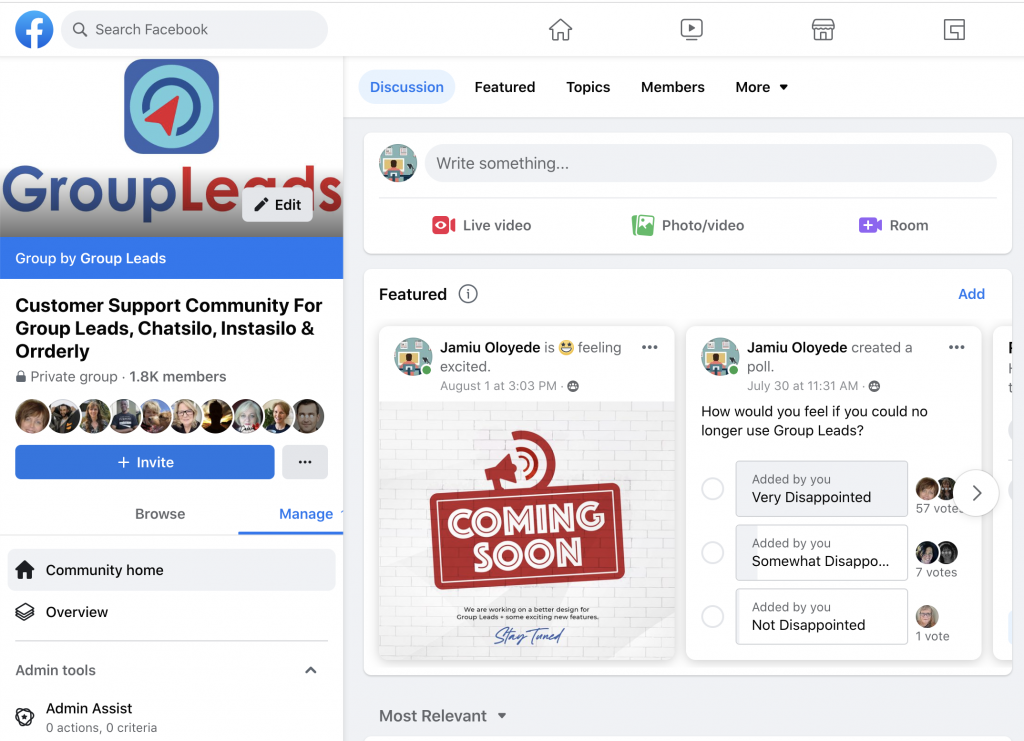 Under Insights in the list of Admin tools on the left in your group, select the 'Membership' option. You will then see a list of the top contributors to your Facebook group.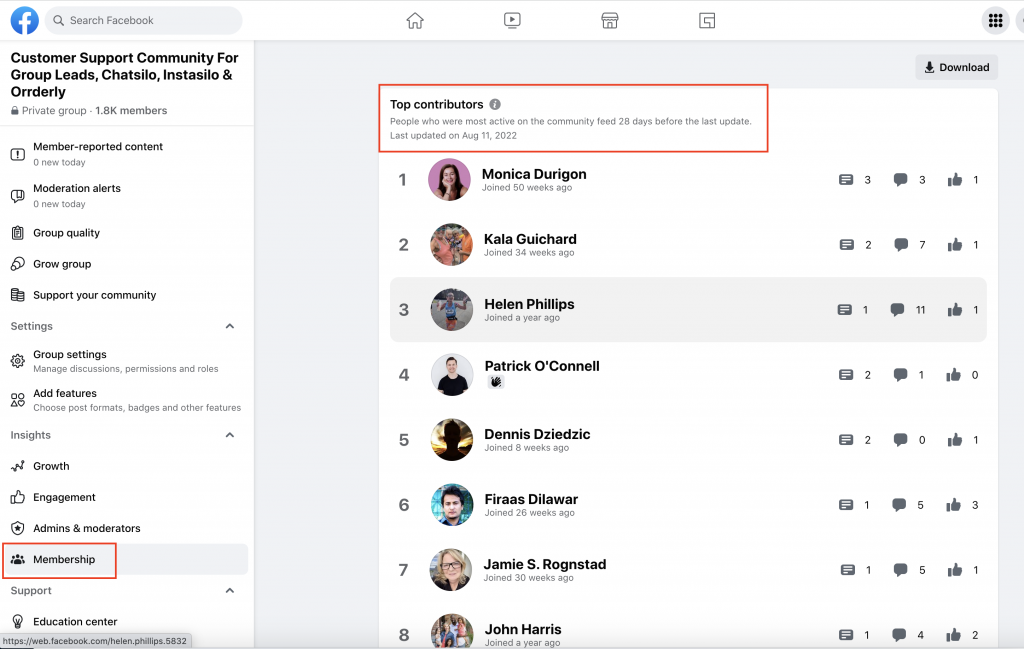 This list displays the top ten contributors to your Facebook group over the previous month.
As you scroll down the page, you can see the demographics such as gender, countries, and cities.
How to Find Top Contributors in Facebook Group on iPhone
User experiences and interfaces can vary significantly from one device to the next.
Therefore, if you manage your Facebook group using an iPhone and want to discover the most active contributors, you can follow the below steps.
Start by opening the Facebook app on your iPhone.
To access the menu, select the three horizontal lines at the bottom of the screen labeled "Menu."
You will see an interface. Then select "Groups" from the menu.
You can select a group from the ones suggested to you or click the link that says "Your groups" in the session titled "groups you manage."
Click the "Manage" button next to the invite tab.
Select "Growth" from the drop-down menu of Admin tools located under tool shortcuts.
You can now see a list of the members of your Facebook group who have contributed the most by selecting the 'Membership' option.
How can I know who is active in my Facebook Group?
Thanks to Facebook's in-depth analysis tools. It is now easy to determine which Facebook group members are active.
You can view your group's activities analytics if you have more than 250 members.
You can access the Group Insights from the group's sidebar on the left.
You can drill down to the engagement insights to view the number of active members in your group, the most popular days of the week, and times of day for group visits and participation.
Additionally, you can use "Member Details" to view the group participation of subscribers. Click "Member Details" to see which members in your group are the most active based on the number of new posts and comments they've made.
You can also view their demographics. This allows you to determine which Facebook group members are active.
What do active members mean in Facebook Group?
Facebook group members are considered active if they have viewed the group's content or news feed, posted to the group, commented, or reacted in some other way to the content.
These are the members of the group who consistently engage with your posts.
Conclusion
Making the active members of your group feel valued doesn't require additional resources. Facebook's fantastic insight features have made group management easy and stress-free.
It's now up to you to show appreciation and recognition to the active members of your Facebook group. You can design their images or make a quick video to show your gratitude and post it in the group. A few days later, you'll be shocked by the growth and engagement level of your Facebook group.
Inactive members may become inspired, eventually boosting your group's engagement levels.
And if you need to convert your new Facebook Group Members into Leads & Paying Customers, Group Leads allows you to create Facebook Group Funnels in Minutes.
Try GroupLeads for FREE.