Have you ever wondered how to add a donate button in Facebook groups?
Do you want to get more members to your community? Donate button helps.
Having a donate button in your Facebook Group is a good idea. A donate button will help you improve your campaign's response rate and increase donations.
Suppose you want to build a Facebook group and need donations to help you. Moreover, if you are struggling to add a donate button to your Facebook group, read this article until the end.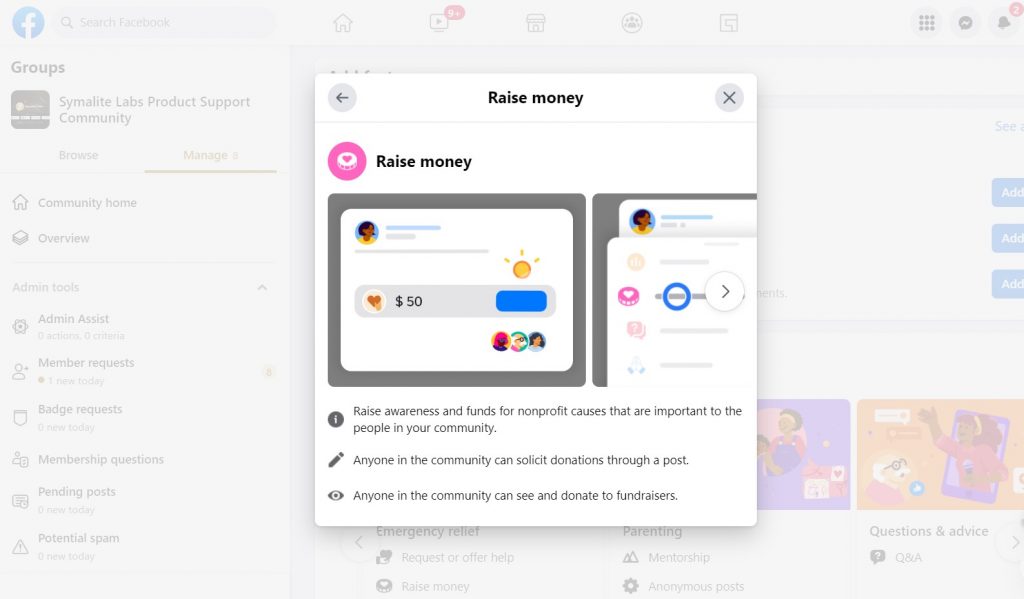 Why Should You Add a Donate Button on Facebook?
When you create a Facebook group, you are given the option to add a donate button. This may be something that seems unnecessary or random.
The real question is, why would someone add a donate button to their group? Here are the top 5 reasons why you should add a donate button to your Facebook groups:
1. You Can Get More Donors
When you have a charity page, the convenience of a donate button will help you get more donors. You don't need to spend money on any software or anything else; add a one-click donation button and start getting donations from your fans.
2. It's Simple and Easy To Use
Additionally, setting up the donate button doesn't take long; you need to visit our website and add our script to your Facebook page. It's really simple!
3. You Can Choose How Much Money You Want To Collect Per Click
Moreover, the best thing about our donation system is allowing users to choose how much money they want to collect per click.
Users can also set up the custom amount of donation they want from each person who clicks on their button. They can do it easily without difficulties if they want to collect $10 per click!
4. It's A Great Way to Get Your Cause Out There
In addition, you can post about your nonprofit on your Facebook page, but you'll reach even more people if you add a donate button that takes people directly to your donation page. People who want to donate will see this right away — and they'll be able to do so quickly and easily.
5. You Can See the Impact of Your Donations
One of the best things about having a donate button on Facebook is that you can track how much money is coming in from each donation source.
This will help you understand where donors are coming from so that you can focus on those areas moving forward (like social media).
6. It's Fun!
Donating online is easy — especially when you don't have to fill out forms or write checks!
Where Can You Add the Donate Button on Facebook?
Facebook has a lot of places where you can add a Donate button, and it's constantly changing. Here is an up-to-date list of places where you can add a Donate button on Facebook:
1. In The Status Section of Your Profile
You can add a donate button in the status section of your profile below the information about you. If someone clicks the donate button, they'll be taken to your charity's donation page.
This is great for fundraising through Facebook, but it doesn't allow people to give from their phones or tablets.
2. In Your Event Description
If you're holding an event on Facebook, you can add a donate button to that event page!
This way, people can donate even if they aren't attending your event in person (which is especially helpful for people who live far away and don't want to travel).
Again, this feature is only available for events held on Facebook, not external websites or apps like Eventbrite or Meetup.
3. Asking People to Donate as They Checkout
This option works well if you're selling something and donating part of the profits (like a T-shirt sale).
People are already in the "shopping" mindset, so they might be more likely to contribute than if you ask for donations on your page.
4. Directly On Your Page Header
You can place your donate button directly on the header at the top of your page so that it's easy for visitors to spot when they first arrive at your page.
This is a popular option for nonprofits who have specific donation campaigns going on at any given time.
5. In a Pinned Post at the Top of Your Page (Or Sidebar)
Using a pinned post is best if you're running an ongoing fundraiser or need donations from supporters. Since it will always remain at the top of their news feeds even when other posts are shared more frequently than yours (which means they
How to Add a Donate Button in Facebook Groups
Donate buttons are a great way to get people to support your cause. They can work in Facebook Groups and on your website or blog.
Here are the top 5 steps to add a donate button to a Facebook group:
1. Create a Facebook page for your group.
2. Create a Facebook ad.
3. Set up a donation goal on your website or app.
4. Share the link of your donation page in the group description or pinned post, and ask members to click the link and donate.
5. Track the performance of your ad with Facebook Ads Manager.
Final Thoughts
As you know, the donate button is an effective way to get people to help with your cause and make a contribution.
If you have a Facebook group, the above-stated steps have taught you how to add a donate button in Facebook groups.
And remember, with Facebook groups, there are other ways to generate support and raise funds, much of which can be done without leaving the comfort of Facebook.
Keep in mind that this is just one example. A donate button can be implemented differently on different Facebook pages and groups.
However, the general idea remains the same— a person will get redirected to an E-commerce site. This way, they can purchase a product or service that they like.
Finally, this step-by-step guide will teach you how to add a donate button on Facebook Groups. And the best thing about it is that it will cost you nothing.
If you need extra help generating leads from your Facebook group, check out Group Leads. You can automatically collect email addresses from new member requests. With that, you can nurture your leads both inside your group and through your email nurturing sequence.