Facebook group is a community of like-minded people that share valuable tips. For instance, a Facebook group for doctors can share the medical profession's policies and practices.
As a Facebook group creator, you decide to delete the group due to some reasons. Maybe the members breach the rules, and you want to pull down the group.
Facebook doesn't have the feature to remove and delete group members all at once. All it has is to delete members one after the other, and this manual process can be daunting, particularly with over a hundred members in the group.
So, how would you achieve this in the absence of the right feature?
In this post, I will share how to delete all members from the Facebook group at once.
But first, why should you dump your painstaking efforts of creating the group in the first place?
You should:
Consider these options before you delete your Facebook group.
Not all situations work as planned. Your Facebook group members disappoint you and want to get rid of the group. Why not think about how you can leverage the hard-earned members for another growth.
Because once you delete the Facebook page, it's gone for good -all the members, content, and threads. And nothing can be done to revive the Facebook group afterward.
Re-brand the Group.
Change the corporate image of the group.
A re-brand could fix the problem. Change the group name, logo, symbol, motto, add the new brand to your cover images, and link it to a new Facebook page.
Carefully craft a post for the group, telling members the purpose of the rebrand and how it can be helpful for them.
The target audience might be different. It doesn't matter. What's important is that you're able to communicate your vision to your members, and they can choose to leave the group or not.
You can also ask them to invite people they think will be fit for your new vision. That way – you don't lose them altogether.
Change the Administration
The fault in your group could be a result of leadership – admins and moderators.
You don't soil the fantastic relationship that the group breeds, appoint a new admin to oversee activities, and coordinate support. Look for active members in the group who might want to take on the role.
Because communication is key, ensure that you communicate the change of leadership to the members. This will help them have a feeling of the new dawn.
Archive Your Group
Deleting your group is irreversible.
Archiving it is reversible.
If you're hurt and think deleting the group is the option. Why not take a chill and archive it instead? Maybe after a rethink, you might have another good to do with the group.
Archived groups remain as is, with all the content, photos, and threads. And it will still be visible for members to read. Though non-members will not find it in search results, and they won't be able to join it but it's there in the archive.
The admins can still block and delete people and threads, but the group descriptions will be unchangeable.
Since archiving is reversible. And you wake up someday to un-archive the group. It's all yours. Do it, and it will return to active use.
This is a better option than deleting a group.
It hurts no one, not your members, not you.
It would just seem that you are on vacation or on a project that doesn't allow time for the group.
Delete Your Facebook Group
What's your decision now?
Do you still want to delete the group?
If yes, that may be the right choice anyway.
However, you should know that deleting a group is permanent. You'll lose all the content, and threads and there is no going back.
What to do before you delete your Facebook group
Before you hit the delete button, inform your group members about your decision. These people contributed and helped in the growth of the community. They also have nurtured connections and relationships over time. It's fair to inform them, so they just don't find themselves out.
Also, tell them when you'll delete the group and suggest other groups they could join. Advise that they download the valuable content they've shared if they wish. And they can send a Facebook request to friends they've met in the group.
How to delete your Facebook group members at once
1. First of all, open that Facebook group that you want to delete.
2. Then click on the members' tab from the navigation.
3. All group lists will be visible. Now right-click anywhere and click on the Inspect element or press the F12 button from the keyboard.
4. Now Copy every code given in the below script:
[button color="" size="" type="square" target="_blank" link="https://docs.google.com/document/d/1bEaniniqqgCPM-nUXGzW4YIUdu8DEU6I4uZbqPMoeUY/edit?usp=sharing"]Get Script[/button]
5. After that, switch to the console tab and paste the copied script, and press enter.
Congratulations. You've successfully deleted your Facebook group. At once.
However, this approach might be nerve-wracking for you if you're not a techie. That's why I'm showing you another angle to this.
Read on!
Delete all members from a Facebook group at once using Chrome Extension.
Remove members from group for Facebook™
This Chrome extension for Facebook Group automatically removes users from your Facebook group in one click.
Instead of using the laborious process of removing members one after the other which takes a lot of hours. The tool does it once.
Using Google, search for the "Remove members from group for Facebook" chrome extension.  And click on the first search results.
Then, click "Add to Chrome."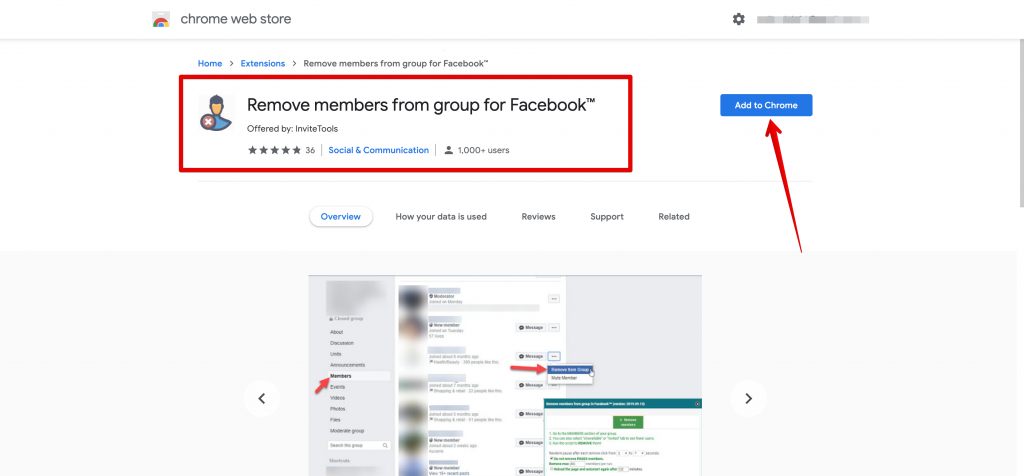 How to Delete All Members from a Facebook Group at Once
1. Head over to your group, and go to the "Members" section.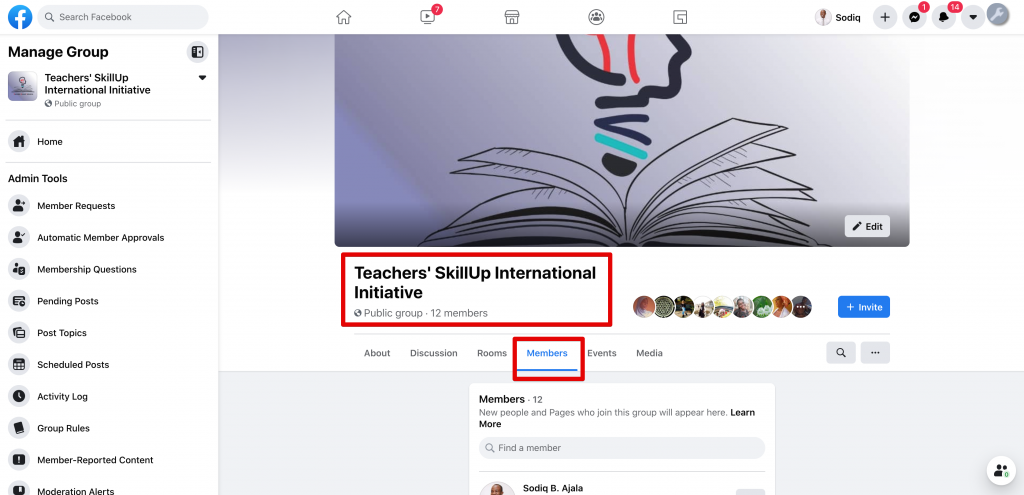 2. Now click on the "Remove members from group for Facebook" chrome extension icon labeled 1 in the screenshot below.
Then select the number of members you want it to remove per run (see label 2). Then, click on the part labeled 3, to remove members.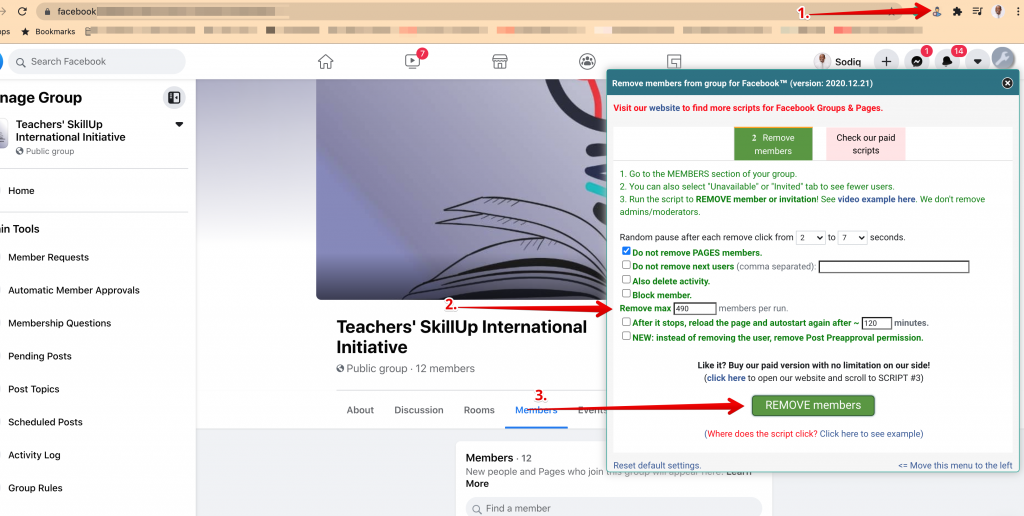 The tool will automatically click on every member, and it will remove, confirm, and scroll and scroll to the next member.
You can select timeout, scrolls, and you can ignore top users.
Tool for groups (1 month) for Facebook™
Another similar tool is the "Tools for groups" for the Facebook Chrome extension. This chrome extension allows you to remove members from your Facebook group.
It also allows you to send reminders to users invited to your group but didn't accept the invitation. It approves or declines all posts in a group, amongst other tasks.
Final thoughts
Deleting your Facebook group shouldn't be. But if it's necessary, this article will help you remove all members from your Facebook group at once.
Suppose this decision is related to making money from your Facebook group or automating the activities so that you can focus on the crucial aspects of your life. In that case, you will be glad to check out Group Leads.
This tool instantly converts new Facebook group members into leads in your favorite email marketing software. That way, you can nurture and sell to them without wasting time and money.
Sign up for a 7-day free trial to leverage the untapped potential on your Facebook group.