You've made a Facebook group for your product, service, interest, or just something you care about.
You need help in making it popular?
We're here to make your Facebook group bloom like the spring!
Like all great things achieved, a Facebook group becomes popular with must-do tips and strategies. Read on as we lay out the steps you can follow to have 1,000s of members in no time.
Why Have a Popular Facebook Group?
When you have created a Facebook group for any reason other than hanging out with close friends, you'll want your group to have as much popularity as possible.
Here's how having a popular group will help you:
You'll connect with your niche/industry-specific people.
You'll have a free to manage and active community of your target audience
You can grow your email list with members in your group
You'll have control and authority over your brand.
You can easily conduct market research on any topic within your niche
Your Facebook group can end up making money for you!
In short, Facebook groups have the power to bring in massive value to your brand. You can keep your community strong, engaged, active and alive at the same time having complete control over the content and direction.
Strategies To Make Your Facebook Group Popular
A popular Facebook group doesn't necessarily have a large member following. The most important thing about a popular group is having an active community of members engaging in the niche-related content regularly.
Here are some proven strategies that have helped numerous Facebook groups go from 10 to 1,000+ members really quickly, as well as having an engaged community.
Create a voice for your group
Creating a voice means having a proper goal for your group in place. Selecting a creative name for your group is the first and most important step. Then you'll have to identify who should be your target audience.
You can then create 3 questions for members to join your group. This will help you filter out non-niche members.
You can also create an infographic or free licensed picture for your cover photo. This should be related to the theme and goal of your group.
Create a customized, easy-to-remember URL
A very smart tip to help your Facebook group grow easily is by customizing its URL.
From the group settings option, if you click on 'Web Address', you'll be able to change the URL of your group.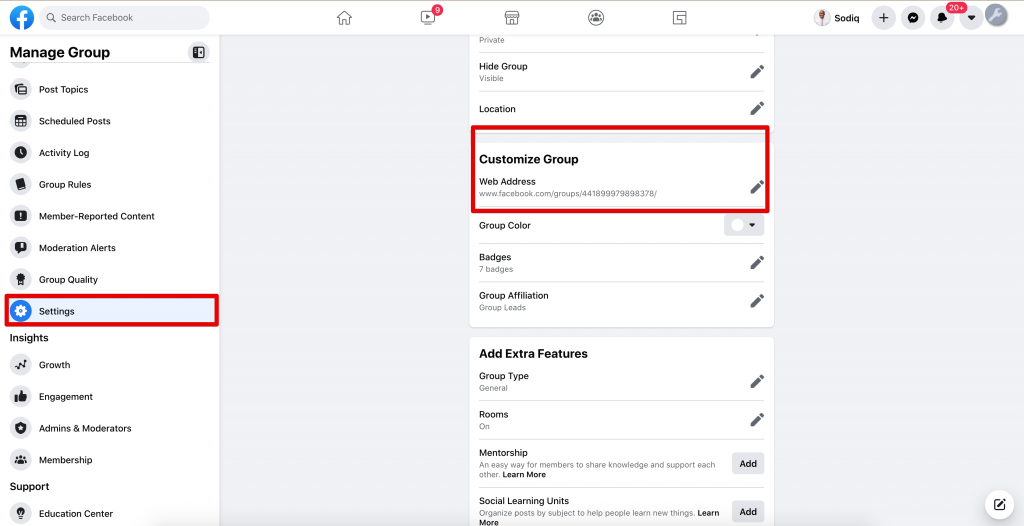 How does this help?
Well, let's say your group is about DIY sweater knitting. If the URL of your Facebook group ends with groups/DIY-sweater-knitting, then, your Facebook group will turn up higher in google search results and Facebook group searches.
Link your Facebook page with your group
This is an awesome way to persuade all of your page followers to join your 'exclusive' community in the group. When you link and promote your group on your page, you are creating authority in your niche and your followers will be enthralled to join.
The key goal behind linking them is in the difference between a page and a group. Facebook Pages are designed as an official presence of a person, brand or business. Facebook pages are always Public by default.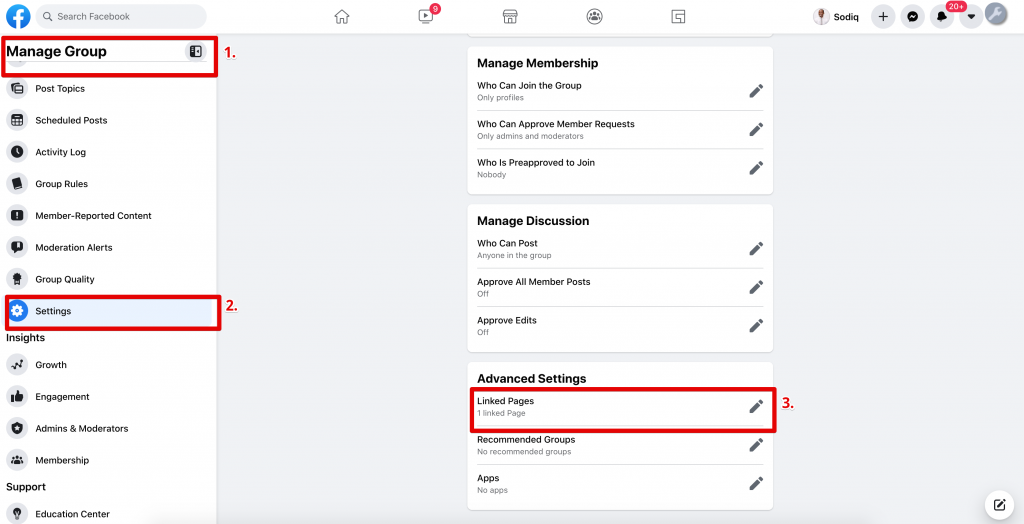 Facebook groups, on the other hand, are designed to foster communities for engaging in shared interests, whether for business or causes.
Promote your Facebook group on existing platforms
If you've been on multiple social media platforms and have the following built-in already, then this can help you grow your Facebook group easily.
Sites like Zoho Social help you to keep all of your data analysis and social platform posting in one place. You can use this site to create a message for your existing followers to join your Facebook group in one customized go.
Your personal Facebook profile friends, Twitter, your Youtube vlogs and videos, Pinterest pins, podcasts, etc serve as excellent platforms to quickly grow your group membership.
You could also add in a link for your Facebook group in your social media bio section.
Create engaging and scheduled Content
One of the most important steps after building your group is creating engaging content. The content of your posts could be something your reader has never read before in such a perspective and at the same time relate to it in some way.
Your content should genuinely be adding value to your readers' life in your niche. It should raise their eyebrows and interest enough to respond consistently with your posts.
People like routine. They like knowing when to expect what. It takes a few extra minutes initially to set into this routine. But once you figure out a scheduled theme of posts each week at the beginning of the month, you'll be able to craft target audience-optimized posts.
Adding in challenges, hashtags, polls, reviews, quizzes, Q&A's or daily theme prompts, into the mix of your content related to a topic each week will ramp up member engagement.
Place FB group link in your Email signature
You'll be sending out emails to numerous people. They may not know you on the Facebook platform as friends. However, they might be interested in joining a community such as your group!
From the settings of your email provider, add a signature to all the emails that you send out. In the signature, you can add a link to your Facebook group.
You can use a phrase like, "Join my free group where you can get lots of Financial tips and secrets". Then you can link this phrase to your Facebook group. In this way, every email that you send out could reach a potential member for your group!
Promote your group on your site or blog
If you have a website for your business, brand, or otherwise, it is an amazing opportunity for you to add a button to allow your site visitors to join your group. Group Promoter is one such useful tool that will help you easily set up a button on your WordPress site.
This tool has an easy-to-set-up process and can be quickly up and running. You can add the join group button on the top of your site, end of each post, and bio as a plugin or even as a widget on the sidebar.
This will also help you to quickly catapult the popularity of your Facebook group by adding up regular readers and even new visitors of your website or blog.
As a bonus, you might even end up getting more traffic and readership on your site or blog!
Link your group to a Thank you page, List or Product
When people purchase your service or product, you may have a Thank you page or email. If they love your content or product, your customers/users will be whole-heartedly interested in personally interacting with your brand.
They'll offer valuable insights, reviews and discussion within your Facebook group. This will help your group to remain active and engaged, bringing in more members via word of mouth from your loyal users.
Use a CTA on your published content
Do you make Youtube videos or vlogs? This is one more awesome way to make your Facebook group popular. At the beginning or at the end of your video you could mention and add a link to your Facebook group.
Youtube also has a description box beneath the video. This is another place where you could add a descriptive copy about your group and add a link to it.
Adding a pinned first comment with a link to your group will also help to easily bring it to your viewer's attention. This will also easily multiply your group popularity and membership, especially if you make videos in the same niche.
If you create podcasts, webinars, tutorials and other similar content, you will be able to grow your group easily by adding in a link.
Inviting Email subscribers to join your Fb Group.
Another super strategy to make your Facebook group popular is by inviting your email subscribers to join your group.
Each time a new subscriber joins your email list, you'll be sending out an email to welcome them. It is right here where you can add a link and write a lucrative description for them to join your Facebook group.
Facebook groups are powerful tools to grow your email lists and grow your groups with existing subscribers. By using tools such as Group Leads (you can join for free), you'll be able to grow your email list from members of your FB group.
Final Thoughts
Facebook groups have the power to channel your authority on a subject, enthrall an engaged membership, discover clients, customers, users and your loyal brand carriers.
If you take each step into running your Facebook group strategy, then you will find your group emerging as what Mark Zuckerberg calls — "Very Meaningful Communities".
With a wide array of tools readily available to help and guide you on each step, we believe you can make your Facebook group super popular.