Facebook groups were once the simplest way to create and engage an online community, so it's understandable if you want to host your community there.
However, times have changed. Constant algorithm changes, numerous distractions, spammy content, trolls, no monetization options, and the growing lack of trust in Facebook due to data scandals such as with Cambridge Analytica have made it much more difficult to build a buzzing community.
Why Use a Facebook Group Alternative
While most people are on Facebook, this platform also comes with disadvantages.
1. You Are Unable To Contact Your Members
You only reach 1%-5% of your members or followers with each post in a Facebook group. That should irritate you as a creator.
People join your group to take advantage of its benefits, and you can't even reach them—even if you're the admin.
2. You Are Unable To Monetize
So you'd like to start a community. What if you want to get paid for your time and effort? What if you want to teach a class to your group's members?
Unfortunately, there aren't many monetization options for Facebook groups. You cannot, therefore, use a Facebook group to run a paid membership site or sell online courses.
Facebook is great at convincing you, the creator, to spend money on advertising, but they don't have much to offer in terms of being compensated for your efforts.
People are willing to pay for a place where they can change their lives or learn something new. However, Facebook does not permit this.
3. You Can Not Change Anything
Facebook groups are simple to create. However, one of the reasons they're so simple is that your group will always have Facebook's branding. You can only customize the group banner, color, and URL extension.
You won't be able to build your brand on Facebook, whether you're an entrepreneur, a company, a creator, or a passionate host who wants to bring people together. You'll be constructing theirs.
The best alternatives to Facebook groups provide a beautiful framework for building and personalizing the community space.
4. Subgroups Can Not Be Added
A large group can be influential, but let's be honest. Sometimes the real magic happens in the small, more intimate groups. Deep connections are frequently formed in this setting.
This is also not permitted in Facebook groups. However, some of the alternatives do! Facebook, for example, would not work if you wanted to host a paid "mastermind" group for different members of your existing group. However, some of these would!
5. You Have No Power
The-mai Baumann, who lives in Australia, was surprised when her Instagram account was deactivated recently, potentially costing her thousands of followers. It was disabled five days after Facebook announced its name change, and it was only restored after the media requested a comment from Meta (Facebook).
You do not own a platform when you build on it. You are constantly at the mercy of others. This is referred to as "digital sharecropping" by some digital marketers.
If you build a community through a Facebook group, you are giving Facebook complete control. Consider this: with a Facebook group, your community will always be governed by what Facebook deems appropriate, and they have the authority to shut you down at any time.
6. People Avoid Facebook
With the recent revelations of Facebook data being used in political disinformation campaigns in both the United States and the United Kingdom, In the United Kingdom, the platform is viewed with skepticism. People are boycotting it outright in increasing numbers. And, of course, you don't want to build a community on a platform that some members will refuse to join.
7. You're Competing For Attention
As previously stated, the traffic on your Facebook page is an avalanche of things competing for your attention, mixed in with as many ads as they can show you before you get tired and go elsewhere (seriously). It's not a place where you'll be able to gain your members' attention and engagement effectively.
What To Expect From A Facebook Group Replacement Platform
With the many alternative community platforms available, how do you determine which option is the best?
To begin, the best alternative to Facebook groups should do what Facebook does well while improving on what it does not. Based on the preceding points, here are some things to look for:
1. Is It Customizable?
As mentioned above, Facebook doesn't allow for true brand customization unless adding a custom header image counts. Wouldn't it be great if a community platform allowed you to create your brand instead of relying on someone else's? What if you could get the look and feel you wanted?
2. Is There An App For It?
Let's be real. We shouldn't even consider a community platform that isn't accessible to your members' devices. American adults spend 4 hours per day on their cell phones, and mobile use has increased by 460% between 2011 and 2021.
3. Can I Make Money Off Of It?
We touched on this earlier, but it's truly inequitable that large social media platforms gladly accept all of your hard work creating content and then give you nothing in return. One of the most important aspects of a Facebook group alternative is the ability to monetize it if desired.
4. Can It Grow Alongside My Community?
When your Facebook community has ten members, you gain access to features. If you have a membership of 10,000 people? The same characteristics.
Scalability and growth adaptation aren't a thing with Facebook groups. There are few options for an organization to keep everything and everyone straight.
5. Will My Members Appreciate It?
Will my colleagues appreciate it? You should make sure your Facebook group replacement is well-known and well-reviewed. There's no perfect alternative, but it should give you and your members more than a Facebook group. For example, you should be able to host virtual events, sell online courses, form mastermind groups, and monetize your community.
6. Does It Take The Place Of All Facebook Features?
Finally, your Facebook substitute should be able to replicate what Facebook does well. For example, the ability to live stream if desired or schedule posts should be built in. Switching to a substitute that only provides half the functionality is pointless.
13 Best Facebook Group Alternatives
1. GroupApp
GroupApp is a Facebook group alternative platform that can assist you in creating an online community over which you have complete control. With that, you can bring together people interested in your cause. You can also sell courses and membership subscriptions on GroupApp as well.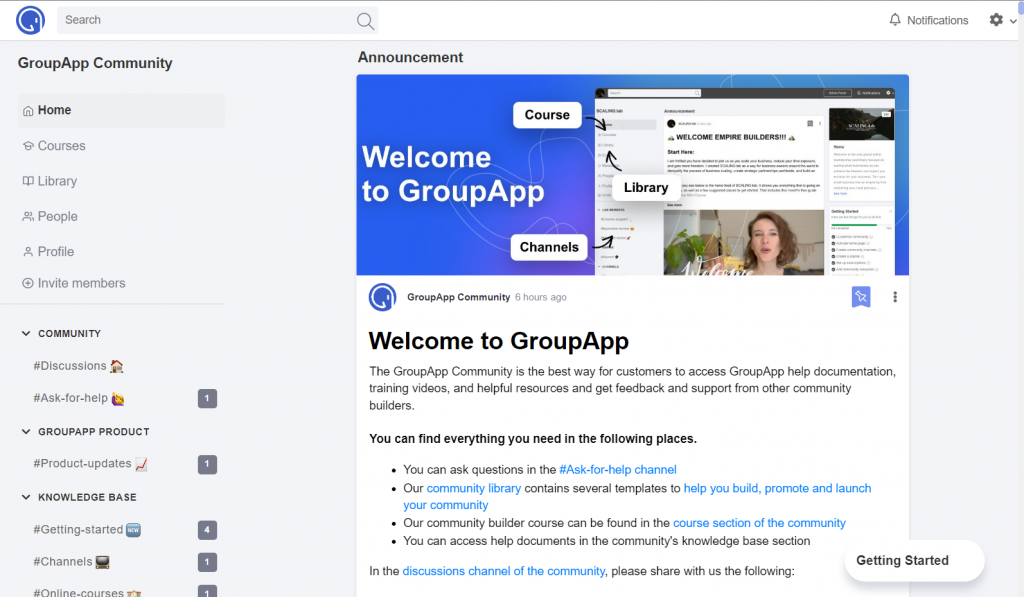 Pros of GroupApp
GroupApp provides the same tools and a few extras, such as drip course lessons, moderation tools, and teammates.
GroupApp would be a better option for course creators. GroupApp is a cohort learning platform, which means that the emphasis is on both online courses and the community.
GroupApp provides the same features (plus a few extras) as Circle.so but at a lower cost.
Cons of GroupApp
Not suitable for small businesses or entrepreneurs.
There is no built-in messaging functionality.
There is no way to create paid membership plans through the platform (a third-party tool is required).
Pricing
There are four GroupApp tiers:
Free,
Basic ($39 user/month),
Pro ($99 creators & businesses/month), and
Premium plan ($499 brand/month).
2. WhatsApp Communities
Create an online community in which you have complete control. Bring together your people and your content. Courses and membership subscriptions can be sold.
Whatsapp Communities is an alternative to Facebook groups. Whatsapp communities allow users to organize and bring related groups together under one umbrella. Community administrators can send announcements to members with important updates, and members can stay connected by exploring and chatting in groups that interest them.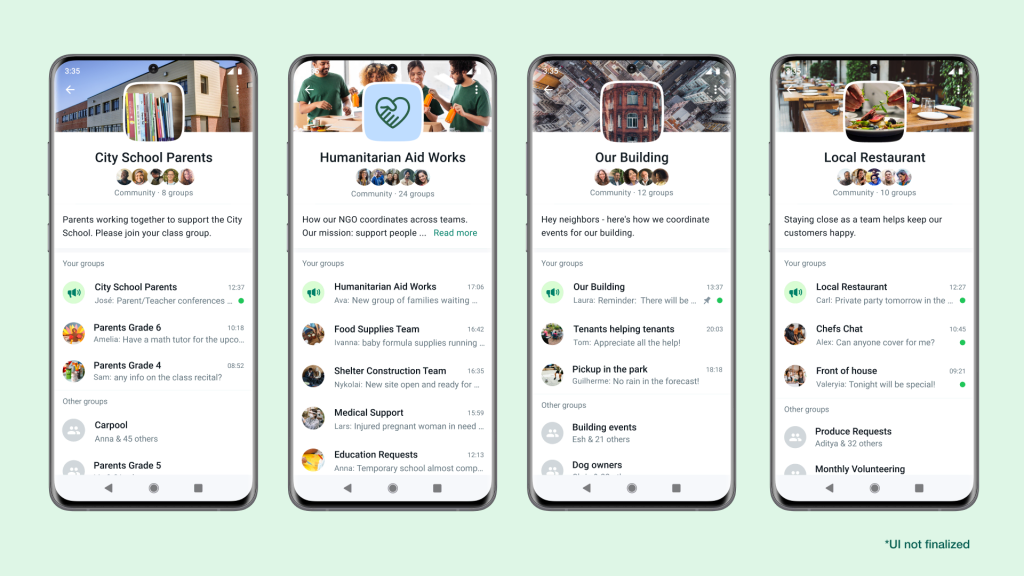 Pros of WhatsApp Communities
1. Help to reach the client
When starting a business, Whatsapp groups are essential. You can use a group to reach out to clients or a specific market.
When starting a business and wishing to use Whatsapp, creating a Whatsapp group is critical.
You can reach out to 257 people at once with a group rather than going through each contact individually.
2. News as it happens.
Most group chats have that one participant who always has the most up-to-date information. If you enjoy staying on top of things, gossiping, and so on, a Whatsapp group chat is a great way to do so.
3. Excellent times.
Groups can help bring back happy memories and take you down memory lane. You can form a high school reunion group and reminisce about the good old days.
Cons of WhatsApp Communities
1. Obtaining access to information that you do not want to know.
Many uninvited group chats force you to learn things you don't want to learn, see things you don't want to see and read messages you don't want to read.
2. Inadequate privacy.
Even if you leave a Whatsapp group, every participant can access your phone number easily. Some people will come to your inbox and just want to chat with you and ask you silly questions. Having a stranger text, you are a total turn-off.
3. It takes time.
It takes time because there are so many messages to read, and people are still texting while you try to figure out what's going on.
Pricing
WhatsApp communities are free of charge.
3. Slack
Slack, a business productivity tool for work teams, is the most common Facebook Groups alternative that has emerged in the last five years.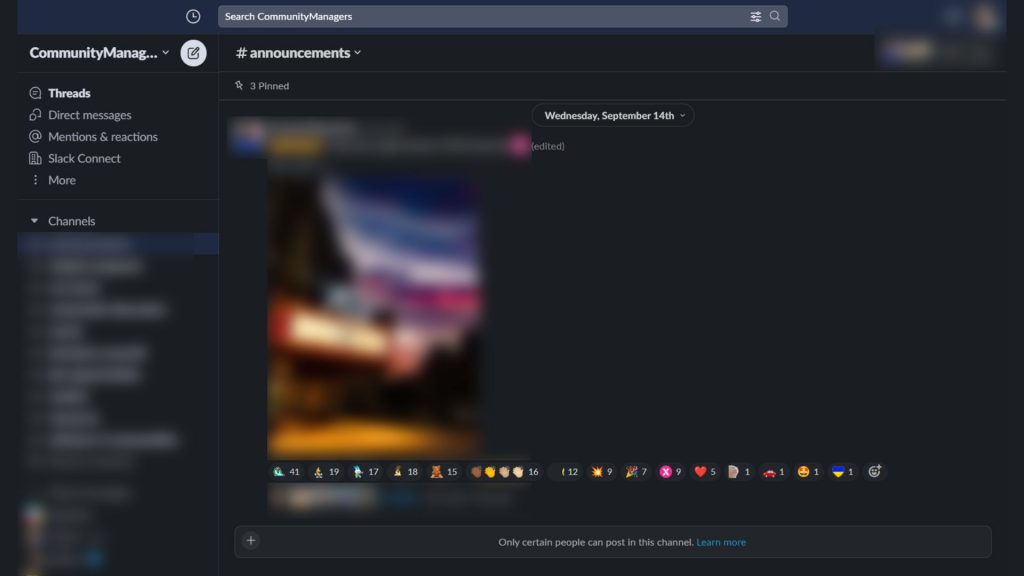 Pros of Slack
People are frequently at ease with Slack because they use it at work.
Slack is instantly accessible via web and mobile apps.
Slack is ideal for small groups of people who already know each other.
Cons of Slack
Slack cannot be branded as your own.
Slack does not have any direct monetization features.
Slack does not offer any online courses or sub-groups. You will have to host your course content elsewhere.
It is not intended to introduce strangers to each other.
It charges per member, which can quickly add up.
A Slack team has worked well as a Facebook Group substitute, but newer options quickly reveal where Slack falls short.
Pricing
There are four Slack tiers:
Free,
Pro ($8 user/month),
Business+ ($15 user/month), and
Enterprise plan (you will have to contact their sales team to find out more).
4. Kajabi Community
Kajabi is a Facebook group alternative that has become a household name among creators and entrepreneurs looking to launch digital businesses. The Kajabi platform enables you to deliver excellent online courses and includes robust tools and features for monetizing and marketing your content.
Kajabi's community feature allows you to include a discussion forum in your courses. With its many integrations and monetization feature, Kajabi Community could be an excellent substitute for a Facebook Group.
Click here for a more extensive review on Kajabi communities.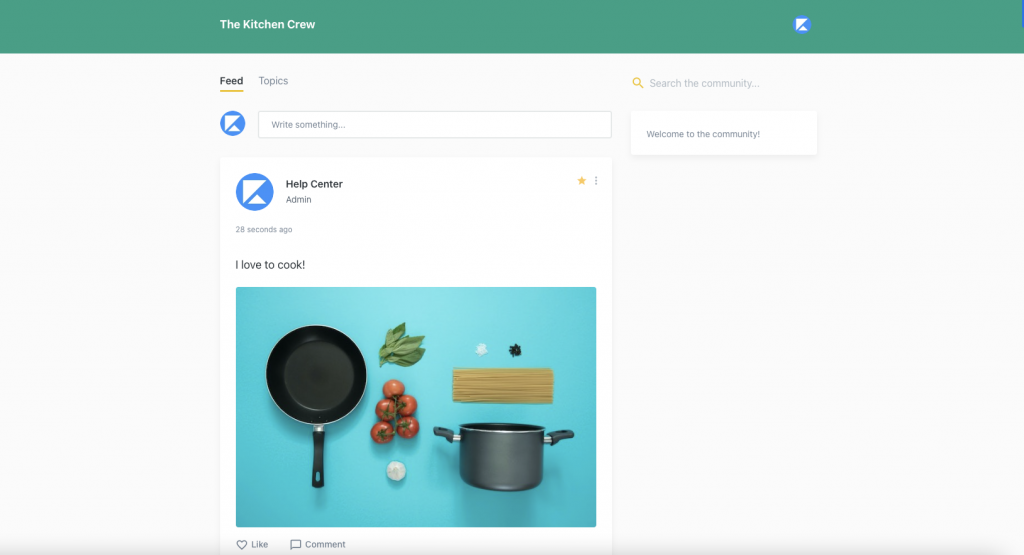 Pros of Kajabi Community
Highly adaptable to your branding.
You can make discussion posts that include their comment feeds.
You have access to "Member view," which allows you to see your community through the eyes of your members.
Cons of Kajabi Community
While Kajabi is one of the best course platforms available, its community functionality is limited.
Because Kajabi is one of the most expensive alternatives to Facebook Groups, it is not suitable for all businesses.
A steep learning curve is required to become acquainted with the platform software.
Pricing
Kajabi offers three different pricing plans:
Basic Plan: $149/month or $119/month when billed annually
Growth Plan: $199/month or $159/month when billed annually
Pro Plan: $399/month or $319/month when billed annually
Go check out their free trial!
5. Google Groups
Google Groups makes it simple to communicate and collaborate with groups of people on topics of mutual interest, such as colleagues, students, project teams, or study groups. A group can be anything from an online forum for discussing a class project to a mailing list for a student organization.
Each group has its email address and an online discussion forum where members can share information.
Pros of Google Groups
A group email address allows multiple people to respond from the same email address without sharing login information, avoiding a major security issue.
Google Collaborative Inbox allows you to assign emails to various group members and set statuses for specific conversations (e.g., closed or duplicate).
You can also give collaborators different levels of access, but the scope of this functionality is somewhat limited.
Cons of Google Groups
1. It is lacking in efficiency tools.
Increased efficiency is one of the most significant benefits of a shared inbox tool.. Though it is arguably more efficient to handle incoming communications from multiple personal email accounts, Google Collaborative Inbox is still quite limited.
2. There will be no reporting.
Almost every aspect of business has become increasingly data-driven in recent years. Customer service is no exception — and with reason. Access to conversation trend data or team and individual performance metrics can help you significantly improve the service you provide to your customers, clients, patients, or students.
3. It is not scalable.
Many businesses only require shared mailbox capabilities when they first start, and a shared mailbox tool like Google Collaborative Inbox is a good place to start.
4. There are only a few collaboration options.
The name "Google Collaborative Inbox" may lead you to believe that collaboration is a key feature of the product, and it is, but true collaboration entails much more than multiple people working in the same inbox.
Pricing
Google Groups and Usenet's text-based groups are both free. However, if you want to do more with Usenet, such as posting or downloading files from the alt. binaries group, you must pay a subscription fee to your Usenet provider.
Try out Google Groups for free!
6. Tribe.so
Tribe.so is a community platform that is tailored for the business market. It offers companies like Tim Hortons and IBM customizable ways to engage their customers. Tribe takes customer service to the next level by gathering actionable insights for its users.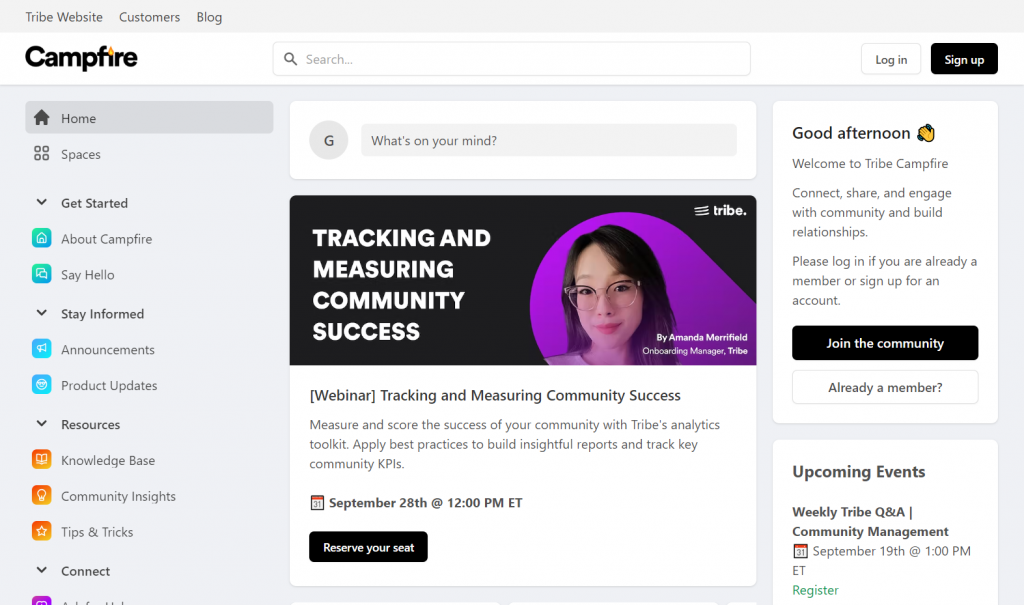 Pros of Tribe.so
Enhanced features
Fully customizable and white label
Excellent for creating communities around your business.
There are numerous integrations
Cons of Tribe.so
Not suitable for small businesses or entrepreneurs.
There is no built-in messaging functionality.
There is no way to create paid membership plans through the platform (a third-party tool is required).
Pricing
The Tribe has four main packages with different pricing options:
Basic ($0/month)
Plus ($59/month)
Premium ($239/month)
Enterprise (contact sales team)
For an annual subscription, team tribe offers more affordable pricing (package Plus $49/month and Premium $199/month)
7. LinkedIn Groups
LinkedIn has approximately 740 million users and is regarded as the best social network for professional activities such as networking and job searching. It also has "LinkedIn Groups," similar to Facebook groups.
Users can join groups, participate in conversations by posting text or video posts, and interact with one another.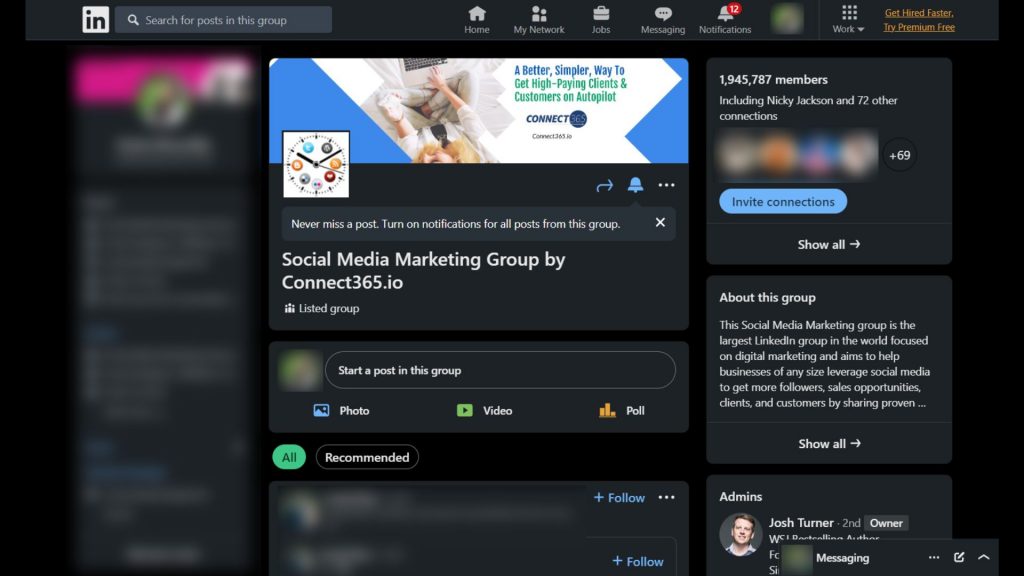 Pros of LinkedIn Groups
Linkedin, like Facebook, is a major social media network, and many of your members may be on it.
The group is simple to create, and the sharing features are excellent (you can add photos, videos, and polls). Because LinkedIn is a professional platform, discussions can be more respectful than on other platforms (obviously, there are no guarantees).
Cons of LinkedIn Groups
The algorithm is terrible for group content and seldom displays group activity on your members' timelines.
There is no way to make money from your group.
LinkedIn live streaming is extremely complicated, requiring approval and third-party software.
LinkedIn has a course platform, but you must apply to teach one, and only a few are accepted. Even if approved, your course will not be linked to your group.
Pricing
LinkedIn is primarily free to use, but it also comes with premium features. Below is how much LinkedIn Premium costs.
Premium Career for $29.99* per month
Premium Business: $47.99* per month when paid yearly
Premium Sales/Navigator Professional: $64.99* per month when billed on an annual basis
Premium Hiring/Recruiter Lite: $99.99* per month when paid yearly
Check out LinkedIn groups for free!
8. Mighty Networks
Mighty Networks, an online community platform that offers everything you get with a Facebook Group but under your brand, is one of the best Facebook Groups alternatives (including an option to get your own branded native mobile apps). It also has the option to host online courses.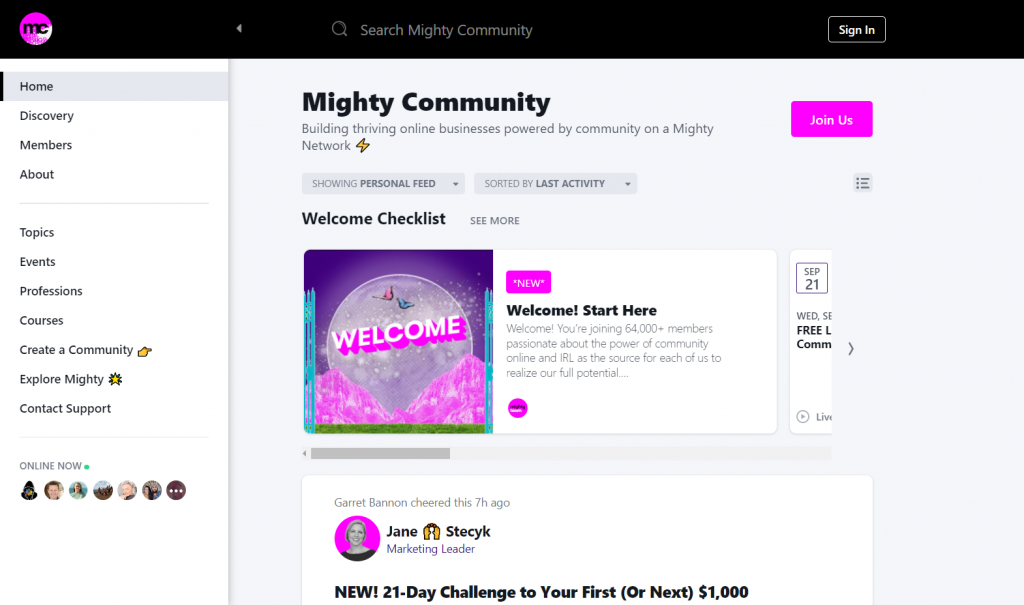 Pros of Mighty Networks
You can sell Mighty Network products under your brand.
You can reach all your members (**who will be delighted).
It has the most features in common with a Facebook Group.
Your Mighty Network has online courses, mastermind groups, and more.
It's intended for people who don't know each other to meet and form friendships.
You can charge for direct access to your Mighty Network and online courses or mastermind groups within your Mighty Network. It is adaptable.
Livestreaming, native video upload, video storage, and direct and group messaging are available.
Cons of Mighty Networks
When you switch to a Facebook Group alternative, such as a Mighty Network, you may lose some of the traffic that Facebook sends. However, you compensate for this with deeper, richer member engagement.
Pricing
The pricing for Mighty Networks starts at $23.0 per month. Mighty Networks has two different plans:
The Community Plan at $23.00 per month.
The Business Plan at $81.00 per month.
Mighty Networks also offers a custom plan based on the customer's request. Go try Mighty Networks for free!
9. Discord
Discord is a chat platform popular among the gaming community. It enables gamers to converse with one another outside of games.
Like other apps like Slack and Skype, it allows users to talk, text, and video chat. In addition to that, they also allow streaming.
Due to its excellent performance and functionality, users outside the gaming community have adopted it as a place to connect.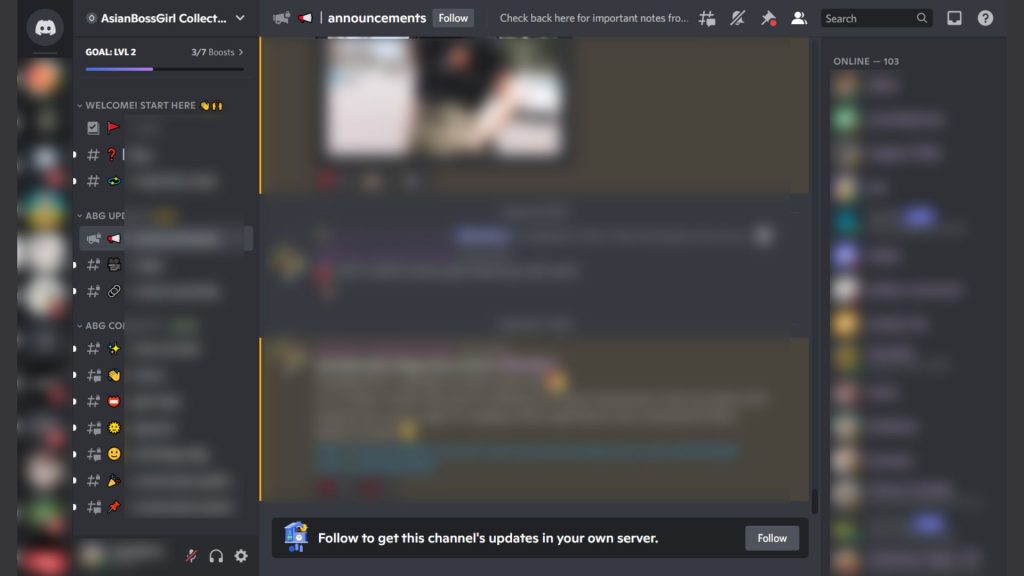 Pros of Discord
1. Channel selection
Dedicated text and voice chat channels allow meetings to be easily planned and held. On voice channels, Discord video chat is also available.
2. Interactions with fans
Indie game developers can use one platform to sell their games, interact with fans, and share game progress.
3. Customized titles
Server administrators can assign custom titles and tags to users, making it simple to identify a user's job, position, or role in the community.
4. Streaming feature
Discord allows you to share images, videos, and your desktop screen.
5. Numerous integrations available
Discord server owners can customize the experience of their members with the use of bots. To name a few, Discord bots cover the onboarding experience, user tags, chat commands, and automations.
Cons of Discord
1. User Restrictions
Limits on users and channels per server preclude new fans from popular servers and limit growth for indie developers.
2. Video conferencing
The Discord video chat function is fairly basic and doesn't offer the perks or image quality of other, better-known video calling apps.
3. Memory space
Discord consumes a significant amount of RAM.
4. Large server security
Because Discord is a social media platform, it attracts its fair share of trolls and unethical users. Your private servers should be safe, but be cautious when joining new communities and reporting suspicious activity.
Pricing
Discord is primarily free to use, but if you would like to gain access to premium features such as customizable emojis, and higher upload size, Discord Nitro costs $ 9.99 per month.
Gather your friends, and try Discord for free!
10. Podia
Anyone serious about creating an online community should consider Podia as the best alternative to Facebook groups.
It gives you complete control over your groups and many monetization options. You can use it to create free and paid groups and sell various other digital products (such as webinars, courses, ebooks, and so on) from a single location. There is also a free plan.
Podia, as opposed to Facebook Groups, gives you complete ownership and control over your online community. You create your website from the ground up and use it to host community discussion forums, publish content, sell digital products, and so on.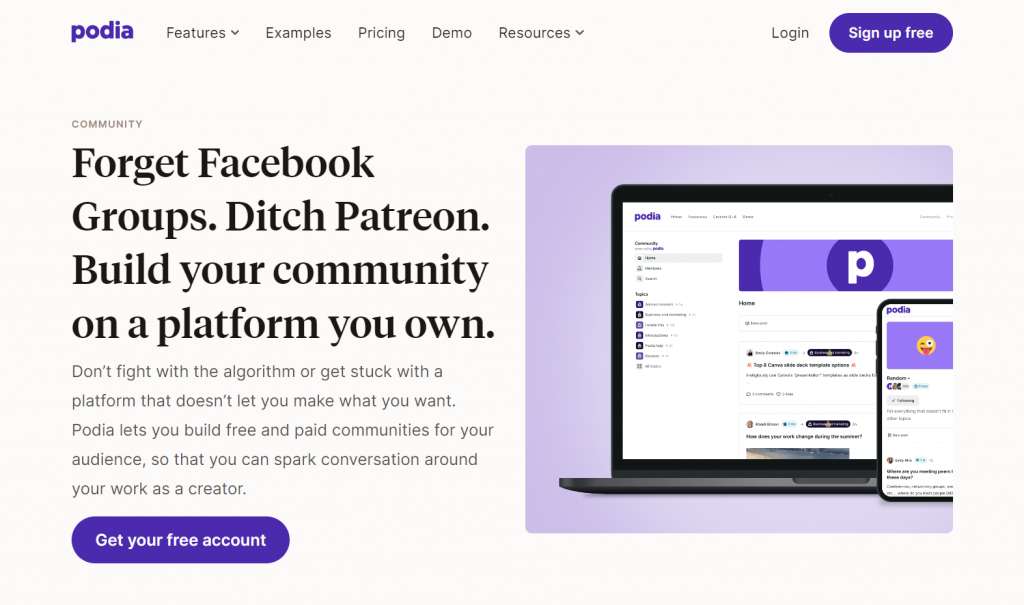 Pros of Podia
Take control of your community without being influenced by shifting algorithms.
A true all-in-one tool with a plethora of features
Advanced community functions (multimedia conversations, custom posting permissions, unlimited topics, etc.)
You can sell products, share content, and manage your community from the same platform.
Online communities, both free and paid
Cons of Podia
If you already have a website, this may be overkill.
The website builder is less adaptable than WordPress.
Pricing
Podia's straightforward pricing structure includes two plans, aptly named the Mover and Shaker. The Mover plan caters to the creative starting their online content selling journey, whereas the Shaker is dedicated more to expanding an existing business.
The mover plan costs $39 per month – Save two months' subscription ($78) by paying annually
Shaker plan costs $79 per month – Save two months' subscription ($158) by paying annually
11. Circle.so
The Circle is similar to Facebook Groups in that it allows members to interact with one another, but it outperforms Facebook by eliminating distractions.
Its interactive nature allows your members to share ideas and spark discussions with one another, relieving you of some of the burdens.
Circle also assists you in monetizing your content through sales tools and subscription options.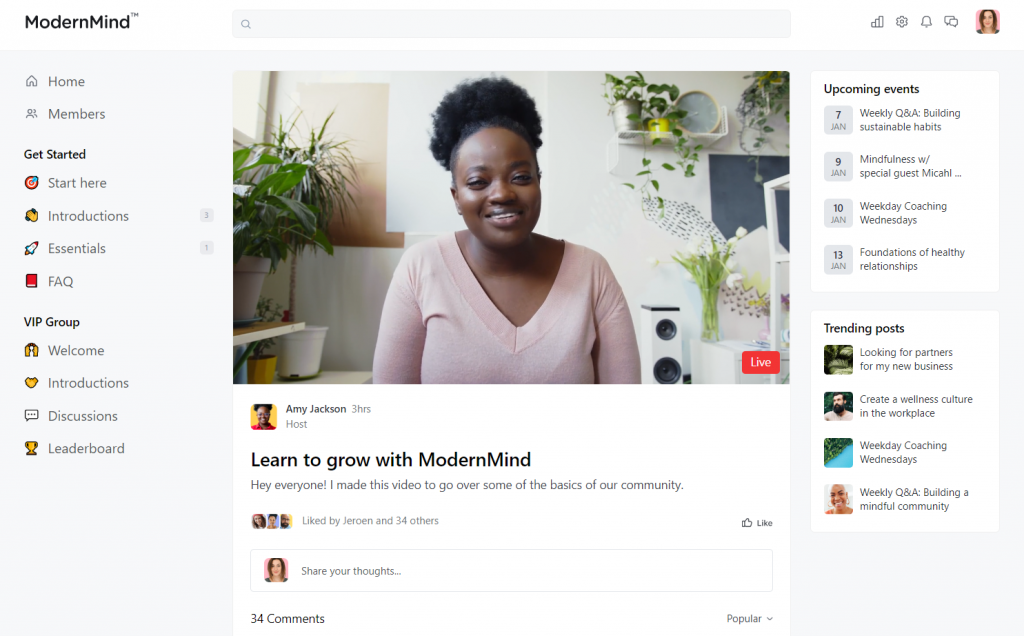 Pros of Circle.so
1. Connection to your website
Do you have a website already? If this is the case, you'll find it simple to integrate your community into your existing site. This is made possible by the Circle platform.
2. Connection to online learning platforms
Do you use online learning platforms like Kajabi or Teachable? Circle allows you to share content from other community platforms with your Circle community. And only if you use a single sign-on.
3. Integration with a variety of tools
In addition to integration with web pages and various community platforms, Circle allows you to integrate multiple useful tools with your community via a single sign-on and track important analytics such as the most active members, number of new members, trends, and many more.
4. Customization to match your company's branding
Choose your brand colors and add your custom domain. Community members don't realize they're using Circle instead of their platform.
5. Within your Circle community, there is a searchable member database.
Members can easily find each other in private spaces and online communities through member tags. Circle also provides several search filters as well as custom profile fields.
6. You have control over your community members.
One of the most appealing aspects of the Circle platform is the ability to control your Circle community. This saves you from having to elbow your way to your audience.
Cons of Circle.so
1. Pricing
While Circle communities provide many benefits to content creators, they are expensive compared to alternatives. Furthermore, the more expensive plans do not differ significantly from the basic ones. Even if you select the Professional Plan, you will be limited to only one community.
2. Not ideal for course creation
Circle can be used for course creation. The paid community, however, is the platform's main feature.
3. The app is only available for iOS
The Circle iOS app was released in 2021, but there is no word on an Android app. While this may have little effect on course creators, it may affect members who want to participate in live streams and other on-the-go discussions.
4. The Circle does not have many distinguishing features
Events, space groups, and online communities aren't distinguishing features, especially when you can get them all for less on another website.
Pricing
Circle Community Platform has three pricing editions (s), from $39 to $399.
A free trial of Circle Community Platform is also available. Look at different pricing editions below and read more about the product to see which one is right for you.
12. Facebook Group Messenger
Messenger groups is a private online group that enables people to access their messaging system via Facebook without signing in to the social network. This makes it much easier to communicate with people on mobile devices in real time.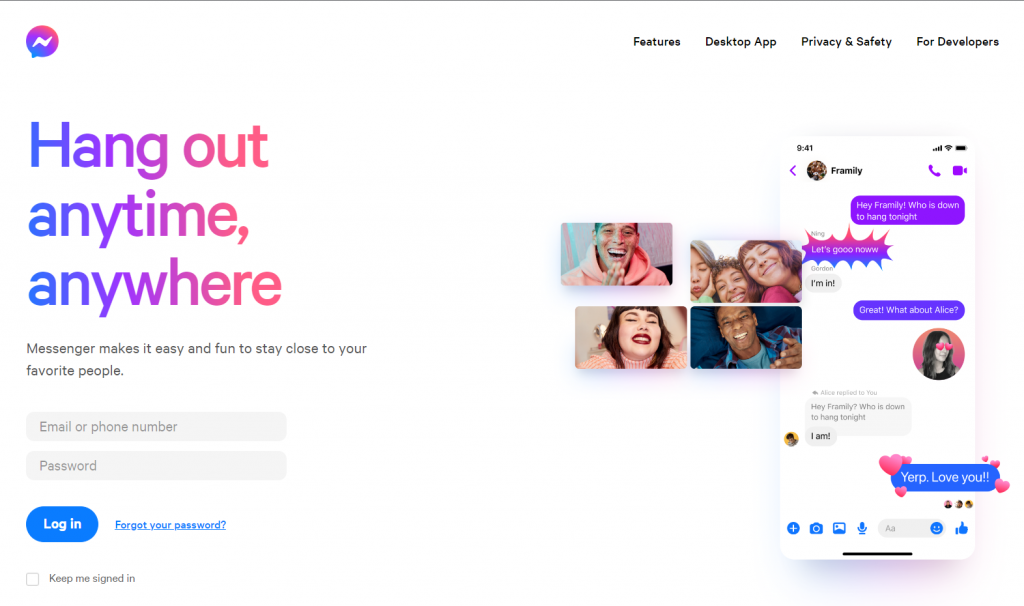 Pros of Facebook Group Messenger
1. It makes chatting more efficient.
The app connects directly to Facebook's chat system, allowing users to send and receive messages faster than a mobile browser. This is because the messaging system will immediately appear on the screen of the user's preferred device.
2. It's similar to texting but without the cost.
Depending on the Plan, SMS texting can cost up to $0.10 per message. MMS messages can cost up to $0.25 per message. Even though Facebook Messenger uses data, users can freely send text messages and photos.
3. It can be used to facilitate collaboration.
Users of Facebook Messenger can easily send files and links. If you're telecommuting or working from a mobile office location, this will keep employees in touch if they work on a project together.
4. Users can make phone calls.
This app allows users to communicate with one another. It also allows people to speak in small groups if they so desire. If a user is abroad, Facebook Messenger can even be used to call a specific phone number.
5. Many permissions are only required when a specific feature is used.
If an Apple device user does not use the Messenger app to make voice calls, the app does not require permission to use the microphone. This is not always the case with other operating systems, but it is an important point to remember.
6. Nothing is ever truly free in life.
You are constantly exposed to advertisements while watching a football game. For freemium games, you have the option of purchasing in-app items. The trade-off for Messenger is that you send some limited personal information to advertisers because you require the app's features.
Cons of Facebook Group Messenger
1. It isn't easy to safeguard your privacy completely.
As part of the terms and conditions for using Facebook Messenger, you agree to record audio anytime without permission and call phone numbers without intervention.
2. It adds another source of distraction to life.
If you want to get work done, you need to limit distractions. Installing Facebook Messenger introduces a new distraction. This is to notify you when a message arrives. You don't need notifications because, like most people, you communicate with your close friend via text or phone rather than his IM feature here.
3. It can quickly deplete your device's battery.
Your device's Messenger App is always running in the background. Your device will vibrate or emit an audio alert when new messages are received. If you receive several notifications daily and leave the app open to receive them, you may not be able to complete your workday on your preferred device.
4. When using the Facebook app, users are forced to use Messenger.
When accessed through a browser, Facebook's messaging system remains unchanged. However, using the app forced me to use Messenger. This is never a good feeling for a customer.
5. It occupies a lot of space.
If you use both Facebook apps to access your profile and social network, you'll be using 100+ MB of storage space on your mobile device. If you have limited space, this can quickly become a major issue.
6. Its service can be erratic.
If you need to update your operating system, you'll almost certainly need to update this app. It can occasionally lock up on users, especially if more than one app is open, limiting its usefulness on lower-end devices.
Pricing
Messenger is completely free.
13. Heartbeat.chat
Heartbeat.chat is a one-stop shop for creating and managing an active online community from your domain.
This platform is jam-packed with tools that allow your community members to interact, meet virtually, and share resources without switching between tools.
Heartbeat allows you to host chats, live events, courses, content, and more on your custom domain.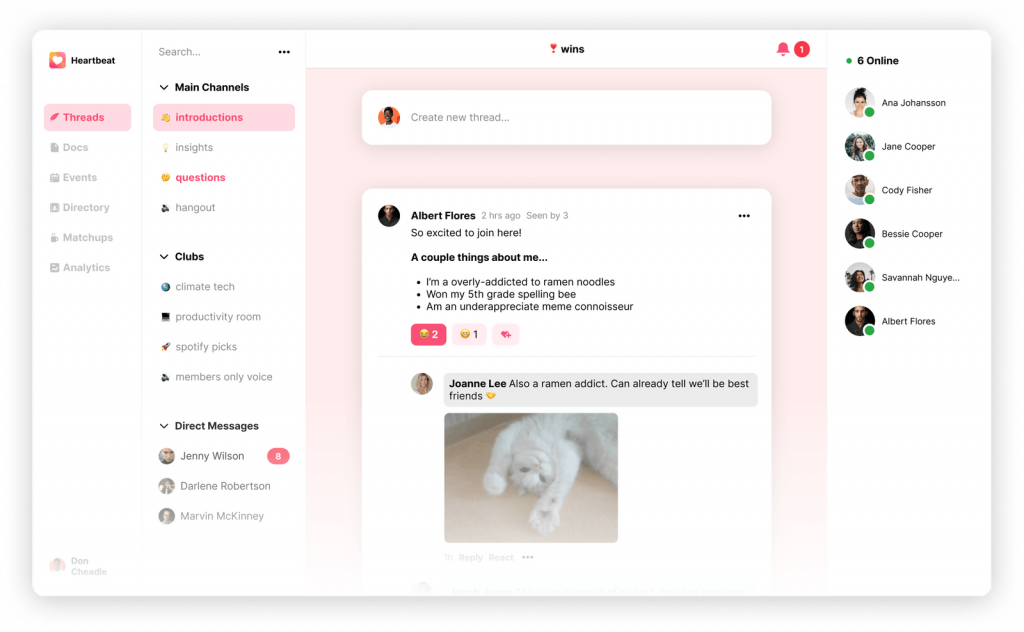 Pros of Heartbeat.chat
The interface looks clean.
It is simple to comprehend and implement
It is simple to add courses, threads, events, and documentation.
Integrations work flawlessly.
No lag, high performance.
Most importantly, I believe my users will find it simple to use.
Excellent customer service.
Cons of Heartbeat.chat
When the text becomes too long, it is cut off in several places.
Some issues with the magic link, such as being unable to log in using your email address and password.
Pricing
Heartbeat has three pricing plans and a 14-day free trial now — no credit card required. If you decide it's not what you're looking for, you can cancel at any time.
Among the payment options are:
Starter ($29 per month) – up to 1000 members, custom domain and brand colors, Zapier, Zoom, and GCal integrations
Growth ($99/month) – Includes everything in the Starter plan plus unlimited members and priority email support.
Business (custom pricing) – Includes everything in the Growth plan plus 1:1 setup and onboarding, full heartbeat API access, and Enterprise integrations.
Final Thoughts
Facebook groups are a wonderful place to start your community. Once you need additional features such as customization, the ability to monetize and sell products, and other integrations, you may refer to this extensive list of the best Facebook group alternatives.