Have you wondered what a Kajabi community is and how it differs from a Facebook group? Well, you're not alone. There are so many people in your shoes.
We wrote this comprehensive post to review both platforms for you. By the time you're done reading this post, you'd have understood what the Kajabi community is, what a Facebook group is, and how they compare.
Without further ado, let's get right to it by understanding what Kajabi is. Let's take that first, shall we?
What is a Kajabi Community?
To accurately define the "Kajabi community," we'll first need to define the term "Kajabi" and then use that avenue to break down the Kajabi community, its uses, benefits, and how they compare with Facebook groups.
Kajabi is an all-encompassing online platform that allows course creators and information marketers to create, manage, market, and sell their information products.
You don't need to worry about coding when using the Kajabi platform. It has laid everything out for you through drag-and-drop tools.
What does Kajabi do?
With Kajabi, you can create, market, and sell online courses, membership sites, coaching services, open or closed podcasts, and more. The best part is that you won't have to stress about challenging technological issues like coding, plugins, or malfunctioning integrations.
What is Kajabi suitable for?
The all-inclusive platform includes the following:
course hosting platform,
website builder,
landing page builder,
safe payment gateway,
email marketing software,
sales funnel software,
robust analytics, and
workflow automation.
Kajabi offers round-the-clock customer support, educational materials through Kajabi University, and a vibrant entrepreneurial community to connect with. It is a unique feature that distinguishes the Kajabi community from a Facebook group.
Is Kajabi worth the cost? Yes! Regarding software, email marketing contacts, and customer service, Kajabi pricing offers you a full suite of online business tools at a fantastic value.
Historically, Kajabi has existed since 2010. By selling their expertise, they have assisted thousands of clients—known as Kajabi Heroes—in establishing long-lasting businesses. Additionally, they have helped many seasoned entrepreneurs grow their 5-, 6-, and 7-figure businesses. Over 50,000 Kajabi Heroes are currently active on Kajabi, generating over $3 billion in revenue using the Kajabi platform.
You might be thinking, "Do I need Kajabi?" Yes, in my opinion, and here's why:
People can use Kajabi to get the resources they need to successfully start their own online business, sell digital goods, make extra money, and live the lifestyle they've always wanted. With Kajabi, you can monetize your knowledge and turn it into a passive source of income.
What Are the Benefits of a Kajabi Community?
There are many advantages to creating a Kajabi community, just like creating communities on other platforms. The following are some of those benefits.
Giving Value to Your Audience
Let's ignore revenue, sales, and industry authority for a moment.
No doubt, these are all significant issues. However, helping your audience is the main advantage of creating a membership site.
The best brands weren't founded on the idea of making money. The owners created them to assist others in achieving success. You succeed when they succeed.
For example, a digital marketer may be able to upsell members to create a new revenue stream. However, they must first be committed to assisting members in achieving their objectives.
When you help your audience with their problems, they will also help you. Give them something of value, respond to their inquiries, and demonstrate your position as an expert in your field.
After that, you don't need to do much (if any) upselling. The chances will present themselves to you.
In business, there is no better feeling than assisting another person in realizing their objectives. There are always people you can help when you have a membership site.
In all honesty, the majority of business owners don't consider this to be the main advantage. The chances of success are, however, higher for those who do.
A Community with Purchasing Power
Your Kajabi community or your Facebook group shouldn't just be about upselling and promoting goods. But being able to sell to a captive audience has its advantages.
You can gradually start marketing and selling to your members once you've established your membership site on either of the two membership sites.
Here is an illustration.
You're a social media influencer who specializes in digital marketing. You may launch a membership website to generate recurring income and advance your brand.
Aside from membership fees, you could upsell items like
Ebooks
Consultancy services
Landing page building
Sales funnel building
Webinars and online courses
Personal Coaching
content marketing or content creation.
Having a place to gather all your members gives you an idea of a built-in audience, likely very open to purchasing your other offerings.
The opportunity is there. Just be careful not to lose sight of your principal obligation to your members, which is to offer value.
Consistent Monthly Income
Recurring income is, unsurprisingly, one of the best advantages of membership sites.
Depending on your business, you might already have everything (or nearly everything) you need to launch your site and begin bringing in money.
You can incorporate a membership service into your current business model if you run a website selling online courses or other digital goods.
Knowing how to set the price for your membership site is essential for success.
If you charge too much, you'll scare off potential members. If you set the price too low, however, you could lose hundreds or even thousands of dollars each month.
Compare your concept and strategy to those of other websites in your niche. You'll have a better idea of how to set your price from the information you gather.
There is no better feeling than a stream of consistent income. It's undoubtedly among the best advantages of creating a Kajabi community.
Establishing Your Authority
It's more important than ever to have authority in a chosen field and build your brand. Your goal is to establish yourself as a leader in your field. By improving your SEO and building customer trust in your goods and services, you can significantly increase the value of your business.
When you successfully run a paid membership program, the world sees that you have something unique and powerful to offer your industry. Even if potential customers decide not to enrol, they will still visit your website and notice that others are paying to learn from you. Also, remember that your members are potential customers who will likely recommend you to others. Word of their satisfaction is sure to get around and increase your credibility.
That's powerful.
As your industry's authority grows, so will your reach and credibility. With that comes more members for your site and more money in your pocket.
Nurture the Loyalty of Your Customers
Customer loyalty should be one of your top priorities as an entrepreneur. You want your clients to adore you, your business, and the goods and or services you provide.
But it takes time for that to happen. With time, loyalty and trust come through effective member management.
You must earn customers' loyalty.
Creating a gathering spot for your audience is one of the best membership site advantages. You open up your persona, your reputation, and all of your knowledge to them. And that serves as the basis for a devoted customer.
Building a devoted following for your brand becomes simpler as you keep in touch with your audience. There are many ways to interact with your audience when you have a membership site.
Consider it this way: Anyone willing to pay to access your website is already your fan. What is left for you is to keep your end of the bargain and give them the value they came for.
Lifetime Asset
A loyal audience on a paid membership site like Kajabi Community is a lifetime asset for you. It's even more beautiful when this audience is so loyal to you that they stay around for your value even if someone else takes over.
This means that the membership followership is inheritable. Imagine having a cash-vomiting asset that is not crypto or landed property but has a loyal following.
Your successors only need to provide the same value and then sell it to them the same way you sell it.
Now, let's compare the Kajabi community with Facebook groups by breaking down some key areas of Facebook groups, like what it is, why it is crucial, and so on.
What are Facebook Groups?
A Facebook group is a community set up by an individual, company, or organization to advertise events and host discussions around a certain topic, event, or cause. Users who join the group can post their ideas on a wall and engage in conversation through threaded discussions.
For many years, Facebook pages have served as the primary platform for businesses to interact with customers and host discussions. However, the 2007 launch of fan pages (which later evolved into "like" pages) changed this.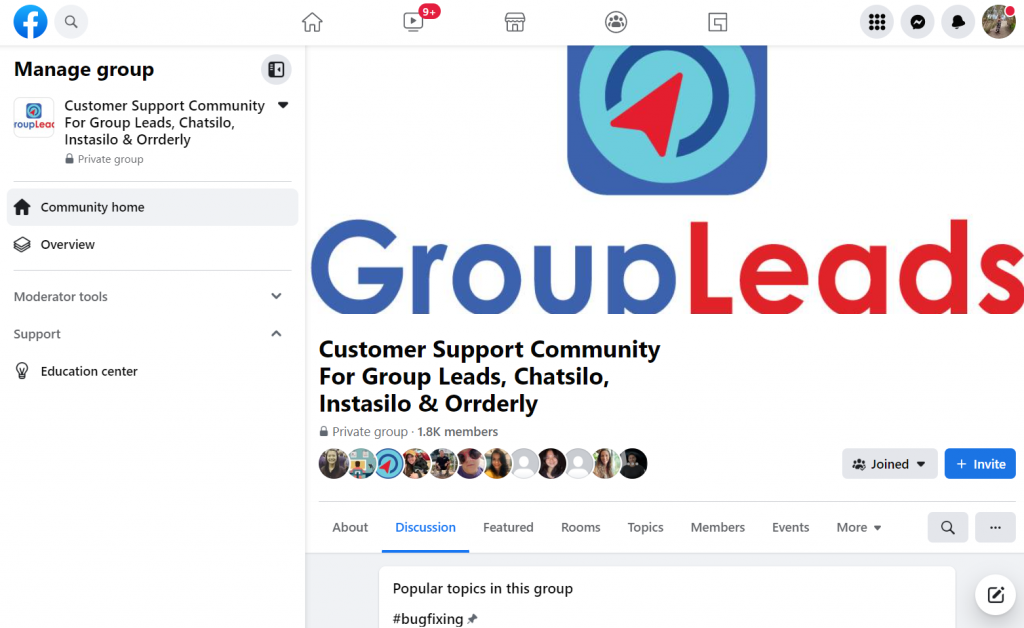 Although they are similar, groups and pages each give companies, businesses, and organizations different ways to connect with their target audience. Fan pages generally have an advantage over groups because they can directly display information in their fans' news feeds. Additionally, compared to groups, pages typically offer more search engine optimization (SEO) opportunities. Groups, on the other hand, can limit who can join. With a group, you can easily message members.
What Advantages Do Facebook Groups Offer?
You've probably seen an increase in company-run groups over the last few years. Several important factors can be attributed to the increased use of Facebook groups. Let's examine each one individually.
Increase in Organic Reach
If you want to reach more people organically, that's what a Facebook group can offer you. It's one of the key differences between a Facebook group and the Kajabi community.
This move started in 2018 when Mark Zuckerberg himself posted about how Facebook groups would have more organic reach.
And true to his words, Facebook users have noticed a significant increase in the amount of content they see from the Facebook groups they belong to. In addition, groups now have a dedicated newsfeed both on the mobile and desktop app.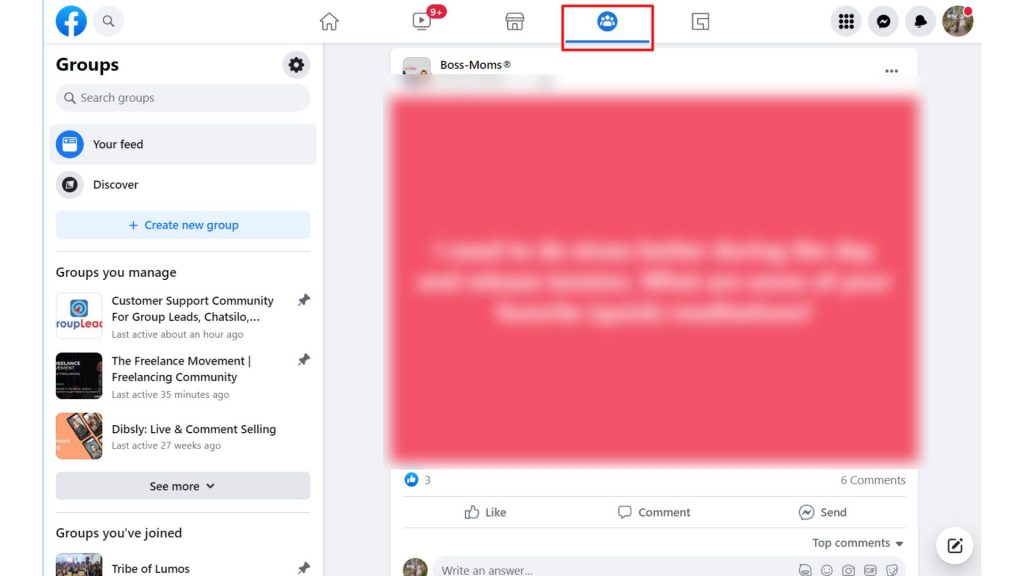 Facebook Group content outperforms standard pages in terms of organic reach. If a page performs well, it can reach an audience of about 5.20%. You can publish the same content in both locations and are sure to see a significant increase in reach and engagement on group posts. This is particularly effective on social media, where getting your content seen by the right audience is now the key to producing significant results.
Building and Nurturing a Community
Facebook groups can provide a huge advantage to your business marketing. With Facebook groups, you have the opportunity to build a community around your brand.
By creating a content strategy and a content calendar to cater to your group members, you'll get them engaged every day or every week as you decide on posting frequency.
You can create opinion polls and surveys to determine what your audience thinks about your products and services.
The results of such polls can help in your marketing, such as in copywriting, product research, and upselling.
Also, there's nothing more beautiful than having a personal traffic source. Your Facebook group would be your main traffic source once you've built and nurtured your community.
A Good Source of Income
No matter what you sell, your Facebook group can also provide you with recurring customers who would buy from you monthly.
Simply plan what you can sell daily or monthly. Something with a low ticket is better. They will be able to come back for it repeatedly, paying the fee for it. This will serve as a good source of income if you own a Facebook group community that is loyal to you.
Kajabi Community vs. Facebook Group: How Do They Differ?
There are significant differences and key similarities between the Kajabi community and a Facebook group. The following are some of these.
Features
Kajabi Community
Facebook Group
People's general attitude towards the Kajabi community and Facebook group
People are more committed to the Kajabi community than Facebook groups because the former usually requires a monetary commitment.

People see the time they spend on the Kajabi community as an investment.

People log in to the Kajabi community with the hope of gaining something.

People log in to the Kajabi community consciously to get problems solved or get their questions answered.
People are not as committed because it's relatively free to join Facebook groups.

People see themselves killing time on Facebook.

People do not go to Facebook in the hope of making a purchase.

People go to Facebook primarily for leisure, and it's why most are not committed to any Facebook group they belong.
Customization
You can offer people initial access or decline their access.

You can restrict access to specific members.

Members of your Kajabi community can access more special features depending on their payment plan.

Provision of ways to make payments for members.
You can offer people initial access or deny them initial access.

Restricting access to specific users in your Facebook group has been made easier with the Admin Assist tool. Another option is to ban them outrightly or remove them.

Members of your Facebook group have similar access to the common features of your Facebook group.

No payment avenue is available inside your Facebook group.
Building a Community
Relatively not easy to convert website visitors since it usually requires monetary commitment from users.

There is no organic growth. Traffic will have to come from elsewhere.

The quality of the community members is higher.

The possibility of random uninterested users stumbling on your community is low.
It's relatively easy to build a community since it's mostly free. Visitors can easily request to join the Facebook group.

There's an opportunity to grow organically.

The quality of the community members may be lower.

There is a high possibility of random uninterested members stumbling accidentally into your group.
Content Creation
You're primarily responsible for creating content for the Kajabi community.

Members may not be distracted by irrelevant content from other users except yours.

The obligation to create content may overwhelm you as the only content creator.
Content may usually come from other members of your group.

Members may be bombarded by content irrelevant to your brand's goals, but with the right moderation tools like moderation alerts and admin assist, this spam content can be avoided.

You have more time for other commitments as other group members can contribute content too.
Special Features
You can create and sell offers through the community feature.
You can post topics for people to discuss.

Direct messaging is another special feature that you can enable in your Kajabi community, allowing you to send messages directly to any specific member of your audience.

You can email a special message or announcement to all members as subscribers, or you can send it to specific or selected subscribers.

Search options allow members to search for specific topics within the community.

Youtube Livestream is a special feature you can connect to within your Kajabi community.
There are no community features that allow you to sell offers.

You can post topics for people to discuss.

There's no feature to send a direct message to members of a Facebook group. You will have to do this one by one.

You can only use special software like Group Leads to capture the contact information of your members as leads and then send them messages as subscribers.

Facebook groups also has  a dedicated search bar.

No Youtube Livestream option is available. Only general Facebook live.
How to Create a Kajabi Community
The Community feature elevates Kajabi and makes it easy for course creators and digital marketers to build a paying audience. Only a few simple steps are required to start a community. Consider the following steps:
Go to Kajabi and create an account.
After filling in all your relevant information, go to your dashboard.
On the dashboard, click "Products."
On the top right corner of the screen, select the + New Product button.
Give your "community" a suitable name by selecting "Community" from the product template options. Keep in mind to pick a name that nobody else is already using. It also needs to be relevant to the service or program you're selling.
Begin customizing your community after clicking Save. To keep your customers interested, encourage conversations serving their needs and interests related to your community's mission.
You will need to modify the Details, Sidebar, Topics, and Offers sections.
You can quickly create and launch your new Kajabi community by following these instructions! The groups provided by Facebook and other similar platforms can be effectively replaced by this user-friendly product. It greatly simplifies student engagement and is an excellent upsell feature.
Create a New Community in Kajabi: Step-by-Step Instructions
An online course, a membership, or a community are examples of standard Kajabi products. A community is no different. Utilize the Products tab in the Dashboard to add it to your Kajabi website.
How to Edit and Customize Your Kajabi Community
The community you added can be modified to meet your needs. You can edit the community's settings in the Edit Details section. Give the page a title, a description, and a community image.
To maintain brand consistency, add custom colors and logos to the Community page. To organize content, choose between the Feed or Topics views.
You can personalize the sidebar that appears in the community. You can enter a message specifically for members here. The best place to explain the community's vision and purpose is in this sidebar. You can list the community's rules and regulations there as well.
How to Post in Your Kajabi Community
Create consistent content for the community page. These frequent posts will encourage communication and participation among all community members. Posting and editing are easy and fast, just like on Facebook.
All forms of inclusion—links, text, images, and moving pictures—are acceptable. You can also send out notifications to the entire community to let them know when a new post has been made. Members can easily access pertinent information by pinning posts or notifications to the top of the community feed.
Final Thoughts
At the end of the day, it will be seen that the Kajabi community looks similar to Facebook groups in some ways. And it's different in some other ways.
There are a few key differences and key similarities between both.
In a Kajabi community, several features are available that are otherwise not available in a Facebook group, while Facebook is easier to access. I guess you just have to decide on which one to go for between the two based on your preferences.
As mentioned earlier, with special software like Group Leads, the standard of a Facebook group is raised higher than other online communities.