Engaging and nurturing people on your Facebook group is a chore on its own. It takes time, energy, and consistency. Sometimes it becomes so nerve-wracking that you forget to approve those waiting to get value from your group.
By doing so, you deprive them of the value they should get from your business or by promoting your course, thereby limiting yourself the impact you can make in their lives.
Does this seem like a killjoy? I can understand.
That's why I'm bringing a solution to wipe this problem away.
In this article, you will learn how to automatically approve a group member on a Facebook group.
Let's begin.
How Do I Auto Approve a Group Member on Facebook?
There are two favorite ways to auto-approve Facebook group members. The first is the use of Facebook's native auto-approval feature. While it took Facebook a long time to realize that Facebook groups should have an automatic approval feature, they created one recently with some loopholes.
Once new members get automatically approved into the group, the answers to your welcome questions are gone.
I have a solution for this.
The second option is to use Group Leads Google Chrome extension automatic approval feature. With this, you will be able to document the answers to the questions new members submit when they join your group.
I will be showing you how to use both methods. So, let's start with how you can use the Facebook platform for membership auto-approval.
Facebook Group Automatic Member Approval
When this question came up in a Facebook community, I followed the response, but there was no help. The resolver provided this information.
To set the Facebook automatic approval, head over to the group you want to set the approval for; in my case, I'll head over to the Group Leads Facebook group.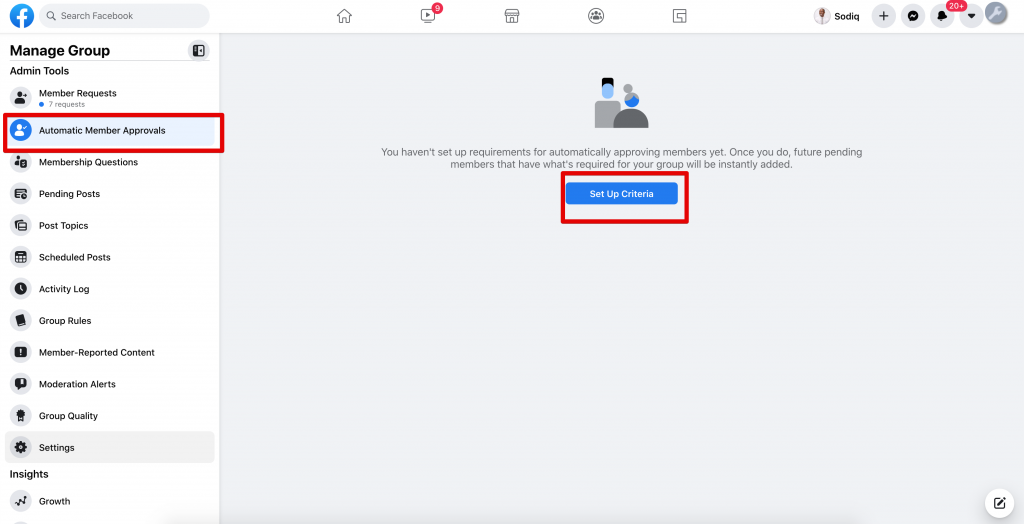 Then select the Automatic Member Approval tab as shown in the image above. Set up the criteria for automatic membership approval, then save the setting.
From that brief, if you're like me, you won't see anything automatic in that details. The reason is that I've only enabled anyone on the group to be able to approve new members.
There was no help.
Okay. Now there's a way out.
On the 19th of December, 2019. Facebook launches a feature that improves membership requests with automatic approval.
To achieve this, the Facebook Group admin can set certain membership requirements that qualify any member for automatic approval.
Below are the four requirement themes,
Complete all the membership questions set by the admin.
The current city of the prospective applicant is public and be within a certain radius
The prospective applicant should have other friends who are currently in the group
The prospective applicant has been on Facebook for a certain period.
While you analyze those setbacks, check out how to set auto-approval on your Facebook group.
On your Facebook group interface, click on the "Moderate Group" tab.
After that, hit the "Automatically Approve Members" button.
Then click on the "Edit requirement" tab to set up your membership requirements.
After that, you set your responses as you which. Mine is placed below.
That said, you have the freedom of returning to this section to edit your membership requirements anytime.
Any prospective member that meets your requirements automatically gets approval.
How to Turn Off Facebook Group Membership Approval
Do you know that the only way to turn off Facebook group approval is to let it lie in the hands of admins and moderators?
What this means is that other members will not be allowed to approve of new members.
Here's how to turn off the membership approval.
Head over to the group that you want to turn off membership approval for.
Then go to the "…more" tab, click the drop-down and select edit group
Move to the member approval area, and select "Only admins and moderators". Then save.
Group Leads Automatic Approval
Earlier on Facebook, you can manually collect your potential member's responses to your questions when you approve manually. Now that you want to approve automatically, you'll lose all those valuable responses that members supply before they join your group.
Not to worry, Group Leads automatic membership approval on Facebook Groups got you covered in this light. It helps you collect all your potential member's responses including their email addresses on Google or your email responder software.
Let's see how it works
First, you head over to the group that you want to collect responses and create automatic approval for, then click on the Group Leads for Facebook Chrome Extension.
Add the Group Lead Chrome Extension now if you haven't.
When you click on the extension, you'll get the image shown below when you click on Settings. Then click on your second tab that follows the Group you want to automate approval for.
Once you click that, it takes you to the automatic setting menu as shown below.
Here, you turn on the enable automatic approval button, you can also set the interval with which you want the system to approve members, and turn on other conditions as they suit you.
This step-by-step video tutorial by the Group Leads team will help you navigate the settings should you have any blocked.
Final Thoughts
When it can be a joy to have your own members on your platform, should Facebook decide to close down the Facebook Group features today? Collecting an email list from your Facebook group can be a pain.
However, Group Leads Facebook group extension can save you that pain.