Learning how to organize Facebook groups into categories is important because this will help you effectively manage your groups.
The categories are based on functionality, purpose, and privacy. The next section will explain the differences between various group types, including general, buy and sell, work, video games, and social learning.
Let's look at the various Facebook group types and how to change a group type.
Facebook Group Categories
There are seven major categories of Facebook Groups. These are:
General
Buy and sell
Gaming
Social Learning
Jobs
Work
Parenting
There used to be a lot more Facebook Group types in earlier years.
However, Facebook has opted to group the other categories under "General."
Let's examine each Facebook Group type so you can decide which is ideal for your group.
General
It's regarded as the most basic Facebook Group type. You have all the tools and capabilities you need to manage your group using General. If you don't choose a group type while creating your Facebook group, the default option is "General."
The General group type has no advantages over the others. It contains practically all of the fundamental Facebook Group features, but it lacks some particular features that other Facebook Group kinds have.
You can post many types of content in a Facebook group marked as "General," including common photographs, Q&A sessions, polls, and prompts.
The 'General' kind is the best option to get your Facebook group up and running with all the essential features and capabilities. If you change your mind, you can easily modify the Facebook Group you are in later.
Buy and Sell
Buy and Sell groups are a common kind of Facebook group. With the rapid growth of Facebook Marketplace and e-commerce in general, more individuals are turning to Buy and Sell Facebook Groups to sell their goods and even services.
For automobiles, motorcycles, books, and regional goods, Buy and Sell groups are common. Anyone may post an item for sale in a group like this so that other group members can view it and submit an offer.
It is simple to sell a product (physical, digital, or even a service) on a Buy and Sell Facebook group.
The cost, the summary, and the look and feel of your article are all in your hands. A mobile phone can also be used to add new items for sale on a Buy and Sell Facebook group.
Gaming
A specific "Gaming" Facebook group type is the perfect choice for groups concentrating on the rapidly expanding e-sports and gaming industries.
Using this group category, you can appropriately categorize your community as a gaming-focused group. This is the Facebook group type to select if you host tournaments, write about the gaming industry, or simply establish a group where the main topic of conversation will be a specific game (or games).
It also has a cool game tab feature that lets you conduct competitions for your neighborhood's residents.
More information on the Facebook Game tab may be found here.
Social Learning
This is the best Facebook group type to select if your group has a strong educational focus. When administrators wish to group content into "Guides," they pick social learning (formerly known as Units).
With Guides, you can organize your video content, text-based content, or even digital files in a manner akin to that of online modules or courses.
Social Learning is the best group type to pick if you want to utilize your group to teach others. It's simpler to draw attention to the Guides and designate them as your Facebook Group's official landing page.
Once that is done, it is the first thing new members see.
Jobs
There are other social networking sites outside LinkedIn where you can post jobs. Facebook decided to join the party and introduced "Jobs" as an official Facebook Group category.
If used correctly, the Jobs Facebook Group type can be highly effective.
The 'Opportunities' Facebook Group type is a simple choice if you want to build a community that connects employers and employees, making it simple for people to discover jobs and for businesses to find talent. None of the other FB group kinds offer this unique functionality.
Work
This group type is a little more specialized than the others. You can start a group in "Work," primarily for the workplace. However, networking in the business world is another use case.
This Facebook Group type enables users to continue networking and utilizing the platform without having to add additional individuals as "friends" because Facebook imposes a 5,000 friend restriction. The majority of people choose to keep their social lives private.
The option to create "Shifts" is another fantastic feature of the "Work Facebook group type." It is possible to declare job shifts and requests from your coworkers.
Again, the "Work" group type can be specialized and not useful to most people, but using it as a network for business networking can be a worthwhile application.
Last but not least, the Parenthood group type is the obvious choice for all things relating to parenting, as the name says.
The majority of the characteristics of the other group kinds are present in this group. The opportunity for all users to post "anonymously" is where it really shines, though.
Given that there may be delicate themes in parenting circles, this is a really effective function.
This makes it possible for everyone to receive the support and assistance they require without worrying about being judged for their queries or worries.
How to Change the Facebook Group Category
Changing a Facebook group's category can be done as follows:
Click the "More" icon in the top right corner after opening the group.
Choose "Edit Group Settings" from the drop-down menu.
Select "Edit" from the menu options on the "Group Settings" page, then select the "Category" field.
You can pick the category you want from the drop-down menu.
To change the group's category, click "Save Changes."
Note that not all groups may have access to all categories and that access to different categories may depend on the group's location.
Assuming you want to change the type of Facebook group, too, here's how you do that.
Open the Facebook app on your device or go to the Facebook website and log in to your account.
Go to the group that you want to change the type of.
Click on the "More" button (represented by three dots) in the top right corner of the group's main page.
From the drop-down menu, select "Edit Group Settings."
In the "Privacy" section, you will see the current privacy type of the Facebook group. To change the group type, click on the drop-down menu and select the new type that you want.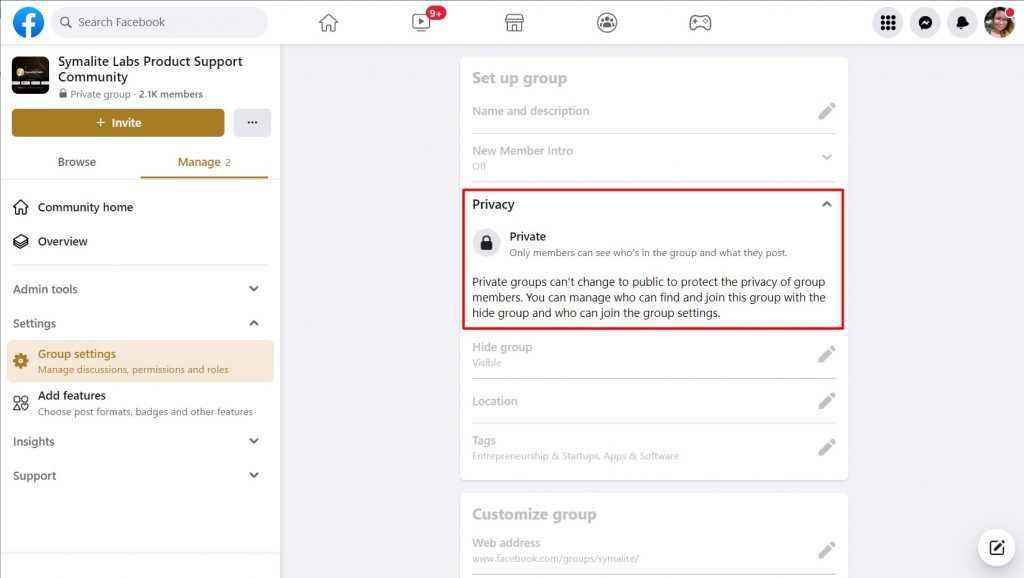 There are three types to choose from: public, closed, and secret.
Public groups are visible to anyone and can be found through search engines. Anyone can join these groups without the approval of an administrator.
Closed groups are also visible to anyone, but only members can see the posts in the group. Interested members must request to join closed groups and wait for the approval of a group admin.
Secret groups are not visible to everyone except for members. People must be invited by a member or admin to join a secret group.
After selecting the new group type, click the "Save" button to apply the changes.
Note: If you are an admin of a group, you can change the group type. You cannot change the group type if you are just a member. Only admins can change the group type.
As a result of the change to your Facebook group type, you can now make use of the features that are only accessible to the groups you have selected.
How to Organize Facebook Groups into categories
To organize Facebook groups into categories, you can follow these steps:
Choose the categories you wish to use to arrange your groups.
This could be determined by the group's subject matter, goal, or any other criterion that makes sense for your company.
Make a list of all the groups you want to manage.
Give each group a category.
The category may need its own column in your list or spreadsheet, or you could add a note next to each group.
Establish a mechanism for keeping your groups inside each category organized and stored.
Start classifying your groups into the categories you have selected.
To keep your Facebook group organization system correct and efficient, regularly review and update it.
You might need to move groups to different categories or make new categories to make room for them as new groups are introduced or the focus of current groups change.
What occurs when a group category is changed?
When you reclassify a Facebook group, it will appear in the new category in Facebook's directory of groups. As a result, when users search for groups on Facebook or read the directory of groups, the group will be featured under the new category.
A group's visibility in Facebook's algorithms may also change if its category is changed. For instance, if a group is moved from the "Sports" category to the "Technology" area, it may become less likely for that group to show up in the News Feed or search results of users who are looking for material about sports.
Remember that a group's eligibility for particular Facebook features or programs may change if its category is changed. For instance, groups in particular categories might qualify for verification or have access to additional moderation tools.
In general, changing a group's category can significantly affect how other platform users find and view the group. Before making this choice, it is crucial to thoroughly analyze the effects of reclassifying a group.
What occurs when a group type is changed?
When a Facebook group type is changed, the group's settings and permissions are also changed. This can affect the way the group functions and who is able to participate in it.
If a group is changed from a "closed" group to a "public" group, for example, this means that anyone on Facebook will be able to see the group's name, description, and member list and will also be able to request to join the group.
If a group is changed from a "public" group to a "closed" group, this means that only members of the group will be able to see the group's content and participate in it.
It's important to consider the implications of changing a group's type, as it can significantly impact the group's visibility and accessibility to others. It's also worth noting that group admins have the ability to customize the group's privacy settings, even if the group's type is set to "public" or "closed."
Existing posts won't be removed when the group type is changed, even if they were originally created for a different privacy setting.
Only your templates from various group types will be lost.
Why Organizing Facebook Group Type is Important
Facebook group types and categories might be crucial since they allow you to access particular group features.
Group administrators, for example, can make Guides in a Social Learning group type and keep tabs on members' advancement.
Members of a Facebook group for jobs may simply post job offers using a template that allows them to include details like the pay rate, working hours, and location.
The following are some of the reasons to organize Facebook groups.
1. Ease of access
When you organize Facebook groups into categories, it offers you the opportunity to find your favorite groups more easily.
Organizing your Facebook groups will make it easier to notice which groups you belong to. You'll be up-to-date on any recent activity inside them, such as unread chats or new posts.
2. Ability to pin groups
This is one of the advantages of categorizing your Facebook groups.
You can easily pin your favorite Facebook group.
You can "pin" groups to appear first in your lineup whenever you log back into Facebook.
Pinned groups will appear first and be available for you. A new menu that displays events, stores, and different channels is also available inside each Facebook group, making it simpler to find the issues that are important to you.
3. Group admins can create channels in smaller sizes
Facebook group administrators can build channels with smaller sizes to encourage more in-depth discussions on particular beneficial topics of interest.
Within Messenger, for instance, there are "community chat channels" where users can converse.
Members have the option to join and leave audio chats via "community audio channels." Last but not least, "Community feed channels" allow group members to interact whenever it's convenient for them. Administrators can use this to focus the group on more niche discussions for interested members.
How to know which group type to choose
I'll offer you a couple of suggestions now that you are more familiar with the various Facebook group types.
Your usage will determine the group type to use. Choose the group type that best fits your current need. You can always modify this later, so don't worry about it too much now.
As you can see from the list in this post, each group type keeps all the capabilities that the General type offers while also introducing a few new ones. Select General if you can't find an appropriate group type.
The most crucial element is that you consistently deliver value to the group members. Don't worry too much about it; your group type won't make or break your brand. Pick the one that works best for you and implement it.
Final Thoughts
Finally, you have learned how to organize Facebook groups into categories.
The best now is to take advantage of what you just read to organize your Facebook groups into categories.
Another tip to effectively manage your group is to automate member request approval with Group Leads. With this savvy tool, you can automatically compile the answers to membership questions. You can also add new members to your email marketing software. That way, you can stay in touch with your community without entirely relying on Facebook.