Unlike in the Facebook business page where people psychologically feel aback to interact with your company name and logo, content on Facebook groups get tonnes of engagement because it is registered in their subconscious mind that they're dealing with a human at the back-end.
Facebook groups become an absolute sweet spot when you utilize the pin feature to permanently place content with a call to action (CTA) at the top of the page. This draws attention to your offer and increases subscription to your email list or newsletter.
According to Brand Watch, adding a CTA button to your Facebook group can lift your click-through rate by 2.85 times. The duo of a pinned content and offer link could be a lifesaver for your dying business. That said, you must get your Facebook group creation right which starts with coming up with the right group description, else, you won't be able to leverage this juicy gain.
In this post, I want to share with you the 7 Facebook group description ideas to increase your group members.
Ready?
What is a Facebook page description?
Having cleared that, a Facebook group description details the purpose of the page creation, the reason behind it or explains the caliber of people in the group. This reveals the interest, pains, hopes, and aspirations that unite these people.
For instance, the Smart Passive Income Community Facebook group by Pat Flynn is described as a circle where fans and friends of Pat Flynn and Smart Passive Income can freely communicate and discuss online business, blogging, podcasting, and other online business interests.
From this Facebook group description, you can effortlessly identify if the group is for you or not.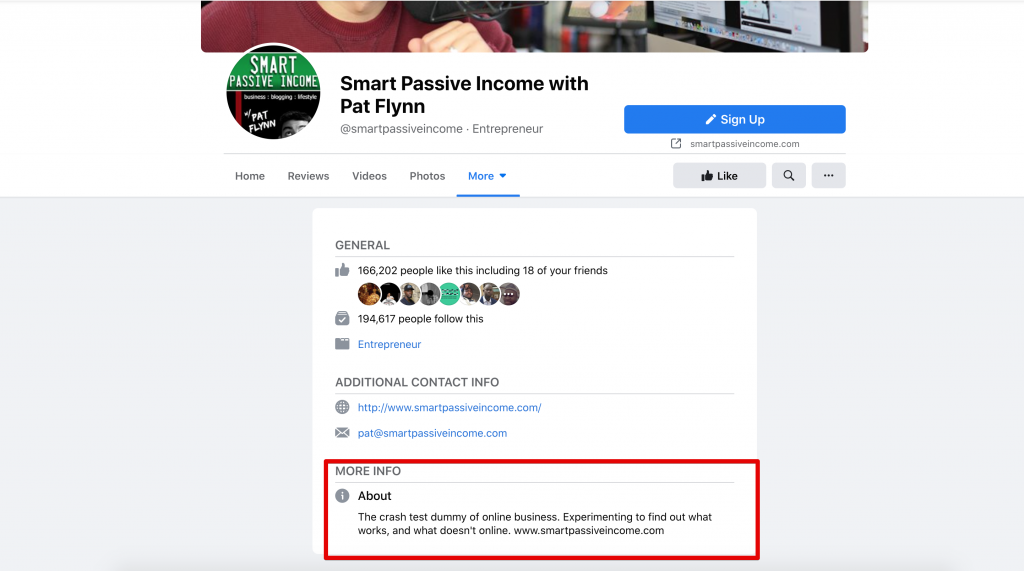 Facebook Group Description Template
Here's another example by FaceBook Ad Hack, a group that describes itself as a free community for Facebook marketers, freelancers, and agency owners.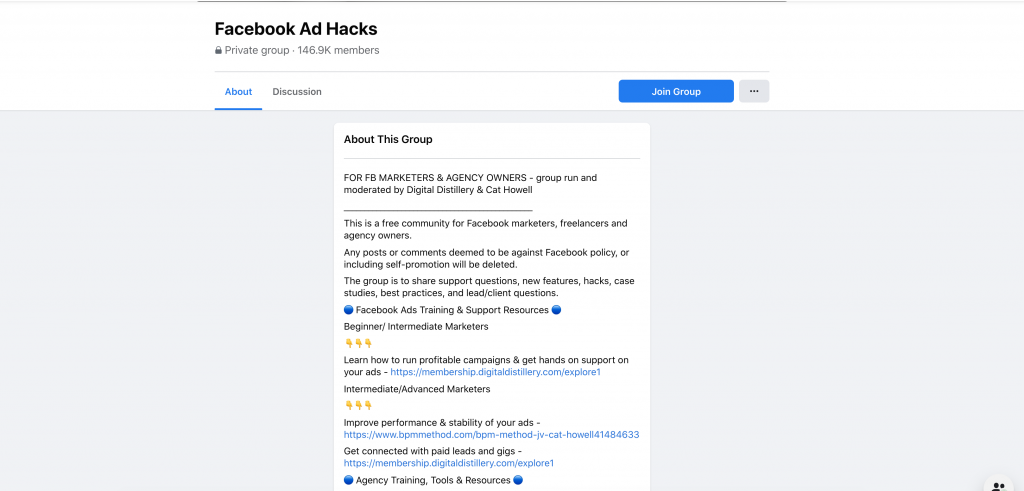 How do I write a group description on Facebook?
Now that you've gotten what Facebook group description is, how would you write the Facebook group description?
Though the Facebook team did a lot to put together a detailed step by step video series on how to get started with Facebook groups. They went steps further to advise that your Facebook group description shouldn't miss two points;
Description of your business or course in at least 2 sentences.
Defining your uniqueness as a group so people identify you are different from others.
However, they didn't reveal a description template for writing an effective Facebook group description page.
Here's how to write one.
A good Facebook group description template has 5 key points to address.
Group interest keywords
Your mission statement
What your members should expect
A concise call to action
Admin rules and disclaimer
Group interest keywords:
From this section, what your group does immediately speaks to the visitors, they need not dabble about but to join or read more about you and look away. From the image above, you'll see that this interest was made clear that the group is for those who want to grow, engage and monetize their Facebook groups.
This section will also help your group rank when people search for Facebook groups by their interest.
Your mission statement:
This absorbs your visitors deeper than what your keyword stated, it expresses your reasons and what you're set to achieve by creating the group. When you do this well, you attract the right people to your group and you can be assured that you have your target audience in your community.
What should your members expect?:
You can't have people in your community and they do not know what you're providing them. Explain in another paragraph, what your group member should look forward to getting from you.
Also in that image, Ryan Bowles – A Facebook group expert indicated his website for members to visit for more information.
For instance, stating clearly that " this group is where members freely communicate and discuss anything related to golfing and it's tools." is a sign that members can post anything related to golf.
A concise call to action:
You can have a concise call to action, like "Join to get started" or "Click join to gain access."
Admin rules:
This is where you state the do's and don'ts of your group.
Once that is done. You can be rest assured this you've provided the ultimate first impression that will last in the minds of your visitors.
Facebook group description templates and ideas
Also, I've picked examples of two Facebook groups that are doing averagely well in the space, the first is BTOP Ultimate Blogging group with over 4000 members and Entrepreneur Hustle with over 59000 members.
BTOP Ultimate Blogging described its group in 4 intentional sections;
Is a quick introduction of the group and what they will never do, i.e No B.S
The second section clarifies what their target audience should expect
The third section talks about their credibility and why you should be certain that you'll get value.
While the fourth section directs you to further readings about them.
Entrepreneur Hustle did justice to their page in 2 sections,
They explained that the group is to share stories of entrepreneurs, their pains, struggles, failures, and success.
The second section involves the rules of posting on the platform.
Conclusion
With the Facebook group description templates and ideas shared here, I've highlighted all you need to know to be able to create a magical description that helps you increase your group membership and better engagement.