If you're wondering what's the best way to leverage Facebook's massive audience to grow your business. It's Facebook groups.
Facebook currently has around 3 billion monthly engaged users, almost equal to Google's monthly users.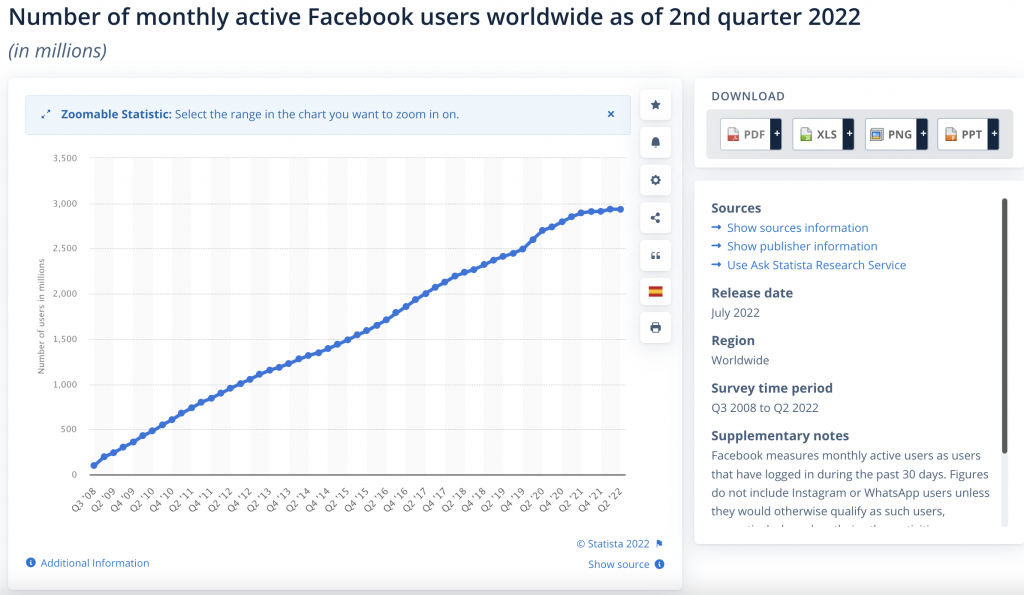 Smart business owners know this, and they're already pulling great business from Facebook via pages, groups, and more.
But Facebook pages died when organic reach on Facebook died. So they found another, better way to reach this audience.
Enter – Facebook groups.
Facebook groups are a community you create to collect your target audience. There you can promote your business, connect with potential clients, or even have fun.
The best part, they can also be used as a marketing platform for your small business, but only if you use them strategically.
In this post, I'll give you smart Facebook group marketing strategies that you can use to turn your Facebook group members into clients.
But, if you're still not sure whether or not to start one, here's a picture of what a Facebook group can do for you.
Top 3 Benefits of Starting a Facebook Group
You should have a Facebook page for regular promotion and engagement, but having a Facebook group can help with these things:
1. Build a Long Lasting Relationship
You will have more access to your group audience than your page audience.
A Facebook group allows you to connect with your members on a deeper level. You can get them to answer your questions, engage with your posts, and share their problems.
Members are also allowed to publish their own posts. This private and safe space empowers them to mold the community to their liking. User-generated content plays a huge role in Facebook groups or online communities in general.
You can build a long-lasting relationship with your Facebook group members, which is not possible with the page audience.
2. Conduct Market Research
Facebook groups are a brilliant resource for conducting market research. You already have members who are willing to participate because these members have shown their support by joining your group.
Facebook gives you tools like polls, questions, etc., if you want to test ideas or get information about your target audience.
3. Increase Organic Reach
If your business is more centered around your company's Facebook page, then having a Facebook group can help. If you connect your page with a group, and the members engage consistently, your page's content is also pushed to newer audiences.
Now that you know starting a Facebook group benefits your business, you must know the strategies to help you build an engaging community.
7 Best Facebook Group Marketing Strategies to Build an Engaging and Profitable Community
Starting a Facebook group is one thing, but maintaining it is another. And that's where most group owners fail. There can be many reasons why. Some fail to post consistently, some stop engaging, and some can't keep up.
I will not sugarcoat this for you; maintaining a Facebook group requires constant effort and showing up. But you can speed up the process if you follow the tips below.
1. Create a Private Group
You must create a private group if you want something in return for your efforts.
Yes, it will be difficult to add members to a private group, but the members you add will be of high quality. You will add targeted members who can potentially be your customers in the future.
You can ask membership questions to those who are interested in private groups. Whenever someone wants to join your group, they will have to answer the questions and send their request.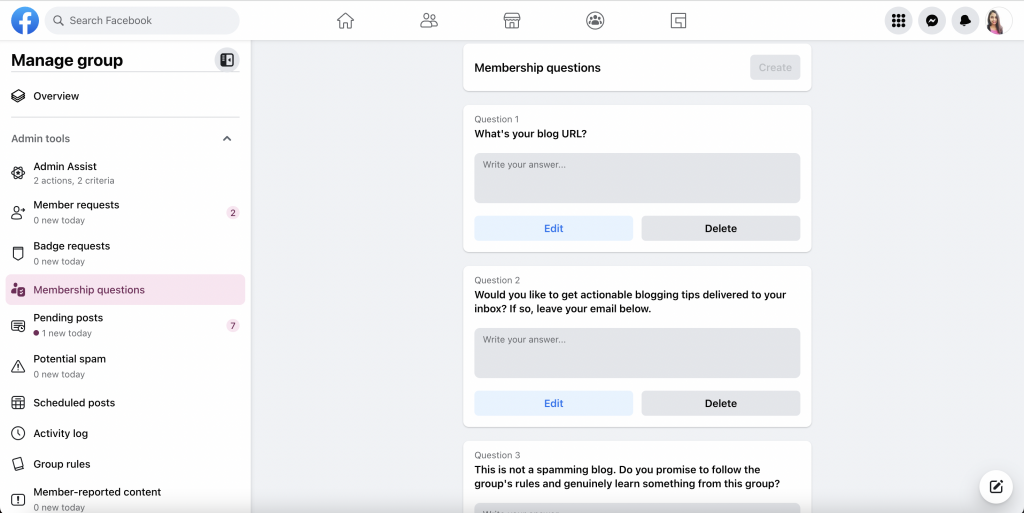 You can review the requests, and if you find irrelevant answers, you can decide not to accept the member in your group. You can also have Admin Assist filter out member requests with incomplete answers.
Most public groups fail because they accept random people. Group owners launch a public group so new members can join without answering questions. As anyone can join, the quality isn't great.
That said, public groups are great for finding members for your group. You can join a few public groups (related to your industry) and promote your group there.
2. Have Clear Community Goals
The best way to grow any community is to have goals and stay laser-focused on them. Because a group without a clear purpose will do you no good as anyone can start a group and add members, but they can't scale it from there.
So, before starting a group, think about these questions:
Why do you want to start a Facebook group?
What do you want to achieve from this group? What do you want your members to achieve from this group?
Who should join your Facebook group?
What happens after they join it? Think of the onboarding experience.
Do you want to sell products or services?
Once you have found the answers to these questions, you must have a clear goal for starting the group. You will know the group's purpose and what you want to do with the members. This will also help you come up with content ideas.
For example, the Symalite Labs Product Support Community is a community of people who use Symalite products. The group helps members with problems related to their tools.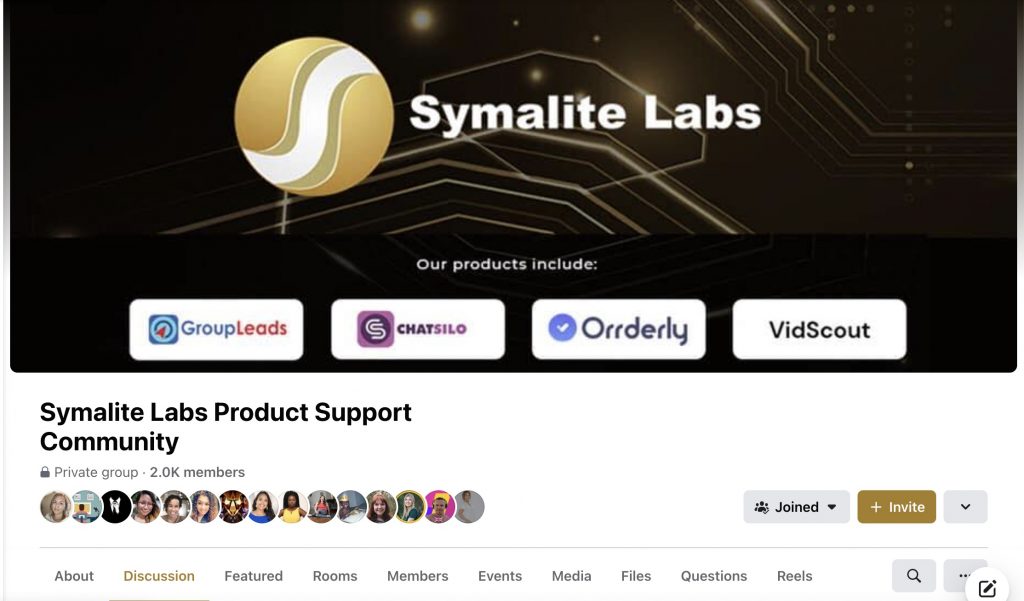 3. Post on the Platform Daily
The most common reason why most Facebook groups fail to grow is that the owners abandon them. Group owners start a group believing it will grow independently, and that members will start posting on their own. They get members to join, but then they forget about welcoming them and engaging them.
The only way to grow your community is to keep it engaged. Members need to have a reason to return to your group. If your group has a reasonable engagement rate, Facebook will show it to more similar audiences. That's how your group will grow organically.
But if your group has a zero engagement rate, Facebook will not pay attention to it. Your group would rarely be recommended to prospective members.
One simple way to get your members involved is to post daily. You can post questions, start engagement threads, share your wins, polls, etc. The key is to keep the conversation going.
If you're too busy to manage daily conversations, hire a Facebook group manager. That person will be responsible for keeping your group active. And it will get more accessible from there.
You can also set up an AI tool like Admin Assist to perform repetitive tasks for you.
There is also Group Leads that can assist you with compiling the answers to the membership questions. Instead of copying each answer one by one, Group Leads does the job for you.
4. Have Group Rules
The last thing you want to happen is members spamming your group. Things like this will stop for the most part when you create a private group, as you will review each member's join request.
But you still can't prevent spam completely. You will have to deal with members who do not fit your group. You can establish group rules that each member has to follow and add them as one of the pin posts.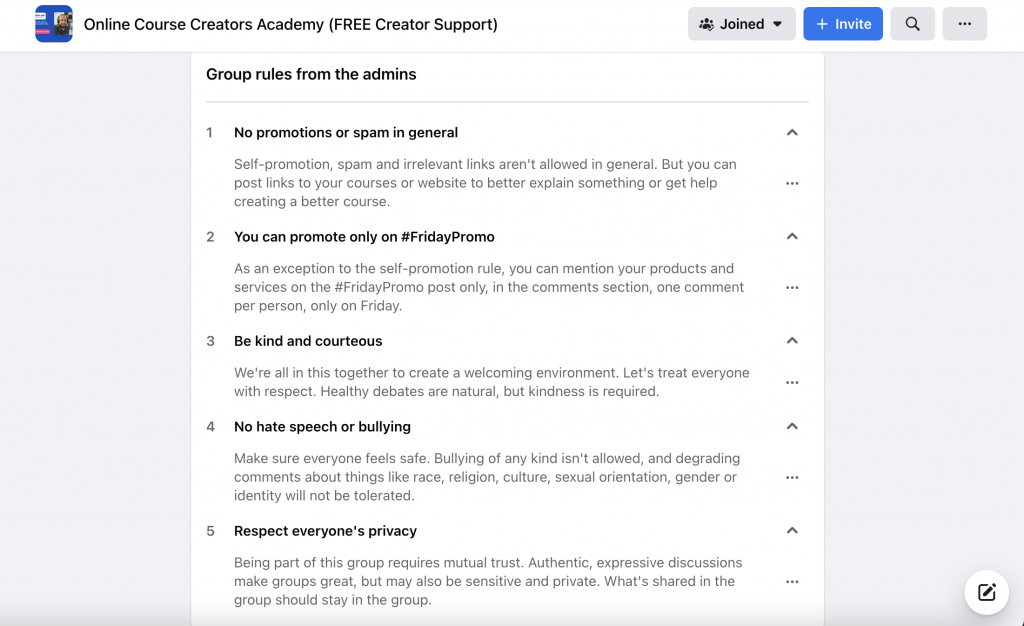 Such that members should always have access to them. These rules can serve as a warning, and if you notice some people not following them, you can remove them from the group.
You're giving members a code of conduct they must follow by setting rules. These will help you create a community with focus.
5. Use Different Content Formats
Facebook is brilliant because it allows you to do many things. And one good way to keep your members interested in your group is to provide them value.
While creating content, your goal should be to create high-quality content that helps your audience. It should be an answer to one of their problems.
The best part is you don't have to stick with the classic image-type post only. Facebook offers different content formats that you can use.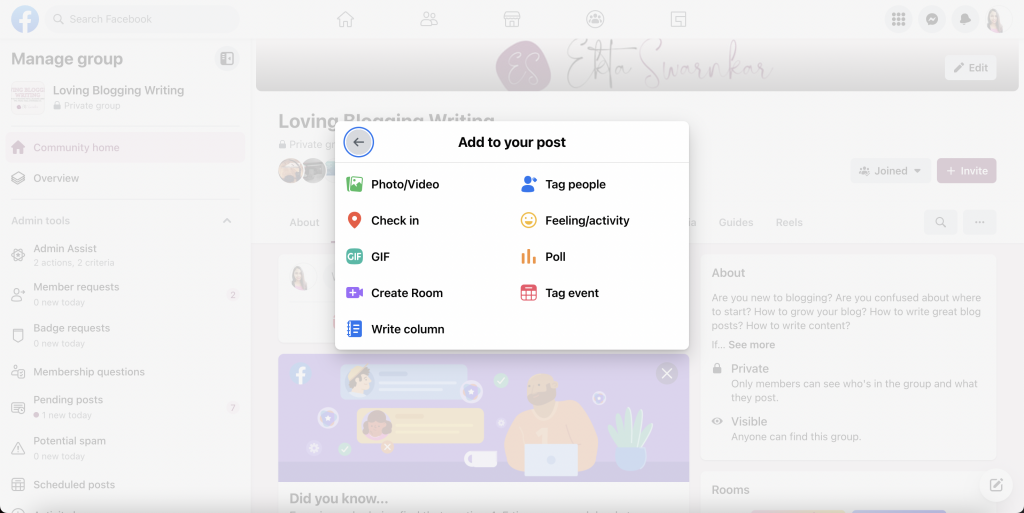 You can post images, videos, GIFs, polls, questions, etc. You can go live and interact with your audience directly. You can invite speakers to share their knowledge.
The goal should be to create a mix of all these formats and develop a content strategy that keeps your audience engaged and interested.
6. Welcome Group Members
The earliest you must engage your audience is when they join your group. If you successfully can give them an extraordinary onboarding experience, they will not want to leave. That's why you should welcome every group member.
There are many ways you can welcome new members. You can send personalized messages to individual members like this: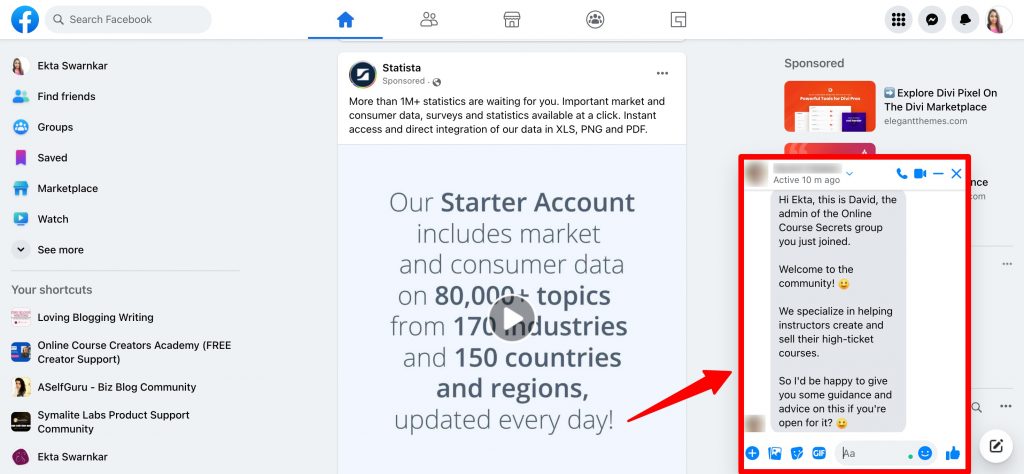 Or you can pin a welcome post in the 'featured' section for new members to see as soon as they join.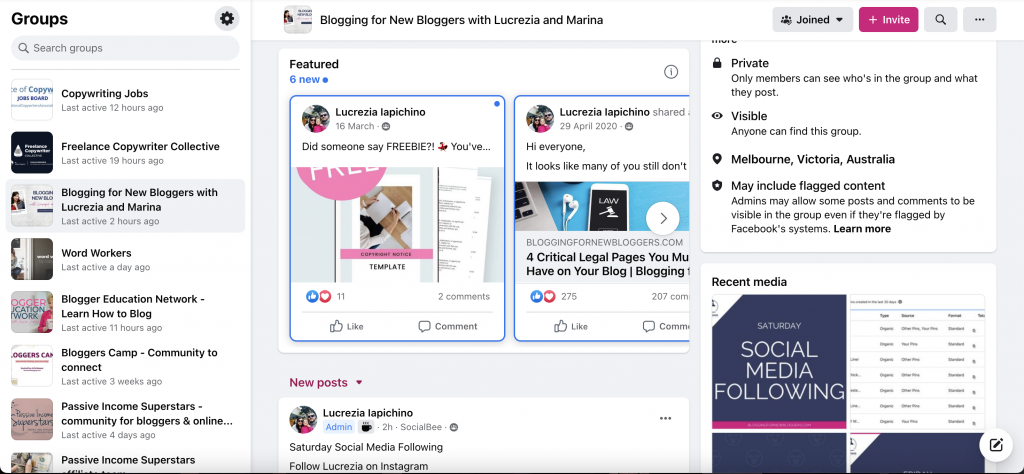 You can use any method. When you welcome your group members, they will feel they're a part of the group and will be more interactive. The key is in acknowledging the fact that they joined.
7. Use Targeted Facebook Ads
Facebook ads are a great way to reach a new audience but they can also be costly.
You have many options for running more affordable ads. You can target a specific audience and reach the people who are your ideal clients.
For example, if you have a new product that is only available to women, you could target a female audience and add them to your group. This will help increase sales by targeting potential customers already interested in your brand or products.
You can easily specify your audience by choosing filters:
Create an audience with Facebook Audience Manager
Set up a campaign on Facebook Ads Manager using the same demographics as those in Audience Manager (e.g., target women aged 18-34 who live in New York City)
Final Thoughts: Facebook Group Marketing to Grow Your Business
The growth of Facebook groups is an exciting time for marketers and businesses.
Facebook groups allow you to reach your customers in a more personal and trending way. Facebook is one of the social media platforms where your audience is, so you should be there too.
Creating a Facebook group gives your audience a platform to put their problems forward. If you're genuinely looking to help them, they will help you too.
To encourage participation in your group, make sure that it has something unique about it that people want. Add value to your group, and it will grow on its own.
You can also use Group Leads that help you convert group members into leads. It makes getting clients from Facebook groups easy. 
Do you own a Facebook group? Or are you going to start one?