Discover how you too can build & grow a profitable Facebook group within the shortest possible time and earn six figures before the end of 2022.
Facebook is the largest social platform in the world, with about 2 billion monthly active users. From this statistic, 1 billion of the users participate in Facebook groups.
There's virtually a Facebook group for any interest. I currently belong to a group on Facebook for only plant lovers.
Today, I will use my Facebook group success case study to show you how to grow any Facebook group from scratch without spending a dime on advertising.
The best of it all, you can use the secrets shared here to grow a profitable Facebook group in any niche.
Before I begin, I would like to show you my results so far (we can doubt words and some written testimonies but not valid screenshots).
Table of Contents
My Facebook Growth Results
I was able to build my parenting community on Facebook to about 300,000 members in its first six months with zero ad spend.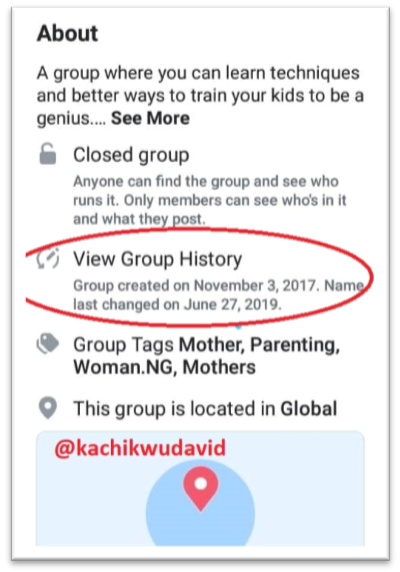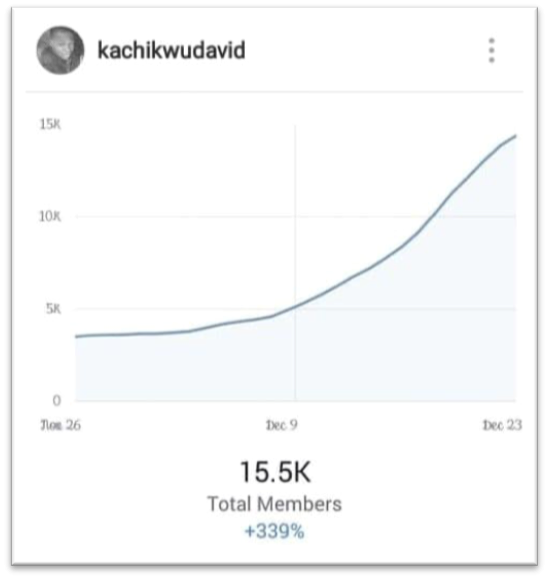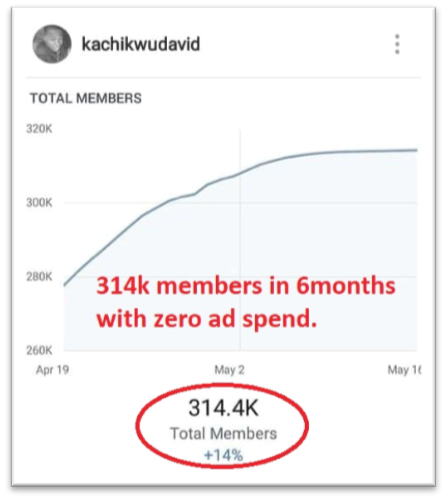 From the first screenshot, you can see the group was created on November 3rd 2017.
The second shows the group in its first month with 15,000+ members while the last was the group growth after 6 months with 314,000+ members.
From November 2017 to May 2018. The group went from 0 to 300k without advert. All these members are highly targeted and they love my brand.
I know you would want to know the current position of this group now, so I won't leave you behind.
The below screenshot shows my group with 522,000+ members and counting in its 21 months (AUGUST, 2019).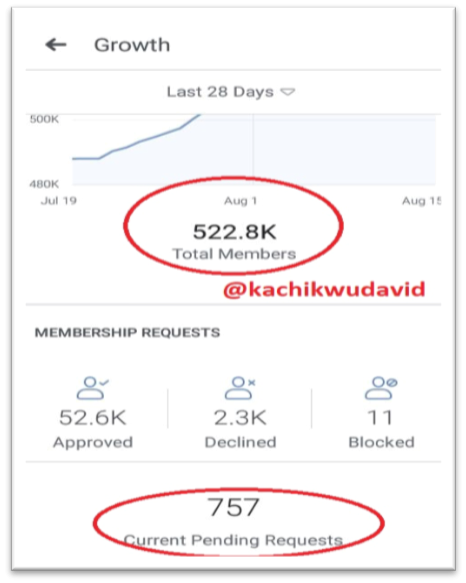 This screenshot was taken while writing this article.
I needed to add all these things up so you will know you are reading valuable content from someone who has "Walked the Talk".
I generate multiple six figures from this group and I have been exposed to different career opportunities just by building a FREE Facebook group.
This is not rocket science and all you really need to do is understand the strategy behind community building a.k.a Facebook group and play along with it.
What I'm about to let you in will open your eyes to the real secret behind every successful Facebook group you see thriving today.
I really do expect you to go away with full basic knowledge to kick start your profitable Facebook group from and if you already have a Facebook group, don't worry, you will find this article helpful.
Oh snap, I forgot, my name is Kachikwu David.
Now gentlemen/ladies, shall we begin?
What is a Facebook Group?
I believe you should know what Facebook groups are, but for the sake of clarity, here's my own short version of what a Facebook group is:
Facebook group is a place for a group of people with similar interest, connection or likes to come together into a single community to share, connect, post issues, express objectives, discuss, post photos and share contents.
Facebook group is like your offline local community or a small village in your local town.
So when creating a Facebook group, have it at the back of your mind that you are building a community because that is what it is. Treat it like a community. Do what you will really do if you were to be the community leader in your local village.
Communities form themselves; allow your audiences to guide you. Having this mindset alone adds a lot to the growth of your Facebook group.
Hope this is clear enough?
Read On.
Who Exactly is Facebook Groups Best For?
I get this question a whole lot of times. Business and personal brands are not knowing if having a Facebook group suits them or not. So I will give you a hint of people and businesses that Facebook group are best for.
If you are a service-based entrepreneur, a course creator, an affiliate marketer, a network marketer, a coach, a consultant, a thought leader, an author, local business owner, a community leader or an influencer, a marketing agency, a software company or you have an expertise or skill in one or the other.
Facebook Group is for you.
You really do not need to overthink this thing.
There are literally Facebook groups for every interest you can think about.
So what is that thing that you really love and have passion for? Why not create a Facebook group for it, there are thousands of people who will love your cause and join you.
You really can never tell how it will grow.
Make connections and create your group with people that already know you, this way you wouldn't be scared if anyone will engage in your group or not.
No matter who you are, you can create your own online community today.
Types of Facebook Groups
In other words, this is called group privacy setting. You can decide how you want your Facebook group privacy to be.
There are three types of group privacy.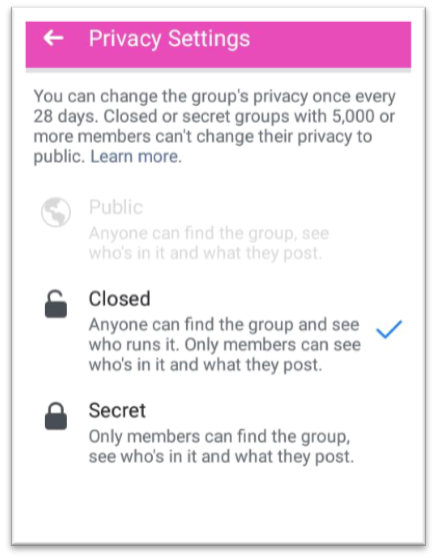 As you can see from the screenshot above.
PUBLIC GROUP
PRIVATE GROUP (most popular and recommended – it used to be called Closed group)
The SECRET GROUP
Let's take a look at the pros and cons of each of the privacy settings.
Public Group
Anyone can join and see your group
Possibility of attracting spammers are very high
It's very difficult to moderate
People won't take the group seriously.
Closed Group
People can search and find your group, but can't see post and members name unless they join.
It's very much easy to regulate and moderate
Members get to see group post in their newsfeed
The most popular and highly recommended
You can easily generate leads and build an email list out of this kind of group.
Secret Group
Your group cannot be searched for on Facebook
New members can only be invited by an existing group member.
Posts cannot or may not be seen on the news feed.
Only members can see and interact with the group.
Now it's left to you to choose which of these group types you want yours to be.
But I highly recommend you begin with a "CLOSED" Facebook group.
Although Facebook gives you the opportunity to switch between privacy settings every 28 days.
Your group has to be at least 5,000 members or more to make the switch between closed and secret.
At 5,000 members, you are not able to switch back to the public if you already started with closed or secret. All these changes are restrictive and you should know them.
From my group screenshot above, you would notice the public option cannot be selected again because my group has exceeded 5000 members. So I can only move to secret.
I understand why Facebook made it that way and I really appreciate it.
It wouldn't be fair to current members when they find out that their closed or secret community has suddenly become public, it's really a big disrespect to them and some will leave immediately.
I plan on permanently turning my group to a secret when we get to a million members. The more secure they feel, the stronger the community.
But again, whichever one you decide to go with, closed is the best if you are just starting out…
Why Create a Facebook Group
I created my Facebook group initially because of my passion and my parenting background connection with motherhood.
I have always loved to have a mother and I lost mine at a very tender age (6 months to be precise). I missed a whole lot of motherly love so this made me pick interest in the motherhood niche and I formed a community of women all over Africa.
It's a long story but in a nutshell, I now have 523,000 moms and counting instead on 1.
But aside my short story, I believe Facebook groups provide a whole lot of several benefits.
Below are some reasons why you should consider creating a Facebook group today.
You can easily build trust
Facebook group is one secret place where people feel safe to share and engage their thoughts If you operate on the secret and closed privacy setting.
This free expression of thoughts and engagement on its own is a goldmine for you to nurture these people so they can know, like and trust you more.
Every successful online business you see today was built on trust. With a Facebook group, your level of trust increases, which is good for your business and personal brand.
Building your brand influence
With a Facebook Group, you automatically become a leader.
This gives your brand a whole new perspective as people will start seeing you as an authority in your niche.
They will relate your group progress and success to your personal brand which automatically increases your level of online influence.
Engagement (real-time and high)
The real-time engagement and discussion all happen in Facebook groups MORE because groups are kind of designed for massive engagement.
If this is what you are looking for likes, comments and reactions. Facebook group will give it to you.
Sell your services/product without running ads
This is actually one of those things I benefit from having a Facebook group.
You can easily launch your product with your audience without having to spend any sorts of extra money on advertising.
The – know, like and trust factor has been built so it's even much easier to sell to this audience than running ads to a cold audience that don't know you.
The more members you have, the higher chances you have in selling your products or services in large volumes.
I personally have an eBook in the parenting niche and I have been selling it in my group without an AD budget. You can leverage your audience and sell to them comfortably as long as you keep delivering VALUE.
Other outstanding benefits I can't really break down because of the length of this article are:
You can grow your email list on autopilot with a software called group leads
You can easily generate more traffic to your blog/website
You can create a poll to validate an idea of yours before launching
And lots more…
Facebook Page vs Facebook Group
This is another confusing term.
I see a lot of arguments as regards the relationship between these two features on Facebook and I can't help but clarify things so you won't get to join the argument but instead know how to leverage both to grow your brand influence and increase your group growth.
My group has a page that officially represents its presence online.
A Facebook page is mostly used by business brands or public figures to connect with their audience globally without having any restriction on the amount of connection they can have.
It is generally seen as the official representation of a brand, an influencer or a public figure on Facebook.
Pages are always public so everyone can see it, search for it, like it and follow it.
Not only that, in order to run a Facebook advert, you would definitely need a Facebook page.
While Facebook groups on the other hand like I previously explained is used mostly for discussion, interaction, connection and sharing of content between group members.
As a business brand or a public figure, you can have a page for your group and a group for your page.
Whichever has the highest amount of engagement and audience, the other should be created for it.
You can also create both together at once when starting out.
Take a look at my page connected to my group.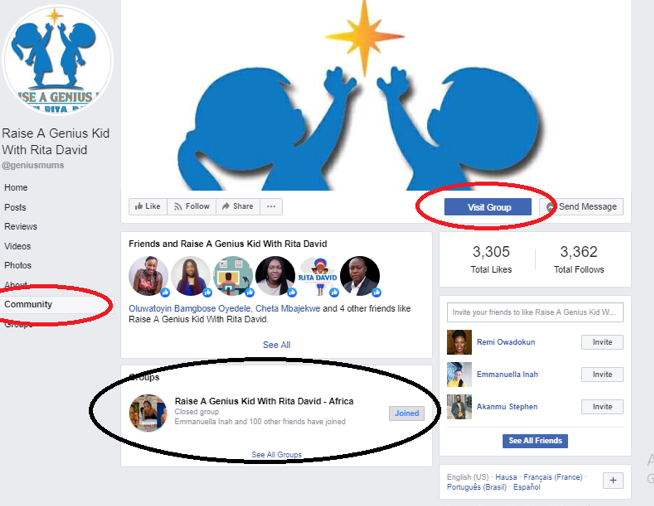 The page was created for the group. The page officially represents the group on Facebook.
You can see the call to action button linking the page visitors and likers to join my group.
This is one way to incorporate page to grow your group. You can also use the page to run a sponsored advert for people to join your group and lots more that I can't cover in this one article. A page is as important to a group as a group is as important to a page" – Kachikwu David 2020.
How To Create a Facebook Page for Your Group
To create a page for your group, please follow these steps:
FIRST STEP:
Visit Facebook.com/pages/create to sign up or log in to your Facebook account and click on the pages option at the left-hand side of your Facebook dashboard.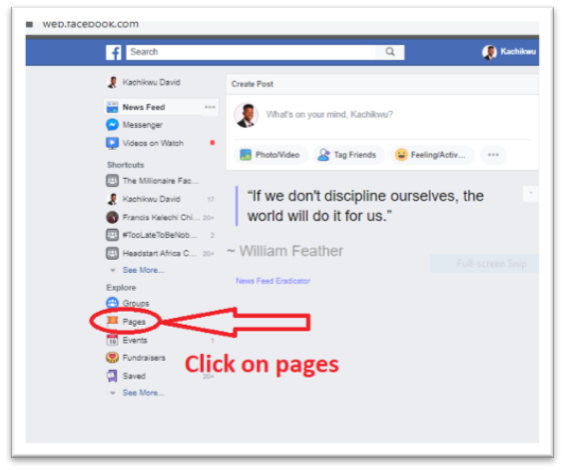 Once done, based on your interests, you will see list of pages you liked and suggested pages to like and follow.
Just look at the top right corner and you will see the create page button, click on it.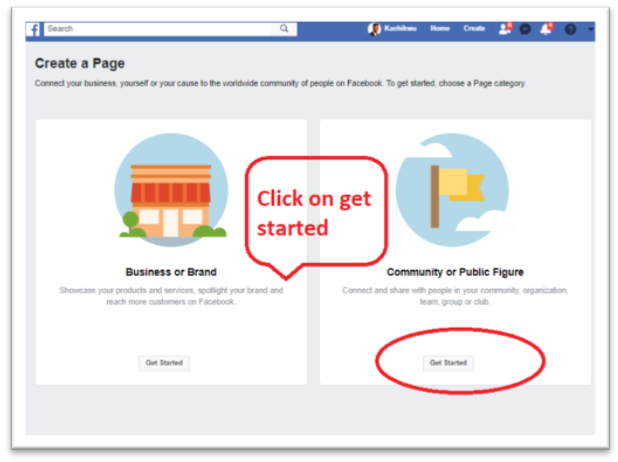 Once done, you will be greeted with the page category section. Since you are creating a page for your group, you will select the community or public figure option.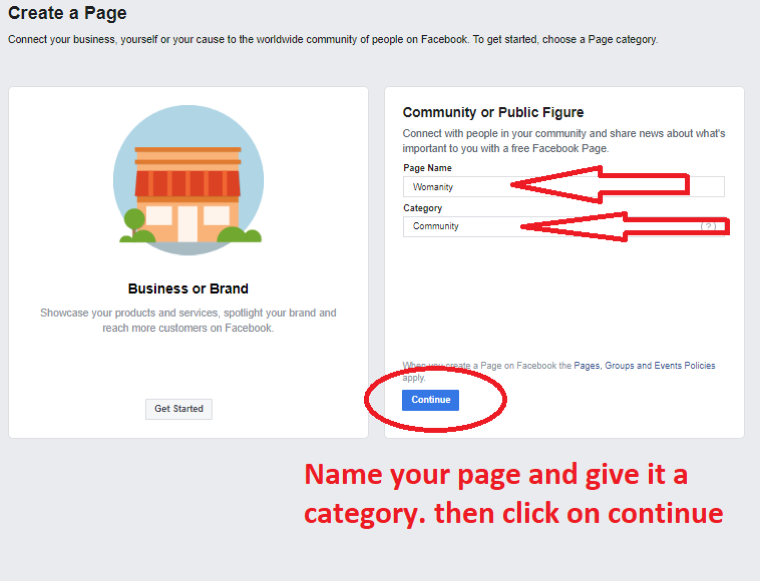 Click on get started and you will be asked to choose your page name and category. Make sure here your page name is exact with your group name.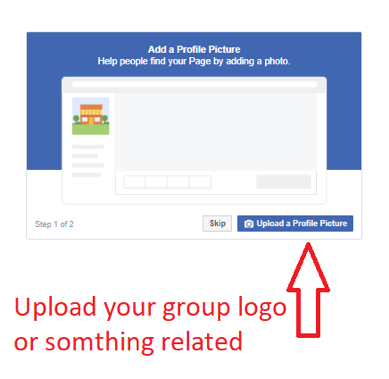 N.B: once you click on continue, it means you have accepted Facebook page terms and condition, so you might want to read about them if you choose.
SECOND STEP: Add a profile picture
Your page for your group has been created, now you will be prompted to add a profile picture.
If your group has a logo, you can use it as the profile picture for the page. Just make sure the profile picture says or represent your Facebook group for easier identification.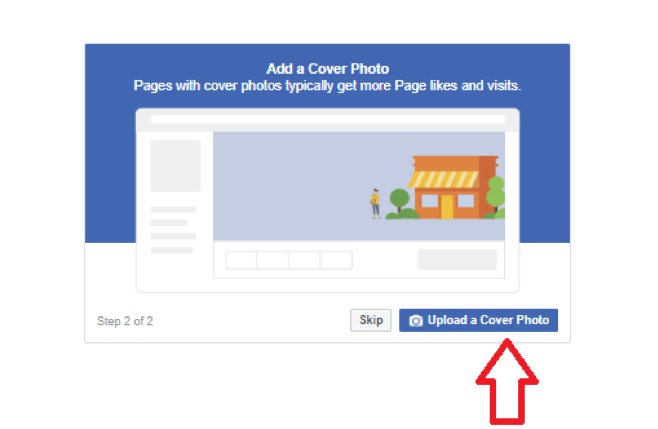 Once done, you will need to upload your page cover photo as well.
You can hire a graphic designer to help you get the right dimension for Facebook group cover photo or you can use an online graphic designing tool called Canva to make these cover photos yourself.
Once done, you will need to upload your page cover photo as well.
Once you have gotten the right images, please click on upload a cover photo.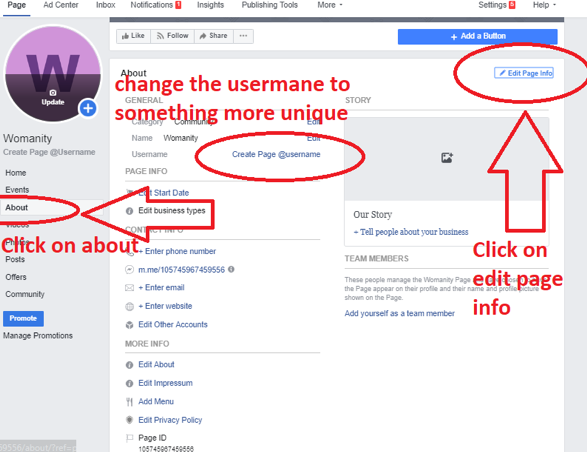 THIRD STEP: Edit page info/description
The very next thing to do now is to edit your info and add a description to it. Add contact details, address and change the page username to something more specific.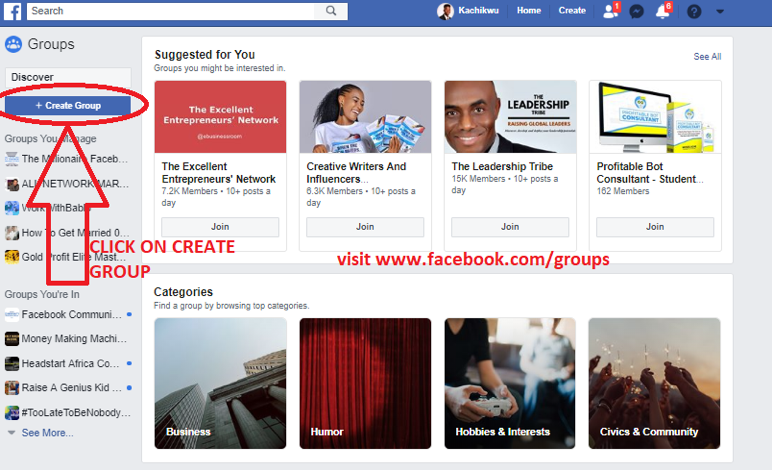 Click on edit page info and add a description to your page.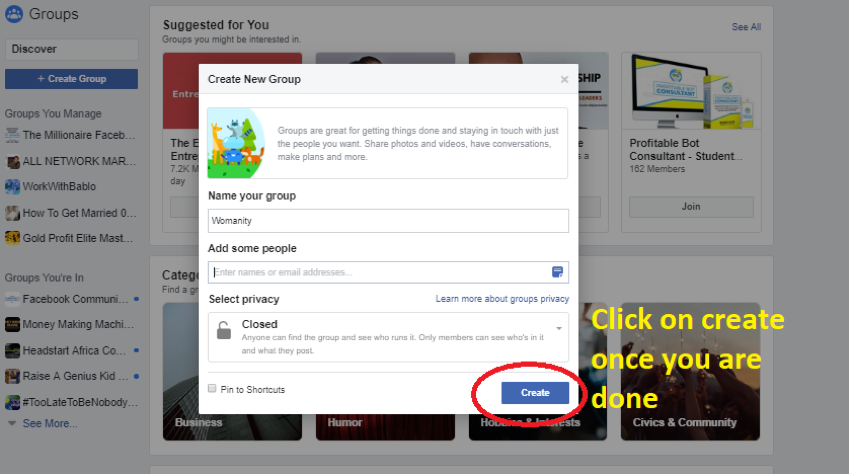 Once you fill out the required details about your page, simply click on save and you are all done.
Your page is now ready and fully set to function.
Step By Step Guide to Creating Your Facebook Group
Now, it's time to set up your Facebook group the right way…
STEP 1: Start the setup
Visit www.facebook.com/groups
STEP 2: Give your group a name
Once you click on create group, you will be shown the next tab indicating you give your group a name, add close friends and select a privacy setting.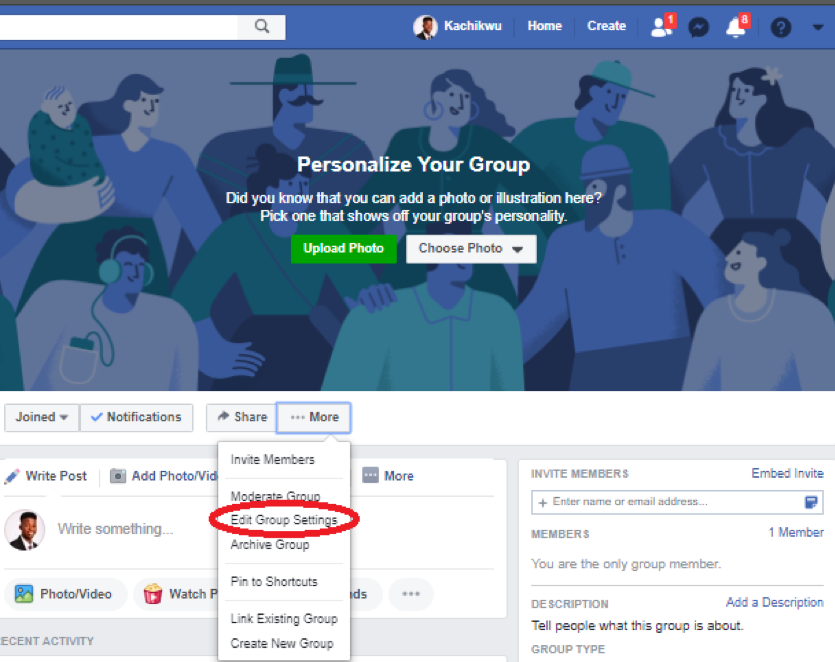 STEP 3: Upload your group cover photo
Recommended sizing for the Facebook group cover photo is 1640px by 859px. 
You can use Canva to create custom dimension images or better still get a graphic designer to help you out.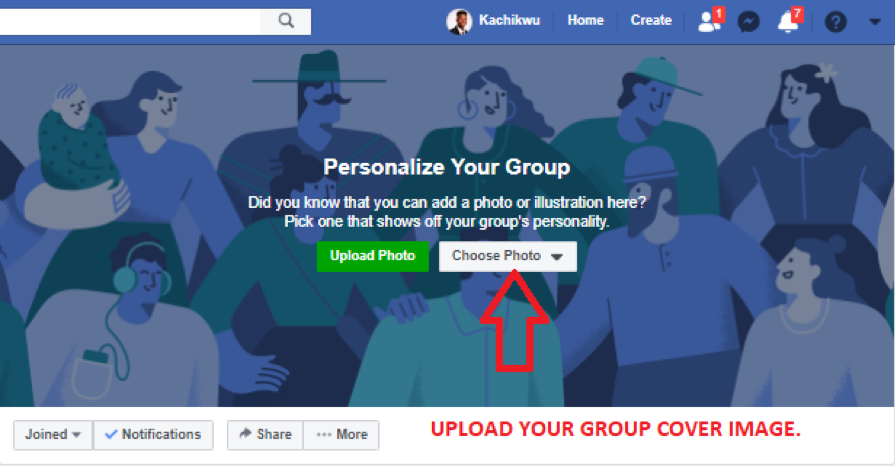 STEP 4: Edit group settings
Click on the three dots just beside the share button. A drop-down menu will appear, click on edit group setting.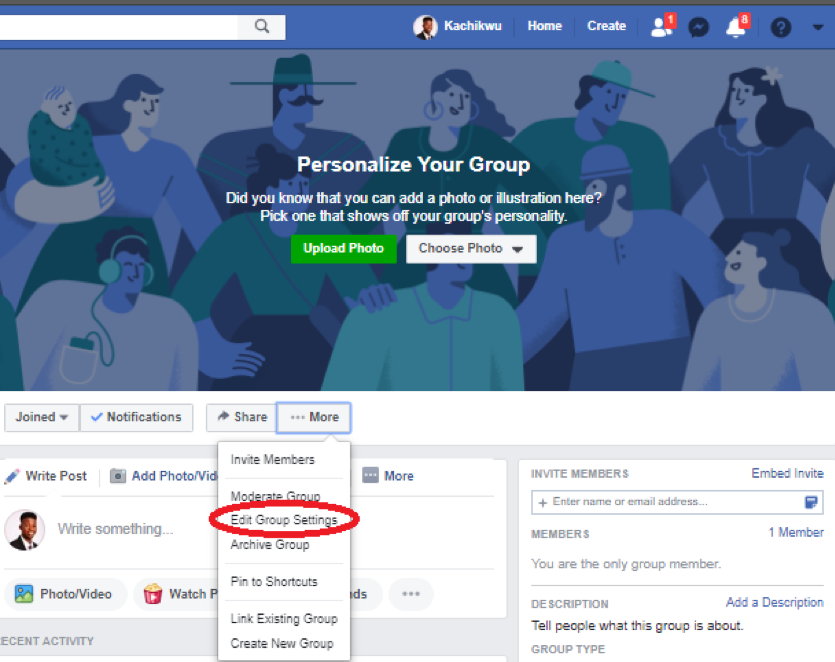 Pick Your Group Type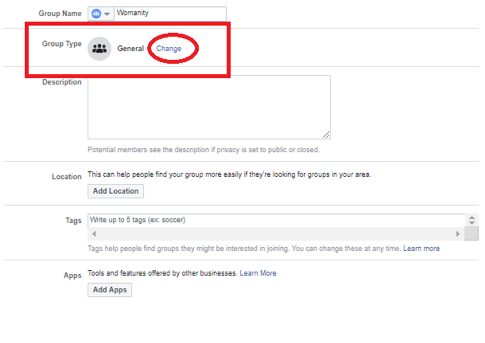 and then…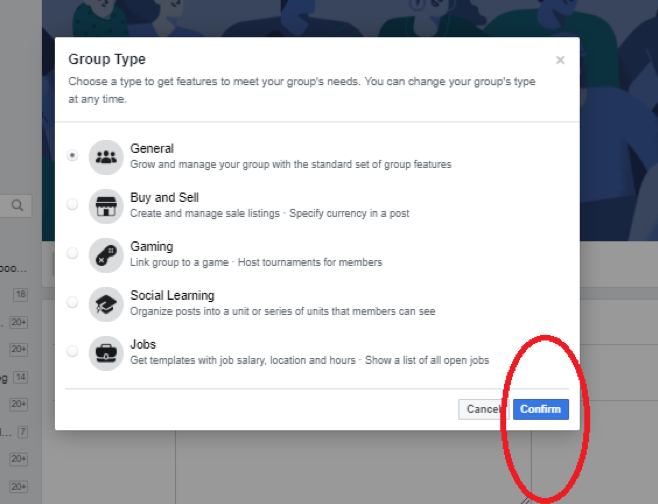 General is most popular for every group unless your group has a different purpose, then you can choose base on your preference. Once done, click on confirm.
Add Group Description
This is the time to market your group to the potential audience.
This is where you are giving the opportunity to describe your group mission and the key value of your group.
It always appears at the right sidebar in your group, and it's among the first thing new members see before joining your group.
So make it sweet and enticing.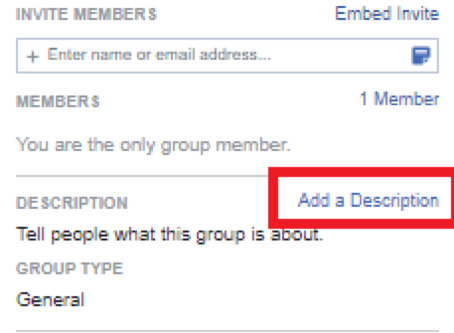 Choose A Location
Location helps people find your group easily if they are looking for groups on Facebook by location.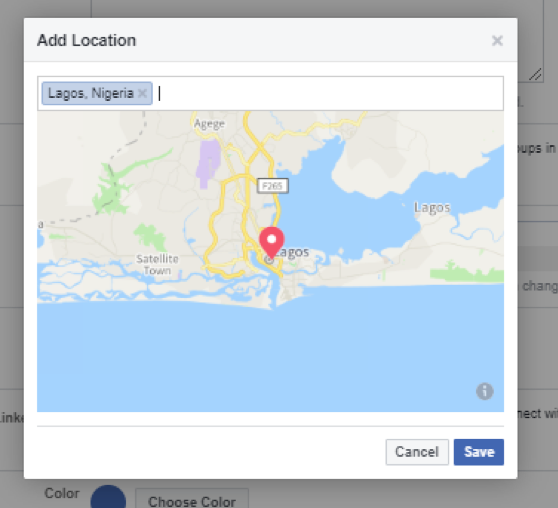 Choose Your Group Tags
Add tags to your group, so members can know what the group is all about.
Tags also help people find your group and join.
You can add up to 5 tags based on your group niche or industry. E.g. Sport, tennis, soccer, basketball, volleyball e.t.c.

Link Your Created Page To Your Group
Remember we already created a page for this group, so it's time to link both of them together.
You can use your page to invite more people to join your group. I already talked about this early so all you need to do here is link them up together.

Choose Your Group Tags
Create a branded name for your group so you can easily share it with people and remember it too.
You can change the name later until you get to 5,000 members.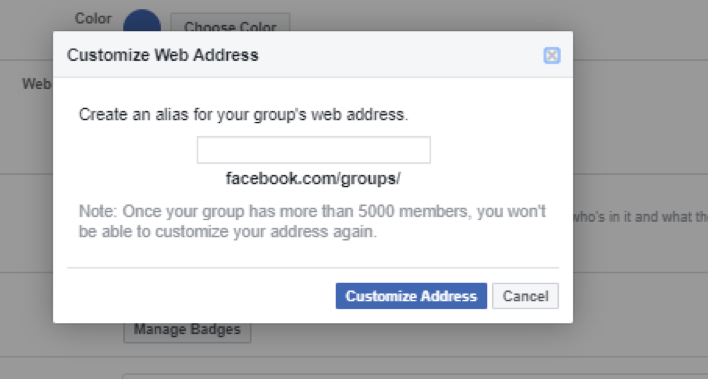 Choose Your Privacy Setting
I explained what these privacy settings means already, so just select from the options.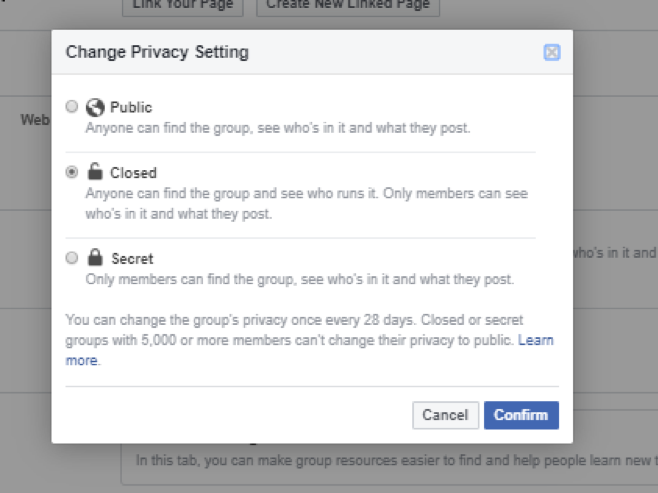 Choose Who You Want To Approve Members
It's best you choose admin and moderators to approve members only, you don't want anyone to approve members for you right?

Posting Permission
Make sure you set your posting permission to "anyone can post in group".

Ask New Members Question
Next, you will want to ask new members question before allowing them in your group.
You can ask up to three questions and more.
For my group, my membership question is something like this.
QUESTION 1: Would you abide by the group rules and regulations?
QUESTION 2: Are you a male or female?
Question 3: What is your best email address?

Posting Approval
I will recommend you set it to allow admin and moderators to approve the posts.

Save Your Setting and Start Building Your Community

Awesome Tools For Growing Your Facebook Group
In this section, let me quickly share two of the software that would help you grow your Facebook group.
Group Leads
When Facebook introduced a feature where group owners can ask three questions when anyone join their community. Smart marketers started taking advantage of the opportunity and asking for emails like I stated above.
Many thanks to the Group Leads chrome extension.
Once new members answer your onboarding questions, you can save their details in Google spreadsheet and also add them up to your email list immediately you approve them with just one click.
So, when you have anything to sell to your members or when you create a new post, you can email them to go check it out in the group or go buy the stuff you are selling at anywhere on the internet
Not only that, if you need to deliver lead magnets to your new group members immediately after they join your group, this is also for you.
The software is called Group Leads.
Group leads help you to instantly create Facebook group funnels and convert new Facebook group members into leads in Google spreadsheet as well in your favourite email marketing software.
WP Facebook Group Promoter
Another cool software I would recommend you start using to get more members to join your Facebook group is Group Promoter.
Group Promoter is the Group plugin lets people join your Facebook group from a link/button in an email message or a web page on your website.
If you have a group and a WordPress website that has a bit of traffic, then you can easily convert those visitors to members of your group.
And fortunately this WordPress plugin is free and it's currently been used by over 200+ websites all over the world.
Within the tab on the plugin, you would also discover how to invite your email list subscribers to your Facebook group in a very clean way and not the old boring way.
Top Secrets to Growing a Profitable Facebook Group
Your personal branding must be On point.
Your Group name must contain keywords related to your industry
You must invest in creative and engaging content to keep your group alive and active.
You must have the leadership mindset and know it's VALUE first before any other thing.
Be positive always in your group, never allow negative energy.
I leave you with the rest that you will figure out in your journey.
Final Thoughts
In all you do, Facebook groups are great and you really can never tell how far it can take you once you start.
Also, know that it's not just enough to create these groups and then automatically expect members to start rolling in. You have to market your group effectively in the beginning, do all you can to get people in your group in the initial stage and try as much as you can to provide high quality and exclusive content for them.
Once you can do these, your group will start showing up in suggestions and search then more people will start joining organically.
You will also have to deal with moderating the group and deleting spam posts, engaging with your members, respond to posts and showing up always are all part of what you will be doing as a group admin.
Rules enforcing and maintaining sanity are also part of your job. Creating your group is one part; moderating is another part and if you really want to stand out, you have to give it your time.
I hope you have benefited from this article on how to grow Facebook groups and you are now fully ready to kick start your group.