A Facebook group name generator is a great place to start if you don't have any name ideas or have hit a creative block.
In this article, we'll go over how to pick the best Facebook group name so you never have to change it. Although, if you need to change your name in the future, Facebook makes it very simple.
But you must create something unique to compete with many groups already established on the platform. We'll also discuss using a Facebook name generator and what you need to remember when changing your group's name.
The Purpose of your Facebook group
Facebook describes groups as "spaces on the social media network for friends, acquaintances, or others with similar interests." Facebook has around 10 million groups with over 1.8 billion users.
All of this suggests that if you want to grow your business or build an audience, you must have a Facebook presence. Companies, official profiles, and folks who share similar ideas use Facebook pages and groups to grow their following.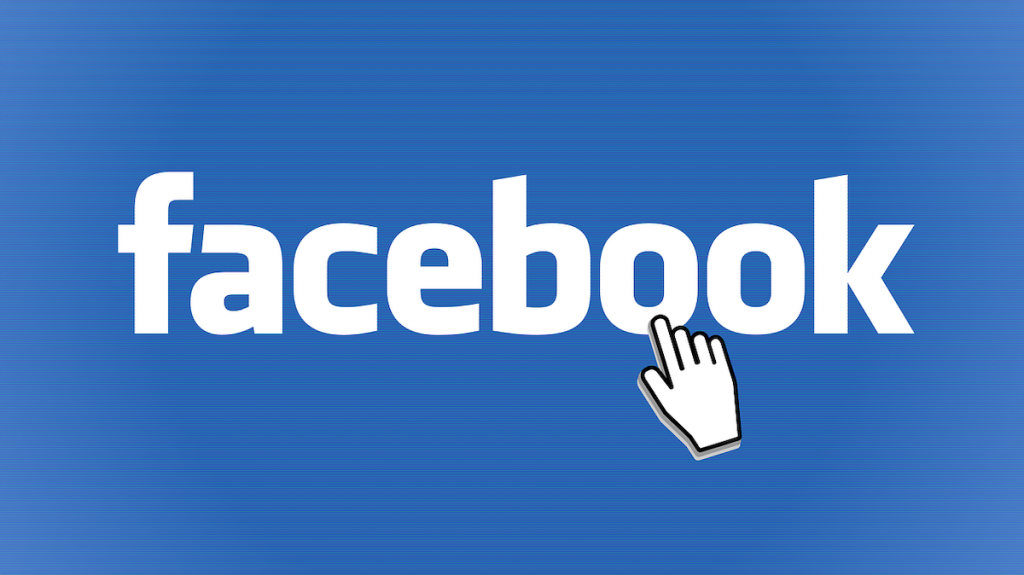 Group members can share related content around a common cause, post photos, discuss issues, or share activities. A Facebook Group can be created and managed by anyone. And you can join up to 6,000 Groups.
Folks often confuse Facebook groups with Facebook pages. In essence, a Facebook page is a non-personal profile page. It might be a business, brand, group, or organization profile.
Additionally, public entities like politicians and celebrities can have Facebook pages. And you can have Facebook business pages.
Since so many individuals can administer them, Facebook Pages differ from regular Facebook profiles. You can monetize or promote them, and anyone on Facebook can like or follow them.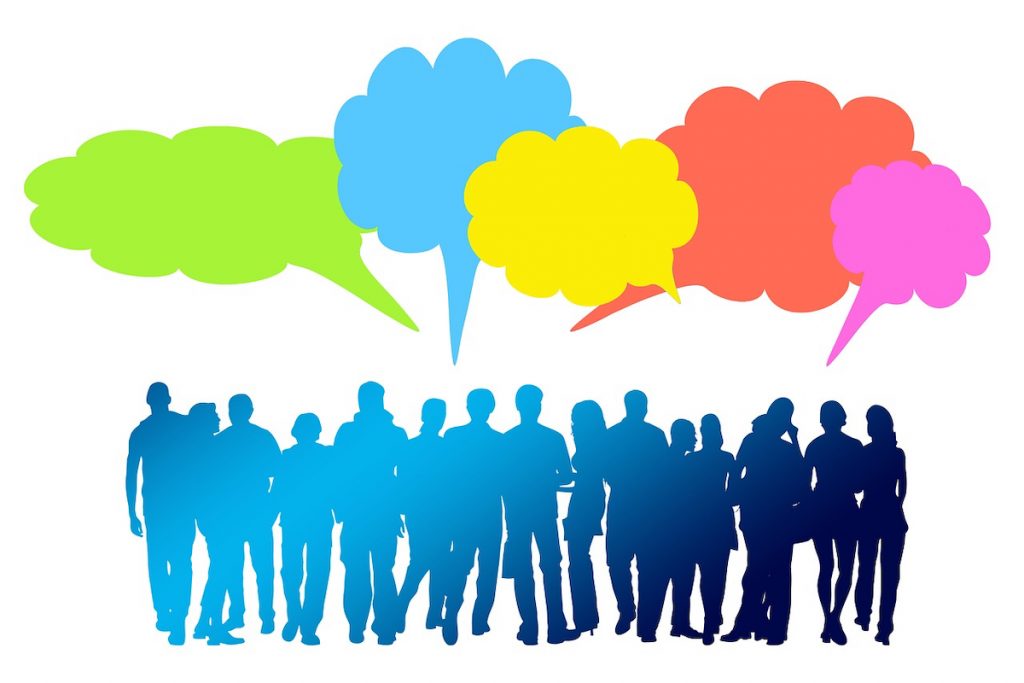 Quick facts about Facebook groups
Any Facebook user can create a group.
Some groups are open to all, while others may be closed.
Some groups are secret and cannot be found, so you must be invited by a member of such a group.
When you leave a group, the other members are not notified.
Only the group's creator and anyone they make an admin can invite someone to the group.
You can create events, upload photos and videos, and share files.
To delete a group, you'll need to remove all of its members first.
Group admins can invite members to become Group Experts; experts are identified by a badge next to their name and can assist the group in disseminating credible information.
Why is a Facebook group name important?
At first, picking a perfect Facebook group name or a name for any social media platform, even a Facebook page name, may seem impossible. The decision you make feels permanent, so it better be one you'll cherish permanently! That's not entirely true, though, as there is room for error when you first start.
Along with your group's URL, description, and cover image, your Facebook Group name is the most important and first element a potential member will see about your group.
When naming your group, you should consider strategic elements, practicalities, and searchability. But don't worry, you can change it every 28 days if you choose the wrong one or your group's direction or focus changes.
1. Your group gets found.
The most obvious reason for having a great Facebook name is that it will help users find your group.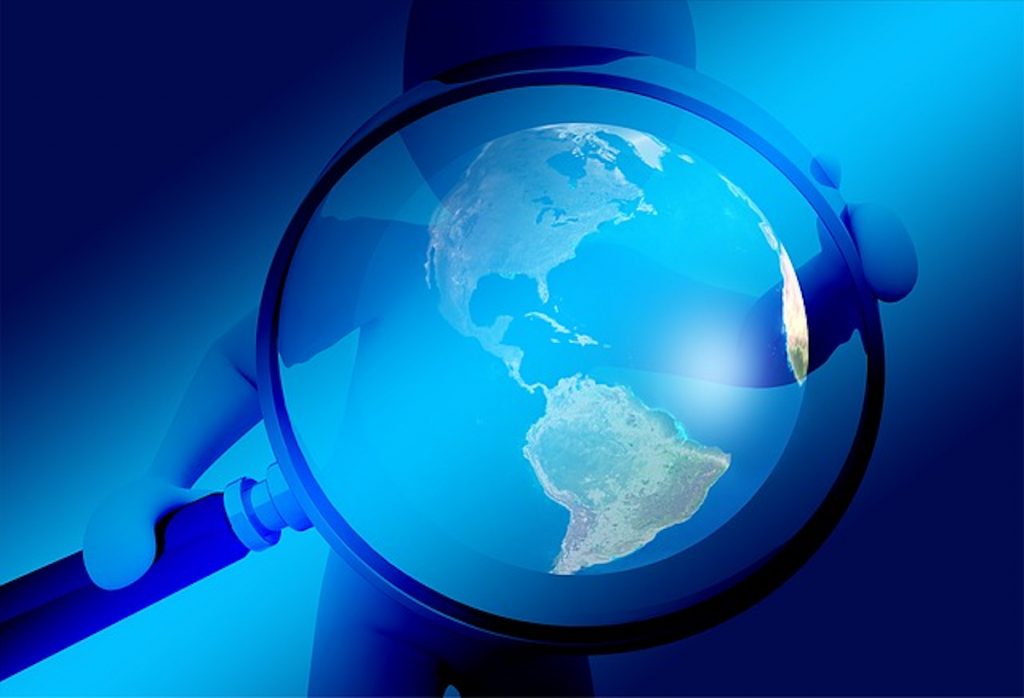 Users are constantly looking for groups to join by using Facebook's search bar and typing keywords related to the topic they are interested in. Following that, Facebook will display relevant results. If your name has nothing to do with your group's topic, it will not appear in their search results. Thus limiting your opportunity for growth.
You can use a few strategies to make your Facebook page or group appear at the top of the list in a search. Use keyword research to determine what fans might be more inclined to search for if you're unsure of your group or page title. Sometimes it's best to keep things as straightforward as possible.
Use spaces between words while composing the name of your Facebook group. Mostly (not always), on Facebook, users will likely type "Speed Walking." On the other hand, on Twitter, they could be more likely to type "speedwalking." This simple technique ensures the most visibility.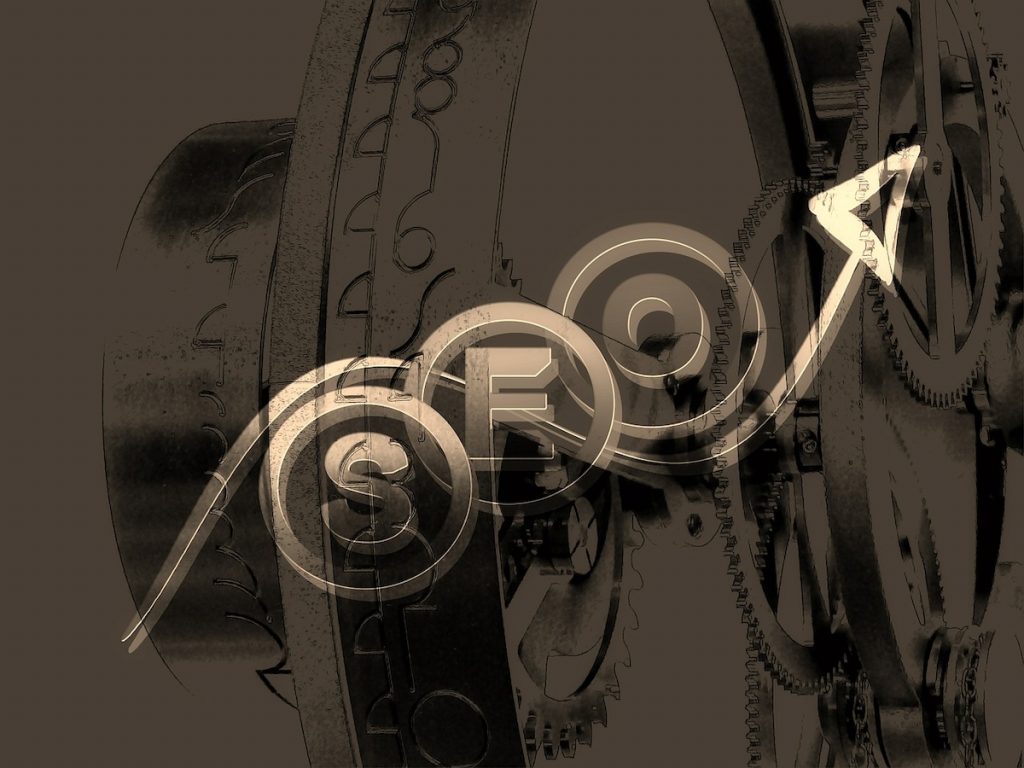 You can change the name of your Facebook group, but if you want it to be noticed in searches, only do it occasionally. You will lose some SEO points each time you change the name because Google dings groups when their titles change.
Let's look at what users will see when they look for groups to join.
The group icon (a component of the cover image)
Name of the organization or fellowship
The number of people in the group
The number of posts made each day (indicates how active the group is.)
2. Your group name should attract the right kinds of people
A Facebook group with a very general name may draw members from every walk of life. It can also attract "Group Addicts"— people who join many groups on the same subject. You don't want that because you want the right individuals in your group.
Here's why it's crucial only to include the correct people in your group: The percentage of members in your group who are active (liking, commenting, and posting) is taken into consideration by Facebook's algorithm. The algorithm uses that percentage to determine how many group members will see your page content on their walls. Also, how many new potential members it will suggest to join your group.
Increasing this percentage will significantly boost engagement in the group and potential development pace. And ultimately, the success of your group.
The purpose of joining must also be apparent in a good Facebook group name. Why should people care about what they will learn, do, or experience in the group? Make sure prospective group members know the benefits of joining your group.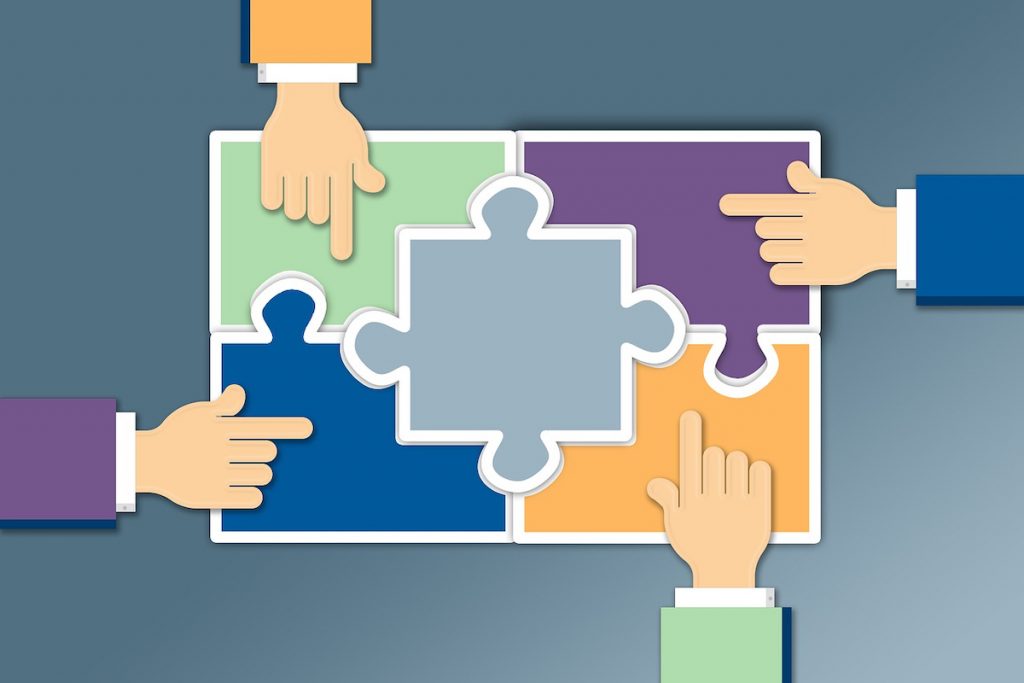 3. Facebook suggestions
Whether you like it or not, Facebook already has a lot of information on you! Even though this lack of privacy can be unsettling, it can be helpful when looking for new groups. Facebook recommends Groups for you to join based on the information it knows about you.
Visit the "Discover" section for Groups on Facebook and browse the suggestions. They are separated into numerous categories. These include Friends Groups, Suggested for You, Popular Near You, and others (like humor, sports, tech, and so on).
Restrictions on Facebook group names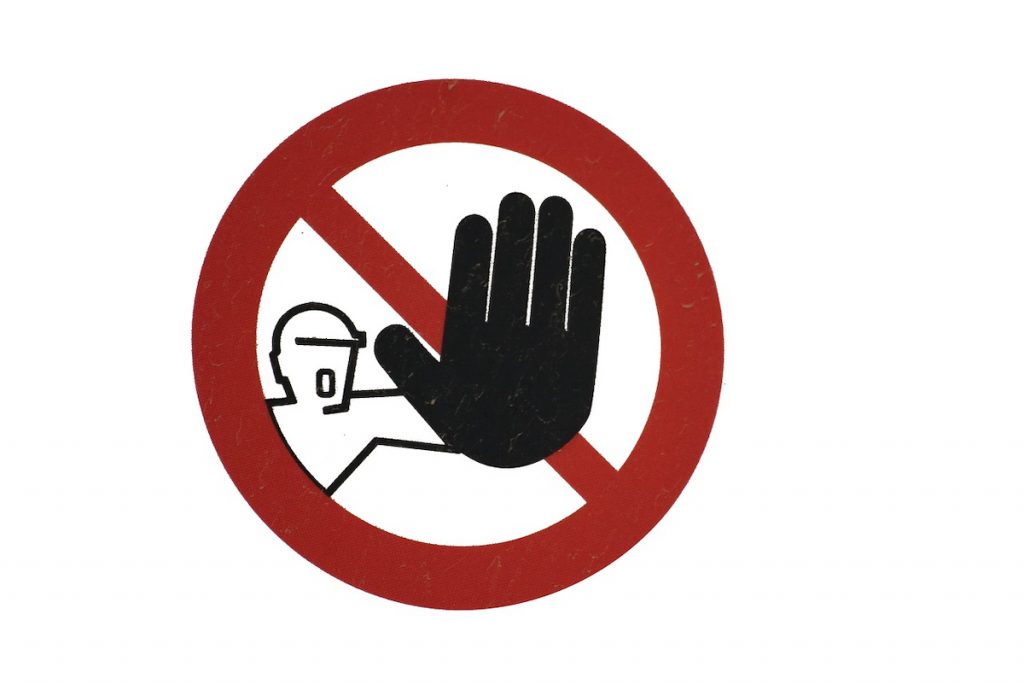 What isn't allowed?
Symbols, numbers, unusual capitalization, repeating characters, or unnecessary punctuation.
Acronyms only can use all capital letters.
Acronyms with improper capitalization (acronyms that spell improper words).
Characters from multiple languages.
Titles of any kind (e.g., professional, religious).
Words or phrases in place of a name.
Offensive or suggestive words of any kind.
Facebook name generators
If you're coming up with a name for the first time, there's a good possibility you'll run into problems. There's no need to freak out because it's pretty typical. Go back a step and chill for a moment.
It's challenging to come up with Facebook group name ideas. But inspiration can come from anywhere and everywhere! Search Google, and you won't exactly find name generators dedicated to Facebook groups. But there are dozens of name generators. These can cover anything from Facebook pages, home, business, slogans, fantasy, usernames, baby and team names.
Names Frog
Names Frog isn't precisely a Facebook name generator – but it has some excellent name ideas you can look over.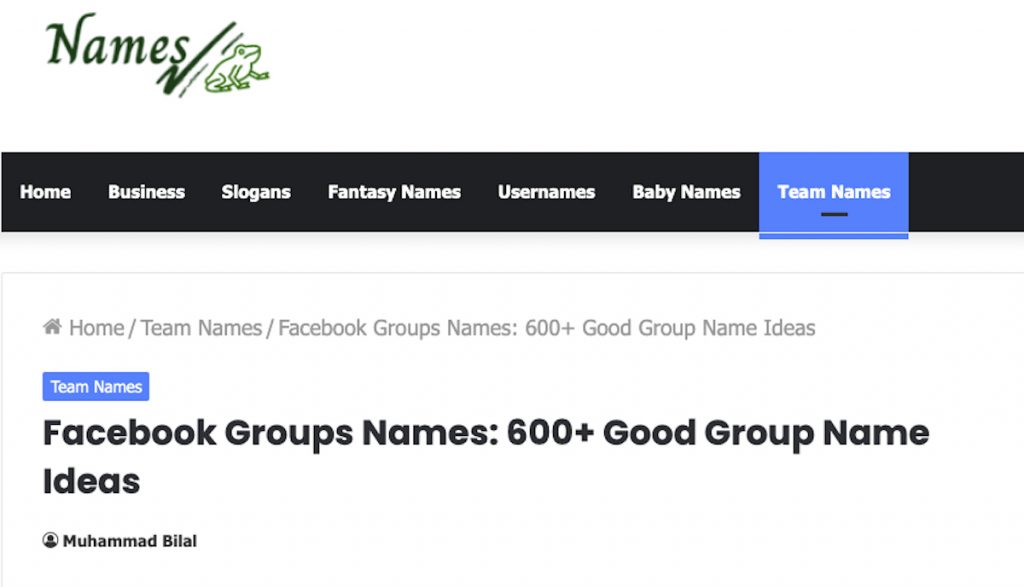 Here are a few great group names from Names Frog.
1. Creative FB group names
We are Team
Bonded By Blood Group
Just talk
Empty coffee cups
We don't pass the ball
The Fantastic Four
Gang Of Girls
Facebook Saints
The Jumping Jacks
Happy Bonding
Forever Ties
Cent Lovers
Group of Mad buddies
Best Buddies In Life
Happiness All Around
Beauty in Grace
Crazy gang
Furious Fifty
Devil's Home
We Talk A Lot
Kalu Junction
Lost & found
Off the Charts
Blank Head
Giggs Boson
Facebook Dancers
Famous Four
My Second Mother
Meri Superb Family
Counter-Strike Batch
Real Humans
Idiotic Angles
Sanskari Boys
The Civil Servants
Group of engineers
Chase your destiny
Feel my true love
Kick Ass boys
Always motivation
The Unknowns People
We are Heroes
Wedding Planners
We are Mads
Doom Doorway
2. Funny Facebook Group Names
Spicy Republicans
Time waste
Jokes Only
Family Gang
Go Getters
Jurassic park
The Embarrassment
Rock and Roll
Fantastic Family
Hackers
Weekend Vikings
Facebook Wizards
Across Borders
The Elite Group
Bol Bacchan
Home Of The Evil
Software Junkies
Sliced Bread
Date Hookup
Online Hangover
Teens for Truth
Victory's Secret
The Tumornators
Good Times
A Medical Mystery
Happy Family
People of my life
Bakar Party
Junior Stunts
The Invincibles
Always together
Udhaari Group
Hot Shots
We Are Lovers
Tech Ninjas
Khaas Aadmi Party
Modern Family
Langoti Friends
Little Moons
The Dynamos
College Friends
Roman Gamer
Get up
Group Of Idiots
Wandering Travelers
Rest Racers
The Gatekeepers
Flirty Crowns
Like Glue
Local Losers
3. Group name ideas
Computer Conquerors
The Awakening
Amazing Pals
Civilians Who Aren't
Online Meetup
Motivational Group
Quality Screen Time
Intrusive thoughts
Let's Party Guys
Hungry For Shopping
The Corporate Cowboys
Don't underestimate us
The Spam Of God
Weekend Boosts
Star Gossipers
Always positive
Sister Club
Bakar Point
My Blood Share
The Public Square
Silence Isn't Golden Here
4. Catchy FB group and page names:
The Goal Creepers
Teenagers
Staunch Ladies
Trauma Troopers
Dating Memories
Let's utilize precious time
The Disco Ninjas
Community
Nonsense Group
Six Stars
Heartbeats
5. Group names to build team spirit
Hostel B
Clever Cats
Rubber Ducks
Free Wi-Fi
Cool Family
Human Targets
Secret Superstars
Without Borders
One Hit Wonders
6. Unique names:
Spoke Folks
Busy Buddies
Chat Lounge
Badass squad
Soup Dragons
Heart Throbs
Bachelor's
Famous Five
Amazing friends
Lords of the Pitch
Fabulousness
Chats with Brats
Valley Racers
At your Own Risk
Les Quizerables
Muffin Like Us
Full House
Mullet Mafia
The Fools
Be your own hero
Ultimate Nerds
The Restless Forwarders
The Rowdy Roosters
Hard workers
Professional Pirates
Hopeless group
Names Frog is the typical group or page name generator on the net. It also offers suggestions on how to come up with excellent and different name ideas. And it discusses how to choose them.
Names Frog example: How to Choose a Team Name
Establish a connection with well-known features: We frequently identify team names with particular ideals, traits, and some of the most widespread behaviors. For instance, sports names might feature knights, panthers, or warriors. Here, the goal is to illustrate a particular value.
A Facebook group name needs to exude power, majesty, and domination. Even projecting bravery, talent, endurance, and fearlessness is acceptable.
Consider team members' similarities: This is yet another idea for a great team name. You discover the general strengths of your team. Maybe you all enjoy the same TV show, movie, book, or food. Think of anything typical. Then think of a team name. You'll soon have a team name that encourages team spirit.
BNG – Business Name Generator
BNG is a good choice for people and companies who want to access a big pool of name suggestions easily. The platform can accommodate a wide range of users because it is multilingual.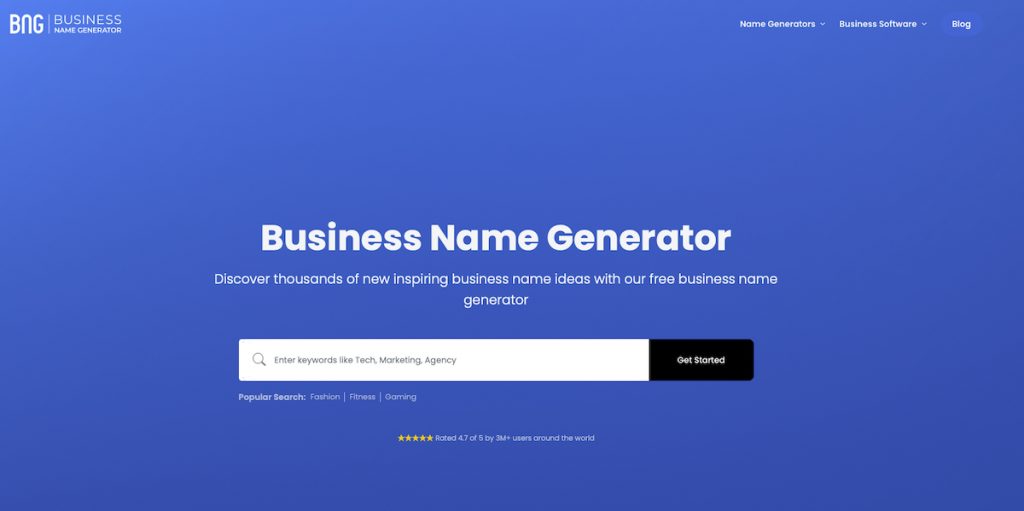 1. Highlights
BNG is simple to use and completely free.
It supports: English, Italian, French, German, Portuguese (Brazilian and Portuguese dialects), and Spanish.
The website provides a variety of generic and sector-specific name generators. These produce recommendations for companies, goods, podcasts, blogs, username ideas, etc.
Based on the specified keywords, BNG creates thousands of name suggestions in seconds.
Name recommendations are generated in a new window (Users are automatically directed to the new window).
2. Negatives
The English version of the website contains a few grammatical flaws.
Weshare is pretty simple. Although it's really a Facebook page name generator, it works just fine for Facebook group name ideas. Type two or three words related to your group in the space provided. Hit the generate names button, and it will come up with a few name ideas.

Some tips before you name your Facebook group
In October 2020, Facebook Groups celebrated its tenth anniversary. Groups are now more crucial than ever for businesses to generate leads, locate customers, and get insights. Groups are also great for users to connect and feel a sense of belonging.
Examining the most popular and successful groups is one of the most exciting methods to find inspiration for creating and naming your own Facebook group. Although many factors determine a group's success or failure, size is an unquestionable element.
Here are a few Facebook groups with over 1 million members:
Cheap Meal Ideas: 4.8 million
Maths formulas: 3.6 m
Instant Pot: 2.8 m
Keto & Low Carb Recipes for Beginners: 2.4 m
Banting 7 day meal plan: 2.3 m
View from my window: 3.1 m
DIY on a budget official: 2 m
The biggest Facebook group in the world is Deepika Sharma, with close to 8 million members. The private group is all about humor and jokes! Search the internet; you'll find plenty of groups and Facebook pages to inspire you.
Below are a few doable suggestions. Please have a look at them before you make your final new name decision.
1. Analyze your existing competitors.
You must know your Facebook group rivals to earn views, likes, and shares. Many individuals must remember to take this crucial step when considering names for their groups.
List ten or twenty existing groups comparable to yours to get started. Consider the groups that will compete with you for followers.
When examining your current competition, you should consider the following issues.
Are there any patterns or trends that frequently appear in their Group names?
Do they use similar name types?
Are there any names that stick out as being significantly different?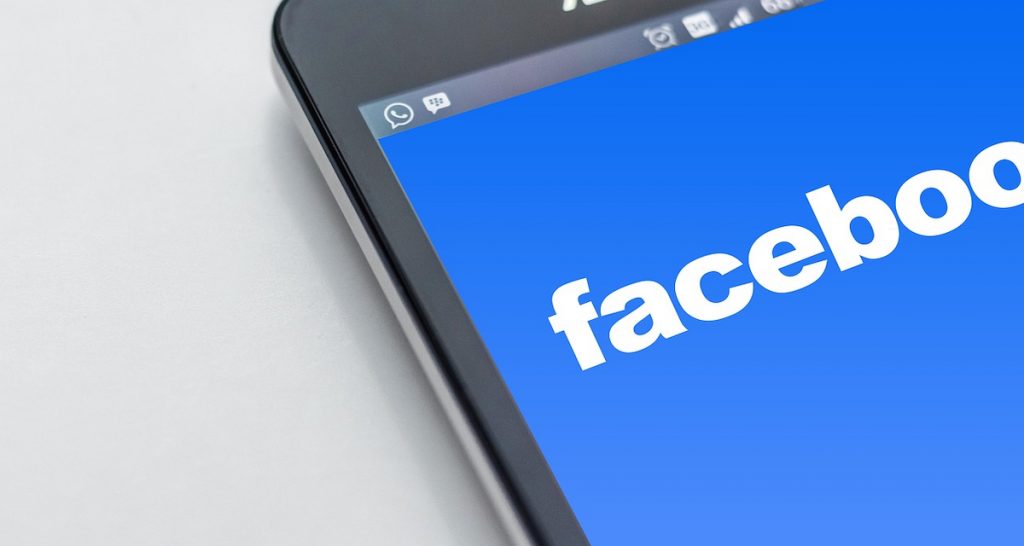 2. Different name types
We must understand the ABCs of naming theory. Four distinct categories of names exist:
Descriptive (literal) names: Names describing what the group does or how it operates. Also included are acronyms, initials, founder names, and place names. (Examples: 5-Minute Crafts, HoopWatch)
Invented names: These names don't mean anything. They might originate from foreign words and languages. Or they may be entirely made up. (Examples: Snapper, Superly, etc.)
Experiential names: These names explain people's interactions with the group. They demonstrate what visitors to your Facebook group receive. (For instance, Tasty, CryptoLines, etc.)
Names that evoke strong emotions: Evocative names metaphorically rather than depict the Groups. Instead of representing what the group does, they stand for its core values. (Examples: Bloom, Holly Potato, etc.)
There is more on naming theory. However, this is enough for you to have a basic understanding of the various name types.
3. Keep it simple
Fancy names are strongly discouraged when selecting a name for your Facebook group.
Reaching out to potential members is the key. The name of your Facebook group ought to be simple. And it should be something your audience can relate to as soon as they see it.
And it ought to describe the goals of your organization. Let's use Mississippi Foodiez as an example. The name is brief and uncomplicated. And it's pretty obvious that it's a food group for anyone who lives in Mississippi. Or it could be for foodies interested in food from the American South.
4. Keep it short
The title shouldn't be longer than a few words and should describe what users may expect to discover on the Facebook group. To avoid sounding spammy, refrain from stuffing your page name with keywords. Folks will be less likely to share content from such pages, which could lower your likelihood of going viral on Facebook.
5. Be specific
Stay away from using phrases like "Sports" or "Running." Facebook wants Pages to represent companies, celebrities, and brands accurately. This means Facebook tends to disable updates for Pages using generic words. Use the name that is linked to your Facebook page, group, or business.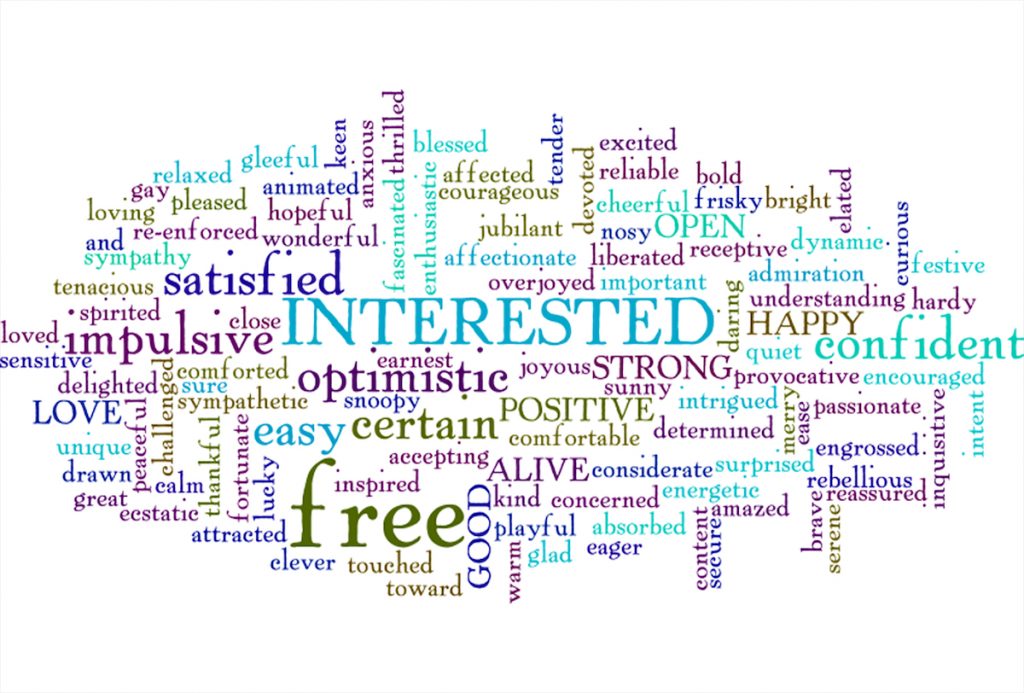 6. Incorporate keywords into your group or page name
As soon as you incorporate keywords into your group or page name, Facebook will start suggesting your group to users who have searched for that specific phrase. So people are more likely to join your group.
You're probably wondering how to conduct a Facebook keyword search. Well, there are no tools available to look up keywords on Facebook.
Look up the relevant terms on Google. (Be sure to take note of the Google suggestions that are displayed on the SERP below.) Ideally, Facebook users searching for such terms on Google will also be searching for them on Facebook.
List the keywords and find out how frequently they are searched for. Select the one that has a sizable volume and suits the goal of your group.
Let's imagine you want to start a Facebook group for men just on weight gain, or you want to rename an existing community. Simply enter "weight gain men" into Google to find all the associated keywords.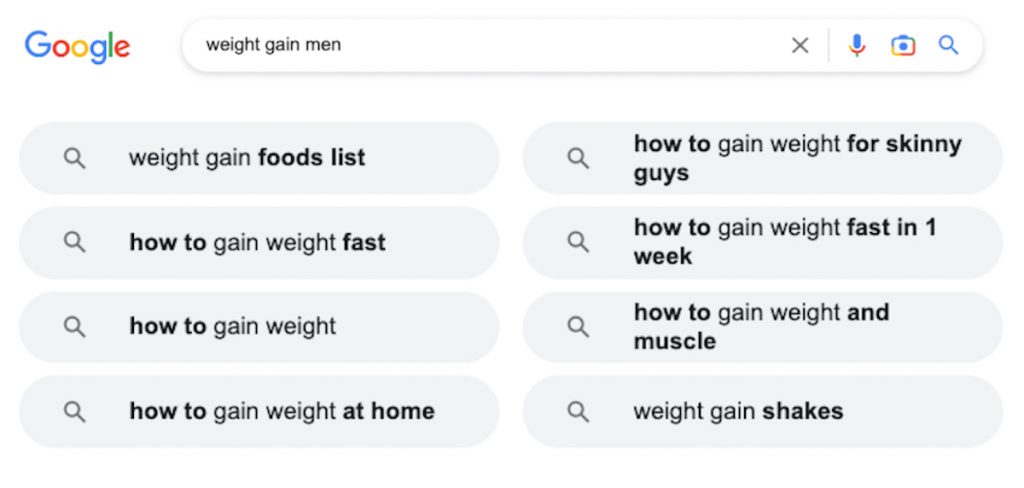 Next, examine the volume for each of these terms in a keyword search tool. Wordstream is a great free tool.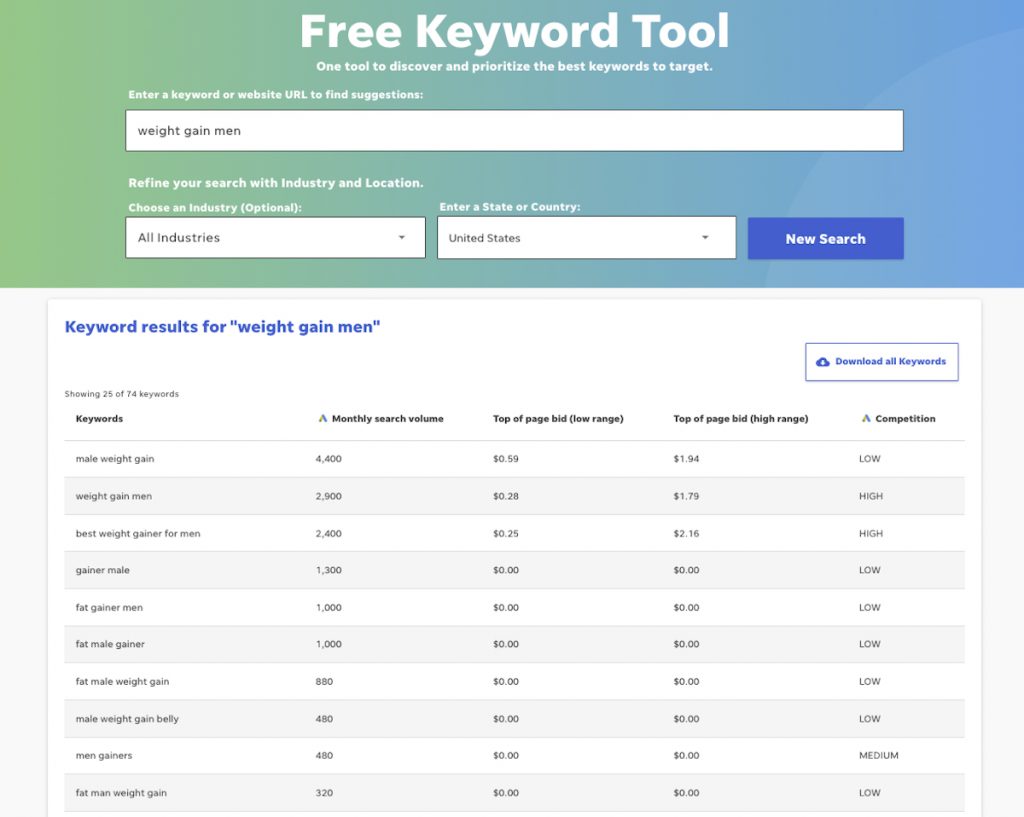 You'll see the top keyword and how many searches are done per month.
7. Move past descriptive names.
The previous point taught us about several name types. As we've seen, the simplest names are the descriptive ones. They are perfectly acceptable but won't make your Facebook page or group stand out in a crowded niche.
Going beyond simple descriptive names is a better strategy when creating a new group. This is ideal for new Facebook pages or groups, particularly in highly competitive niches.
Instead, consider metaphors, phrases, and unique words that you could use to describe your Facebook group. This will make your name more distinctive from your rivals. You must still ensure that your names are pertinent. You don't want to confuse potential followers with a hard-to-understand Facebook group name.
8. Generate ideas and brainstorm.
It's time to start brainstorming words that could work for your suggested group names. This exercise aims to list terms or names when you think of your Facebook group. Include the people in your group in the naming process. Name ideas will differ amongst different minds.
This will give you more brain power for brainstorming, leading to more suggestions for Facebook group names.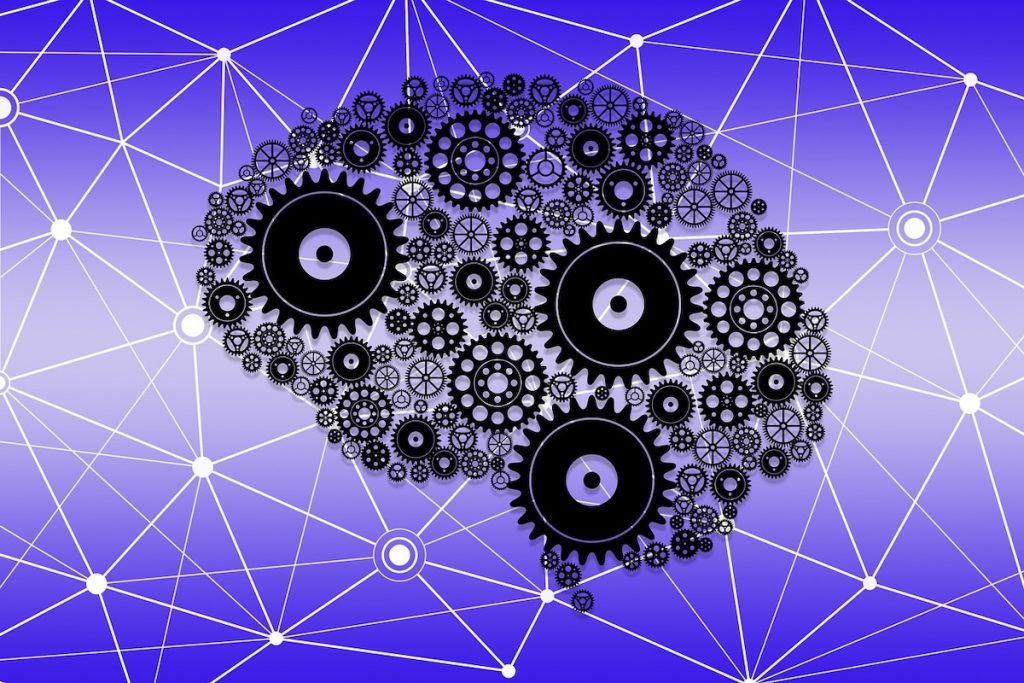 Analyze your thoughts after creating a list of potential Group name recommendations. Remove any names that would be a bit tricky to pronounce, spell, or remember. Keep names that sound amazing and convey your group's beliefs to your target audience. Also, keep those that are memorable and brandable.
Here is a quick list you can use to filter your thoughts and condense your list of potential names:
Is the name short and simple to recall?
Is it easy to read and pronounce?
Is your name distinctive from those of rivals?
Does the name have a meaningful association?
Does it avoid clichés or overused words?
9. Give your Facebook group a product name (if it's a brand)
Your devoted supporters have faith in you, so they belong to your Facebook group.
But what about the potential clients? They may need to be more familiar with you. Therefore they could be hesitant to join your Facebook group.
However, your audience is more likely to join your Facebook group if you give it a name that references your goods or a problem they may have. Or if you have generic geographic locations rather than focusing on one area.
Make sure your cover photo matches the group name and is an appropriate and attractive Facebook image. Simply by looking at the group name and cover photo, people decide pretty quickly if they want to join a Facebook group or not.
So, make sure the Facebook group name appears on your group's cover photo and that any graphics follow the theme. This can be an excellent opportunity for effective social media marketing.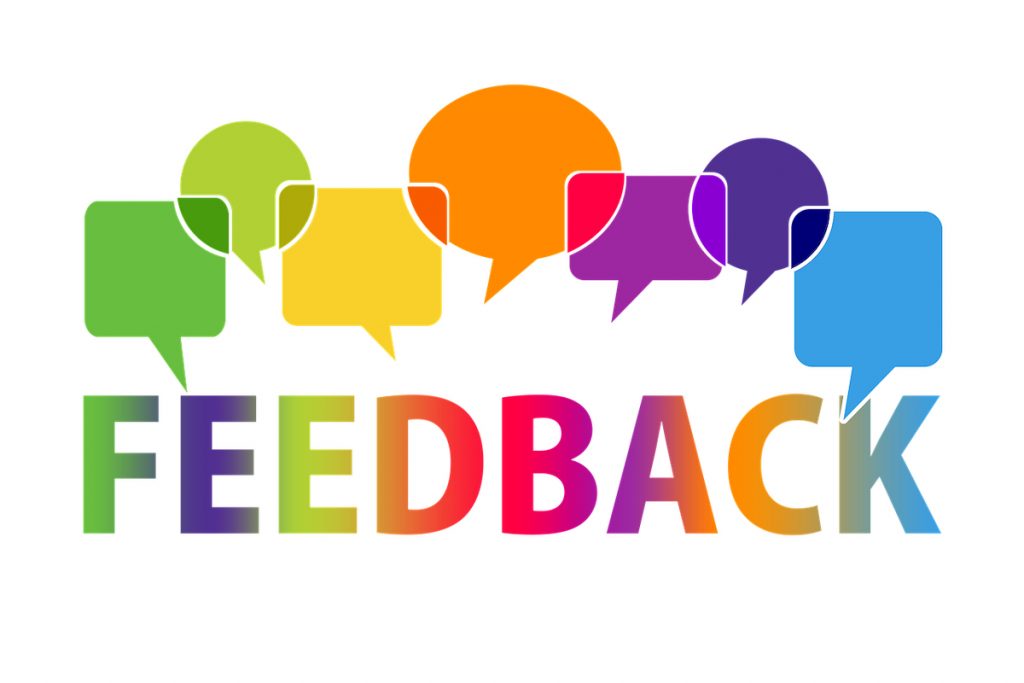 10. Feedback helps
By now, you should have an ideas list of excellent Facebook Group names. It's time to get some feedback. Request opinions from potential followers or professionals in the field (your target audience).
Avoid getting advice from friends and family. They are not your target audience, and they're more inclined to applaud all of your name ideas. You can evaluate the Group names you chose objectively using the right feedback.
11. Verify Availability
Have at least three excellent Facebook Group names on hand at this point in case any of them are already taken.
First, run a quick search on Facebook to see whether the name has already been registered there. Remember that multiple Facebook Groups can share the same or very similar names. It's usually advisable to avoid this. You don't want your followers to confuse your Group with another.
You can also quickly check the availability of your name in your nation or state by conducting a Facebook business name search online. And confirming that the name is open for trademark registration is a good idea. This can help you avoid a lot of future problems. Although Facebook Groups typically don't have their names trademarked, it's better to check.
Make sure to verify your group's domain availability as well. You'll need to build a website if your group expands to where you start selling your products.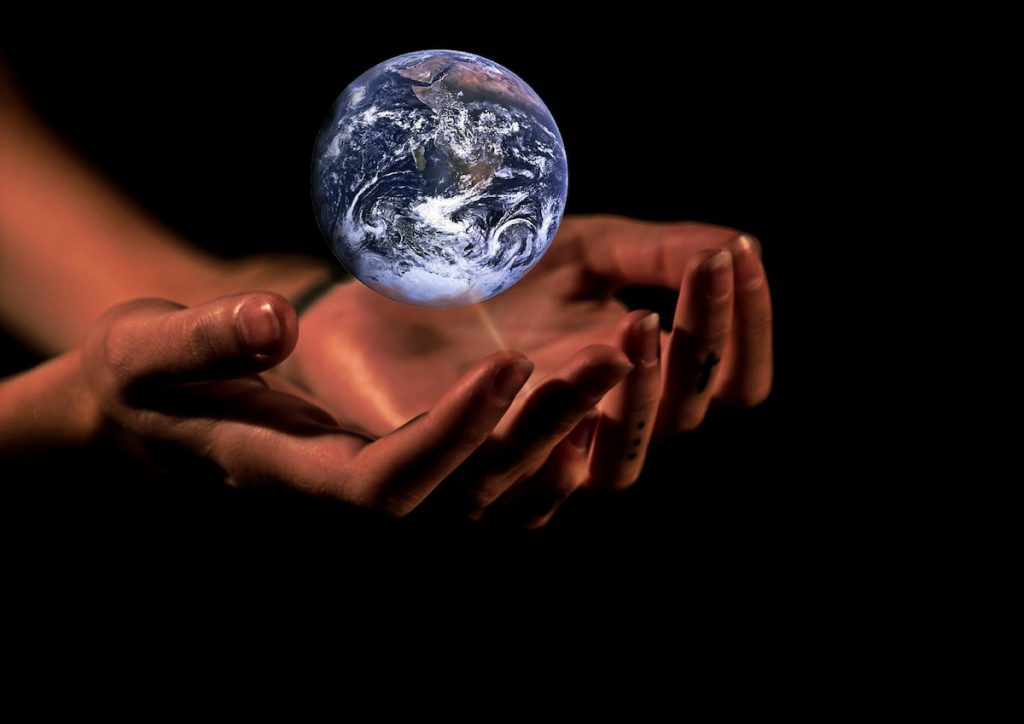 How to change your Facebook name
You can change your group name once every 28 days if you think doing so will help you distinguish your group from copycats. Or if changing the name will refocus it on your group's objectives. The group's name history will be updated every time you change your name. And all members will be notified.
You can always change the name no matter how big your group develops. Contrary to what many online sources suggest, you can change your group's name even after it reaches 5,000 members. However, you cannot modify your group's vanity URL after it gets to 5,000 members.
1. Changing a Facebook Group name on a computer
You must be the group administrator to change a Facebook group name. This means that you either formed the group yourself or were appointed group admin. The steps to rename a Facebook group on a computer are as follows:
Connect to your Facebook account on a PC or Mac. Go to "shortcuts" on the left side of the screen if you can't find the group.
Select "More" from the drop-down menu next to the group's header picture, and select "Edit group settings."
Next to the option "Group name," there is a place where you may type the new name of your group. Click that field and enter the new name.
When finished, click "save" at the very bottom of your screen.
All group members will automatically receive the name change notification.
2. Change a Facebook Group Name on a Mobile Device
On Facebook, you must be the admin in order to change the group name; this restriction applies equally to mobile devices. If you wish to change the group name on Facebook, take these steps.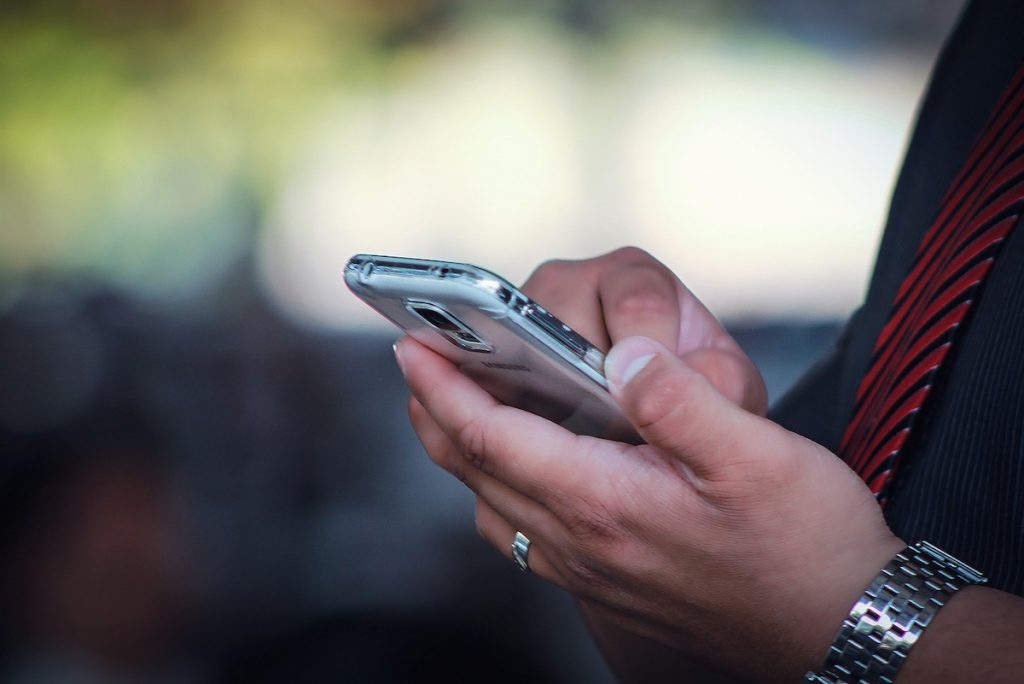 To begin, launch the Facebook app on your iOS or Android smartphone.
Choose the menu option.
Select "Groups".
In the top-right corner, click the shield icon.
Select "group settings" from the pop-up menu.
Choose "name and description."
Enter the new name for your Facebook group in the "group name" field.
Then, select "save".
Final thoughts: Facebook Group Name Generator
Despite the contentious history of lawsuits surrounding the platform, We all know that Facebook is by far the most popular social media network. This is based on every possible metric available.
According to official statistics, it has 59% of the global social network population. That means that Facebook can reach more than half of the world's social media users. Facebook is the world's third most visited website.
These staggering statistics only serve to emphasize how important your Facebook group name really is. If your goal is to rocket your Facebook group to the top, then spending time and effort coming up with a great name is worth it.