Facebook groups are popular for a variety of purposes, including hobby and interest groups, professional networking, support groups, and local community organizations. They can be a useful way to connect with like-minded people, share information and resources, and build relationships with others who share your interests or goals. These groups have interesting features that allow you to do many practical things.
Finding new members for a Facebook group is essential. When new members join a group, they bring fresh perspectives, experiences, and ideas, which help keep the conversation and activity in the group dynamic and interesting. This can make the group more welcoming and inclusive and help members learn from each other.
By acquiring new members, the group can expand its reach and provide more opportunities for members to connect. Having more members helps the group build a stronger sense of community and belonging, which can lead to increased participation and collaboration among members. It also helps foster a sense of shared purpose and identity within the group.
In addition, a larger group can be an excellent resource for members to share information, ask questions, and network with others with similar interests. The group can also expand its reach and provide more opportunities for members to connect.
It is essential for a member or an administrator of a group to keep track of their members' list, especially members that are new to the group. This aids in the growth and success of the group. You can see new Facebook group members in several places, such as notifications, activity logs, pending member requests section, and most of all, the members' list section.
In this article, you will learn more about finding new members in Facebook groups. Let's get started.
How to Find New Members in the Facebook Group
You can find and see new members who recently joined your Facebook group. It involves a few simple steps.
On Desktop
If you are using Facebook on a laptop or desktop computer, follow these steps:
1. Log in to your Facebook account and open the group you'd like to see the new members from the left-hand side of the news feed.
2. On the group page, click on the Members tab located below the group's cover photo.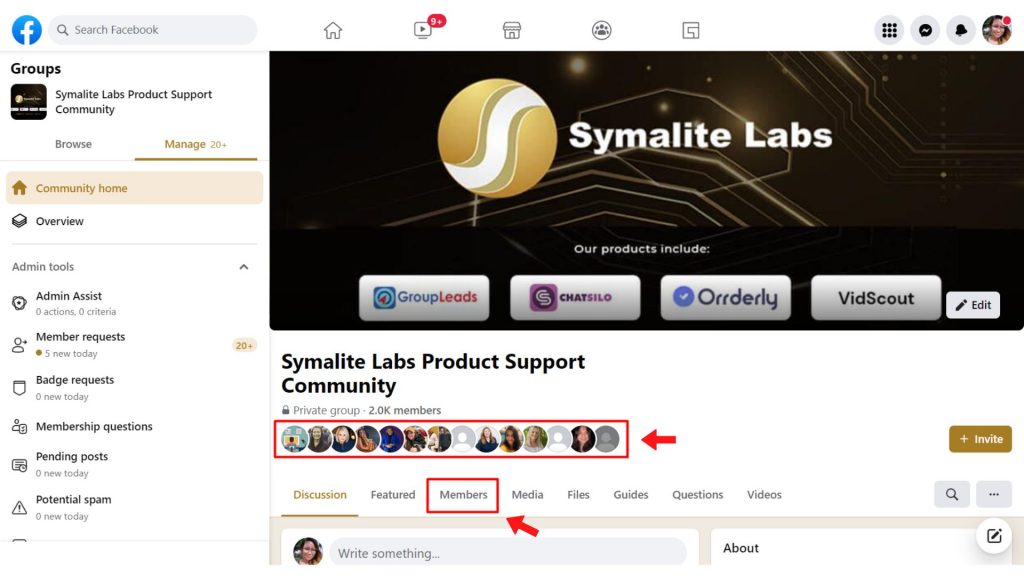 3. As you scroll down, you will see the names of fellow members. By default, you will see the admins first. Next, the group experts. Followed by the group experts, friends, members with things in common, unavailable, and finally those new to the group.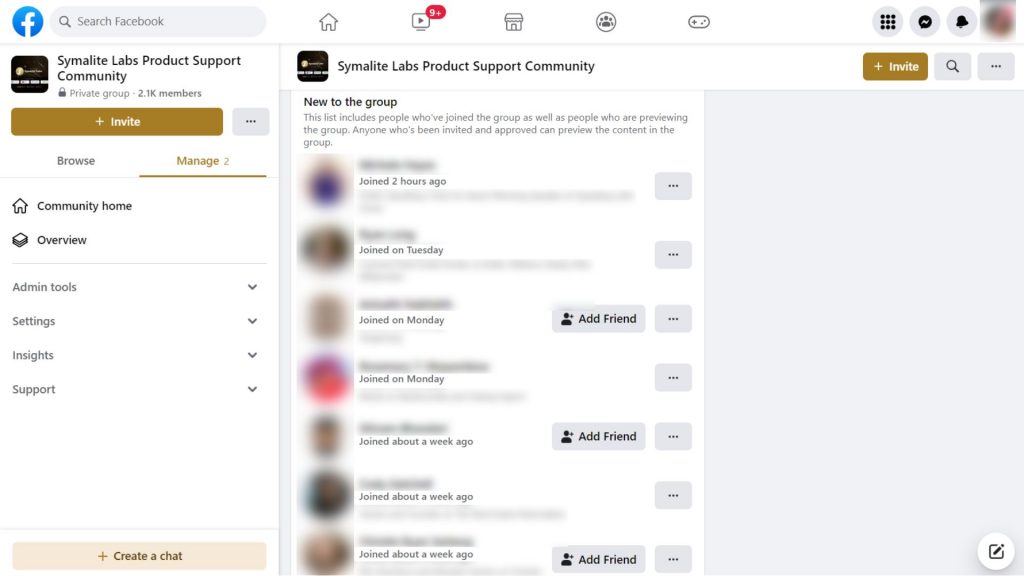 The new member's list will now be displayed, showing the most recent members who have joined the group at the top. You can scroll down the list to see more recently joined members.
The new members may include those invited to the group (even though they have not accepted the invitation yet).
Also, note that the new member list will only show members who have joined or been invited to the group since the launch of this feature. It may not be a comprehensive list of all new members over time.
On Mobile
If you are using Facebook via mobile, here are the steps to follow:
1. Open the Facebook app on your android device and tap on the three horizontal lines at the bottom, then click on 'Groups.'
2. Tap on Your Groups and select the group you want to see new members for, under Groups You Manage.
3. Tap on the Manage button beside Invite or click on the star icon on the top right.
4. Select People from the list of Admin tools.
5. Your Facebook group member list will appear, and it will be divided into different sections, such as Admins and Moderators, Pre Approved members, Friends (Members you are friends with on Facebook), Members with things in common, Unavailable members, and Pages.
You will see a dialogue box on top of the list saying, "You have xx new members create a welcome post."
6. Tab on Create a Welcome Post. You will then be taken to the compose post section, with all the new members already tagged.
7. Select Edit Tagged Members, and you can see all the new members who recently joined your group.
Look for New Member Badges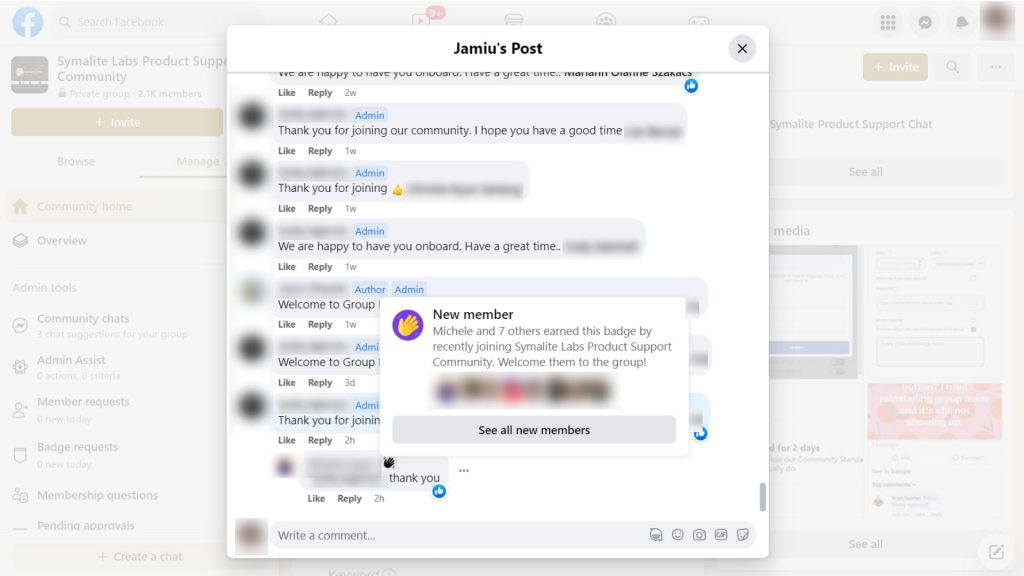 You can easily identify new members when they have a new member's badge beside their name. This badge shows for 2 weeks once they join your Facebook group.
How to Welcome New Members on Facebook Groups
Welcoming new members to a Facebook group is an integral part of building a sense of community and fostering a positive atmosphere within the group.
It is important to acknowledge new members and make them feel welcome. You can do this by liking or commenting on their first post or sending them a welcome message in the group or through direct message.
In a nutshell, you can welcome new members by setting guidelines, encouraging introductions, sharing resources, and answering questions. Doing these can help new members feel comfortable and engaged in the group.
3 Ways to Understand Your Target Audience on Facebook Groups
Understanding your target audience is essential to any successful Facebook group. Here are three ways to gain insight into your target audience on Facebook groups:
1. Defining the Target Audience for Your Facebook Group
Defining your target audience for your Facebook group is vital in creating a successful group. The following steps can help you define your target audience:
Determine Your Group's Purpose
Determine the focus of your group and its mission. You need to have a clear idea of the purpose of your Facebook group.
For instance, you need to determine if the group is for a specific interest or if it is a group for networking.
Examine Your Current Members
Also, know your members' hobbies, ages, values, behaviors, and what could be their occupations.
This will indicate the types of people who are interested in your group and help you target the right audience.
Implement Market Research
To better understand your target audience, you can conduct surveys or polls, inquire about their hobbies, interests, and challenges, and consider looking at other Facebook groups that cater to a similar audience to yours to get more ideas.
Make Use of Facebook Insights
Learn more about your current members and potential audience by using Facebook Group Insights. Insights can provide data on demographics, interests, and behaviors.
Define Your Target Audience
Create a profile or persona of your target audience based on your gathered information.
This should include their age, gender, interests, location, and profession. Doing this will make you understand their motivations, interests, and pain points, which can help you tailor your content and messaging to their needs.
Make Content for Your Target Audience
Once you have defined your target audience, create content that will resonate with them. With this, you can attract more members who fit your target audience.
Note that defining your target audience is an ongoing process. As your group grows and changes, you may need to adjust your target audience and the content you create.
2. Identifying the Interests and Needs of the Target Audience
Identifying the interests and needs of your target audience is essential in understanding your target audience better. To do this, you can follow these methods:
Membership Questions
When members join your group, you can ask them questions to gather information about their interests and needs.
You can include questions about what topics they're interested in, what challenges they're facing, or what they hope to gain from being part of the group.
Use this information to tailor your content and engagement strategies to the interests and needs of your members.
Engagement Threads
Use engagement threads to encourage members to share their thoughts, opinions, and experiences.
For example, you can ask members to share their favorite books, most significant challenges, or goals for the year.
This can give you valuable insights into what your members are interested in and what they need help with.
Discussions in the Group
Pay close attention to the topics and conversations in the group. What questions are members asking? What challenges are they discussing? What topics are generating the most engagement?
This information can help you understand the needs and interests of your members and create content that addresses their concerns.
3. Developing a Strategy to Attract Target Audiences to Your Group
Developing a strategy to attract your target audience is also an excellent way to understand them. Here are some tips to help you do that:
Create a Compelling Group Description
Your group description should clearly state the purpose of your group and the benefits of joining. It should also include relevant keywords that your target audience is likely to search for.
Learn About Their Pain Points
You can learn about your target audience's pain points while defining your target audience. You must understand the challenges they are facing and the solutions they are seeking. This will help you create content that will appeal to them.
Make Use of Visuals
You can use visuals such as photos and videos to help attract members to your group. Create a cover photo showcasing the benefits of joining your group or share relevant images to your target audience.
Promote Your Group
You must promote your group once you have created engaging content to reach your target audience.
To promote your group, you can use social media, email marketing, SEO, and other digital marketing strategies.
You can also promote your group on any other online community your target audience will likely frequent.
Build Relationships with Target Audiences and Influencers
Developing relationships with your target audience is critical to keeping them engaged and interested in your organization. You can use various tools such as online forums, webinars, and events.
Also, connect with influencers in your niche, and ensure you have a good relationship with them so they can help promote your group to their audiences.
Run Targeted Ads
Consider running targeted Facebook ads to reach your target audience. You can use Facebook's ad-targeting features to reach people based on demographics, interests, behaviors, and more.
Keep Your Target Audience Engaged
Once you have members in your group, engage with them regularly by posting valuable content, responding to comments, and creating a sense of community. This will help keep your members engaged and may lead them to invite others to join.
Measure and Refine
Finally, you must assess the effectiveness of your strategy and make changes based on the results. You can track your website traffic with tools like Google Analytics and your social media performance with social media metrics.
Following these tips enable you to develop a strategy that attracts target audiences to your Facebook group, which will assist in creating a thriving community of members who share a common interest or goal.
Final Thoughts
Keeping track of new members is crucial for the growth and success of your Facebook group. By monitoring your new member's list, you can track the growth of your group over time. This can help you identify trends, patterns, and areas for improvement.
Finding group members and understanding your target audience provides valuable insights into their demographics, interests, and needs. This information can help you create content and engagement strategies that resonate with your members.
You can increase engagement and build stronger relationships with members when you welcome and introduce new members to your community.
In addition, seeing new members in your group can create a sense of community and excitement that can motivate existing members to be more engaged and active.
Remember that it is crucial to constantly monitor your new member list, engage with members, create valuable content, and promote your group to build a thriving community on Facebook groups.
To attract more members daily, use Group Leads now to automatically tag your new members on the Facebook group in a welcome post.