Although Facebook Groups aren't exactly new in the marketing world, they do offer some novel and potentially lucrative options for expansion.
They facilitate meaningful two-way contact between brands and their target audiences. If a Facebook Group is open to the public, it may serve as a valuable resource for informing potential clients about your company, its goods, its goals, and its existing clients.
Businesses can interact with their audience in a more personal and genuine way with Facebook Groups than they could through their Page.
If you're looking for some ideas for your own Facebook marketing approach, here are some groups that are killing it.
Best Facebook Groups
Marketing Solved
Is social media something you partake in? Find a group of like-minded individuals to help you build your professional network, enhance your social media profile, and increase your expertise. Check out Marketing Solved.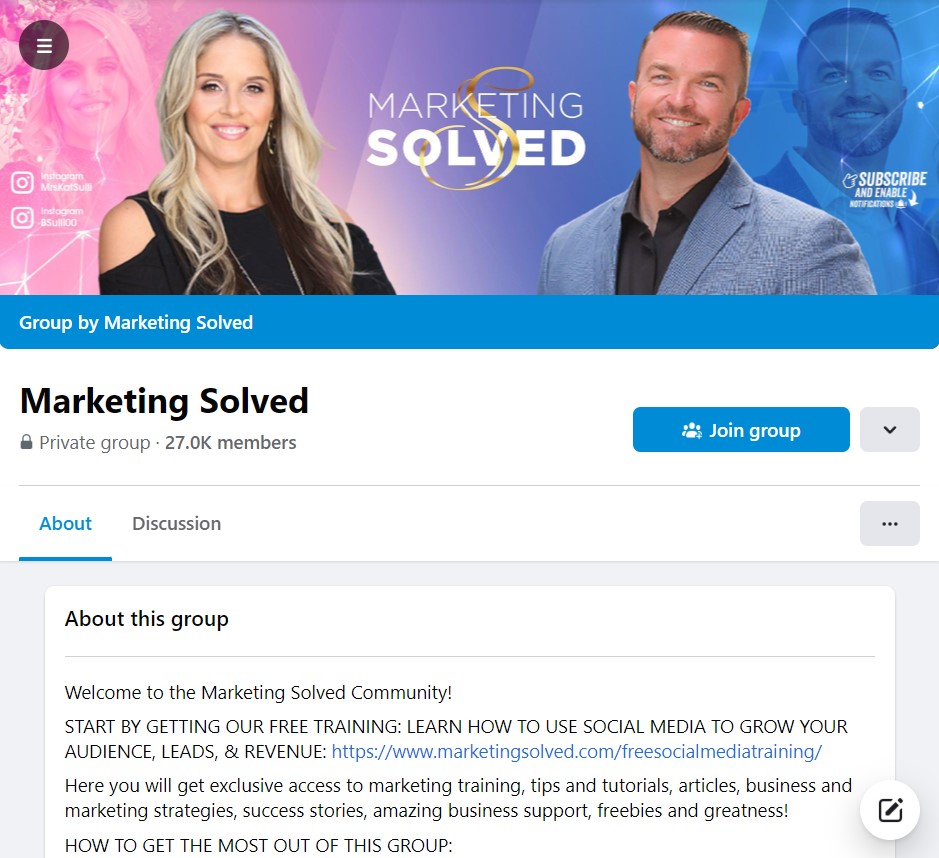 Kat Sullivan, the company's founder, saw a need in the market when she saw that very few Facebook group creators were interacting with their members. The differentiating factor is the emphasis on linking entrepreneurs and marketers with relevant tools.
From what I've seen, Kat is quite open about the lessons she's learned while collaborating with business owners and advertising agencies. She is the co-founder of the social media management platform Tassi, and has been featured in magazines such as Inc., Entrepreneur, and Fast Company.
In return, users provide a wide variety of information, such as queries about entrepreneurship and monetizing online companies and links to fascinating marketing case studies.
SaaS Growth Hacks
SaaS Growth Hacks was also established by its creator, Aaron Krall, because he saw the lack of a high-quality community for SaaS companies, much like Kat's Marketing Solved.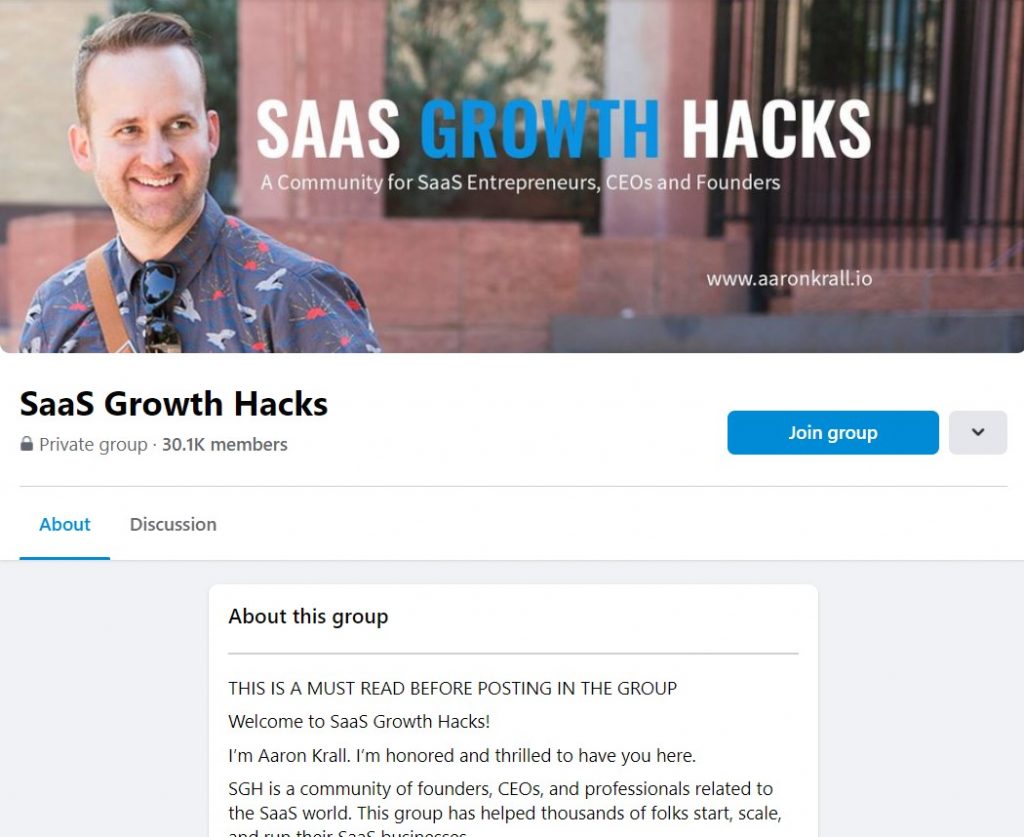 He is an expert in SaaS conversion and has used email nurturing campaigns to turn trial users who had already canceled their subscriptions into paying clients. As a result of Aaron's efforts, the Facebook group now has the CEOs of well-known technology businesses, including Intercom and AdEspresso.
I have found that its members are open to suggestions for how to enhance or create new products, as well as advice on how to launch and grow a successful software as a service (SaaS) company.
Email marketing and new product releases are two other growth techniques highlighted. This suggests that the group might be more productive with more experienced marketing professionals.
CXL – Conversion Optimization, Analytics & Growth
ConversionXL (CXL) was created by Peep Laja, a strong believer in evidence-based marketing. His Facebook group is the same way; members openly discuss the failures of their own projects, and they routinely conduct surveys and ask for guidance on topics like analytics, growth, tag managers, and more.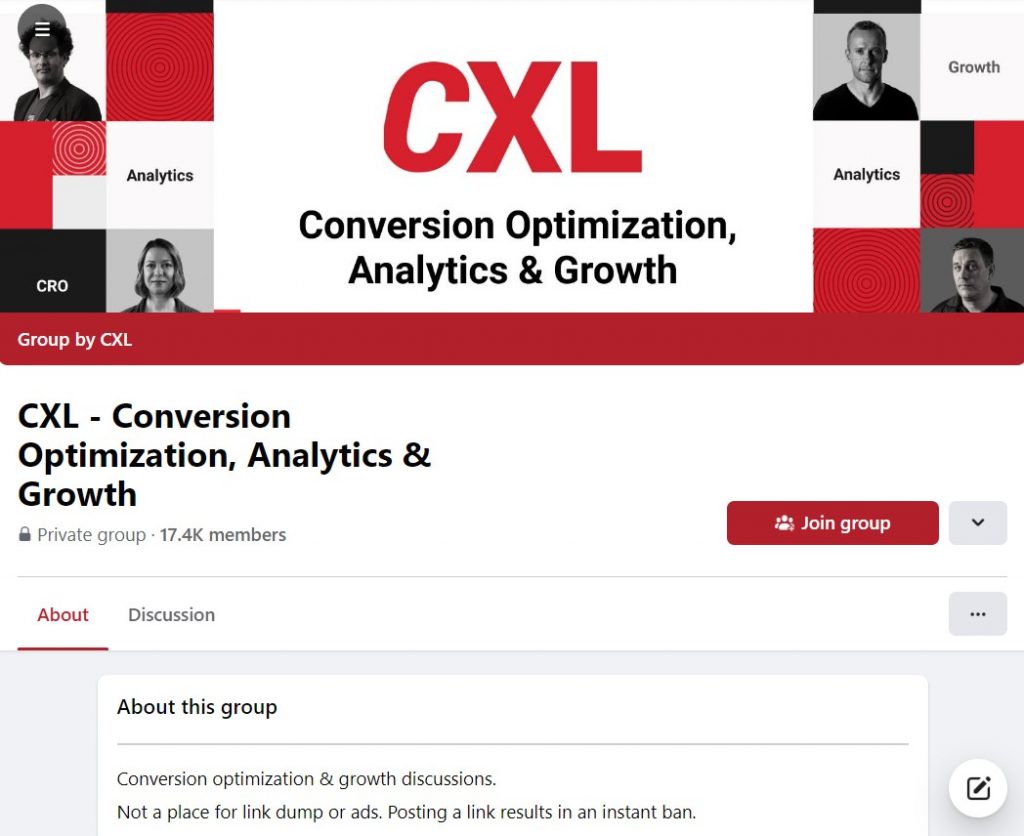 Google Analytics, CRO audits, Google Search Console, and suggested marketing reading make up the bulk of the topics covered.
Given the caliber of the discussions, you're sure to pick up some useful tips from the several CRO-oriented marketers who visit this group. I think we can all appreciate that Peep prohibits spam and link dumping.
Largest Facebook Groups
Netflix Recommendations
Are you looking for a group that's more general in nature? Check out this one with over 4.2 million members. It's all about helping each other find good content on Netflix. And since it's such a large group, you're bound to find someone who likes the same shows and movies as you do.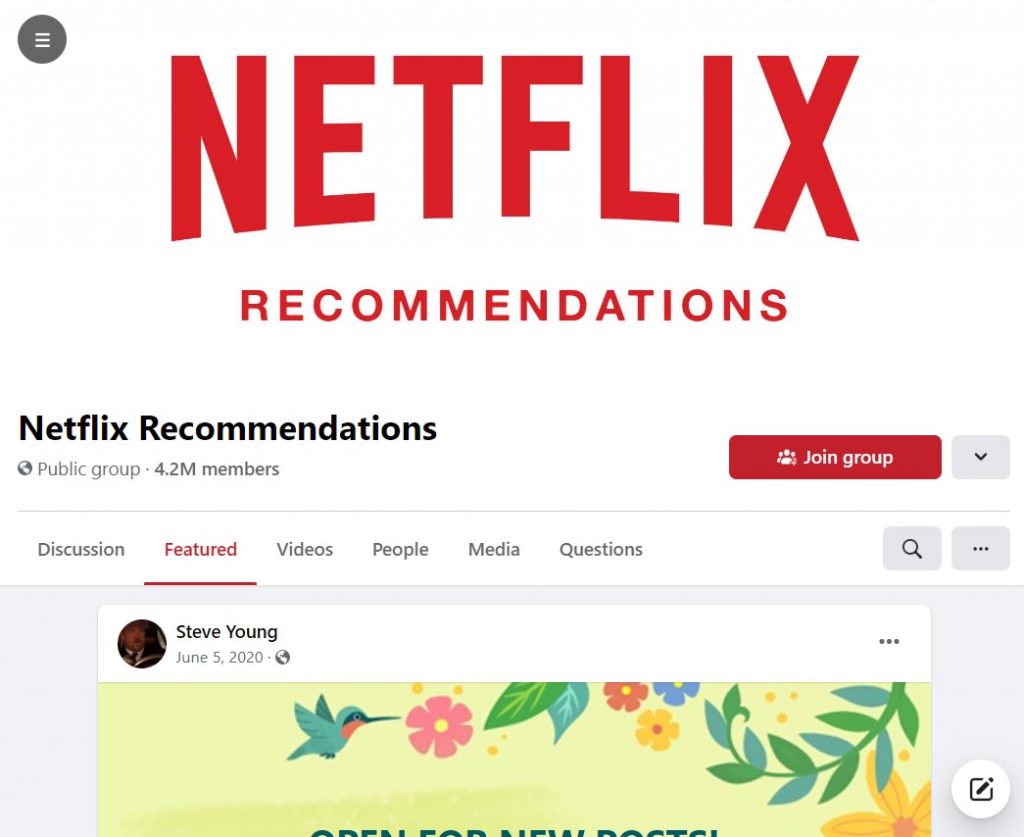 It is usually recommended for 20+ age people. The group was created by Andrew Nicolson. The idea behind this group was to link Netflix fans together so they can recommend movies and series to others.
With such a large number of members, it's not surprising that the group has a wide range of interests. You're sure to find someone who likes the same things as you do.
There are also some great discussions about film and television in general. This group is a must-join for any Netflix fan.
DIY On A Budget Official
This group is perfect for anyone who loves DIY projects but is on a tight budget. The group has 2.2 Million members, and it has quickly become a go-to destination for thrifty DIYers.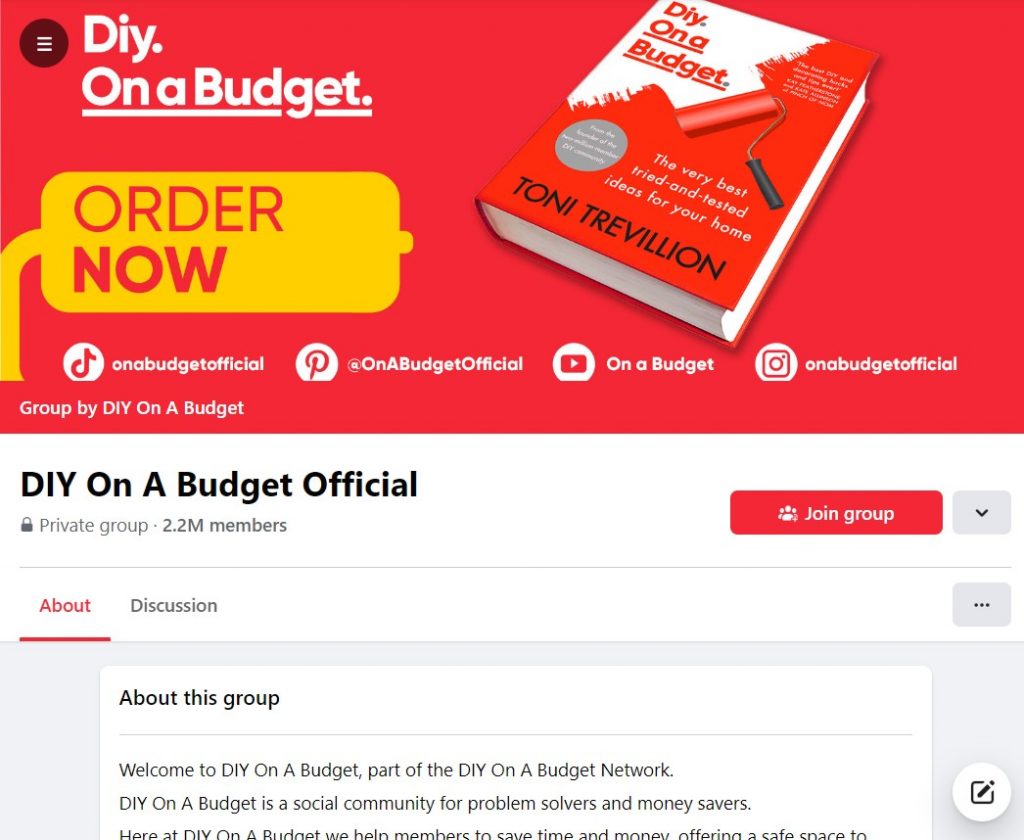 The community is full of helpful people who are always happy to share their tips and tricks for saving money on DIY projects. You're sure to find some great ideas for your next project in this group.
If you're looking for a group that's more focused on specific topics, DIY On A Budget also has a number of sub-topics that you can join. These include groups for specific projects like sewing and woodworking, as well as groups for specific budgets.
No matter what your budget or DIY interests are, you're sure to find a group that's perfect for you in this huge community.
Fashion House
This group is all about fashion. It has 2 Million members, and it's full of people who love to talk about style.
The group is a great place to find inspiration for your next outfit, as well as to get advice on how to wear specific items. You can also find out where to buy the latest fashion trends.
Joining a group that's more focused on one specific topic is the best way to get your voice heard. There are many subs topics in Fashion House, including styles and body types for all sorts of people!
Whether you're looking for someone with a more casual fashion sense or want to blend in and befit the latest trends, this community has a group perfect for your interests.
Most Popular Facebook Groups
ClickFunnels (Official)
The ClickFunnels (Official) Facebook group was created with the intention of empowering and educating entrepreneurs. The goal is to help entrepreneurs focus on improving the lives of their consumers.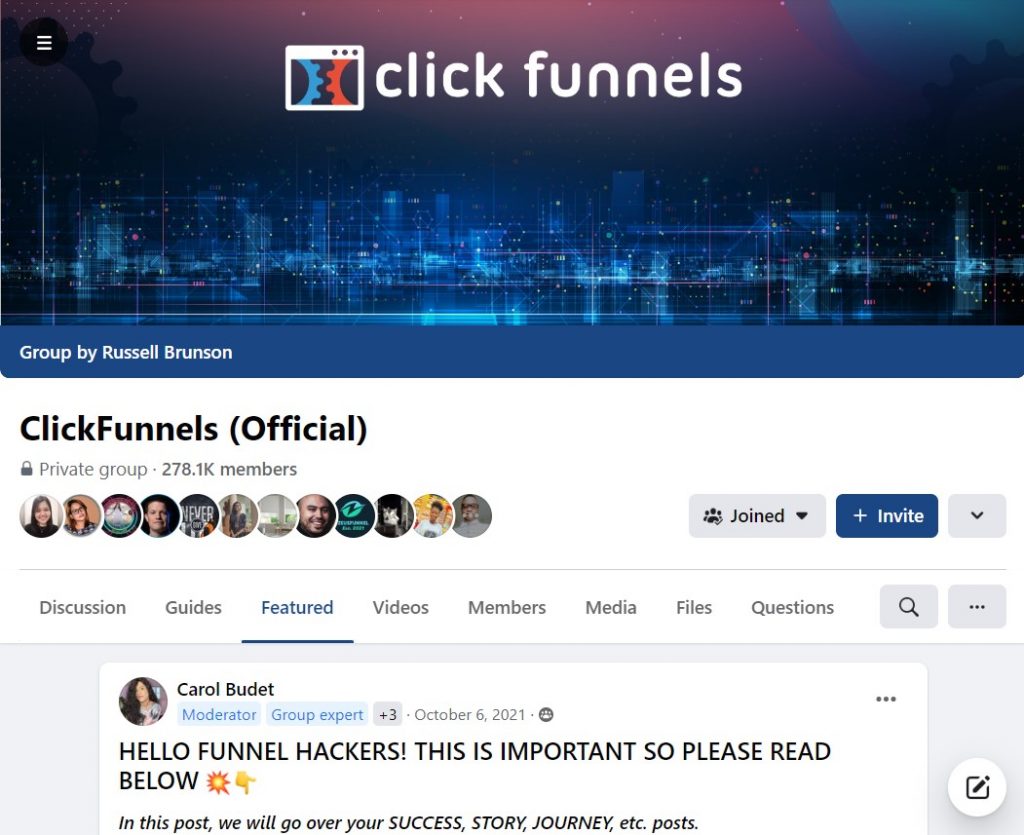 The group does this by providing a space for discussion, sharing resources, and offering support. The group has been successful in helping entrepreneurs grow their businesses and improve their customer service.
In addition, the group has helped entrepreneurs connect with other like-minded individuals and form valuable relationships. The ClickFunnels (official) Facebook group is an invaluable resource for entrepreneurs who are committed to improving the lives of their consumers.
Facebook Ad Hacks
Join this group if you are interested in marketing strategies, social media advertising, or client relationship management (for agencies).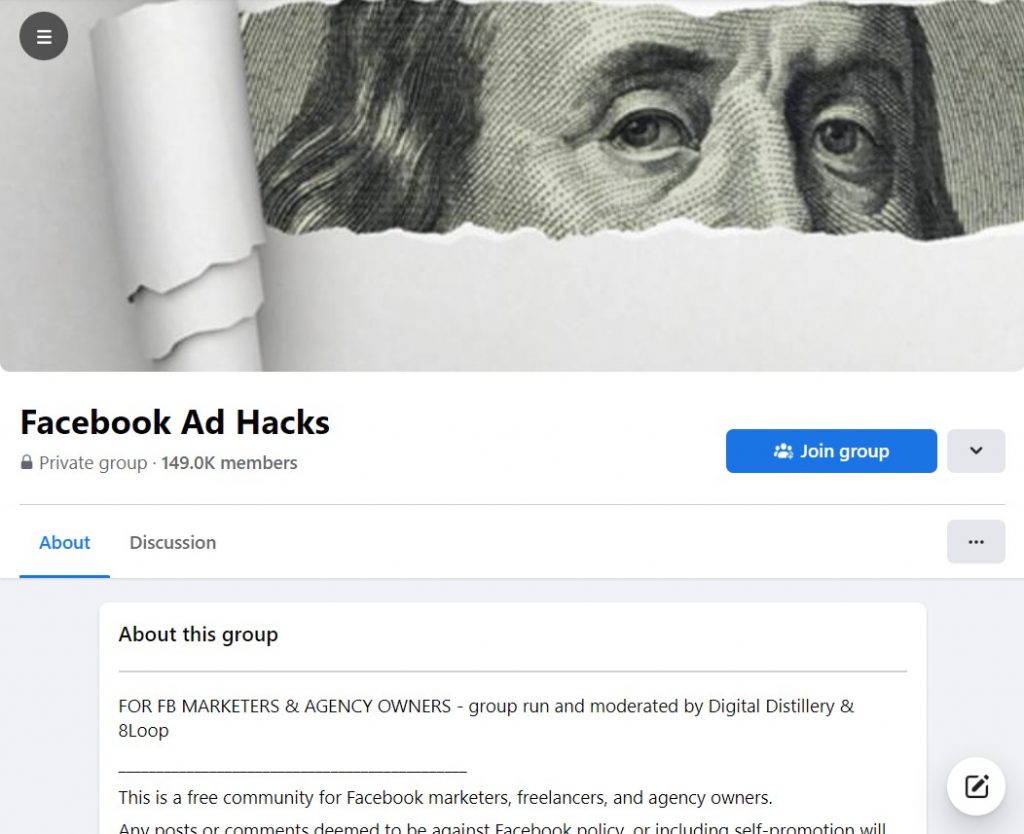 Despite the high quality of the debates, they can sometimes stray into a quite technical area. For this reason, it would help to have some marketing experience.
Catherine Howell, the founder, is as involved in the group's day-to-day operations as any of its members; she also runs the social media business Eight Loop Social, for which she has been featured in publications like Entrepreneur and Inc.
The enormous amount of discussions about Facebook Ad Hacks is its one real downside. Since there are roughly 28 new posts per day, many questions are either drowned out or never get an answer.
Superstar SEO
Do you want to learn more about SEO? The members of this Facebook group have merged their expertise in order to create and promote more effective offerings and services.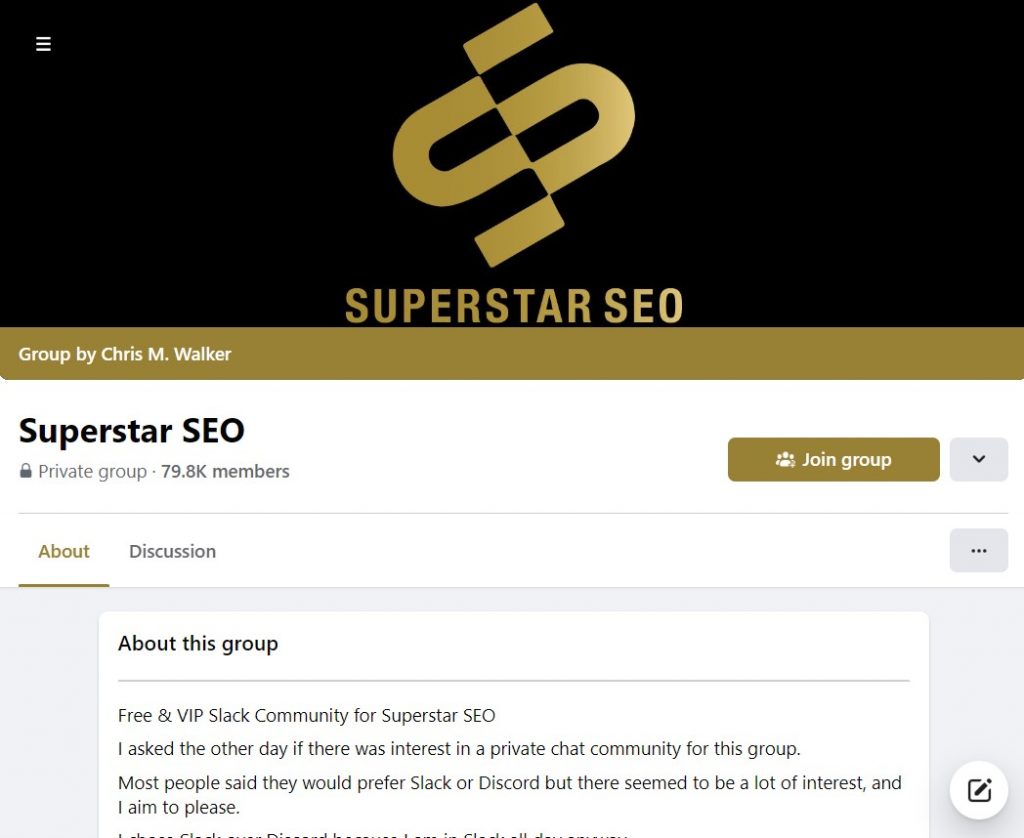 Chris Walker, the group's creator, claims that he accidentally stumbled into SEO. After dabbling in information technology and politics, he settled on affiliate marketing, eventually founding the freelancing marketplace, Legiit, and Superstar SEO.
The latter group features an interesting cross-section of SEOs, marketers, and agency owners. No matter your skill level, you'll find something useful here: topics include technical SEO, portfolio advice, suggested tools, and more.
Frequently Asked Question
How do I find the biggest groups on Facebook?
There are a few ways to find the biggest groups on Facebook. One way is to use the search bar at the top of the page and type in keywords that are related to the topic you're interested in.
Another way is to go to the "Discover" section on the left-hand sidebar and click on "Groups." This will show you a list of popular groups on Facebook that you can browse through.
How do I search for a group on Facebook 2022?
To search for a group on Facebook, open the Facebook website and sign in. In the search bar at the top of the page, type the group's name and press Enter. If the group doesn't exist, you can create it by clicking on Create Group in the top-left corner of your screen.
How do I find Facebook groups to join?
To find Facebook groups to join, go to the Facebook search bar and type in a topic or keyword that interests you. You'll see a list of groups related to that topic, and you can join any group that looks interesting.
Final Thoughts
So, it was all about the best, largest, and most popular Facebook groups in 2022. As your group grows, you will need all the help you can get.
If you are a company or brand owner looking forward to creating a group that converts, check out Group Leads.
Group Leads is a tool that helps you quickly and easily convert new Facebook group members into leads for your email marketing campaigns.
By using this tool, you can capture essential contact information, such as names and email addresses of new group members, and then add them to your email list with just a few clicks.